Market Map
From enterprise learning platforms to providers of remote learning support, we take a look at the early-stage edtech companies attracting investment and what this activity signals about shifts in the industry.
Since 2020, pandemic-induced lockdowns accelerated the shift to digital, forcing educational institutions and businesses alike to move their operations online and adopt the tools necessary to support remote learning and work.
In addition to increased funding, the space has also experienced seismic shakeups. For instance, China imposed strict regulations on private edtech companies this year, forcing them to register as non-profits and cease fundraising or going public.  
Nonetheless, after raising a record-breaking $12.6B across 602 deals in 2020, startups in the space are continuing to perform well in 2021. In fact, edtech startups have raised over $8B in funding across 471 deals so far this year. Most of this activity comes from early-stage startups, as seed, angel, and Series A deals have accounted for over 63% of deal activity on average since 2016.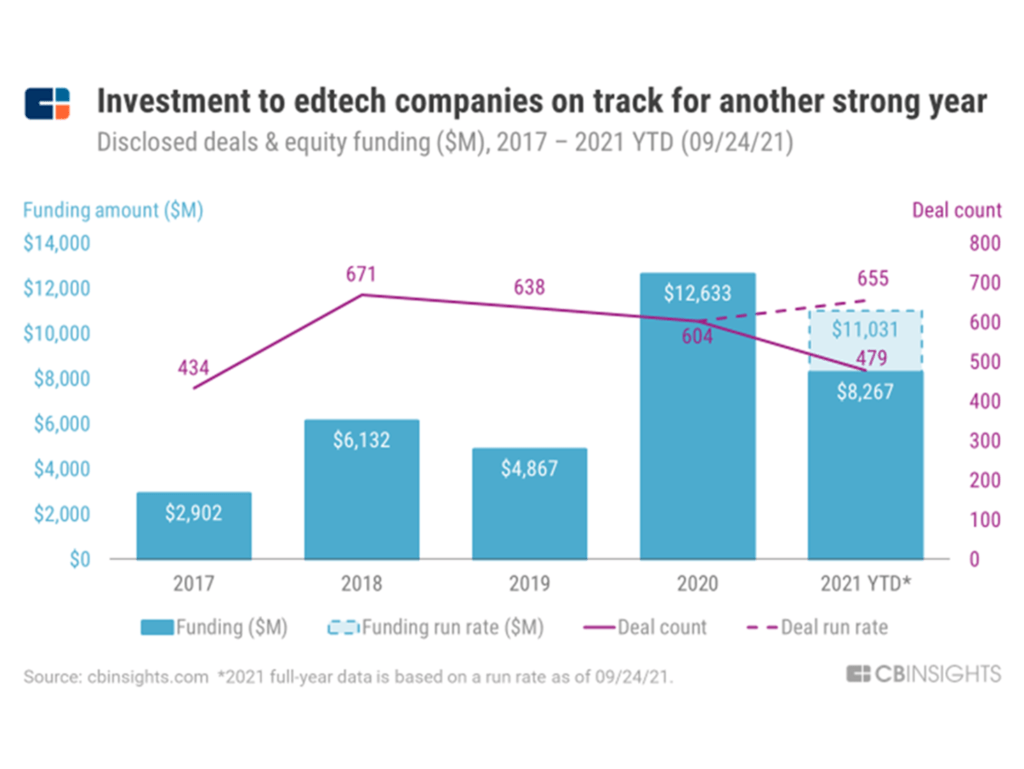 Using CB Insights data, we identified 50+ early-stage edtech startups to uncover emerging trends in the space. In 2021:
More companies focused on corporate training and education are gaining traction, particularly those developing training using simulations and virtual worlds.

A growing number of startups are helping people upskill and find new career paths through bootcamps and educational alternatives to college/university. 

Overall, there is a greater focus on making remote and hybrid education more seamless for both students and educators.
This market map is not meant to be exhaustive of companies in the space and categories are not mutually exclusive. More companies can be found in our Education Technology Collection.
Companies featured in the market map are VC-backed, and a majority of these companies have raised a round of funding in the last 12 months up to Series A.
Please click to enlarge.