From larger entities taking on multiple roles in the drug supply chain — as seen with insurer Cigna's purchase of benefits manager Express Scripts — to new tech startups simplifying drug distribution, here's how the complex pharmaceuticals market is changing.
With drug prices on the rise in the US, the pharmaceutical supply chain has come under fire.
Healthcare providers, patients, and politicians alike have all pointed out the inefficiences in the current system. And this outcry seems to be for good reason: for every $100 spent on prescription drugs, $41 goes to intermediaries in the supply chain, according to a 2017 report from USC.
The chart below shows the average revenue and profit received by pharmaceutical supply chain stakeholders for every $100 spent at a retail pharmacy. Notably, intermediaries together earn as much revenue as a manufacturer, which typically spends a decade developing a drug and is responsible for marketing it.
Additionally, the net profit margin of pharmacy benefits managers (PBMs) is misleading, because they list the cost of drugs as an expense — even though they never actually handle drugs.
Please click to enlarge.

Now, with pharmaceutical spending projected to reach $500B in the US by 2020, companies are emerging to make the drug supply chain cheaper, more efficient, and more transparent.
Below, we dive into how the drug supply chain works, the key stakeholders involved, and the startups and technologies working to simplify the process.
Expert intelligence clients who want to learn more can view our market map of 40+ startups disrupting the pharmaceutical supply chain.
mapping the pharamaceutical supply chain
Key stakeholders
The drug supply chain involves a number of stakeholders, from the manufacturers who create drugs, to the pharmacies that distribute them, to the PBMs that oversee the process.

Manufacturers: Research, develop, and produce drugs. Examples include Johnson & Johnson, Pfizer, and AbbVie.
Payers: Entities other than patients that pay for care (usually insurance companies). The "Big 5" insurance companies are UnitedHealth Group, Anthem, Aetna, Cigna, and Humana.
Pharmacy benefits managers (PBMs): Negotiate drug prices with manufacturers on behalf of their payer clients.
Wholesalers: Buy large quantities of drugs from pharmaceutical companies and distribute them to pharmacies. The 3 main wholesalers, which account for about 85% of the market, are AmerisourceBergen, Cardinal Health, and McKesson.
Pharmacies: Receive drugs from wholesalers and distribute to patients. Market leaders include CVS, Walgreens, and Walmart.
Specialty pharmacies: Manage the distribution of expensive, uncommon, or fragile drugs. Well-known specialty pharmacies include CVS Specialty, Accredo/Freedom Fertility, Alliance Rx, and BriovaRx.
Patients: The final person who ultimately receives and takes the drug.
Flow of drugs
Manufacturers create drugs and sell them in bulk to wholesalers, which in turn sell drugs to pharmacies. In this process, wholesalers use complex logistics and packaging methods to receive and deliver drugs on time and in good condition.
Patients can then go to a pharmacy to pick up their prescribed drugs.

Flow of services
Pharmacy benefits managers act on behalf of payers, leveraging their size to get discounts on drugs.
PBMs, manufacturers, and insurers develop lists of drugs (called formularies) to be covered by insurers. PBMs may give a certain manufacturer's drug a preferred placement on its formulary in exchange for discounts and other incentive payments.
Insurers provide prescription drug coverage for their patients, passing along some of the savings negotiated for them by the PBM.

Flow of money
The flow of money in the pharmaceutical supply chain is often complicated and inefficient.
Patient: Pays a premium to his payer (usually his insurer) in exchange for health coverage. Pays a copay to PBMs when purchasing drugs. (Note: while patients pay this copay at the pharmacy, the pharmacy doesn't hold onto that money — it goes directly to the PBM.) May receive copay assistance from a manufacturer when buying a certain drug.
Pharmacy: Pays wholesaler when buying drugs. Receives negotiated payments from its PBM when it sell drugs.
Wholesaler: Pays a manufacturer when buying drugs in bulk. Recieves payments from pharmacies buying the wholesaler's drug inventory.
PBM: Pays pharmacies a negotiated payment when a patient purchases a drug at that pharmacy. Receives payments from three sources: payers (who pay for PBM's negotiation services), patients (in the form of a copay), and manufacturers (which offer discounts and incentive payments to PBMs in exchange for marketing the manufacturer's drugs).
Manufacturer: May pay patients (in the form of copay assistance) to incentivize purchase of its drugs. Receives payments from wholesalers buying its drugs.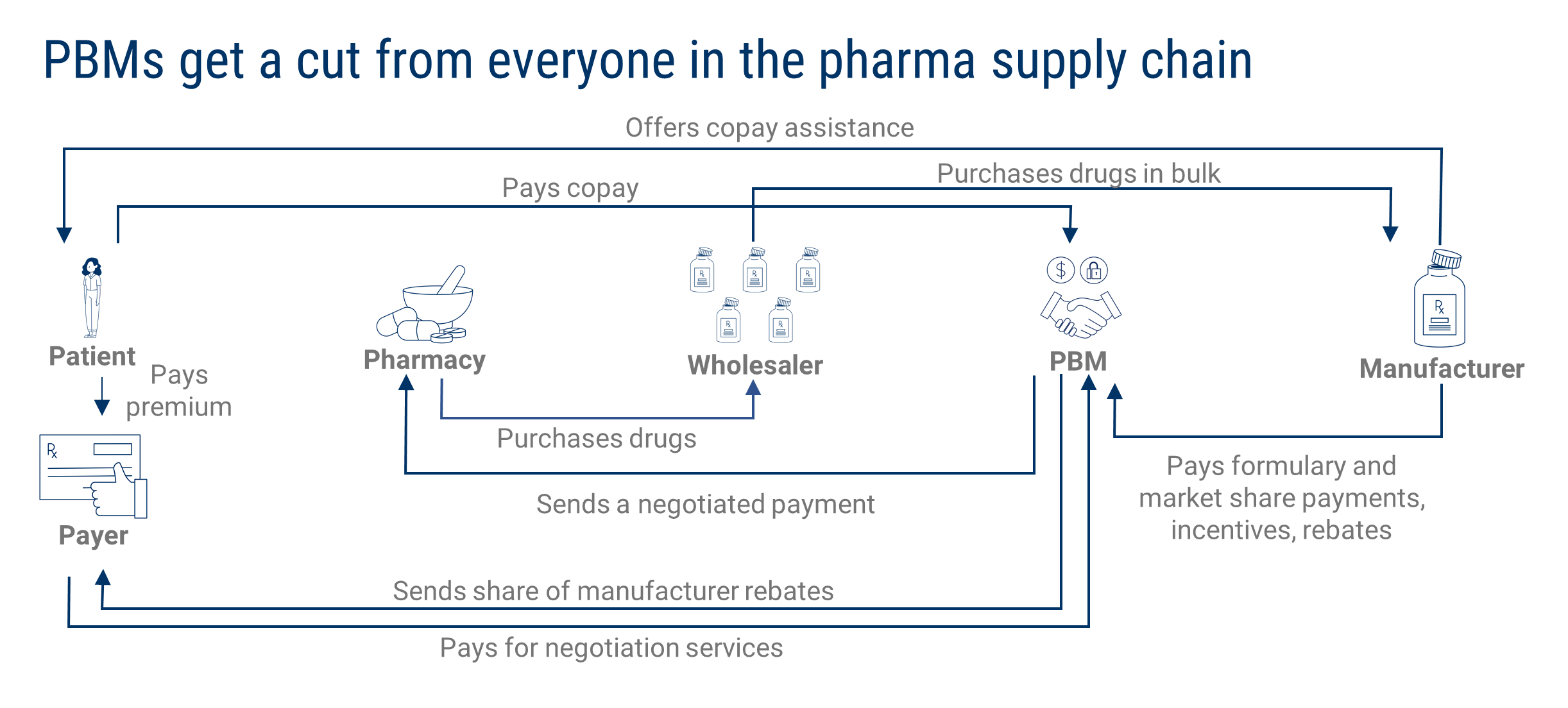 It's evident that this system is complex and inefficient.
Money may move from one party to another — only to be sent back to the first (as when pharmacies pass copays to PBMs, which send payments back to pharmacies).
Patients never directly pay the manufacturers developing their drugs or the pharmacies distributing them. Insurance coverage may ultimately be determined by manufacturer's paid incentives to PBMs, rather than patient drug preferences or even drug efficacy.
Below is a summary of key inflows and outflows of drugs, services, and payments in the traditional pharmaceutical supply chain.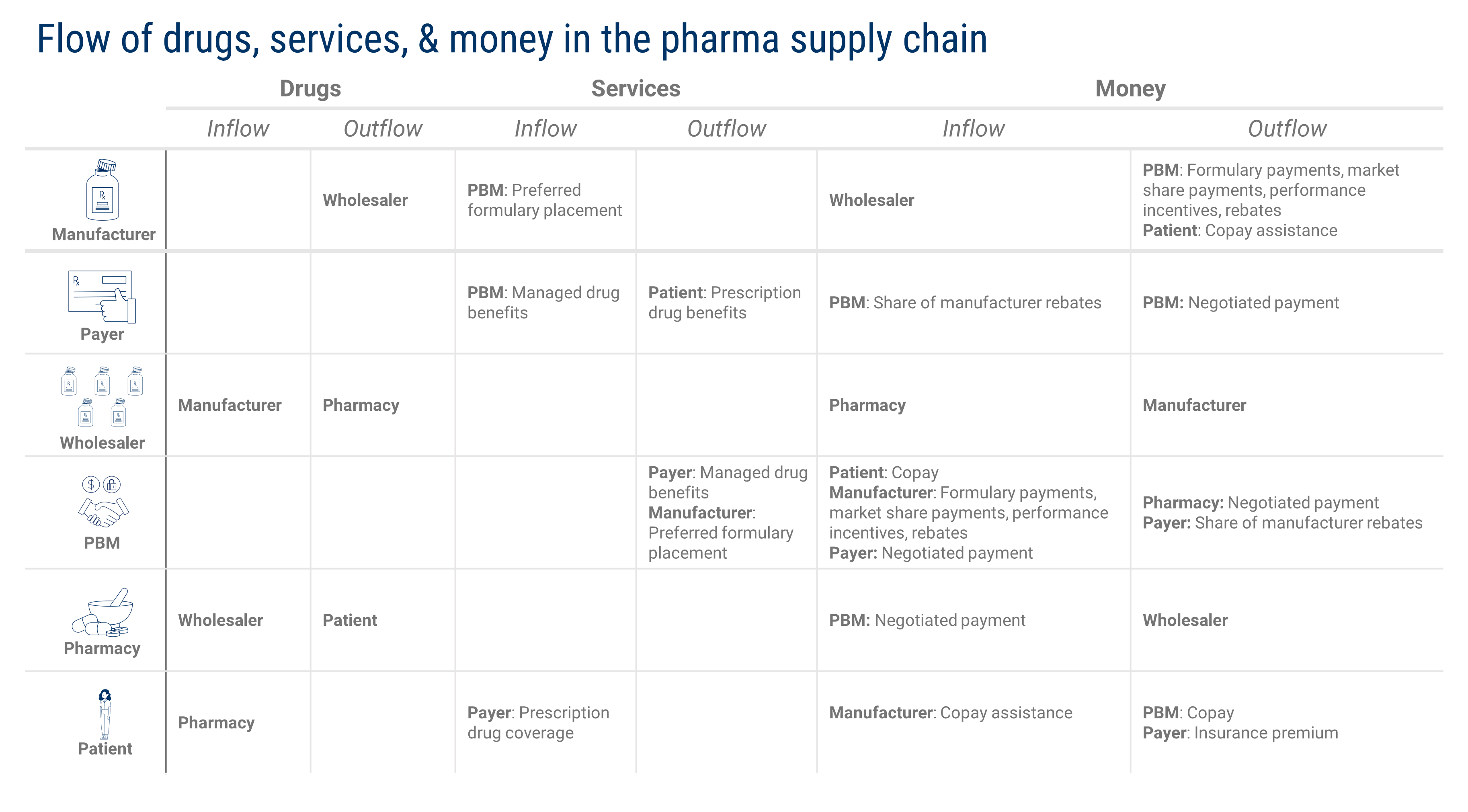 incumbents may play many roles at once
Due to the convoluted nature of the pharmaceutical supply chain, it is unsurprising that there has been significant vertical integration in the space. Payers in particular have realized the benefits of consolidating and distributing savings across an organization.
If its pending acquisition of Aetna goes through, CVS will have a presence in all levels of the supply chain, excluding wholesale. Similarly, Cigna's ongoing acquisition of Express Scripts — which was approved by the Department of Justice earlier this week — would provide it with a PBM and a specialty pharmacy to complement its existing pharmacy business.
UnitedHealthcare's supply chain subsidiaries include Optum (a PBM) and BriovaRx (a specialty pharmacy).
The below chart shows some of the key players that are wearing multiple hats in the drug supply chain.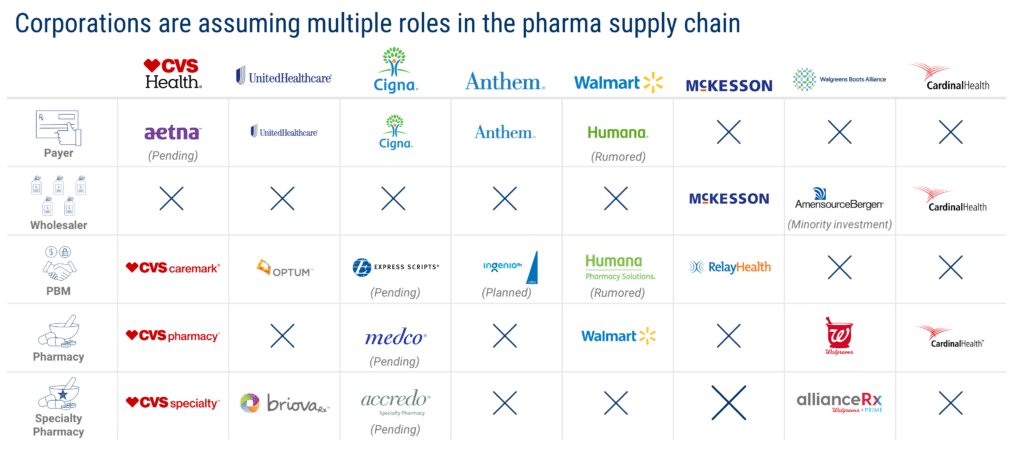 startups aim to streamline the pharma supply chain
The complexity of the drug supply chain and new regulation in the space mean that the pharmaceutical landscape is changing.
The Drug Supply Chain Security Act requires companies to enact measures to ensure the identification and tracking of certain prescription drugs by 2023.
Innovative startups are cropping up to fill this gap, aiming to help incumbents comply with policy and to simplify drug delivery, payments, and price negotiation.
In an industry where consolidation has been the prevailing trend, these companies are breaking down barriers and simplifying processes for stakeholders throughout the supply chain.
Drug packaging & product integrity
Biologics, an emerging class of pharmaceuticals that includes vaccines, blood & blood components, and gene therapies, are one good use case for startups focused on supply chain analytics and "cold chain." These treatments are often complex, expensive, and significantly more sensitive to temperature changes and microbial contamination than other pharmaceuticals.
Startups like TemperPack and Vericool have raised $13M and $5M, respectively, to provide solutions for safely transporting temperature-sensitive products.
Other startups are turning to blockchain and distributed ledger technology.
Hashed Health and Chronicled are outfitting prescription products with seals, labels, and other anti-tampering technology to give clinicians and patients confidence in the authenticity and quality of their pharmaceuticals.
While some supply chain logistics companies focus on smoothly transporting drugs from manufacturers to pharmacies, others are focused on direct delivery to patients' homes.
For example, mail-order pharmacy PillPack sorts and packages patients' medications based on their dosing schedules, then delivers them straight to patients' homes. The company made headlines when it was acquired by Amazon in June, becoming one of the tech giant's largest acquisitions.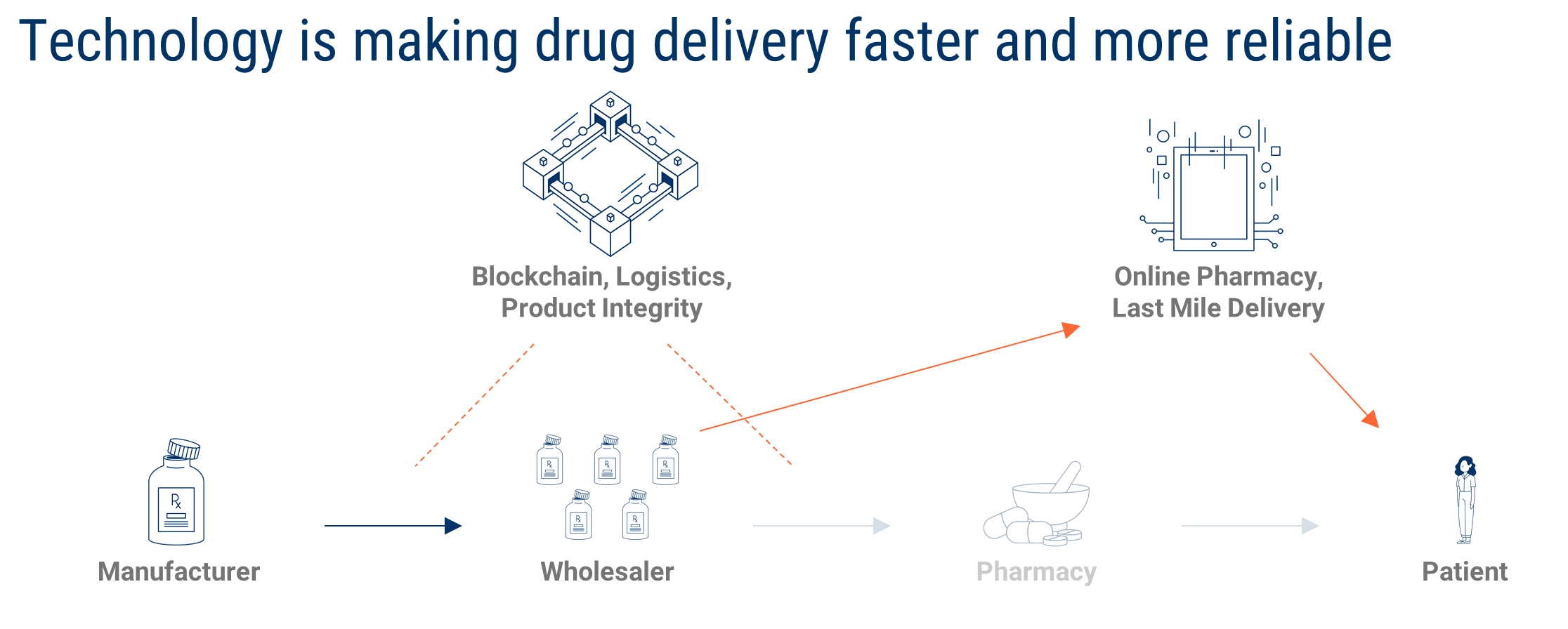 While logistics startups can help guarantee the integrity of products, online pharmacies could help cut out the middleman of a physical pharmacy entirely.
Drug price transparency & negotiation
Several other companies are looking to take a bite out of PBM profits. These companies negotiate on behalf of their clients — or simply on behalf of the general public — and have been gaining traction.
GoodRx, which provides up-to-date prices on drugs and negotiates discounts at pharmacies across the US, raised its latest round of funding to reach a $2.8B unicorn valuation in early August. Competing service Blink Health has raised $170M in disclosed funding since 2015, and offers discounts on more than 15,000 medications at its nationwide network of participating pharmacies.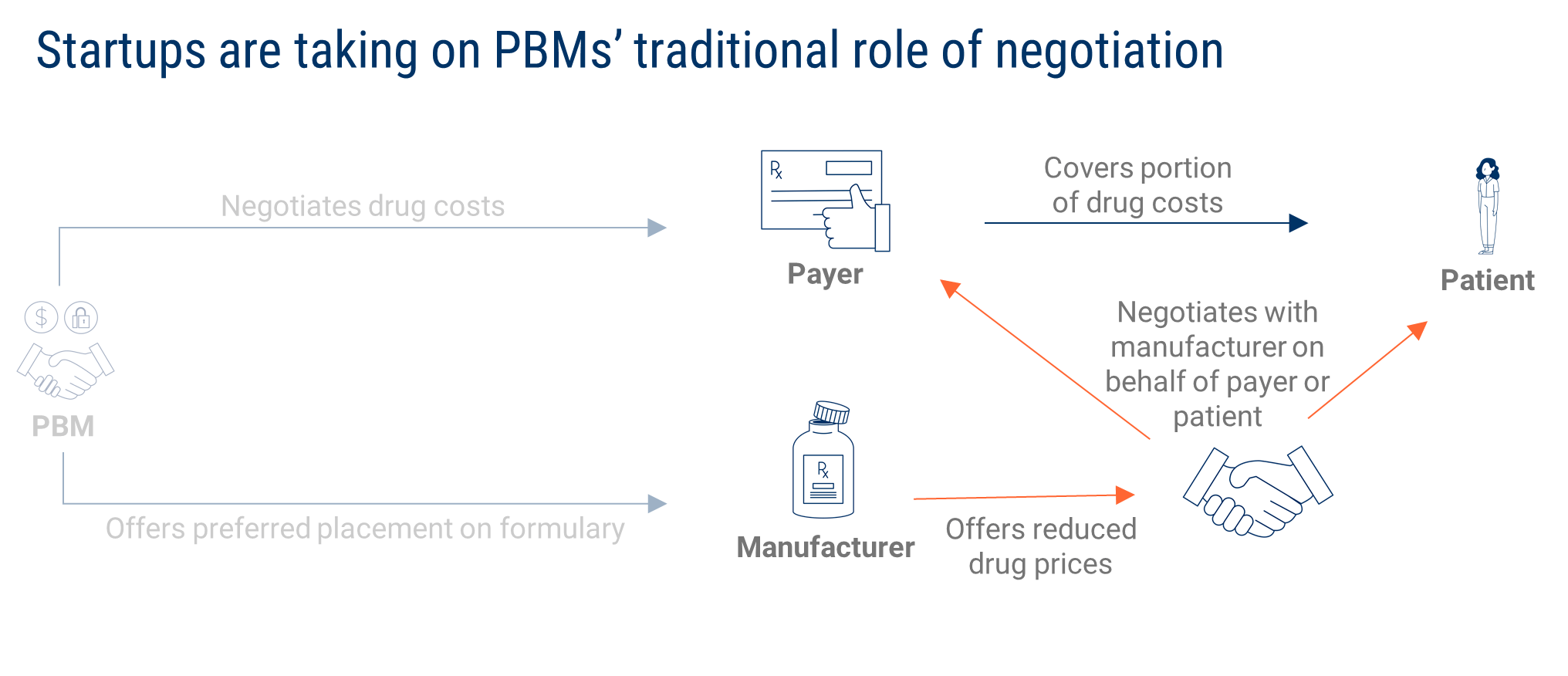 These companies could potentially reduce the role of PBMs, negotiating discounts for manufacturers selling directly to pharmacies or patients.
Direct-to-consumer & online ordering
Some companies are sidestepping drug supply chain intermediaries and even visits to physical doctors' offices by prescribing and delivering drugs directly to patients.
Startups like Hims (which offers drugs for baldness, erectile dysfunction, and more) and Nurx and The Pill Club (which both prescribe and deliver birth control) allow patients to order directly from their computers and phones.
These men's and women's health companies recruit patients online and via apps, prescribe them generic drugs and over-the-counter products, and deliver drugs to patients' homes in discreet packaging.
In doing so, these companies are essentially bypassing the entire supply chain. Patients no longer have to go through doctor, payer, PBM, wholesaler, and pharmacy to receive these generic medications — rather, they can use a single app to recieve and fill a subscription.

Following the model of targeting drug markets with generic availability and the potential for remote diagnosis, companies may expand into similar spaces like acne treatment (projected to be a $14B market by 2023) or hearing aids ($9B by 2023).
Simplifying the supply chain won't be easy — but it is possible
The pharmaceutical supply chain is extremely complicated in its current form. Supply chain intermediaries — wholesalers, PBMs, pharmacies, and payers — each benefit from a combination of scale and opacity.
However, technology like blockchain, logistics software, online pharmacies, and remote diagnostics can help lower costs and improve efficiency and reliability. Leading the way with this technological innovation are many quickly moving startups with innovative products and business models.
Going forward, startups looking to streamline this process will have to contend with regulation, corporate inertia, and larger vertically integrated companies. But if they succeed, novel approaches to price negotiation and drug delivery could reduce the number of intermediaries between manufacturer and patient from many players to simply one.
To learn more, expert intelligence clients can view our market map of 40+ companies using tech to streamline the pharmaceutical supply chain here. 
If you aren't already a client, sign up for a free trial to learn more about our platform.