Andreessen Horowitz has been the most active smart money VC in the drone space since 2012.
Over the past few years, top-tier VCs have made a number of investments in the drone space, and deals to drone startups got off to a strong start in 2017.
Smart money VCs have participated in 5 drone deals so far this year: General Catalyst participated in a $26M Series B to Airmap, New Enterprise Associates backed Echodyne in a $29M Series B, Social Capital joined a $1.5M seed round to Iris Automation, Swift Navigation closed a $34M Series B from First Round Capital and NEA, among others, and Foundry Group partnered with True Ventures, among others, in a $53M Series D to 3D Robotics.
We define drones broadly to include software and hardware companies developing technologies related to unmanned aerial, marine, and/or land vehicles designed for unstructured environments. These technologies range from drone manufacturing to analysis of data collected by drones, among other applications. For more on how we selected our 24 "smart money VCs," please see the explanation and full smart money list at the bottom of this post.
Annual Smart Money Financing Trends
Since 2012, smart money VCs have participated in approximately 46 deals, accounting for $681M in disclosed equity funding, across a majority of the twelve drone categories.
2015 saw the most dramatic growth, with an 86% increase in deals and a 314% increase in disclosed funding. Though 2016 witnessed continued growth, to date 2017 smart money deal pace has slowed considerably. However, funding in 2017 appears strong, in part due to the large rounds raised by 3D Robotics and Swift Navigation.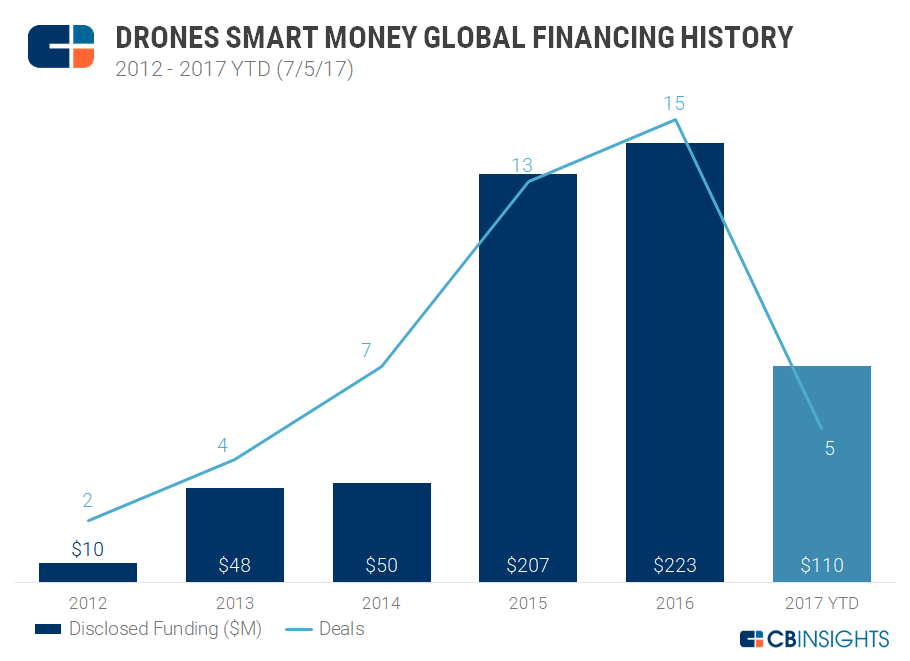 Visualizing smart money drone investments
Smart money activity can provide a window into an industry's momentum. Using CB Insights' Business Social Graph tool, we mapped out smart money VCs' drone investments since 2012.
Click to enlarge the full graphic below. Each green line symbolizes one investment round.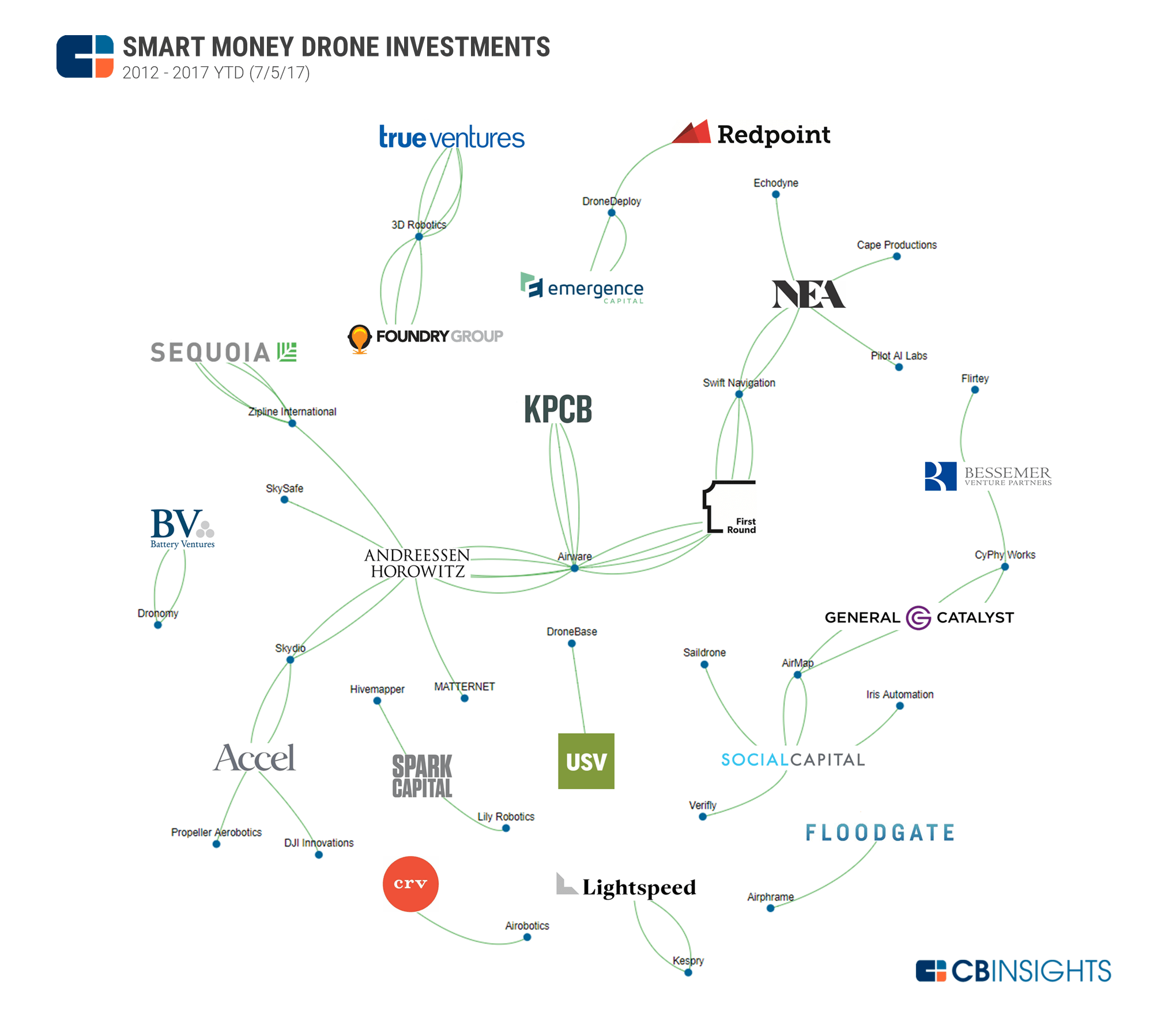 Andreessen Horowitz has been the most active smart money VC in drone tech since 2012, backing 5 startups over 10 rounds. One of their portfolio companies, Airware, also attracted investments from 2 other smart money VCs (First Round Capital and Kleiner Perkins Caufield Byers). Airware has amassed $93M in total disclosed funding to date.
3D Robotics has also received significant investment, raising $179M in total disclosed funding—the most of any drone startup—with participation from Foundry Group and True Ventures in multiple rounds.
DroneDeploy, which operates in the terrestrial imagery & mapping space, has raised $31M in total disclosed funding from Emergence Capital Partners and Redpoint Ventures, among others.
While terrestrial imagery & mapping has attracted investments from more smart money VCs than any other category (9 in total), navigation & autonomy and inspection & monitoring have also seen significant activity, from investors including Accel Partners, Bessemer Venture Partners, and First Round Capital.
Notable smart money VC-backed navigation & autonomy companies include Skydio (Accel Partners and Andreessen Horowitz) and Swift Navigation (New Enterprise Associates and First Round Capital), while CyPhy Works (Bessemer Venture Partners and General Catalyst) is a player within inspection & monitoring.
Track all the Drone startups in this brief and many more on our platform
Drone startups transforming unstructured environments are reshaping the ways we collect data, transport goods, and protect our property. Look for Drones in the Collections tab.
Track drone startups
While many smart money VCs have invested together, others have made independent bets within the drone ecosystem. Eleven of the nineteen active smart money VCs within the drone landscape have invested independently of their smart money peers, such as Accel Partners, which made a $75M Series B investment to DJI in Q2'15, as well as New Enterprise Associates, which participated in the $29M Series B to Echodyne in Q2'17. Other independent investors include Battery Ventures, CRV, Floodgate, Spark Capital, and Union Square Ventures.
Note: To analyze smart money trends, we looked at the activity of 24 top VC firms, selected according to portfolio valuations and investment outcomes. Some of the investors are linked to relevant research briefs. Here's our full list of 24 smart money investors:
Greylock Partners
Andreessen Horowitz
New Enterprise Associates
Founders Fund
Lightspeed Venture Partners
Foundry Group
Khosla Ventures
Social Capital
Emergence Capital Partners
True Ventures
Floodgate Fund
General Catalyst Partners
Battery Ventures
Redpoint Ventures
If you aren't already a client, sign up for a free trial to learn more about our platform.