At the current investment rate, startups providing tech to optimize brick-and-mortar retail could raise over $1B in 2017.
Deals to in-store tech startups dropped in Q2'17, but total funding jumped over 20% on the backs of several major deals to companies providing AI tools to retailers.
Using CB Insights data, we examined financing trends in the retail tech sector. Our in-store tech category focuses on startups providing technology to brick-and-mortar retailers, including beacons and sensors for tracking customers, point-of-sale software, tools for store associates, shelf monitoring systems, and more.
For a more detailed look into the diversity of the category, check out our market map here. This does not include restaurant-focused startups, which we've mapped separately here.
The STATE OF RETAIL q1 2022
Retail tech funding declined 11% QoQ to hit just under $24B in Q1'22. Download our free report to get all the trends.
Quarterly deals and dollars
In-store tech startups raised $229M across 32 deals in Q2'17, representing a 29% drop in deals from Q1 but a 21% rise in investment dollars. The quarter's largest deal went to Trax, a retail analytics startup that uses machine vision to track in-store activity and offer insights to retailers and CPG brands. Trax raised $64M in a private equity round led by Warburg Pincus, bringing the company's total disclosed funding to $148M.
Retail loyalty platform LevelUp raised the quarter's second largest deal, with a $37M Series F that boosted total funding to $103M. In third, Reflexis, a workforce optimization tool that works with Dollar General, TJ Maxx, and other retailers, raised $33M in private equity from Great Hill Partners.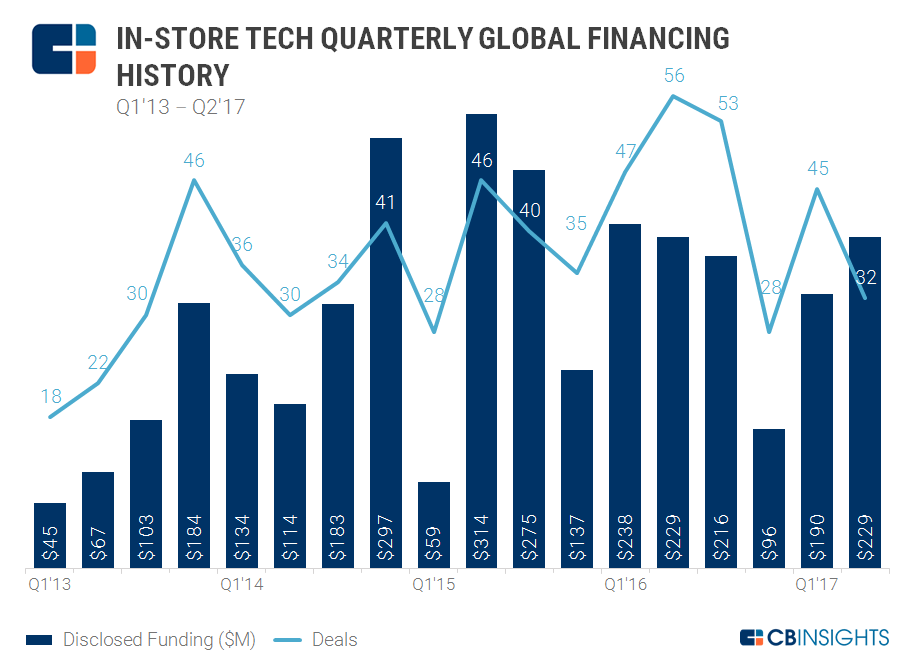 Track all the store tech startups in this brief and many more on our platform
Startups working on tech for brick-and-mortar retail have the potential to upend the industry. Look for In-Store Retail Tech in the Collections tab.
Track retail tech startups
Annual deals and dollars
The early days of Q3'17 saw a large mega-round to an in-store tech startup: Brain Corp, which is building autonomous navigation systems for retail robots, raised a $114M Series C from Qualcomm Ventures and Softbank Capital. The deal, which will help Brain Corp develop self-driving shopping carts and janitorial robots, is the largest deal in 2017 to date.
The $64M private equity round to Trax, described above, was the second-largest deal of 2017 (and like Brain Corp, Trax focuses on machine vision). The third-largest deal also took place in early Q3'17 — a $50M Series B to NewStore, a retail platform that merges in-store and mobile experiences. NewStore has $97M in total disclosed funding from General Catalyst, Activant Capital Group, and others.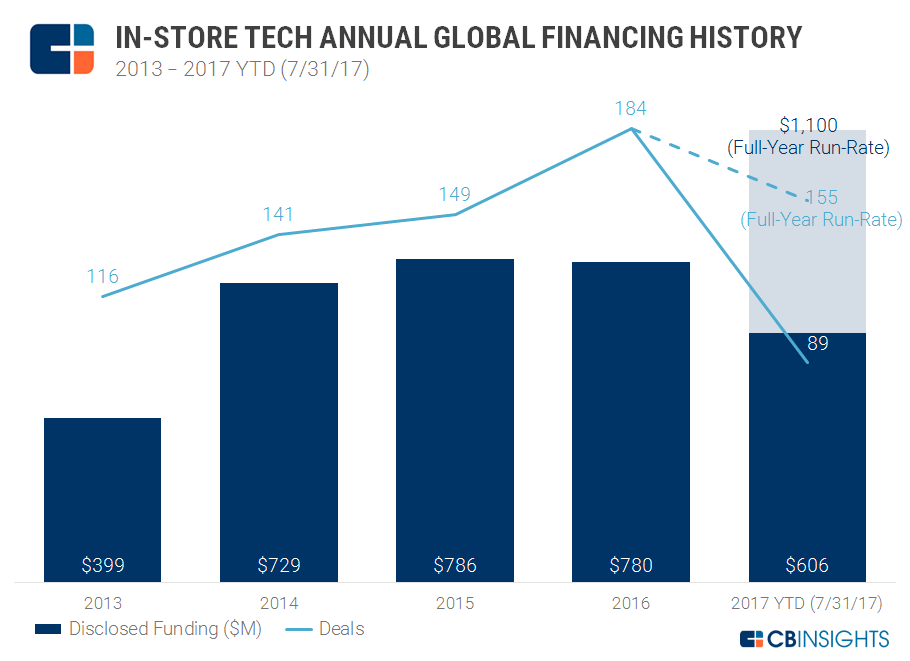 If you aren't already a client, sign up for a free trial to learn more about our platform.