By combining better pizza and tech, Domino's Pizza seems to have found its recipe for success.
With its consumer-focused technology initiatives, Domino's Pizza has managed to turn its luck around.
It even outstripped rival Yum! Brands-owned Pizza Hut last year, becoming the largest pizza chain by global  retail sales in 2017 (which includes both owned and franchised restaurants).
Technology-related terms were mentioned 248 times across Domino's earnings calls since 2008, compared to the 47 times across Yum! Brands' calls in the same time period.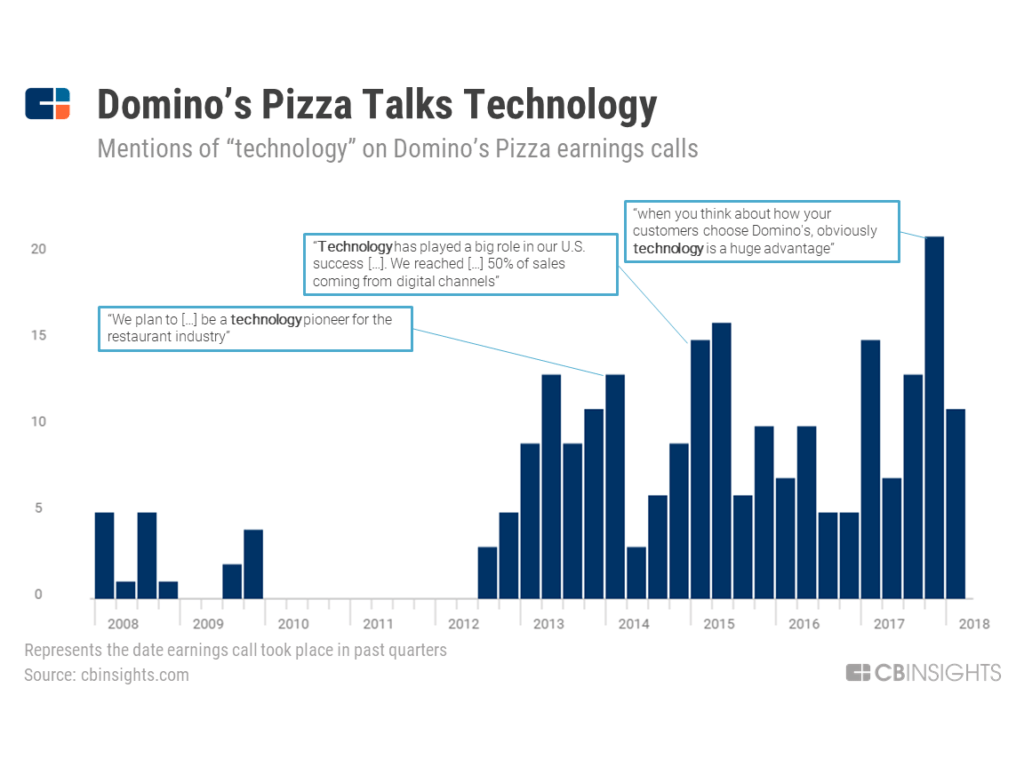 And the company has leveraged technological solutions to enhance both its ordering and delivery processes.
Domino's revamps the ordering process
While most orders used to be phone-based, Domino's Pizza started offering online ordering features in 2007. Among these, was a real-time pizza tracker feature.
Just 2 years later, online ordering grew to represent 20% of orders in the US.
But Domino's Pizza's biggest strength is its ability to adapt to changes in consumer behavior. The company has adopted new platforms to address these shifts, starting with mobile.
"Every part of the digital mix has been growing but mobile has been growing clearly much faster than laptops and desktops," Patrick Doyle, Jul'14
The company started by launching an iPhone app in 2011, followed by an Android app the next year.
And that's paying off with mobile growing faster than desktops, as mentioned by CEO Patrick Doyle on an earnings call in Jul'17.
The company also pioneered omni-channel ordering with its AnyWare platform.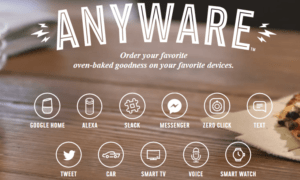 This allows customers to place orders with smartwatches, messenger apps, smart TVs, and in-car communication systems, among other devices.
Domino's Pizza was also an early-adopter of voice-ordering technologies, foreseeing high growth potential. It launched on Amazon Echo in early 2016, followed by Google Home the same year.
More recently, the company partnered with Nuance to free up time for restaurant staff. Nuance uses speech recognition technology to help take phone orders from customers.
Altogether, these digital ordering channels generated over 60% of US sales, or $3.5B in 2017, up from $1B in 2012.
Most of these new ordering platforms require customers to have a "Pizza Profile" which includes the customer's name, address, and credit card details.
Customers with an existing profile can also save their favorite order and can quickly re-order it through the "Easy Order" feature.
Tech-enabled delivery solutions
Domino's Pizza has also been exploring new delivery solutions.
The company introduced delivery options for over 150K US locations without addresses, including monuments and parks, starting in April 2018.
Domino's Pizza is also experimenting with new delivery technologies, as we've discussed in our pizza trends report.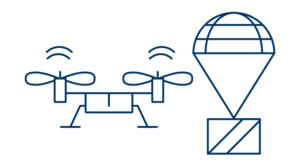 This includes the world's first commercial pizza delivery by drone in New Zealand in Aug'16 in partnership with Flirtey, self-driving delivery vehicle tests with its car maker partner Ford, and robot delivery in Germany with Starship Technologies.
While still in development and somewhat gimmicky, these delivery solutions could make it easier to deliver in places inaccessible for traditional delivery drivers. They could also make it cheaper, safer, and faster to deliver food.
But they'll have to overcome a number of hurdles, including regulatory scrutiny from cities. For instance, San Francisco banned delivery robots from most city streets in December as a result of pedestrian complaints.
Experimenting to win
Domino's Pizza is working on staying ahead of its competitors by pioneering and testing new delivery technologies. Not only could it help the company decide which solution(s) to use from an economics perspective, but it could also make integration into existing systems easier.
If you aren't already a client, sign up for a free trial to learn more about our platform.