The types of products we buy and the ways we buy them are changing. Can traditional food, beauty, and personal care leaders adapt?
The consumer packaged goods (CPG) industry — including food & beverage, beauty, personal care, and home care — can no longer rely on traditional ways of doing business.
People are looking for different types of products. They have higher standards for their food, and are paying more attention to what goes into their makeup and cleaning products.
They're also changing the way they shop.
Consumers are now buying CPG goods online, via mobile, at the office, through on-demand delivery, in meal kits and personalized services, by using smart home and voice technology, and more.
Meanwhile, activist investors, startups, and VC firms are driving the industry towards change.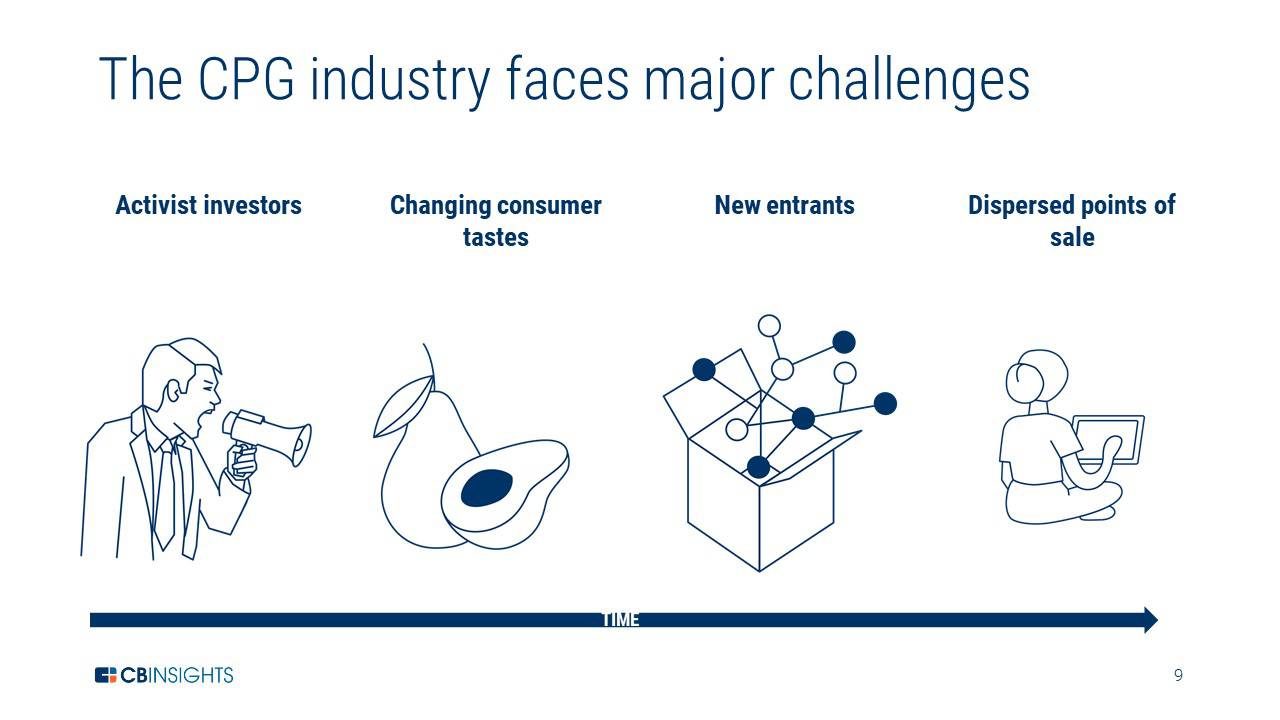 In this analysis, we'll explore the immediate and long-term challenges facing the CPG industry, as well as the business strategies that CPG brands are using to adapt.
Table of Contents:
Challenges facing the CPG industry
New CPG business strategies on the rise
Looking forward: personalized distribution
Challenges facing the CPG industry
Short-term challenges
Activist investors have become more vocal in the CPG industry over the past several years:
Third Point advocated for a Nestle split. Daniel Loeb, manager of activist hedge fund Third Point LLC, led an investment of roughly $3B into Nestle in 2017 and launched an attack on the company's leadership in mid-2018. He argued that Nestle's share of buybacks and sale of its US candy business haven't gone far enough, and the company should further split into three segments: beverages, nutrition, and grocery. He also advocated for Nestle to sell its stake in L'Oreal.
Trian Fund pushed P&G to re-evaluate its R&D strategy. Nelson Peltz and his fund Trian Fund Management disclosed a $3.5B stake in P&G in Feb'17. Later in the year, Peltz launched a vicious campaign to join P&G's board of directors. Peltz and P&G collectively spent over $100M on marketing to bring investors to their sides. Peltz lost the vote, but P&G appointed him to its board anyway in Dec'17. Since then, Peltz has continued to push P&G to re-evaluate its R&D strategy, bring in more external talent, and focus on innovation.
Third Point says Campbell Soup should sell itself. Daniel Loeb of Third Point LLC acquired 5.65% of Campbell and has argued that the company should sell itself. Campbell CEO Denise Morrison stepped down in May, and Loeb is gearing up to try to replace the company's entire 12-person board at its annual shareholder meeting on November 29, 2018.
Barington Capital pressured Avon CEO to step down. Activist investor Barington Capital drove out Avon CEO Sheri McCoy in 2017, and in Mar'2018 Avon agreed to add Barington Capital's CEO to its board of directors. The firm, which first disclosed its stake in 2015, has pushed Avon to speed up its turnaround plan or consider selling itself.
Jana Partners is targeting Pinnacle Foods. Pinnacle Foods, which owns Vlasic pickles and other brands, has been targeted by activist investor Jana Partners. Jana disclosed a 9.1% stake in Pinnacle in Apr'18 and argues the company should sell itself. Jana targeted Whole Foods before its sale to Amazon.
For those sitting in CPG board rooms, these challenges aren't academic. As pressure rises, CEO turnover is up.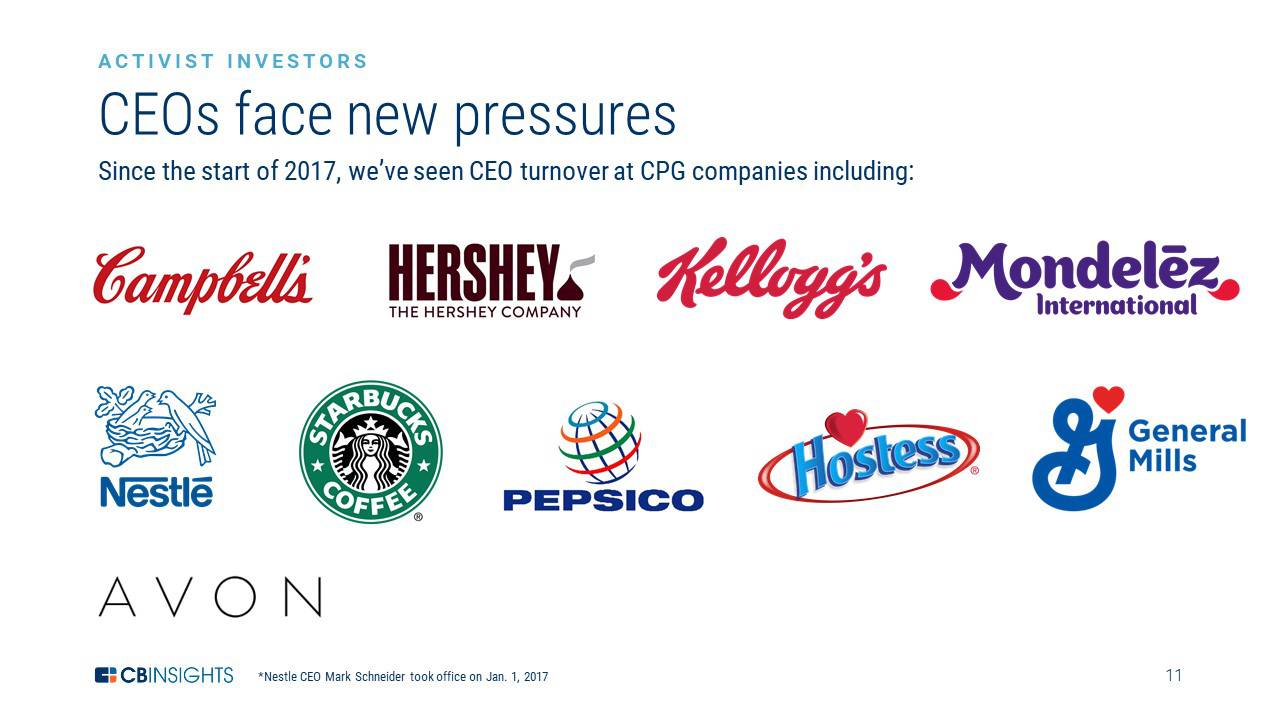 Investor pressure is pushing CPG leaders to undertake massive portfolio revamps. Mainly, they're racing to sell or slash their less productive business units and double down on their most successful products.
For example, Nestle sold its US candy business and aims to prioritize pet care, water, coffee, frozen food, and baby food. Smucker's and Mars are investing more heavily in pet care as well. Meanwhile, Coca-Cola and P&G have begun to aggressively shrink their product lines by selling and cutting unproductive products.
Medium-term challenges
New entrants have already become significant threats to certain CPG leaders, and there are more on the way.
The startup world is a major source of new entrants. So far, startups have most clearly disrupted yogurt, ice cream, and shaving.
Chobani became the top-selling yogurt in the US in 2011, only four years after its launch. Its growth has threatened Danone and General Mills' Yoplait.
Low-calorie ice cream startup Halo Top, founded in 2011, became the best-selling pint of ice cream in the US in 2017. With over 50M pints sold in 2017, it stole customers from General Mills' Haagen-Dasz and Unilever's Ben & Jerry's.
Aimed at millennials, subscription razor startup Dollar Shave Club, founded in 2011, grabbed 7% of the US shaving market and 30% of US shaving e-commerce sales by 2016, significantly impacting P&G's Gillette. In 2016, Unilever acquired the startup for $1B.
Thousands more startup CPG brands aim to reach the heights of Chobani, Halo Top, and Dollar Shave. These startups are targeting meat, dairy, energy drinks, coffee & tea, color cosmetics, skincare, and more.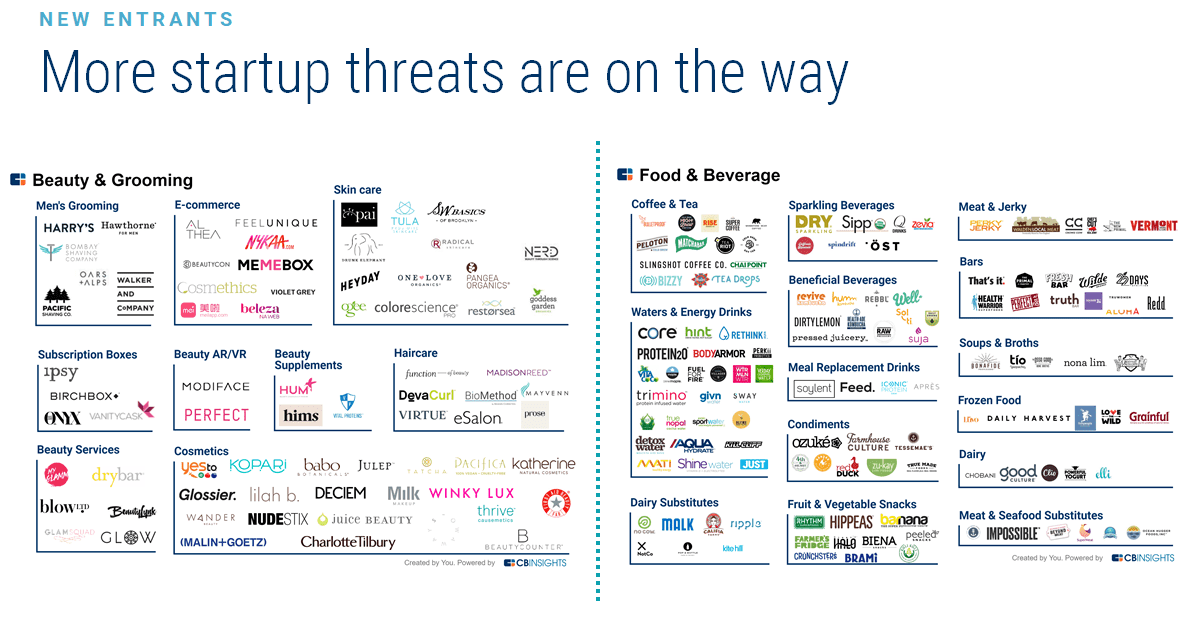 As the private CPG sector heats up, new investors are moving in, driving further growth.
CPG-focused VC firms have taken off, including AccelFoods, Cavu Venture Partners, New Crop Capital, and S2G Investors. CB Insights clients can search for top food investors here, and top beauty investors here.
Traditional CPG leaders are also making the private market more competitive by launching their own incubators, accelerators, and VC funds, which can be seen here. Most recently, Kraft Heinz announced a new $100M fund, Evolv Ventures, which will focus on startups in supply chain and logistics, e-commerce, and direct-to-consumer brands.
Traditional VC firms and even technology companies have also moved into CPG investments.
Google Ventures, for example, has backed Brandless, Soylent, and Ripple, while SoftBank recently poured $240M into Brandless.
Long-term challenges
Technology companies are controlling online and offline points of sale, intercepting shopper data, managing customer relationships in place of CPG brands, and more.
They're forcing CPG brands to rethink their entire marketing strategies and react to new trends. Alibaba, for example, established the shopping holiday Single's Day on November 11, which drove $25B in sales last year. Amazon's packaging policies could change brands' supply chain investments.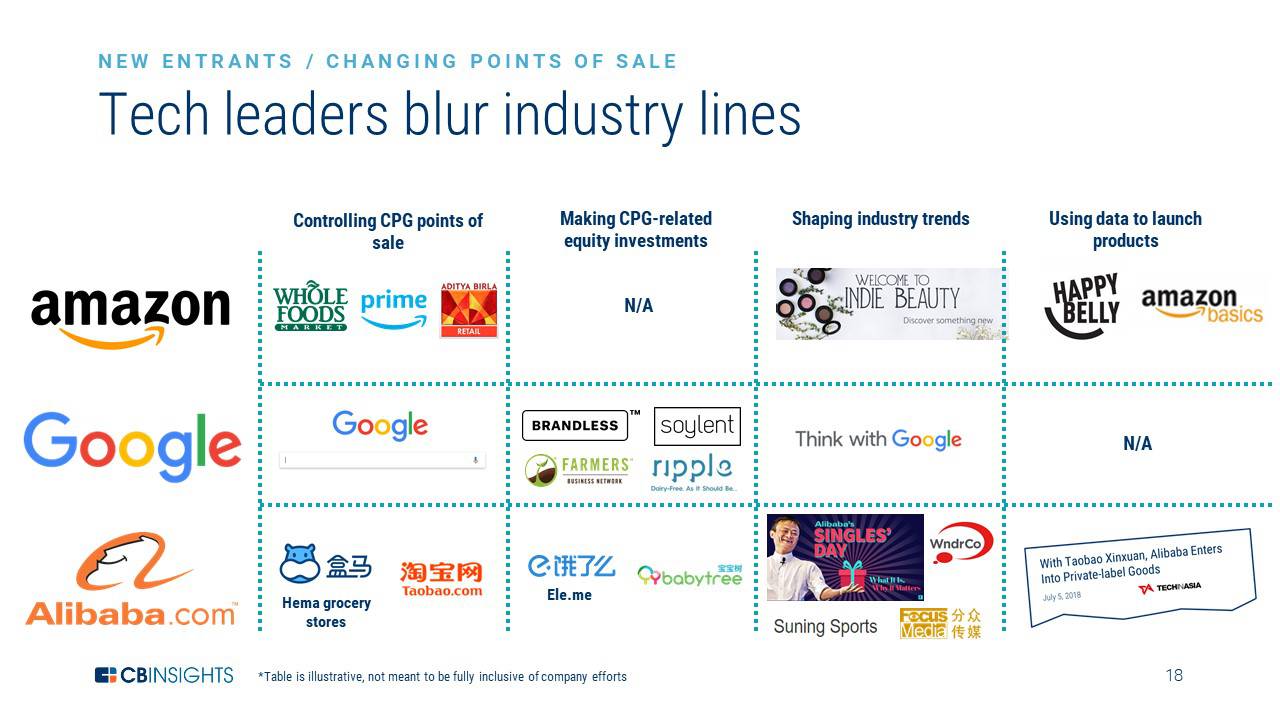 The way people discover and purchase products is also changing. CPG companies need to consider new ways to get their products in front of consumers, which we dig into below.
ALTERNATIVE PROTEINS, FITNESS TECH, AND GAMING SURGED IN Q3'20
Consumer product startup investment activity spiked in Q3'20 as funding reached an all-time high. Download our free report now.
New CPG business strategies are on the rise
Four main strategies in the market today are helping players adjust to changing conditions across the CPG ecosystem.
1. Investing in vertical integration
Retailers move downstream
Traditionally, companies like Kellogg's and Covergirl don't operate their own stores — they sell through Walmart, CVS, and other retailers.
Now, these retailers are investing more heavily in their own private labels, squeezing out brands:
Albertsons' O Organics private label hit $1B in sales in 2018. The company is rolling out 1,400 new private-label products, more than double its 2017 rate.
Kroger's Simple Truth brand hit $2B in sales in 2018, and Kroger partnered with Alibaba to sell its private labels in China.
Target has rolled out new private-label brands including Made by Design, a home furnishings brand, and Smartly, a low-priced home care brand.
Walmart rolled out new private label brands this year, including a wine brand. It also acquired D2C apparel brand Eloquii, following its past acquisitions of Bonobos, Moosejaw, and Modcloth.
Sephora has long been a leader in beauty private labels, which we've discussed in more depth here.
E-commerce platforms are moving into private labels, too. Amazon now offers over 120 private label brands. Smaller marketplaces like Boxed and Thrive Market have also rolled out private labels.
These retailers and e-commerce marketplaces can use the data they've gathered from selling other brands' products over the years to design their own private labels.
Their position can help them monitor online and offline consumer behavior. Amazon and other sites can track which shoppers are bargain-hunters, frequent browsers, vegan enthusiasts, and more based on their current shopping behavior, and design products to target the segments they see as most profitable.
These e-commerce retailers are also well positioned to spot gaps in the market and consumer behavior. Online marketplaces can track the products that shoppers search for but don't find. They can also analyze the categories with relatively less competition, or the prices that could be undercut. Private labels can fill the gaps.
Since marketplaces can see the contents of shoppers' online carts, they can better understand how people are using their products and optimize their marketing messages.
Brands move upstream
Brands need to rely less on retailers, which are becoming competitors rather than partners.
As a result, some CPG leaders have begun to open their own points of sale. The strategy helps them better control the presentation of their products, form relationships with customers, and gather their own customer data.
Some brands, including Kellogg's, Covergirl, and L'Occitane, are doing so by opening new flagship stores. Others are launching experiential pop-up stores, like Coca-Cola, Unilever, and Nestle.
CPG leaders are also acquiring retail chains to establish points of sale. Nestle, for example, acquired Blue Bottle and Coca-Cola acquired Costa Coffee. Some have acquired direct-to-consumer startups, such as Unilever's acquisition of Dollar Shave Club, P&G's acquisition of Native, and Purina's acquisition of Tails.com.
Other CPG companies are releasing new direct-to-consumer products. For example, P&G's Gillette responded to Dollar Shave Club by launching a text-to-order option in 2017.
Direct-to-consumer CPG startups have taken off over the past few years, and just like direct-to-consumer apparel startups before them, some have begun to open their own offline locations. These include Brandless, which opened a pop-up in LA this spring and is launching one in NYC this fall, and Winky Lux, which held a pop-up "experience" in NYC this summer.
2. Preparing for a post-storefront world
Traditional retail may be struggling, but the vast majority of purchases still take place offline.
As customers visit centralized shopping locations less frequently, brands can't sit around and wait — they need to go to the shoppers.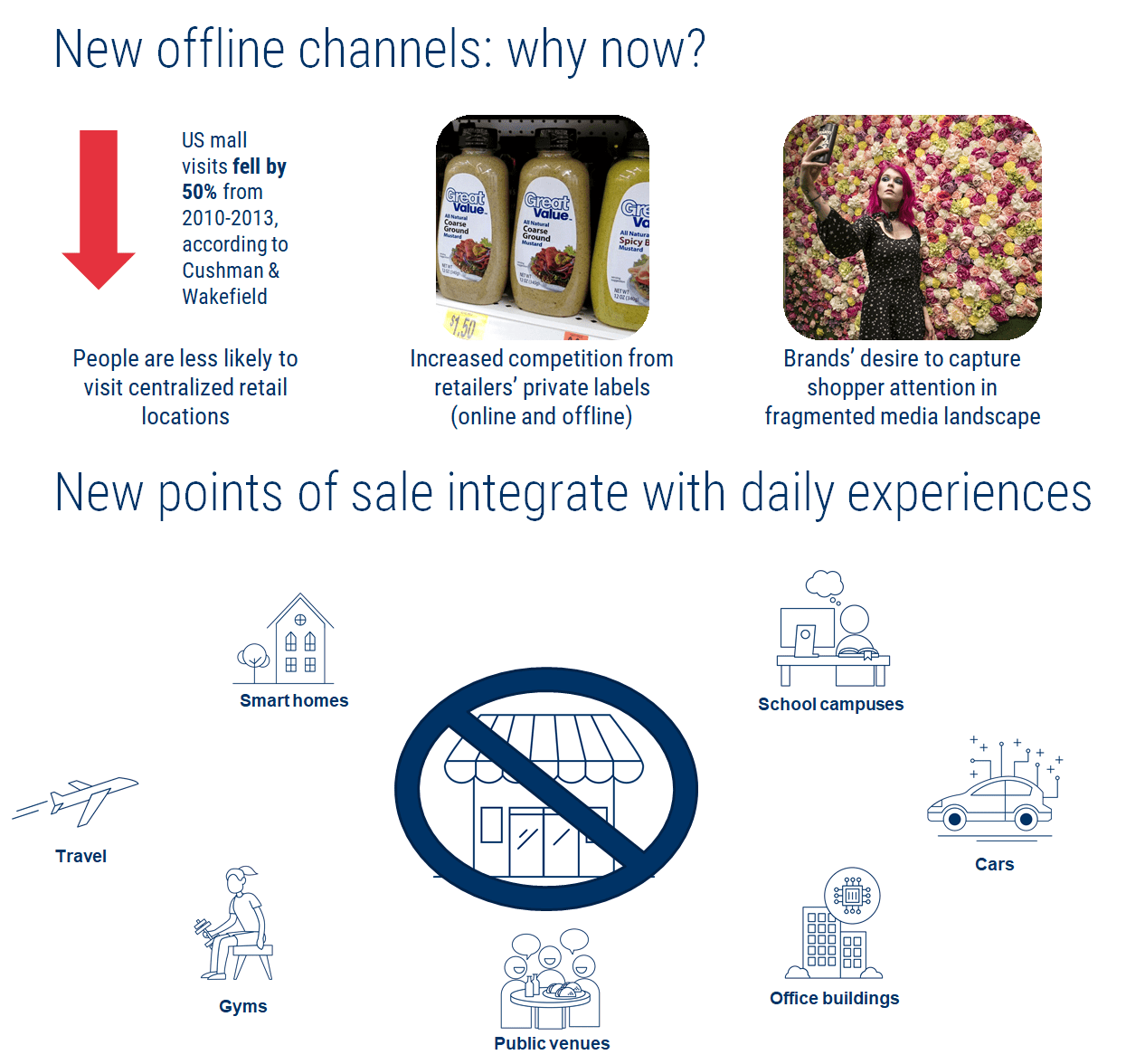 CPG startups have launched distribution partnerships with hotels, airlines, and other non-store channels, aiming for a win-win: the startups get to access a new market, while the traditional company gets a new source of innovation.
Startups are marketing to millennial employees at work
While millennials may be making fewer trips to brick-and-mortar stores, they're definitely spending time at work. Startups have begun to market to employees at their desks using a variety of models.
We see cashless vending machines like Byte Foods stocking fresh foods in offices for unmanned cafeterias. This has been a particularly hot area in China, led by startups like Xing Bian Li.
SnackNation provides subscription snack delivery to offices, curating healthy new products from startups and big companies.
Certain co-working startups have begun to move into retail, stocking products in their office buildings. In July 2018, WeWork launched WeMRKT, a new retail space inside WeWork buildings that will stock CPG products made by startups that use WeWork offices. Participants so far include Barnana and Kitu.
Gyms offer sales opportunities for snacks and workout accessories
Gym chain Equinox helped pioneer this model through its partnership with premium personal care brand Kiehl's. Now, some startups aim to build new partnerships.
Vengo, a cashless vending machine startup, recently partnered with gym chain Blink Fitness to set up digital vending machines in gyms selling snacks, headphones, and more.
Food startups are also viewing gyms as points of sale. Kettlebell Kitchen, which raised $26.7M in Oct'18, delivers healthy meals to customers' local gyms rather than to their doorsteps.
Airlines offer startups' products to make flights more comfortable
Jetblue now serves products from trendy dessert startup Milk Bar to some of its higher-value riders. Dubai-based airline Emirates recently partnered with indoor farming startup Plenty to provide freshly grown vegetables to airline lounges and in-flight meals.
CPG brands partner with hotels for immersive, social media-friendly experiences
Taking things far beyond the minibar, some retail brands have opened their own hotels. These provide immersive experiences for visitors and encourage online photo sharing.
Yves St. Laurent, for example, is rolling out a YSL beauty hotel in New York this year to showcase its beauty products, and Japanese retailer Muji has launched several hotels in China.
Ride-sharing makes the commute a new shopping opportunity
Startup Cargo has launched mobile-operated minibars that sell snacks and drinks in Uber cars. It's also partnered with Grab, Southeast Asia's Uber equivalent.
Uber riders can download the Cargo app and scan their phones to open the minibar and grab and pay for products. Cargo also uses its mobile app to gather data about users, which it passes back to the food and beverage brands.
3. BETTING ON WELLNESS
Wellness, or the idea of integrating activities into your lifestyle that fuel your physical and mental health, has caught on across industries.
Click to enlarge. Our wellness trends report covers more details on this trend.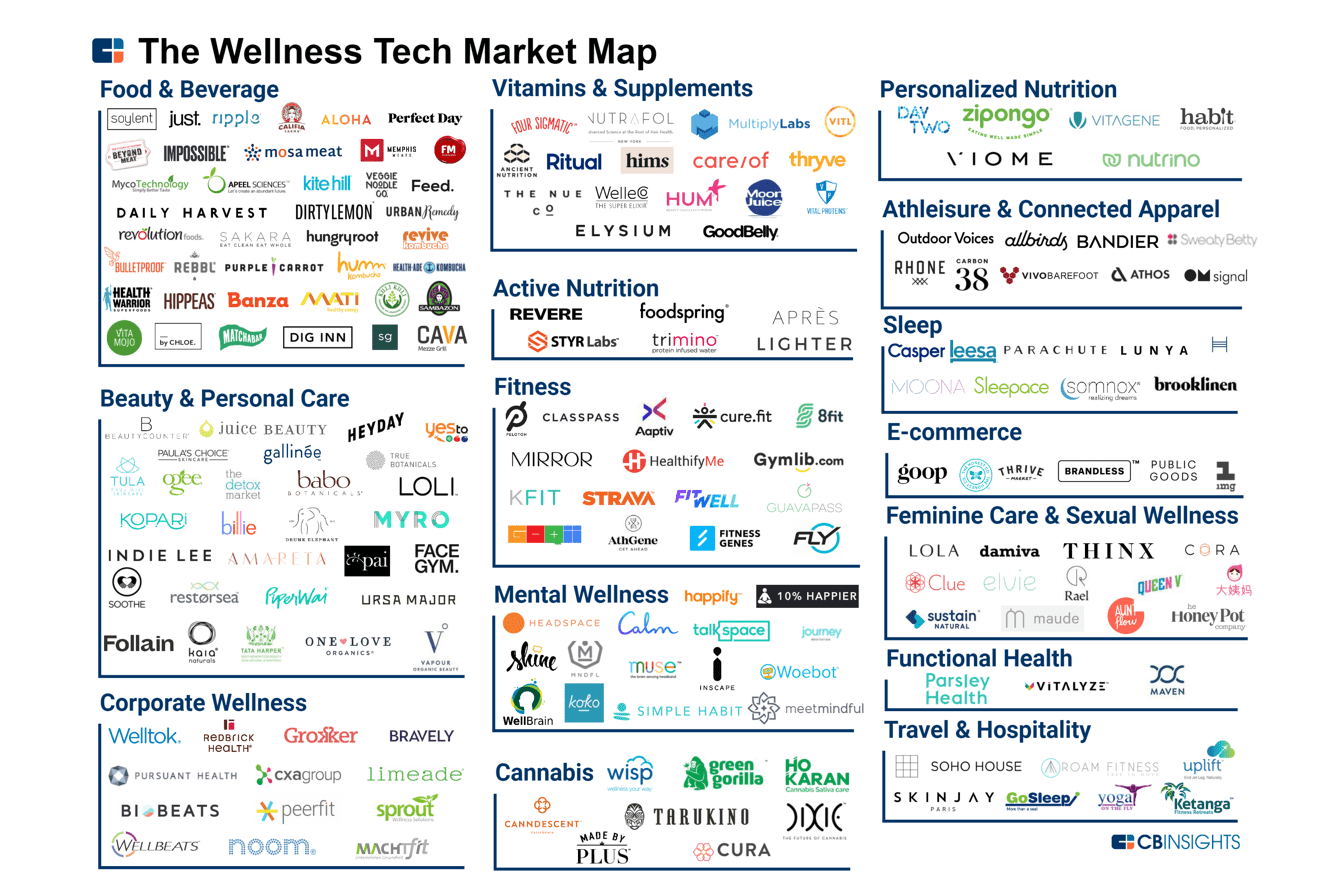 In the CPG world, startup brands have begun to build on the wellness trend by:
Retailers are jumping on the trend as well.
While athletic retailers like Nike have long offered fitness classes in stores, stores from other categories are now moving into the wellness space: Urban Outfitters, Free People, and Anthropologie have all rolled out wellness departments in stores and online.
As more retailers position themselves as wellness centers, new opportunities for startup brands will emerge. Healthy brands can partner with retailers — or, as we saw in the section above, with airlines, hotels, and others — to gain new sales channels, while retailers can attract health-conscious shoppers.
Some retailers and e-commerce sites have also grown by promising to curate healthy products for shoppers. Thrive Market curates natural and organic products online, while Follain tests and curates clean beauty products online and in its stores. 
The wellness trend is particularly impacting CPG leaders in unhealthy categories.
Some are spinning out old businesses, or acquiring new, healthier ones: Nestle sold its US candy business, PepsiCo acquired sparkling water maker SodaStream for $3.2B, and Coca-Cola acquired Costa Coffee for $5.1B.
Big beer companies are also racing to diversify as US beer consumption falls.
Brewers are now investing in kombucha, energy drinks, cannabis, and more. Notably, Constellation Brands (maker of Corona and Modelo) recently invested nearly $4B into Canadian cannabis producer Canopy Growth.
Check out a deeper dive on the beer industry's transformation here.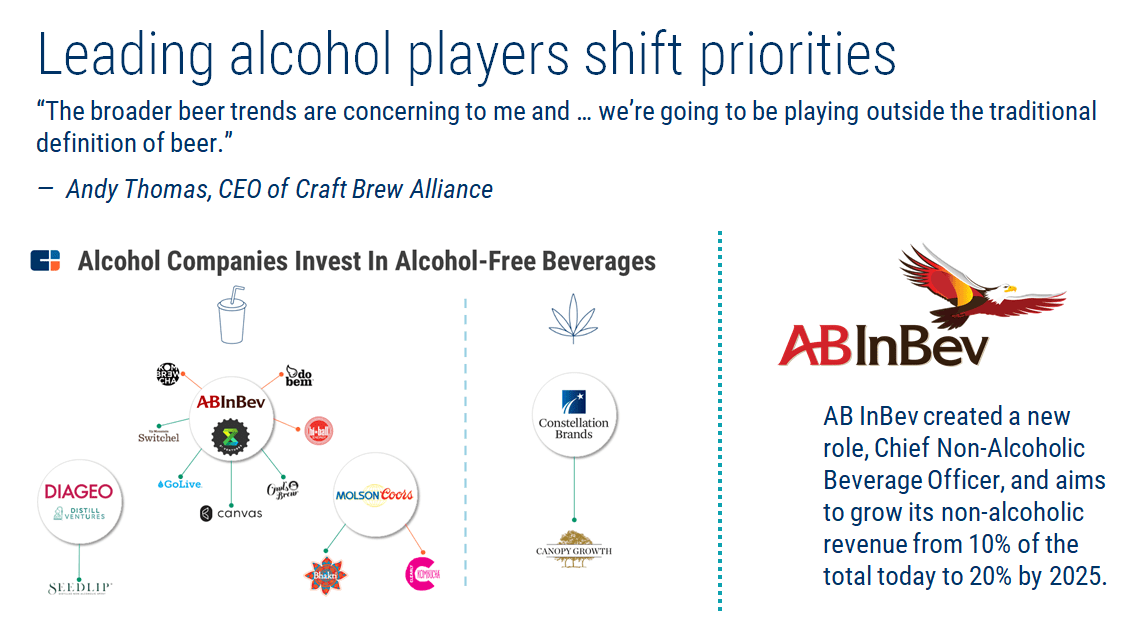 4. PERSONALIZED PRODUCTS 
Personalization has been a much-discussed topic for years. But now, we're seeing the emergence of technology to actually support it.
True personalization is a tall order. To offer effective, personalized CPG products, companies must:
Understand shoppers' needs
Understand the products that will meet those needs (this is especially tricky in the food world: what ingredients will help a specific person lose weight? what foods create more energy?)
Produce personalized products at scale
Turn a profit despite higher manufacturing costs (this is also extra tricky in the lower-margin food space)
Today, new tools like online surveys, big data, at-home DNA testing, and machine vision can help companies better understand shopper needs. Machine learning can help select the products best suited to each shopper, while 3D printing and automated factories can support production.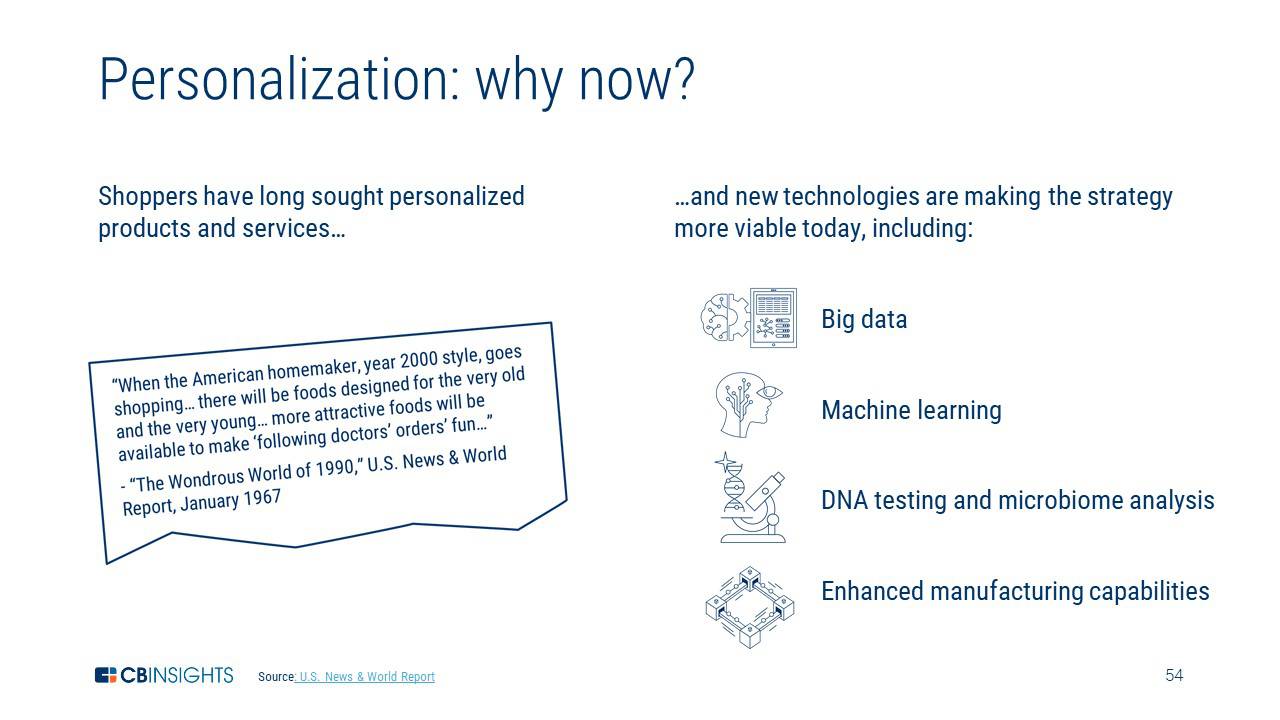 There are 3 main levels of personalized products in the market today.
Level 1: Personalized lifestyle needs
Most consumers don't wake up in the morning and say they need products with acai, algae, probiotics, and beet root.
Instead, a consumer might say, "I need to do something about my dry skin," or, "I'd like to have more energy at work."
Consumers look for solutions, not ingredients.
By framing products as solutions to specific lifestyle problems, companies can help people feel like they're being personally served.
For example, vitamin startup Olly sells "wellness boosts" with product names like "Goodbye Stress," "Restful Sleep," and "Vibrant Skin." This branding feels more personal and compelling than traditional vitamins.
Level 2: Personalized guidance
The next level of personalization involves companies guiding shoppers toward specific products.
The products themselves aren't personalized, but the curation is.
This model generally uses online quizzes that ask people about their attributes and consumer preferences in order to suggest specific products.
Some startups focus on this style of personalization as their main value proposition, such as wine subscription service Winc.
Others offer this curation alongside direct product listings, as with Tata Harper (skincare) and Blue Bottle (coffee).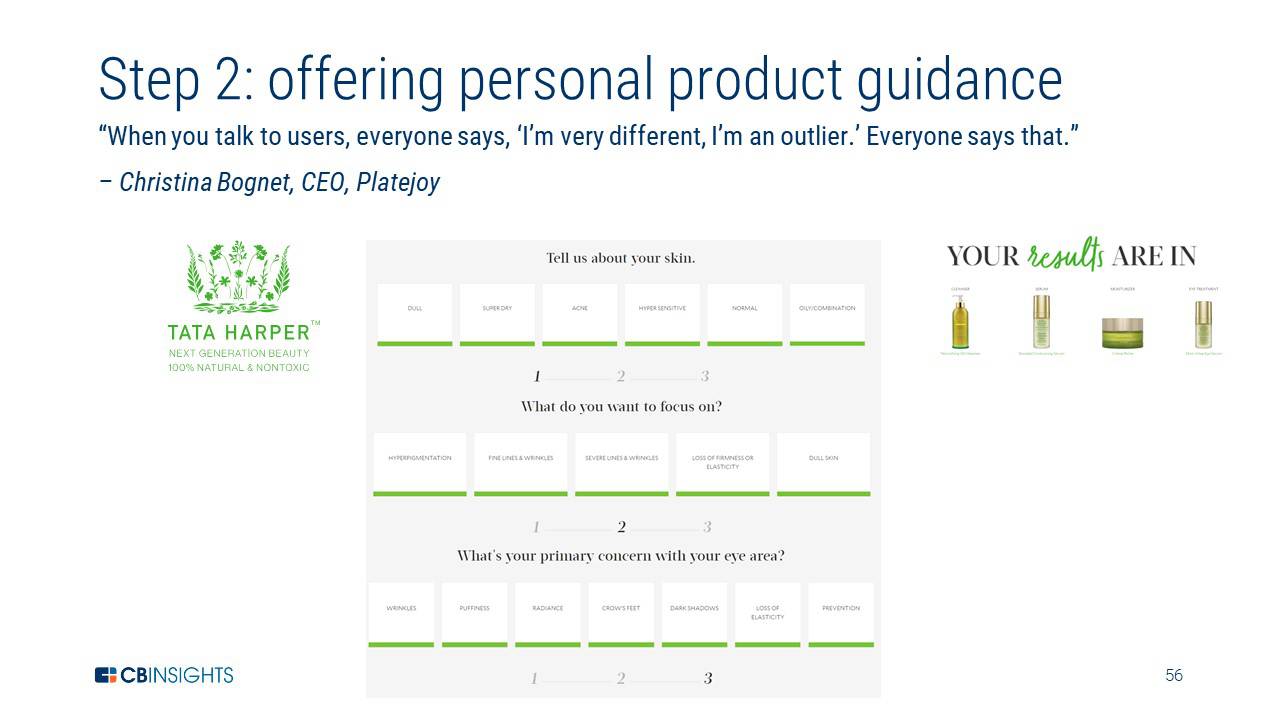 Like Level 1, this style is more of a marketing tactic than a new product development process.
The products are pre-established, but the quizzes and assessments make them feel more personalized to each shopper. The strategy also eases the product search and discovery process for shoppers, who don't have to scroll through every product to find one that fits their needs.
ALTERNATIVE PROTEINS, FITNESS TECH, AND GAMING SURGED IN Q3'20
Consumer product startup investment activity spiked in Q3'20 as funding reached an all-time high. Download our free report now.
Level 3: Fully personalized products
The third level of personalization involves designing and manufacturing fully personalized products, from the ground up, for each individual shopper.
Here, the manufacturing process is far more complicated.
Personalized haircare startup Function of Beauty, a leader in this segment, had to build its own manufacturing facility to pump out individualized shampoo and conditioner blends into bottles based on each shopper's online assessment.
Other startups selling fully personalized products include haircare startup Prose and skincare startup Curology.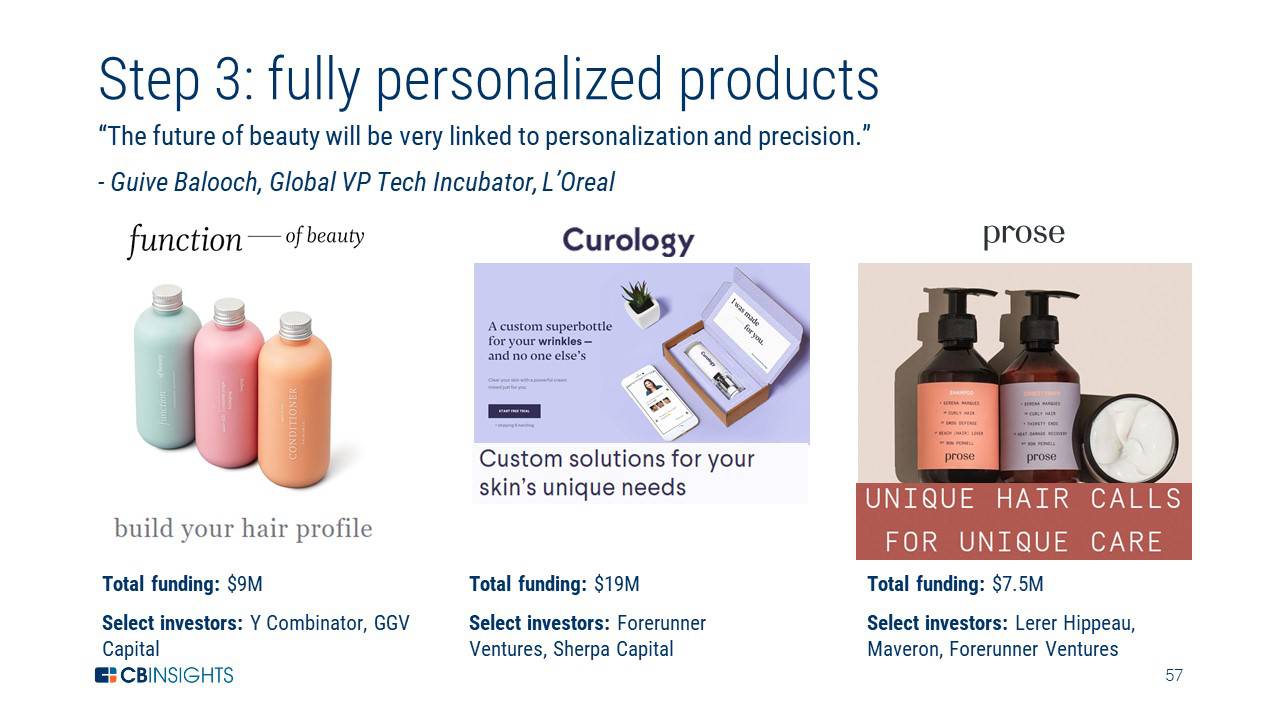 We haven't yet seen the model take off in food, likely due to the difficulties in manufacturing. In the future, 3D printers for food could support the sale of fully personalized food products. Shoppers could submit their needs and preferences, and printers could pump out foods with appropriate nutritional proportions.
Nestle recently launched a pilot program for DNA-based, personalized smoothie capsules in Japan. Users take an at-home DNA test, and Nestle sends them beverage capsules personally formulated for their needs. If the pilot program is successful, it could pave the way for further research and development.
Combating analysis paralysis
Alongside the rise of personalization, we've seen parallel growth in standardized products.
In CPG, startups like Soylent ($71M raised), Ample ($2M), and Brandless ($292M) embody the one-size-fits-all trend.
But personalization and standardization are more similar than they appear.
Both take away the burden of choice for the consumer, promising the right product for a specific consumer (personalization) — or the right product, full-stop (standardization).
Just like standard products, personalized CPG startups emphasize ease and simplicity.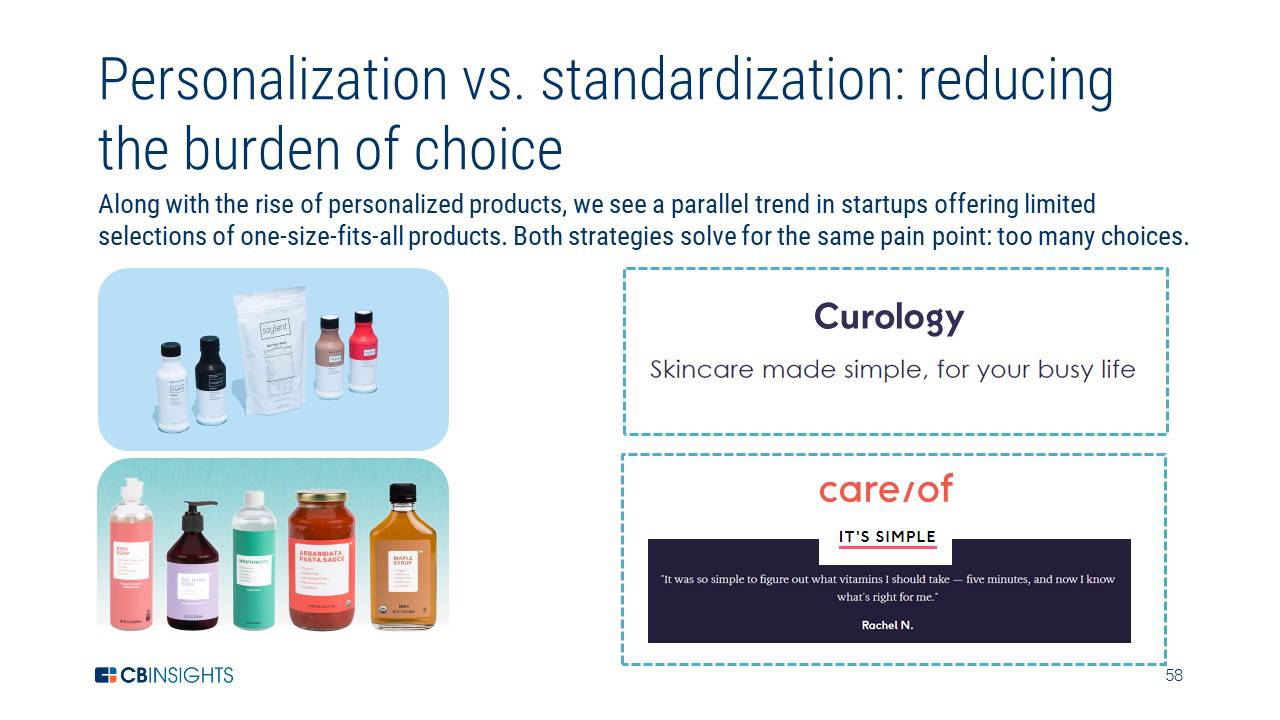 Unlike standardized products, personalized products can drive long-term shopper loyalty. Once shoppers have spent the time filling out online assessments, and once they try personalized products that can't be replicated by other companies, they may be less likely to switch brands.
Gathering new data streams
These personalization strategies gather huge amounts of data for brands.
As shoppers volunteer information on their habits, likes and dislikes, hair type, skin conditions, and more, brands can use the information to design future products and support marketing.
These kinds of data stores could make personalized CPG startups more attractive acquisition targets for CPG leaders.
Looking forward: personalized distribution 
Along with personalized products, consumers also want products delivered on their own schedule, in a way that's convenient to them.
So far, subscription startups generally ship products to people on fixed schedules (e.g. 4 razor blades per month). However, this model doesn't translate well for products that people use on unpredictable schedules. Even for predictable products, like razors or shampoo, subscriptions can lead to too many refills one month and too few another.
Some companies have begun to experiment with IoT packaging that would monitor when shoppers are almost done with an item, then automatically order a refill.
This summer, liquor company Pernod Ricard (which makes Absolut vodka and other brands) piloted a system of IoT glasses that would track users' behavior at home.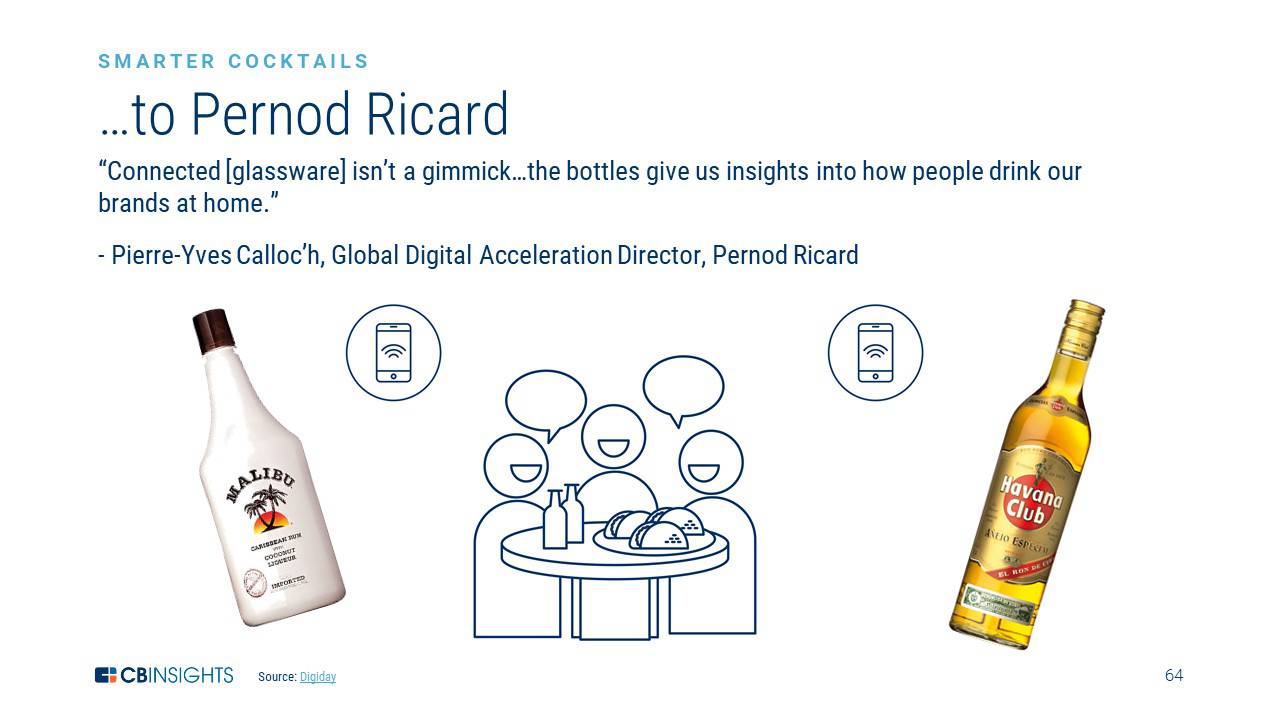 Amazon, Walmart, Procter & Gamble, and other major retail/CPG companies have also filed patents for smart home systems that automatically order refills for empty products.
Like personalized products, personalized distribution methods gather major new data streams for brands — data on offline, at-home behavior, which is obviously difficult to measure. Using IoT, companies could track how often people use different products, how much they use, and even where in the house they use the product.
Personalized distribution also hedges against a future with fewer store visits.
In an automatic refill scenario, shoppers wouldn't have to visit a store, or even a website, in order to get products.
It remains to be seen how many people would accept IoT-enabled products in their homes. However, as we've shown time after time with Google, Facebook, Amazon, and more, people are often willing to accept less privacy in exchange for greater convenience.
If you aren't already a client, sign up for a free trial to learn more about our platform.