Shared mobility services are more convenient — and in some cases, more affordable — than owning a car. We break down a number of these emerging modes of transport by trip length.
Personal car ownership isn't dead yet.
That said, as cities in the US grow more congested, public transportation systems are failing and traffic is worsening, all of which is making quick and efficient transport more difficult.
As a result, a number of mobility startups have emerged, deploying new transportation models that stand to disrupt personal car ownership in dense urban regions, and potentially in more suburban regions moving forward.
In this brief, we'll explore these new forms of transport by trip length, assessing new modalities for short-distance trips (five miles or less), mid-length transport (five to 15 miles), and long-distance travel (greater than 15 miles).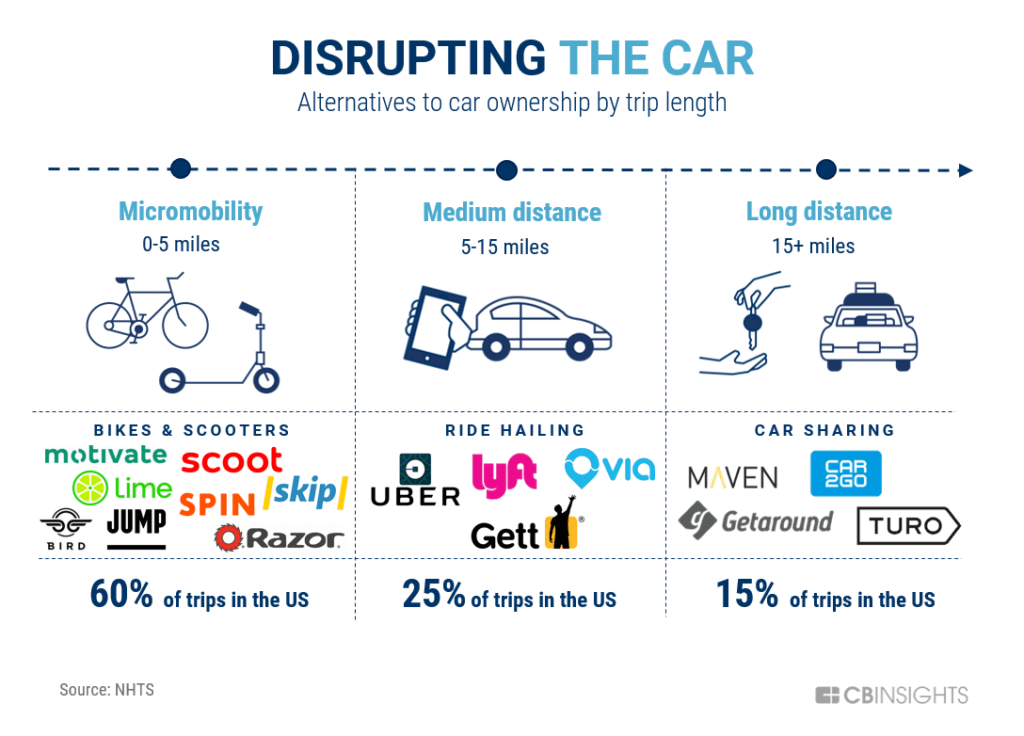 Micromobility
Startups addressing short-distance transport (i.e. less than five miles) have taken the mobility space by storm in recent months, most notably with the rise of bike and scooter startups.
Part of the hype surrounding the micromobility space stems from the fact that roughly 60% of trips in the US are five miles or less.
Additionally, traditional bikes, as well as e-bikes and e-scooters, address a number of inefficiencies in the transportation ecosystem.
Most notably, they tackle the first- and last-mile problem, or the trips to and from public transportation hubs.

Solving this issue is critical, as fewer people are using public transportation even as cities are growing more populated.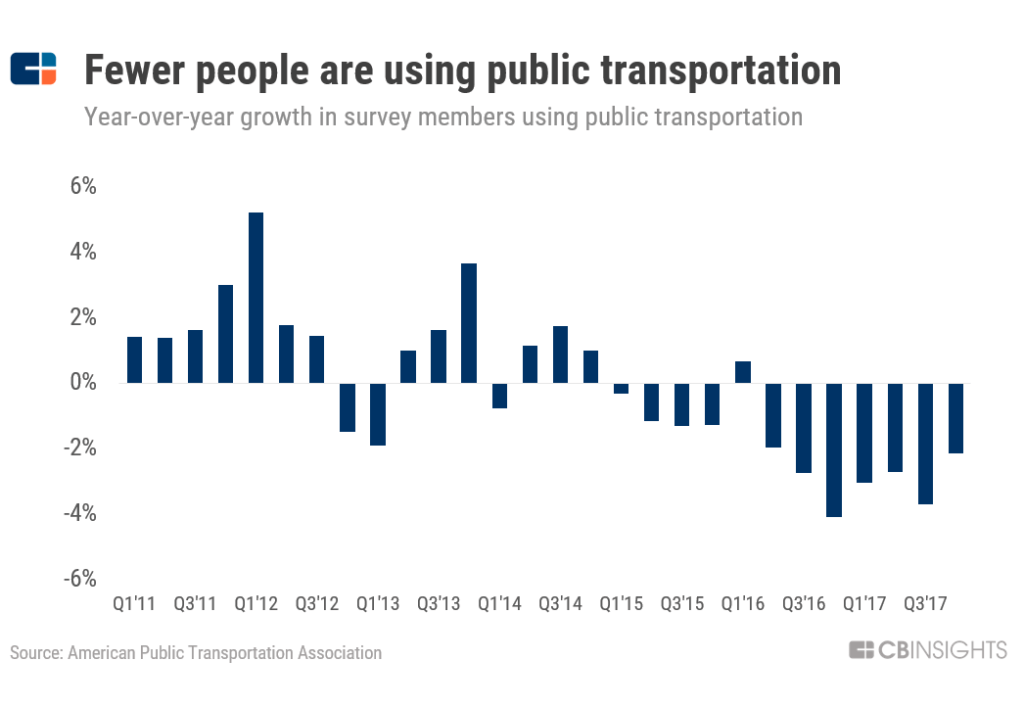 Many attribute waning public transportation usage to the convenience of ride-hailing and historically low gas prices, which makes driving a personal car more affordable.
Bikes and scooters, which allow people to quickly and easily move themselves shorter distances, can help commuters access public transport hubs that are several miles away.
These personal vehicles can also replace short-distance car rides, which would help to reduce traffic levels and make overall urban transport more efficient.
In July, Uber reported that rides on Jump electric bikes, a shared e-bike platform acquired by Uber in April, have been cannibalizing Uber rides during periods of high congestion.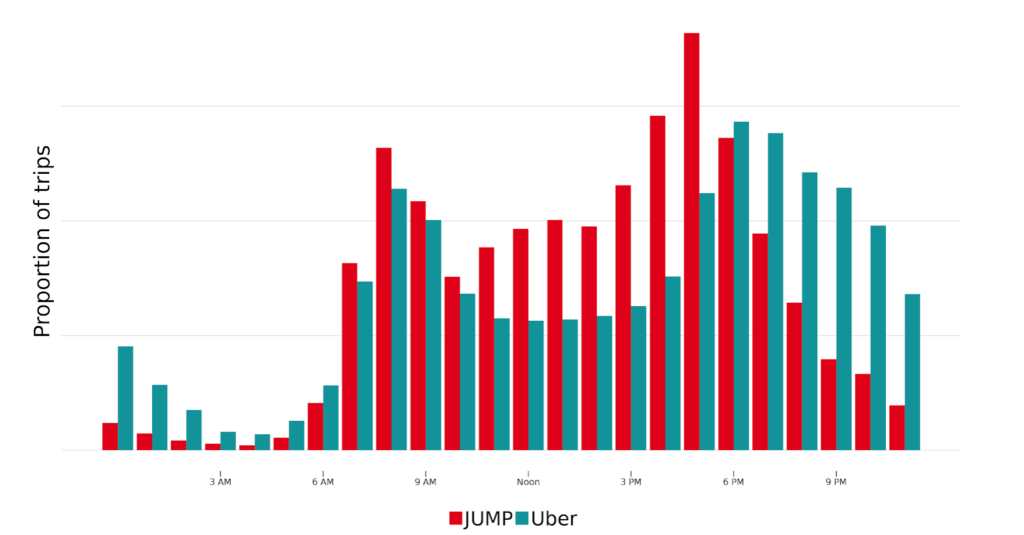 Rather than pushing back against these trends, Uber is embracing bike-sharing and repositioning itself as an all-encompassing transportation services provider, with the ultimate goal of combating personal vehicle ownership.
Dockless sharing platforms take center stage
Almost all of the funding in the bike and scooter space has gone to sharing platforms rather than bike or scooter hardware.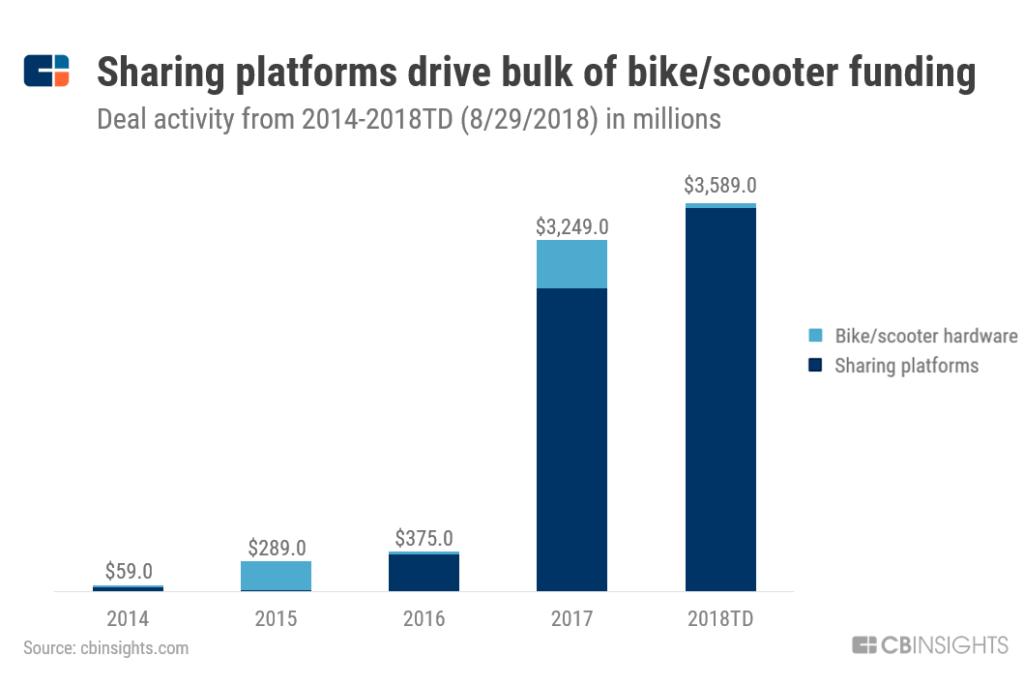 The main driver of this recent boom in funding has been the rise of the dockless system, which originated in China with traditional bikes back in 2016 but has since spread to the US for traditional bikes, e-bikes, and electric scooters.
Dockless systems, which allow users to park their bike or scooter anywhere along the sidewalk rather than in a fixed docking station, are more convenient and less costly to scale given lower capital costs, as operators don't have to build out fixed stations.
A confluence of maturing technologies, including mobile payments, IoT, and GPS technology helped make dockless systems possible.
When combined into a mobile app, these technologies allow users to locate, access, and pay for vehicles without the need for fixed stations.
Just 4% of the 35M US bike-sharing trips taken in 2017 were through dockless systems, which suggests a big growth opportunity.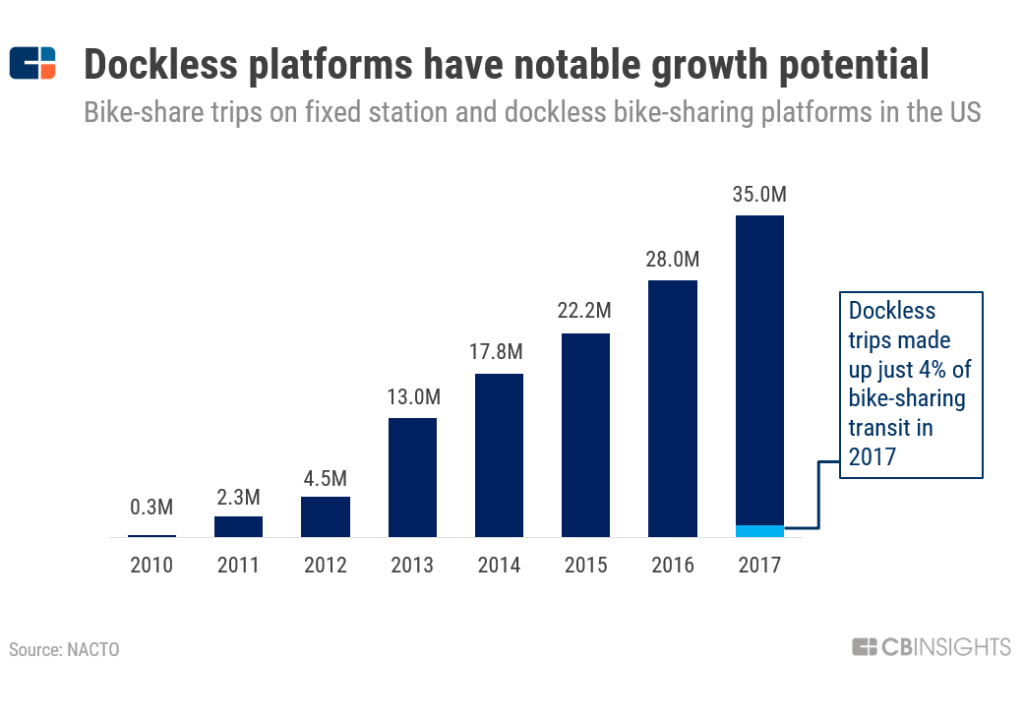 More recently, startups in the US have launched dockless platforms for electric kick scooters (not mopeds, which have been popularized in Europe and other countries globally).
These kick scooters, made famous by Bird Rides and Lime, have garnered significant attention over the last several months as they've seen rapid adoption and a huge run-up in funding.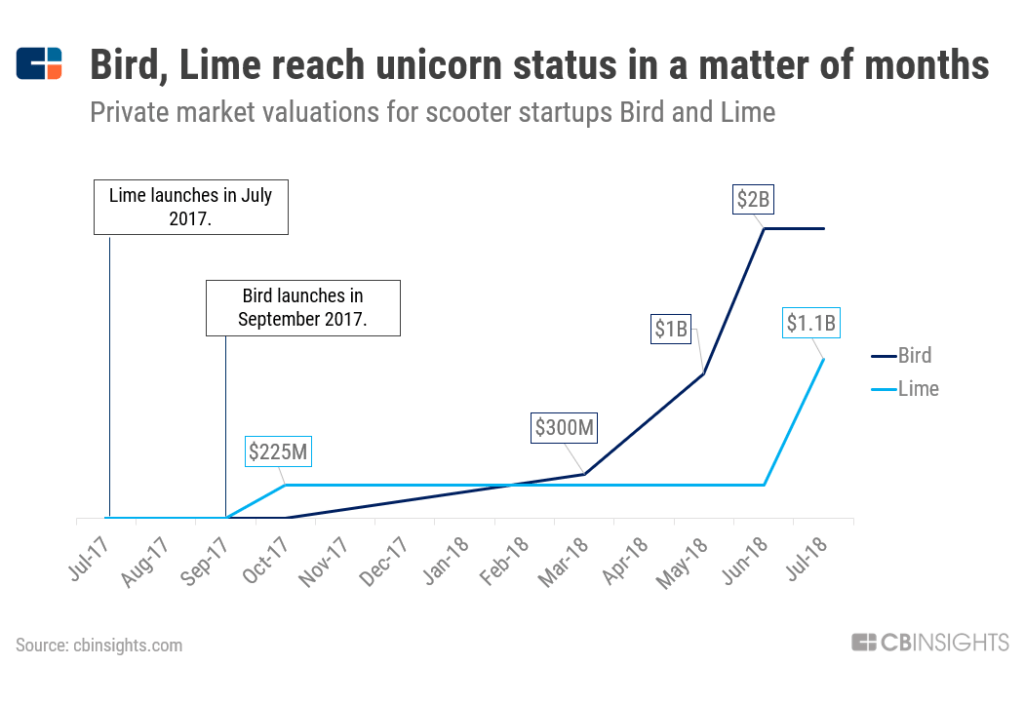 The two companies attained unicorn status within less than a year of operation and are backed by a number of smart money VCs and corporates.
Investors in Bird's most recent $300M Series C round in May included Accel, Index Ventures, and Sequoia Capital.

Lime's investors on its most recent $335M Series C round in July included Andreessen Horowitz as well as corporates such as Alphabet and Uber.
It's also worth noting that in addition to the Lime investment, Uber has made a number of investments and acquisitions to break into alternative modes of transport, as we'll outline in more detail below. (Lyft has also recently made investments and acquisitions in alternative transportation.)
Track all the Bike and Scooter Tech Startups in this brief and many more on our platform
Startups are working to scale and commercialize new modes of personal transport, including everything from dockless bikes to electric scooters. Look for Bike and Scooter Tech in the Collections tab.
Track Bike and Scooter Tech Startups
Roadblocks are mounting
Despite the hype, a number of roadblocks have emerged for dockless systems.
For one, bike and scooter companies own their vehicles, as opposed to ride-hailing firms like Uber and Lyft that require drivers to maintain and fuel their own vehicles. As a result, a number of scooter firms have been hiring people to charge, maintain, and distribute their scooters, which is an added cost and could make it more difficult to scale than the ride-hailing business.
Perhaps more importantly, because kick scooters have yet to be formally regulated, city governments are enacting more stringent regulation to curtail the rapid deployment of dockless scooters. A number of firms, including Bird and Lime, launched their services in cities before proper regulation was passed, frustrating city governments as scooters were littered across sidewalks and streets.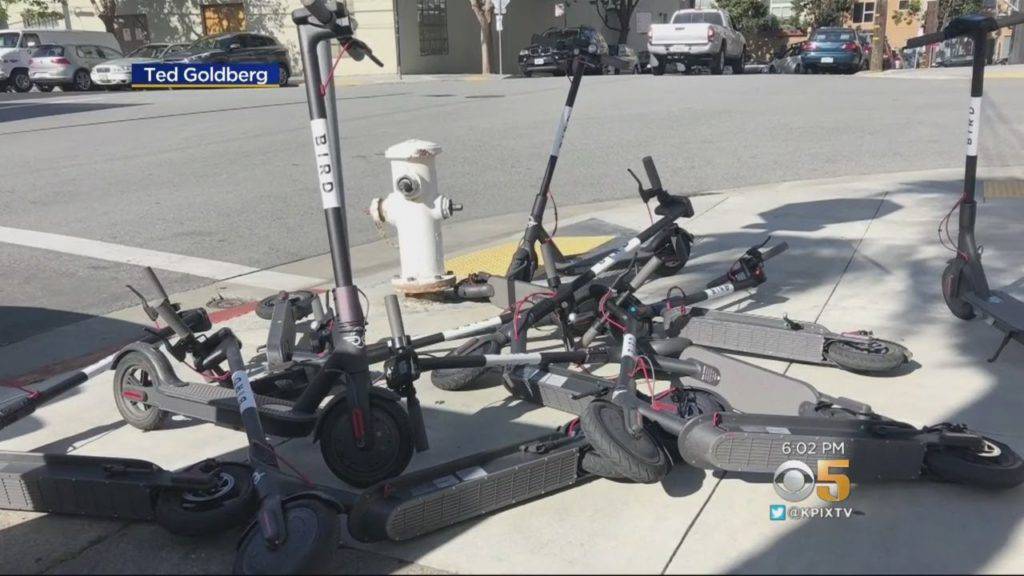 Bird scooters left in a pile on a San Francisco sidewalk
City-dwellers are also vandalizing scooters, adding an additional financial burden given that many of the vandalized scooters are rendered useless.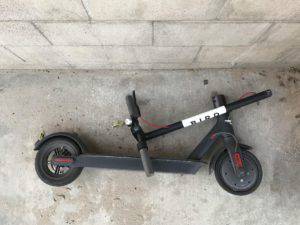 In response, several cities are enacting legislation to curtail the number of companies and the number of vehicles that can operate within a certain city.
San Francisco was one of the first cities to tackle scooter regulation. Notably, the city punished aggressive companies such as Bird, Lime, and Spin, all of which deployed hundreds of scooters before asking for permission. Instead, the city granted permission to Scoot and Skip, attributing the decision to the firms' focus on the city's safety. The city also limited the number of scooters each company could operate, with a cap of 625 scooters per fleet.
This decision could set a precedent for firms looking to expand to new markets going forward.
Mid-length transport
For rides longer than five miles, ride-hailing (and ride-sharing, which involves sharing rides with other passengers on a similar route) has served as a more convenient alternative to ownership, offering an on-demand service that takes users from point A to point B without the hassle of parking.
Surveys have found that in the US, frequent users of ride-hailing and ride-sharing services are more likely to opt out of buying a new car.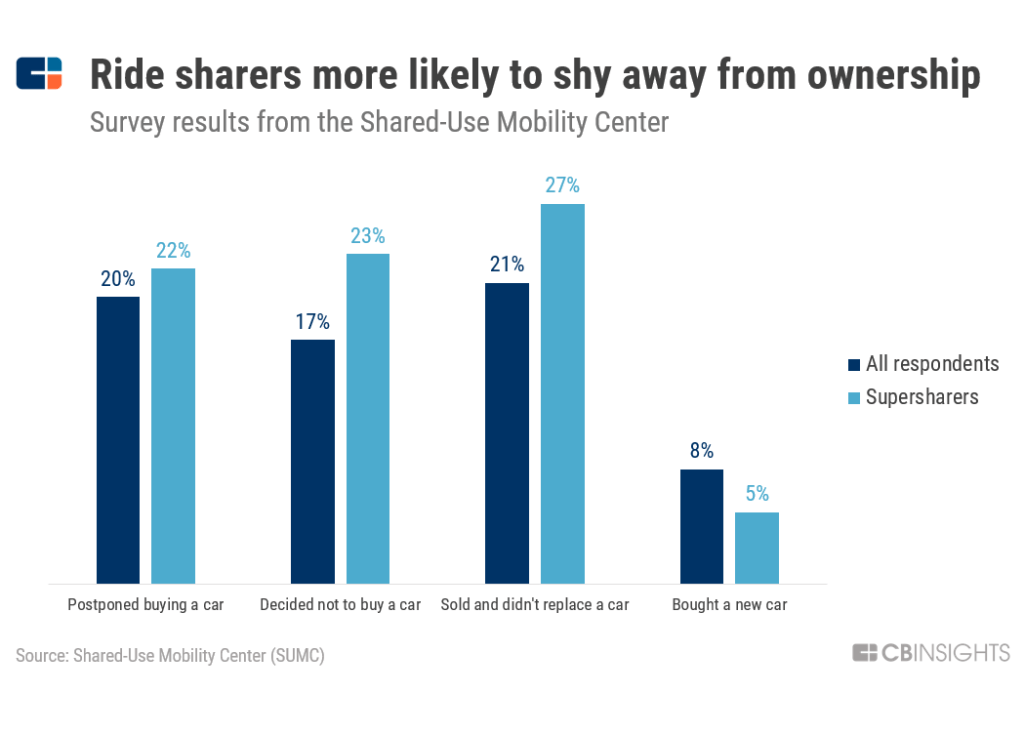 The results suggest that in some circumstances — most likely in denser regions where supply is high and prices are low – ride-hailing is a viable alternative to car ownership.
The dominant ride-share providers in the US – Uber and Lyft – have already seen rapid adoption.
In July, Uber reported that it reached 10B rides since its inception in 2009, and Lyft, while trailing Uber in revenue ($1B vs. Uber's $7.5B in 2017) and reported market share (35% vs. Uber's 73%), is now outpacing Uber in revenue growth, with Q4'17 revenue increasing 168% year-over-year, well above Uber's 61%.
While some are concerned that Uber's growth is slowing, a more pressing concern is that both companies are struggling on the bottom-line, as driver subsidies and discounted fares continue to weigh on profitability. As a result, both firms are turning to new technology as well as new modes of transport to save costs and enhance their overall offerings.
The race to autonomy
Even as they invest in alternative transportation, Lyft and Uber aren't leaving cars behind — but they are focused on bringing their fleets into the future.
Both Lyft and Uber are building out their autonomous driving capabilities, which would potentially cut out the cost of the human driver and allow both firms to lower prices while also making more money per ride.
The technology is still far from scalable, but when deployed successfully, self-driving fleets could allow ride-hailing services to compete seriously with car ownership on a cost basis.
Baking in the savings associated with autonomous cars, ride-hailing is estimated to be cheaper than ownership within the next ten years.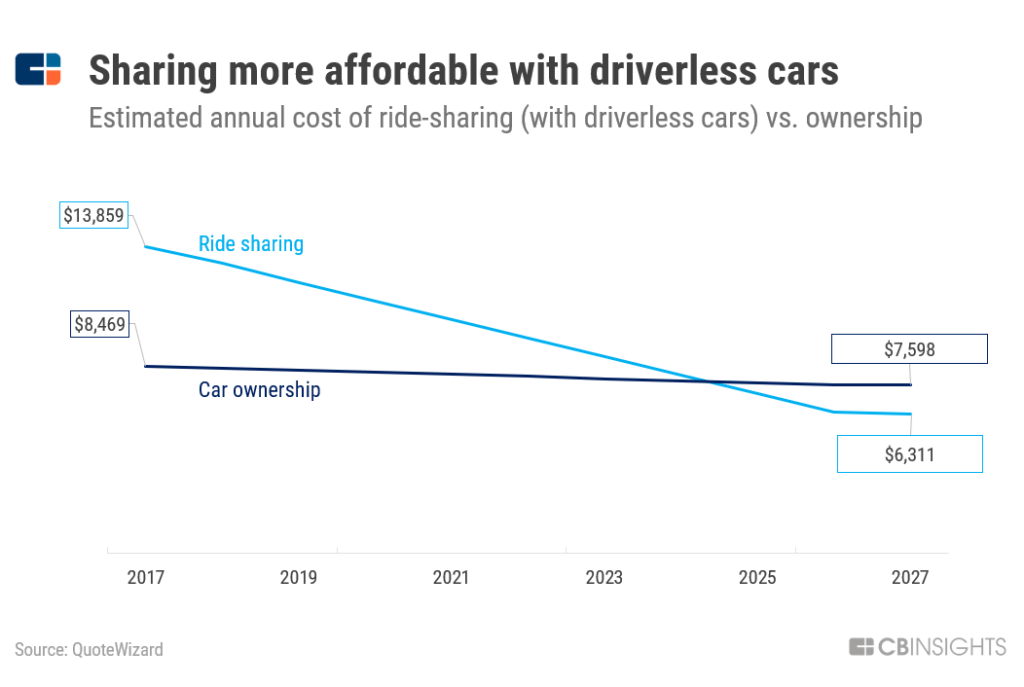 Lyft is developing self-driving technology software on an open source platform, which it launched in July 2017. The company has already partnered with auto suppliers Magna and Aptiv to develop the required vehicle architecture, and has also partnered with Waymo and Drive.ai to enhance its software capabilities.
Additionally, Lyft is looking to cut down on costs by incentivizing ride-sharing rather than just ride-hailing (i.e. taking on trips from multiple users at once that are heading in the same direction).
The company redesigned its app to highlight shared rides over traditional ride-hailing.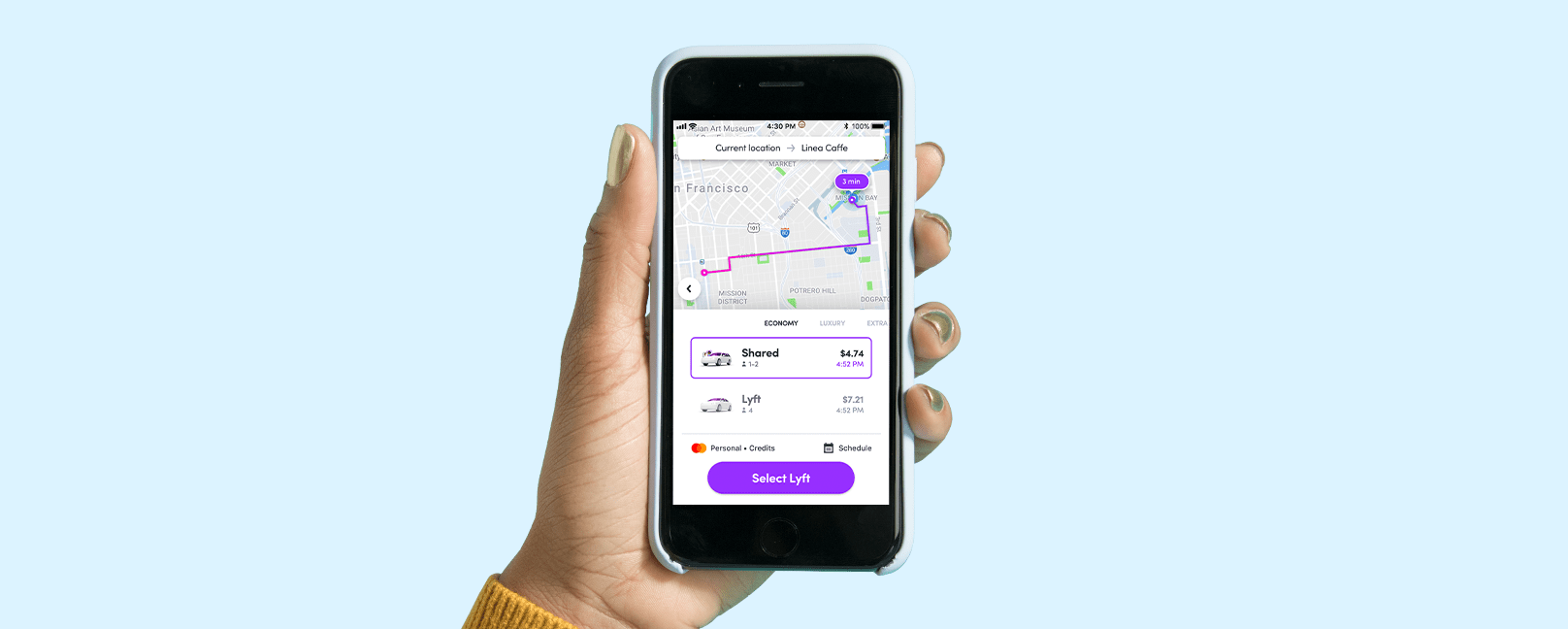 Lyft's newly redesigned app 
Since the redesign, Lyft has seen a 5% increase in shared rides. Ultimately, Lyft hopes that half of its trips will be shared by 2020, up from 30% today.
While Uber's work in self-driving technology has been shaky, the company recently received a $500M investment from Toyota and established a partnership with the OEM through which Uber plans to utilize Toyota Sienna minivans for a driverless ride-hailing network.
Transportation as a service
Both Uber and Lyft are also looking to expand into new mobility services such as bike-sharing, scooter-sharing, and public transportation – all with the ultimate goal of reducing the need to own a car. The firms are first tackling urban markets, since the economics are much more favorable for shared mobility networks.
One platform that has already successfully deployed this approach has been MaaS Global, which operates the Whim app.
Whim, which is available in a number of European cities, offers users access to both public and private transportation, including everything from buses to bikes to scooters, all in one platform.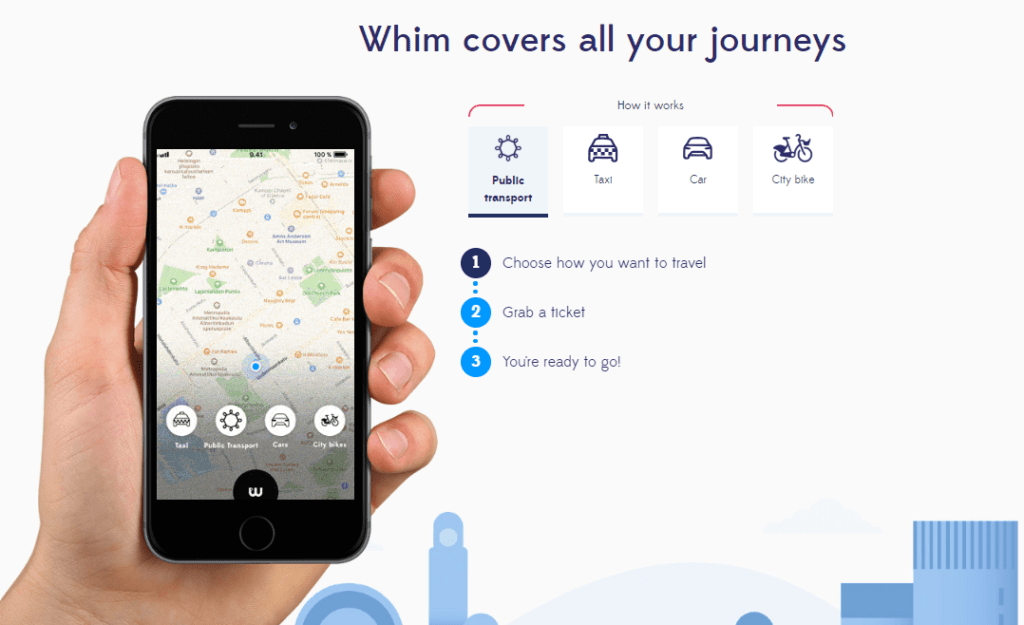 Whim's app
Users can either pay per ride or pay for a monthly subscription that allows for unlimited rides.
Since its launch, the app has gained notable ground, and investors rewarded the firm for its innovation in the mobility space with $10.4M in Series A funding in August.
In the US, Uber has expanded its service offerings in a few ways, acquiring Jump Bikes, a dockless e-bike company, partnering with public transportation platform Masabi, and partnering with peer-to-peer car-sharing firm Getaround to launch Uber Rent, as outlined in more detail below. The company also contributed to scooter-sharing startup Lime's $335M Series C round and announced its partnership with the startup, which will include co-branding the scooters and making them available through Uber's app.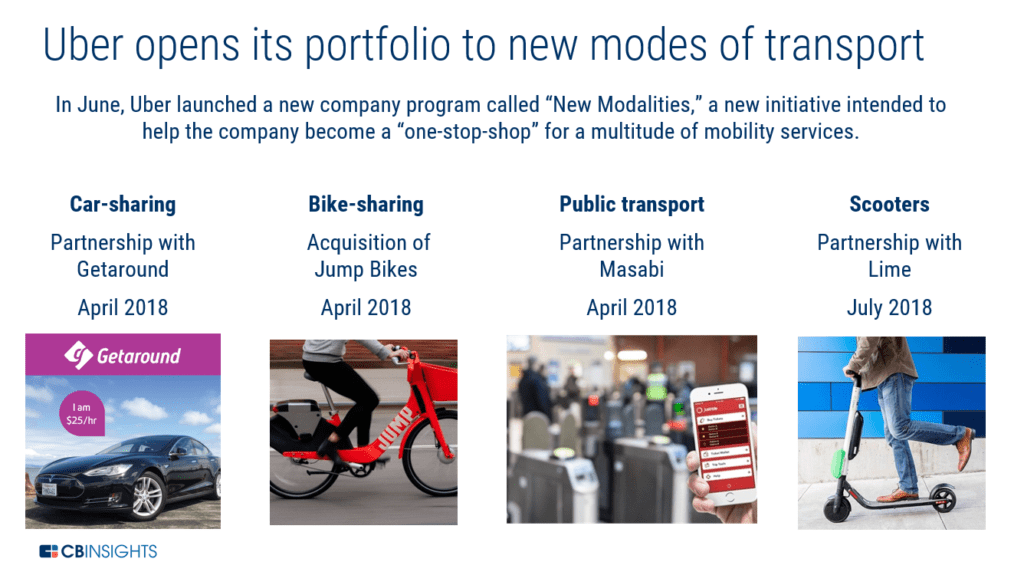 Following in Uber's footsteps, Lyft is also working on an offering of integrated transportation services.
In July, Lyft announced its acquisition of Motivate, the largest bike-sharing operator in the US. Within the same month, the company announced that it would also be launching a scooter-sharing service as part of an overall effort to create a multi-modal transportation offering.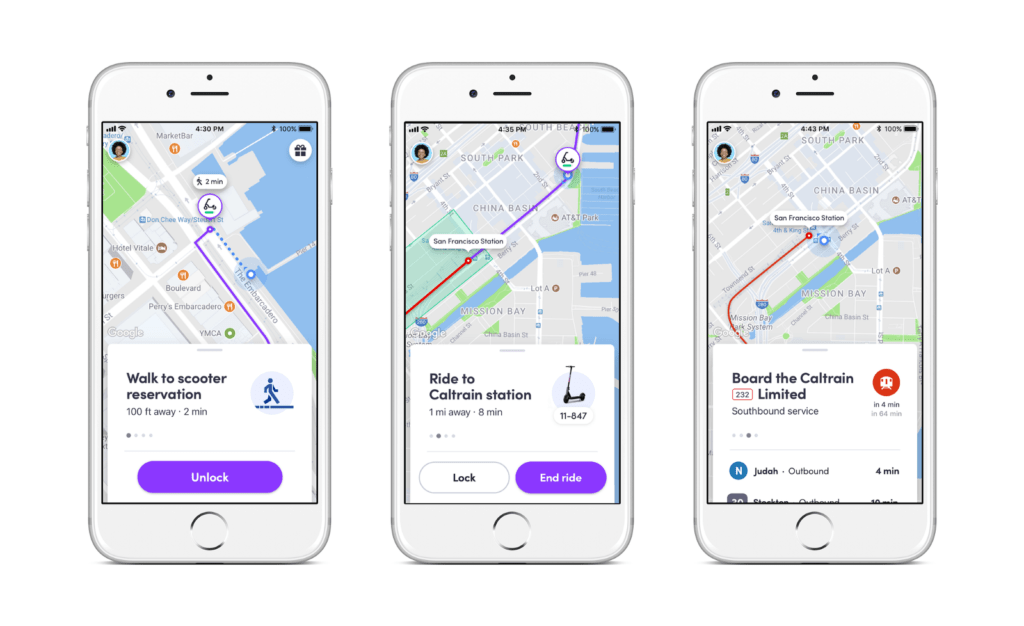 A hypothetical Lyft app that highlights available vehicles to access public transportation
In tandem with this initiative, the company is working with city programs to facilitate bike- and scooter-riding, with initiatives including protected bike lanes.
At Fortune's Brainstorm TECH conference in July, Lyft's co-founder and president John Zimmer highlighted the company's overall mission, "Part of our vision is to make cities designed around people, not cars."
Lyft is also currently testing out a subscription plan, which the company hopes can incentivize users to choose ride-sharing services over car ownership as well as competitor ride-sharing services.
As co-founder Dan Zimmer recently told the Wall Street Journal,
"Instead of getting keys for a 16th birthday—which used to be a symbol of freedom in America—you get a Lyft subscription… You have use of bikes and scooters; you have a certain amount of miles just like you have minutes on your phone."
incumbents are fighting back
As Uber and Lyft seek to take over urban transportation, public institutions – such as the taxi industry in New York City – are starting to push back. In August, New York City – Uber's largest market in the US – became the first US city to halt new vehicle licenses for ride-hailing services.
This move sets a potential precedent for public transportation institutions in other cities, suggesting that Uber and Lyft may face additional roadblocks moving forward.
Long-distance travel
While ride-hailing could hypothetically be used for longer-distance trips, a number of startups are offering on-demand services such as vehicle rental and peer-to-peer sharing designed specifically for longer trips.
These services allow users to rent a car for multiple hours or days at a time, rather than having to find a new ride each time they need to re-locate.
Car-sharing services first gained ground with the launch of Zipcar, a car reservation service that allows users to rent vehicles with a monthly or annual subscription fee. Since then, two other models have emerged:
Flexible car-sharing, in which the platform operator provides access to a fleet of its own vehicles, allowing users to find available cars across the city through a smartphone app.
Peer-to-peer (P2P) car-sharing, which matches car owners with renters, allowing car owners to make money on their vehicle when not in use.
FLEXIBLE CAR-SHARING
Flexible car-sharing, which in some ways resembles a car rental service, allows users to choose from a predetermined fleet of vehicles, typically owned by a single OEM or platform operator.
It differs from rental services in that it allows users to pick up and drop off vehicles from within a designated area in a city, rather than having to visit a rental car retail location.
Early signs suggest that flexible car-sharing platforms are serving as viable substitutes for driving a personal car.
A study by UC Berkeley found that in a number of cities, car2go, Daimler's flexible car-sharing service, reduced the number of personally-owned vehicles on the road. The study found that within the sample, 2%-5% of active car2go drivers sold a vehicle due to car2go and 7%-10% of car2go drivers decided not to purchase a vehicle because of the car-sharing service. 
Given the early success of these car-sharing models, as well as an overall shift in consumer preferences toward on-demand services, several OEMs are repositioning themselves as "mobility service companies."
BMW, Ford, and GM are just some of the OEMs that are offering flexible car-sharing services in select cities.
Peer-to-peer car-sharing
Peer-to-peer (P2P) car-sharing presents an opportunity for both car owners and car renters.
On average, personally-owned vehicles are drastically underutilized; urban planners estimate that cars are parked 95% of the time.
P2P car-sharing seeks to capitalize on this inefficiency, giving drivers the opportunity to rent out their cars when not in use. The service essentially turns their car into an additional source of revenue.
Car renters also benefit from the P2P system, as they have access to a wider variety of vehicles, including luxury vehicles such as a Porsche or Lamborghini. The startups add further convenience to the process by bundling insurance into the rental price and requiring no membership fee.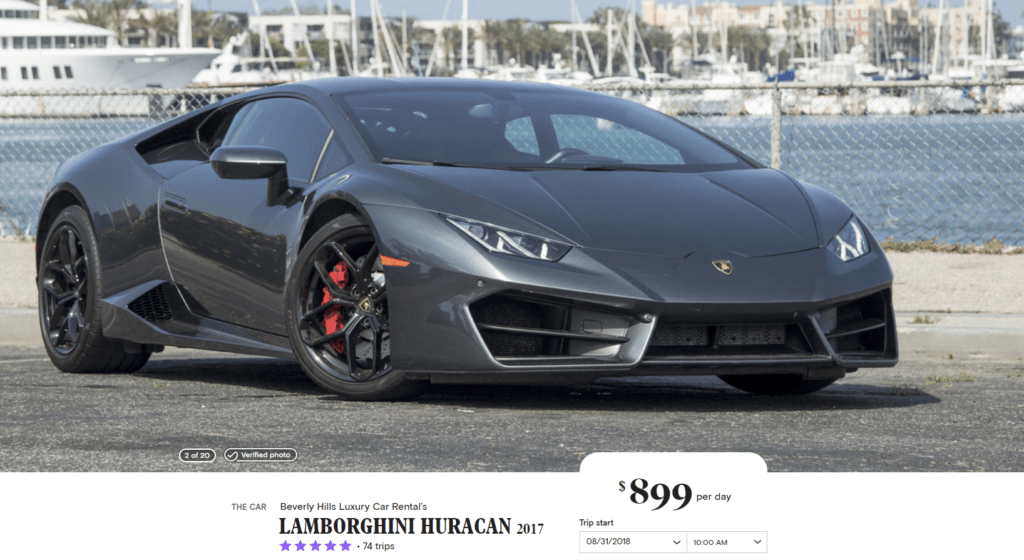 Listing for a Lamborghini on Turo's website
The space has received notable attention from investors of late.
Turo, one of the more established players in the space, has received funding from Google Ventures as well as auto OEMs such as Daimler and GM. Smart money VC Kleiner Perkins Caufield & Byers has also invested in the startup.
Another major player is Getaround, which just raised $300M in Series D funding in August, with the round led by SoftBank. Toyota has also invested in the startup, contributing to the Series D round as well as a $10M round in October 2016.
As mentioned above, Getaround partnered with Uber in April, with the companies launching Uber Rent, a P2P car rental service within the Uber app. The program is currently piloting in San Francisco.
GM has also broken into the P2P space, launching a new car-sharing service in addition to its flexible car-sharing platform Maven. Called Peer Cars, the program allows owners and eligible lessees to rent out their personal GM vehicles to willing renters.
A bumpy road ahead?
Car-sharing platforms on the whole are not only disrupting OEMs – they're also impacting car rental firms, such as Avis and Hertz.
In response, rental car companies are pushing state governments to enact legislation that would require car-sharing companies to pay sales tax, just as a rental car firm would.
Maryland has already passed a bill that requires car-sharing companies to face the same regulations as car-rental firms, including paying sales tax. Several other states are also considering implementing similar legislation.
The future of transport is already here
Disruptive mobility services stand to transform the way people interact with cars.
Shared vehicle platforms such as bike- and scooter-sharing are enhancing public transportation networks and making it easier to navigate around cities.
Ride-sharing services still have room to grow, with new revenue opportunities in food and retail delivery as well as untapped markets up for grabs.
Additionally, car-sharing serves as a viable alternative for longer-distance transport.
Across the board, notable investors have poured capital into these emerging mobility services firms, and most automakers have launched their own versions of these services to remain relevant, suggesting that even as these disruptive companies face regulation, they are already transforming the way people get around.
If you aren't already a client, sign up for a free trial to learn more about our platform.