We look at how direct air capture (DAC) technology – which captures and scrubs air from the atmosphere – is poised to help companies reduce their emissions.
In 2020, global CO2 emissions from fossil fuels fell 7% year-over-year — the largest annual drop ever observed. 
But as pandemic restrictions lift and corporations ramp up production using fossil fuels, emissions are likely to bounce back to typical levels.
With mounting pressure from governments and investors to decarbonize, corporate executives are increasingly interested in offsetting these emissions. One potential solution, direct air capture (DAC), has taken off in earnings call transcripts in recent quarters.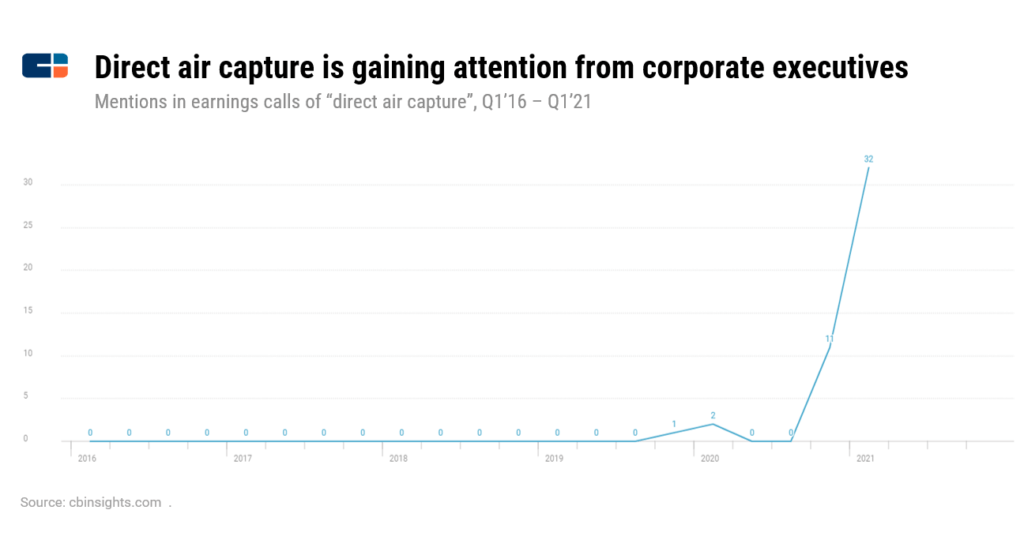 DAC technology extracts carbon dioxide from the atmosphere and does not require a nearby pollution source, unlike industrial off-gas capture. In recent years, startups in the space have begun scaling up their operations, attracting the likes of Microsoft and ExxonMobil to help fund these efforts.
Below, we break down how DAC works, analyze its benefits, and consider what's next for the technology.
how does direct air capture work?
There are 3 basic steps to DAC that produce 2 outputs: concentrated CO2 and filtered air.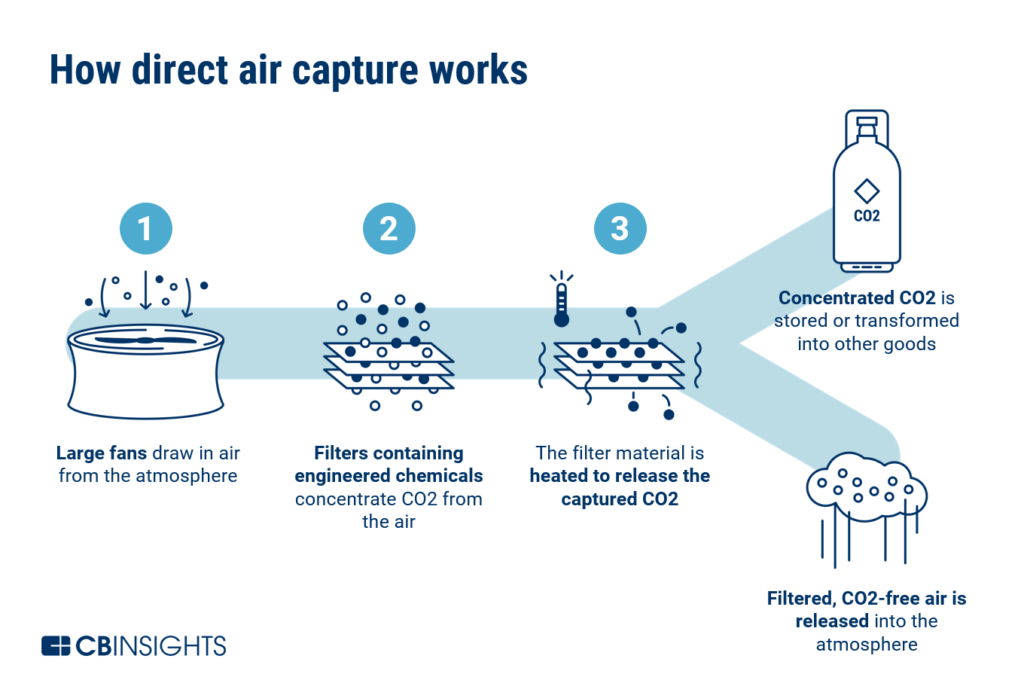 First, DAC facilities suck in air from the atmosphere using enormous fans, which resemble industrial cooling towers.  
Next, the air passes through filters that grab and concentrate CO2. These filters attract CO2 using sorbents — small solid materials that are typically structured in layers or honeycomb-like shapes — or liquid solvents.
DAC facilities then heat the filter material to release the captured CO2. The amount of heat required for this process affects how the facilities are powered. Sorbents require lower levels of heat to extract CO2, so these facilities can use renewable energy sources like geothermal or waste heat. Solvents, on the other hand, require levels of heat of about 900 degrees Celsius. Companies like Carbon Engineering, which uses solvents, rely on natural gas to power operations.  
The two main outputs of the DAC process are filtered air, which is released into the atmosphere, and captured CO2. Captured CO2 can be stored in underground reservoirs or used to make goods. 
How is DAC being implemented?
Carbon Engineering is collaborating with Oxy Low Carbon Ventures, a subsidiary of Occidental Petroleum, and Rusheen Capital Management to build the world's largest DAC facility in the Permian Basin in southwestern US. The plant will have the capacity to capture up to 1M metric tons of atmospheric CO2 annually, and construction is expected to start in 2022. Occidental will store the captured CO2 underground.
Broadly, Carbon Engineering offers 2 options to handle CO2 waste:
Direct Air Capture + Storag

e, which concentrates waste CO2 to sell to companies like carbonated drink makers and CO2-absorbing concrete producers

AIR TO FUELS

, which makes synthetic fuels out of waste CO2 
Another prominent company in the space is Switzerland-based Climeworks, which already has a commercial site and multiple pilot sites under its belt. Climeworks is currently building a DAC facility in Iceland that is forecast to capture 4,000 tons of CO2 annually.
The startup is working with Iceland-based Carbfix to add CO2 storage capabilities by transforming carbon into stone underground. Additionally, Iceland-based ON Power will provide geothermal energy to power the DAC facility.
Microsoft backed the project in early 2021 as a part of its carbon removal portfolio.