From digital freight forwarding to autonomous last-mile delivery, these startups are digitizing supply chain and logistics.
While many supply chain and logistics players have been stuck in the analog age for decades, the industry is finally starting to embrace digitization.
Startups tackling supply chain and logistics are innovating across a variety of areas from freight shipping to food supply chain tracking to autonomous last-mile delivery.
The rise of digital freight forwarders like Flexport, with over $300M in funding, has helped propel logistics incumbents like DHL to develop their own in-house digital platforms.
Startups like Clear Labs and Apeel Sciences are helping brands and retailers navigate food safety and sustainability. Earlier this year, meat giant Tyson invested in food traceability startup FoodLogiQ through its venture arm.
In June 2018, grocery retailer Kroger partnered with autonomous vehicle startup Nuro to test out driverless last-mile grocery delivery.
Track more logistics startups on our platform
Startups working at the intersection of technology, supply chain, and logistics have the potential to upend the industry. Look for Supply Chain & Logistics Tech in the Collections tab.
Track supply chain and logistics tech startups
We used the CB Insights database to identify 125+ tech companies disrupting the supply chain and logistics space.
Scroll down to see an explanation on each category in this graphic.
Please click to enlarge.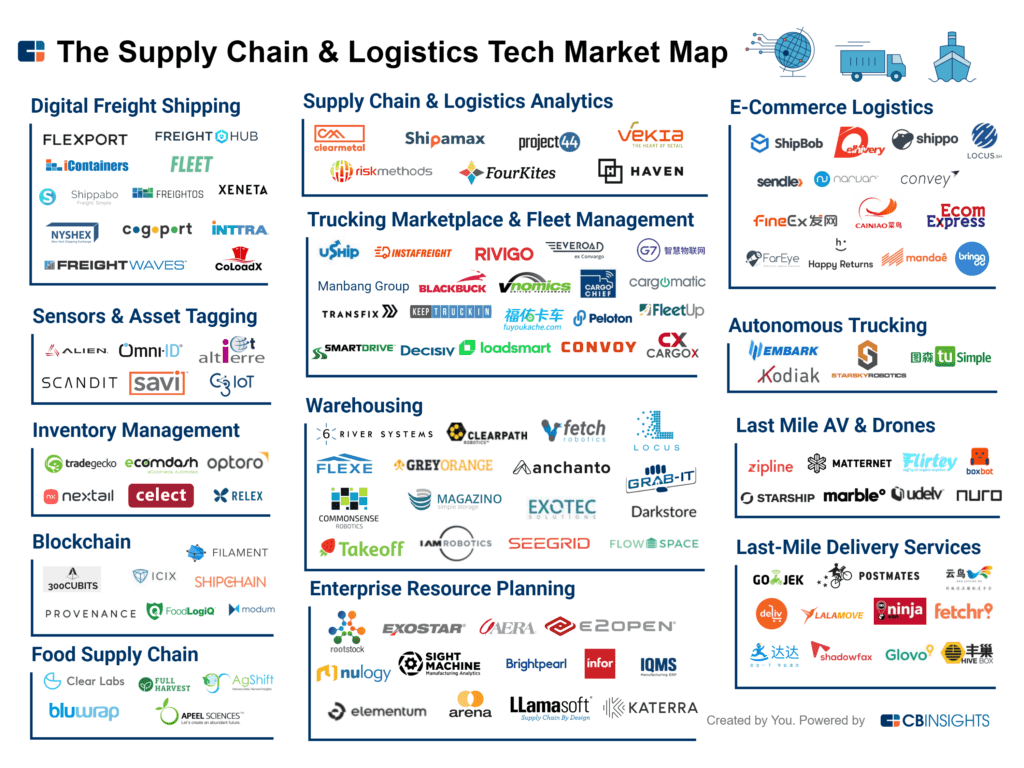 This market map includes private companies only and is not meant to be exhaustive of companies in the space. Categories are not mutually exclusive.
Clients with access to expert collections can download and edit this Market Map using our Collections tool here. 
CATEGORY BREAKDOWN
Digital Freight Shipping: Companies in this category are digitizing the freight shipment process, particularly for ocean shipping. Startups like Flexport and iContainers act as digital freight forwarders, aiming to displace traditional forwarders by leveraging data and software to manage the end-to-end freight shipping process for their clients.
Other companies in this category, like Freightos, act as online freight quote marketplaces for existing players in the freight shipping space.
Sensors & Asset Tagging: This category is home to startups developing chips, sensors, and RFID technology for logistics companies. This includes C3IoT ($243M in total disclosed funding), which leverages AI-powered software and IoT technology to track assets, such as vehicles, for companies in the logistics space.
Inventory Management: Startups like Nextail Labs ($11.6M) leverage software and analytics to optimize inventory allocation for retailers in the fast fashion space.
Blockchain: Startups in this category are using blockchain distributed ledger technology to bring greater visibility and security to the supply chain.
This includes companies like ShipChain, which aims to provide secure shipping smart contracts for the greater supply chain ecosystem, and Provenance, which helps retailers to increase their supply chain transparency by tracking the history of goods using blockchain.
Food Supply Chain: This category includes companies working to bring greater efficiency to the global food supply chain (excluding the food-focused blockchain startups in the category above).
For example, Apeel Sciences ($110M) uses plant extracts to create invisible, tasteless coatings that extend the shelf life of fresh produce. Its technology can help grocers reduce waste while improving the appearance and nutritional content of fruits and vegetables. Costco began selling avocados coated with Apeel's product in June 2018.
Supply Chain & Logistics Analytics: Startups like ClearMetal ($12M) provide AI-powered analytics to the logistics and transportation process. ClearMetal allows its customers to track shipments of their orders as they move across the globe, helping clients predict which carriers will provide the most reliable service and estimating the risks of delays.
Trucking Marketplace & Fleet Management: Platforms like Cargomatic ($47M) make it easier to book shipments on trucks by connecting shippers and trucking carriers online in real time.
Warehousing: Several startups in this category are focusing on micro-fulfillment. Commonsense Robotics ($26M) creates robots that can operate in micro-fulfillment centers — small warehouses that can be placed in dense urban areas — for more efficient last-mile delivery.
Enterprise Resource Planning: Companies in this space offer visibility into sourcing, procurement, production, and resource allocation. Companies like Infor ($2.6B) lead in this space.
E-Commerce Logistics: Companies in this category offer logistics and shipping solutions to small, medium, and enterprise-level e-commerce businesses. These include startups such as ShipBob and Bringg.
Autonomous Trucking: Although Uber recently shut down its self-driving truck division, autonomous trucking startups continue to gain traction. Most recently, autonomous long-haul trucking startup Kodiak Robotics raised a $40M Series A round from notable investors including Lightspeed Venture Partners and CRV.
Last-Mile AV & Drones: Startups in this space are leveraging autonomous vehicle (Udelv) or drone (Zipline) technology to bring greater efficiency to last-mile delivery.
Last-Mile Delivery Services: This category includes companies offering last-mile delivery services to retailers, often through fleets of drivers and delivery staff. This category includes well-known startups such as Postmates and Deliv.
If you aren't already a client, sign up for a free trial to learn more about our platform.