From clinical trial design to care coordination, digital twins could make healthcare more personalized, efficient, and predictive.
In the healthcare industry, new pharmaceuticals, treatment regimens, and surgical procedures require multiple rounds of tests. However, working with human patients is time-consuming, costly, and in some cases, unfeasible.
Digital twin technology can help make these processes more efficient and safe.
A digital twin is a virtual copy of a physical entity or process, such as a patient, anatomical structure, or hospital environment. It's modeled on data sources including electronic health records (EHRs), disease registries, wearable sensors, and more. 
For example, in clinical trial design, researchers are using digital twins modeled from completed trial data in place of human participants to alleviate bottlenecks during the recruitment stage.
Digital twins are also proving to be especially useful in the context of Covid-19, when traveling to in-person trials is risky. The technology has picked up significant media attention over the course of the pandemic.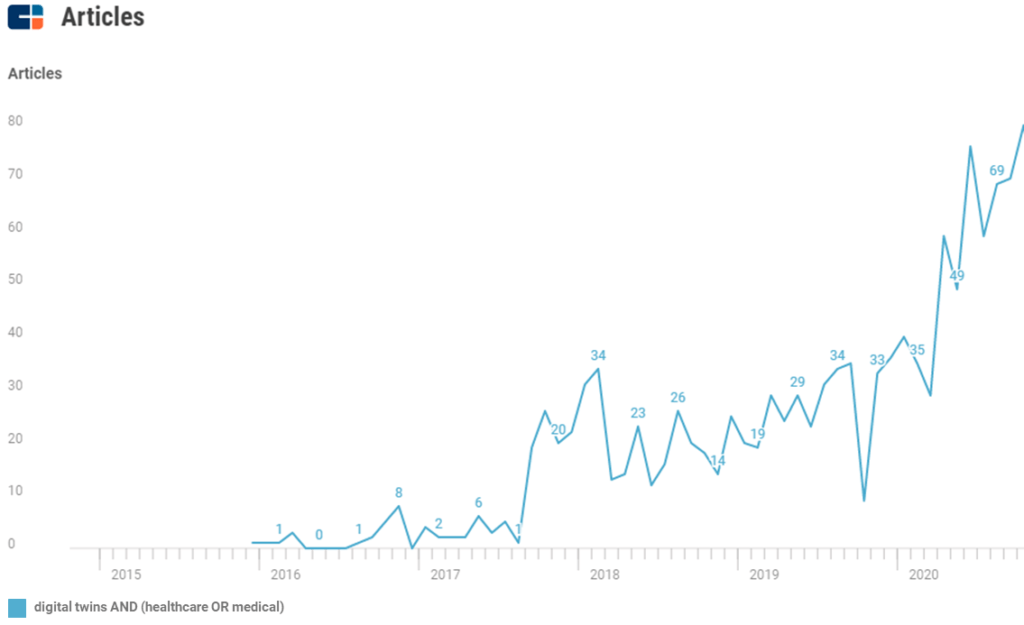 The broader global digital twin market is projected to reach $36B by 2025, which could signal major opportunities for the tech as new healthcare applications emerge.
Below, we highlight some of the key applications where digital twins are already making an impact.
1. CLINICAL TRIAL DESIGN 
Clinical trials are expensive, time-consuming, and inefficient. On average, 80% of studies experience delays in enrollment and 20% of trials fail to meet enrollment goals altogether.
Finding patients who fit the criteria and are willing and able to participate is challenging. Bottlenecks at this stage impede the trial and ultimately delay patient access to life-saving therapeutics. Digital twins of trial participants can alleviate several of these bottlenecks.
Traditionally, a clinical trial includes 2 study groups: the experimental arm, which consists of trial subjects who receive the therapy under observation, and the control arm, which receives a non-active placebo intervention. 
Unlearn.ai leverages digital twin technology to create virtual synthetic control arms, which are composed of digital twin participants. This frees up real participants to enroll in the experimental arm. Unlearn.ai's real-virtual hybrid trial design requires fewer human participants, resulting in faster enrollment periods and more efficient trials.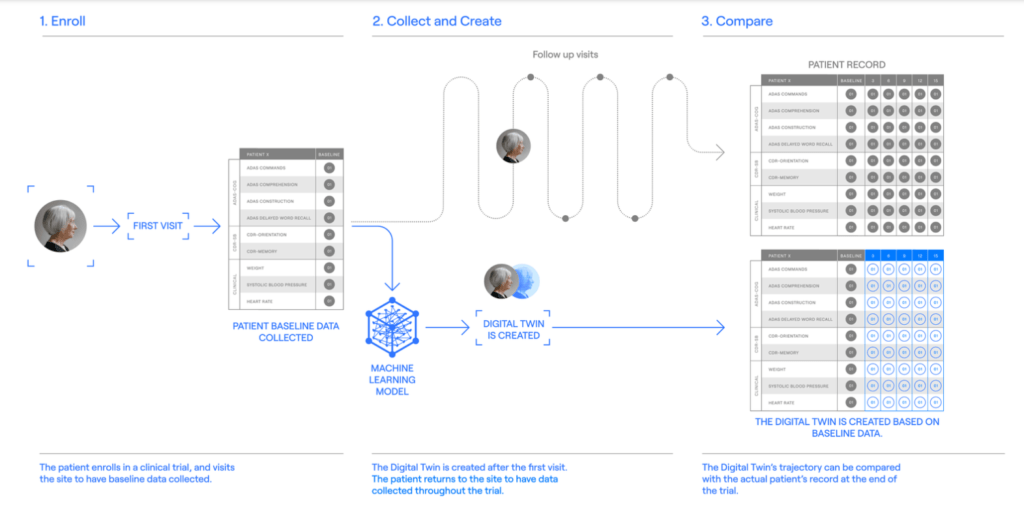 Source: Unlearn.ai
Novadiscovery also aims to address inefficiencies in clinical trial design. The startup's Jinkō platform conducts in silico clinical trials using virtual participants to explore the efficacy of various drug targets and demonstrate therapeutic value to healthcare stakeholders.
From clinical development to market access, the platform aims to accelerate research and business applications for lung cancer, hepatitis B, NASH, and more.
2. MEDICAL DEVICE DESIGN
Designing customized medical devices that are compatible with an individual's unique anatomical and physiological systems is a challenge for manufacturers.
Several companies in the space are developing digital twins of organs and other anatomical structures to streamline and personalize the medical device design process.
For example, using MRI images and ECG measurements, Dassault Systèmes has developed a digital twin that simulates the structure and some physiological functions of the human heart. 
The company's Living Heart Project includes academic and industry organizations such as Medtronic, Boston Scientific, and Philips. Members are leveraging the digital twin heart to simulate in vivo conditions, visualize anatomy that cannot be seen, and refine designs faster — collectively working toward safer and more effective cardiac devices.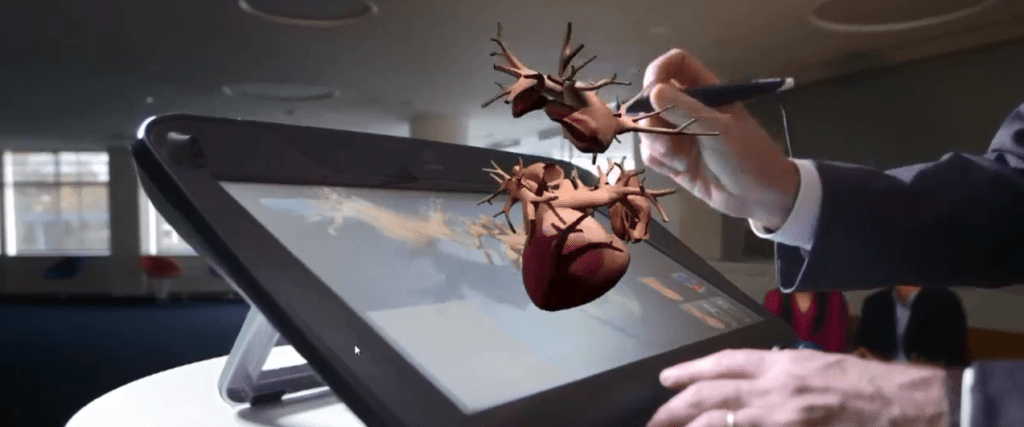 Source: Dassault Systèmes via Business Wire