Also included are an analysis of Q2'20 earnings calls, digital penetration metrics, and a CBI Stories walkthrough.
In the last 30 days, there were 75 financings of $100M+. Capital continues to move to the private markets at a significant rate, even as Covid-inspired uncertainty remains.
One thing that Covid has removed uncertainty around is the need for digital transformation. Satya Nadella, CEO of Microsoft, famously said on an earnings call that the company saw 2 years of digital transformation in 2 months since the beginning of Covid.
25 Industries & Technologies That Will Shape The Post-Virus World
Get the free download to learn how industries are using tech to reimagine nearly every facet of their operations.
On earnings calls, we see that mentions of "digital transformation" or "digital acceleration" hit the highest volume ever last quarter (since 2008).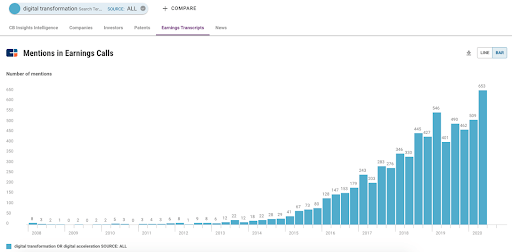 Many of the mentions are from technology companies that are clearly benefiting from this acceleration to digital. 
But if we look at non-tech companies, the vast majority of digital transformation commentary was fuzzy, nebulous, and non-metrics-driven. "Digital transformation" has clearly become a buzzword to talk about with Wall Street analysts, while talking specifics is still a no-no.