Deals and dollars for digital lending startups have skyrocketed. Below, we discuss the sector's market drivers as well as emerging themes and their key implications.
Digital lending is booming as startups leverage new technology to streamline processes that are traditionally time-consuming and expensive. 
Investors poured nearly $21B into the space in 2021, a 90% increase from 2020 and an all-time high.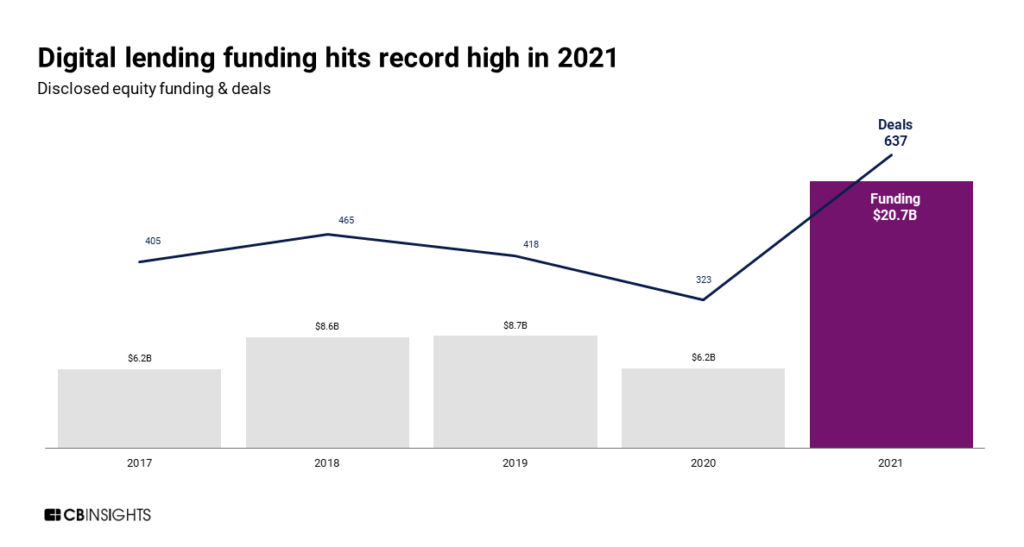 Alternative lending solutions are rapidly gaining traction with millennial and Gen Z consumers, driving investment in the category. For example, incumbent banks are investing in (and partnering with) lending startups to reduce costs and address changing customer expectations. 
Small- and medium-sized business lending has also been a key factor in the funding surge: In 2021, SMB lenders received 40% of the total funding going to lending startups analyzed, with additional growth coming from investments in personal loan and point-of-sale companies.
In this brief, we'll look at:
Topline finding & implications for this growth

The market drivers underlying the boom

Top investors in the digital lending space
To dig into all of the underlying data in this brief, sign up for a free trial to CB Insights here.