We highlight the top 10 highest-funded digital health startups in the US every year since 2016 — and dive into how the rankings have changed as the sector grows.
The digital healthcare space — which includes everything from disease diagnostics and management, to health insurance built on tech infrastructure, to AI tools for drug discovery — has been growing quickly.
Digital health startups raised over $17B across more than 1,700 deals in 2019. This represented a 2% increase from 2018's funding record, while the number of deals shrunk slightly.
Using CB Insights data, we mapped out the 10 most well-funded US-based digital health startups each year since 2016.
We define digital health to include companies in the healthcare space that use technology and software as a key differentiator. Our analysis includes equity funding to private, active companies only. We exclude dead and acquired companies.      
Please click to enlarge.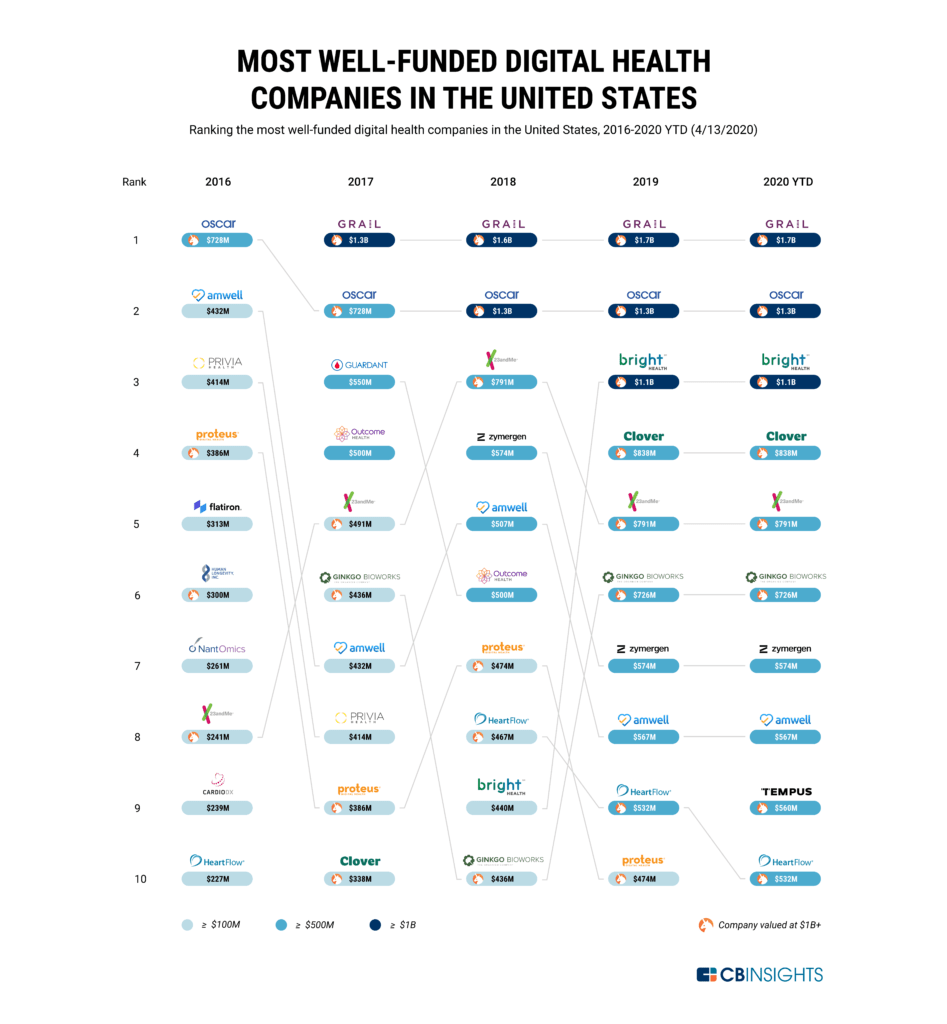 KEY TAKEAWAYS
Funding & valuation trends
Funding to the top company on this list has jumped 139% over the 5 years, from $728M to Oscar in 2016 to nearly $2B to Grail in 2020 YTD. 
The top-funded company in our graphic is cancer detection startup Grail, with $1.7B in total disclosed equity funding. Grail first appeared in the top 10 highest-funded digital health startups list in 2017, when it raised 3 tranches of Series B funding totaling $1.2B. ARCH Venture Partners and Kleiner Perkins participated in all 3 tranches. Grail has secured the top spot on the funding list ever since.
In addition to Grail, 2 other companies in our graphic have raised $1B+ in total equity funding: tech-focused health insurer Oscar, with $1.3B, and insurtech company Bright Health, with $1.1B. Both Oscar and Grail are currently valued at $3.2B, while Bright Health is valued at $1B. 
Insurtech company Clover Health ($1.2B valuation) and D2C genetics startup 23andMe ($2.5B valuation) round out the top 5 highest-funded companies in our graphic. 
With the exception of Zymergen and Amwell, all of the featured companies for 2020 YTD are unicorns valued at $1B+.
Industry trends
Health insurance is a common area of focus for startups on our graphic.
3 of the 10 top-funded digital health startups in 2020 YTD fit into this category: Oscar, which also has a telemedicine focus; Bright Health, which offers both individual & family and Medicare Advantage plans; and Clover, which offers Medicare Advantage plans.
Genomics is another popular field, being explored by startups like Grail, 23andMe, and Tempus, which provides DNA and RNA sequencing services.
Another hot industry is microbe engineering: Ginkgo BioWorks and Zymergen both focus on manufacturing molecules for industries like agriculture and medicine.
Company & investor trends 
Our graphic includes just 18 companies total, reshuffled each year to create a new top 10 ranking. Of those, just 3 have made the top 10 list every year: Oscar Health, Amwell, and 23andMe.
Tempus is the only new addition to the graphic: the company currently sits at #9, following a $100M Series G round in March 2020.
The most active investor in the above companies is Smart Money VC New Enterprise Associates (NEA), which has backed 16 deals to the startups in our graphic, including 23andMe, Bright Health, and Tempus.
NEA is followed by Google Ventures, with 12 deals, and the US Department of Health, with 10.
Track all the digital health startups in this brief and many more on our platform
Startups working on digital health have the potential to change how medical care is practiced and delivered. Look for Digital Health in the Collections tab.
Track digital health startups
If you aren't already a client, sign up for a free trial to learn more about our platform.