The Digital Health 150 is CB Insights' annual ranking of the 150 most promising digital health startups in the world. This year's winning companies include startups working on interoperability, at-home care, emerging benefits, and more.
CB Insights' second annual Digital Health 150 finalists include digital health startups from 18 countries that are reimagining the lines of the traditional healthcare experience across 12 overarching categories.
Using the CB Insights platform, our research team picked these 150 digital health companies out of nearly 8K healthcare startups, based on several factors including patent activity, business relations, investor profile, news sentiment analysis, proprietary Mosaic scores, market potential, competitive landscape, team strength, and tech novelty.
Startups are categorized by their main focus. Categories in the market map below are not mutually exclusive.
Please click to enlarge.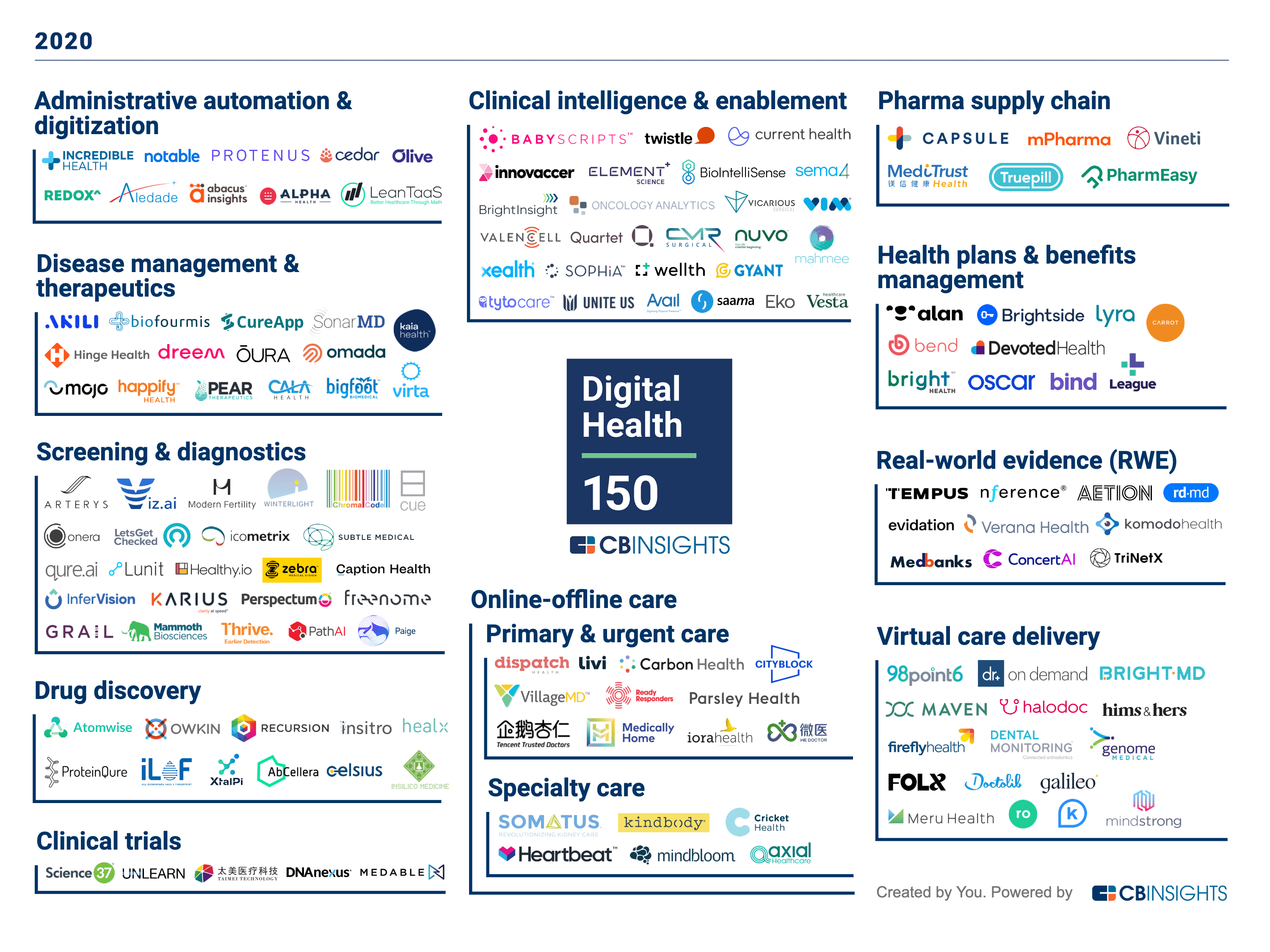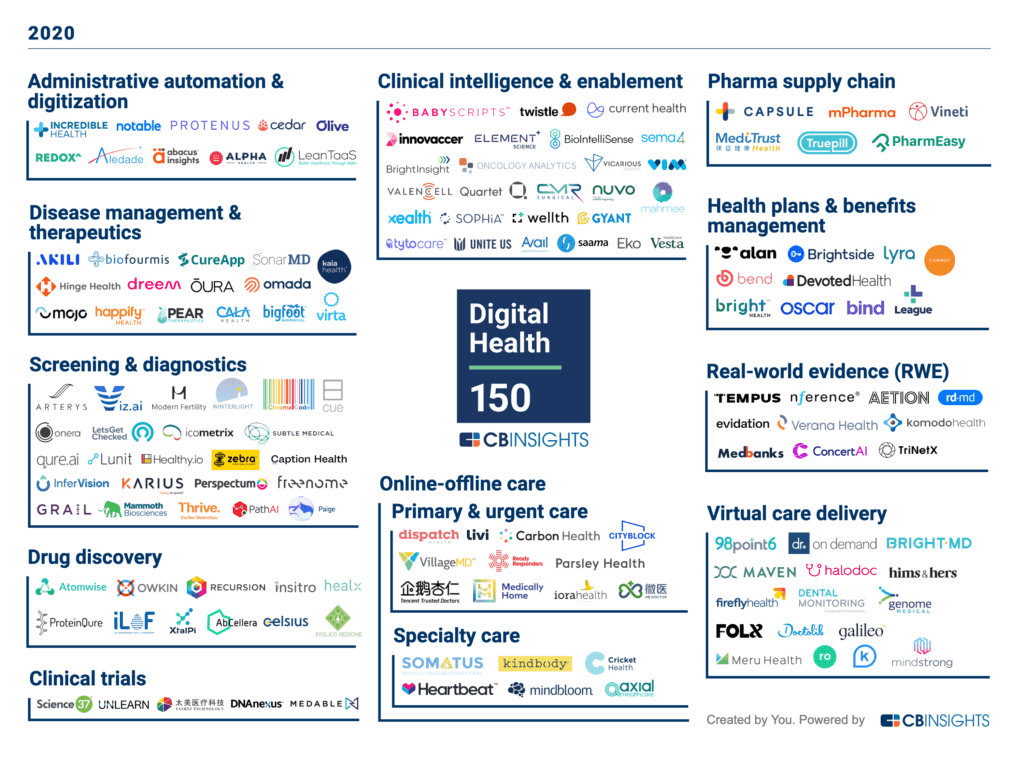 Table of contents
2020 Digital Health 150 highlights
Company stage and partnership momentum
The 2020 Digital Health 150 cohort comprises a broad range of healthcare startups, including well-funded companies commercializing their products and expanding into new markets, startups forming business relationships with key industry players, and early-stage health tech startups with a strong research focus.
Here are the highlights:
The 2020 Digital Health 150 startups have raised over $20B in total funding across 600+ deals from 900+ unique investors (as of 8/10/2020).
The list includes 12 unicorns (companies valued at $1B+) focused on a diverse range of digital health solutions. One unicorn on the list is Ro, a telehealth platform that provides remote care and medication delivery services. Another is Oscar Health, which builds a tech-enabled health insurance platform. Meanwhile, unicorn CMR Surgical develops a robotic surgical system that assists surgeons during procedures.
The list includes a number of early-stage (seed/angel and Series A) startups, such as Onera Health, which develops diagnostics solutions for sleep disorders. Another early-stage startup is Folx Health — a telehealth service specifically for the LGBTQ community — founded by the co-founder of Optum Ventures. Psychedelic medicine company Mindbloom, also an early-stage startup, is forging an emerging category through its online-offline guided psychedelic therapies.
A number of startups have formed partnerships with key industry players. Happify Health, which develops digital therapeutics in mental health, has partnerships with the American Heart Association, Sanofi, and Cigna. Private health insurer Bright Health has teamed up with key healthcare players such as Mount Sinai Health System, Mercy Health, and Arizona Care Network as it continues to expand.
Digital healthcare startups category focus
This year's Digital Health 150 companies are working on software-enabled solutions across 12 core categories.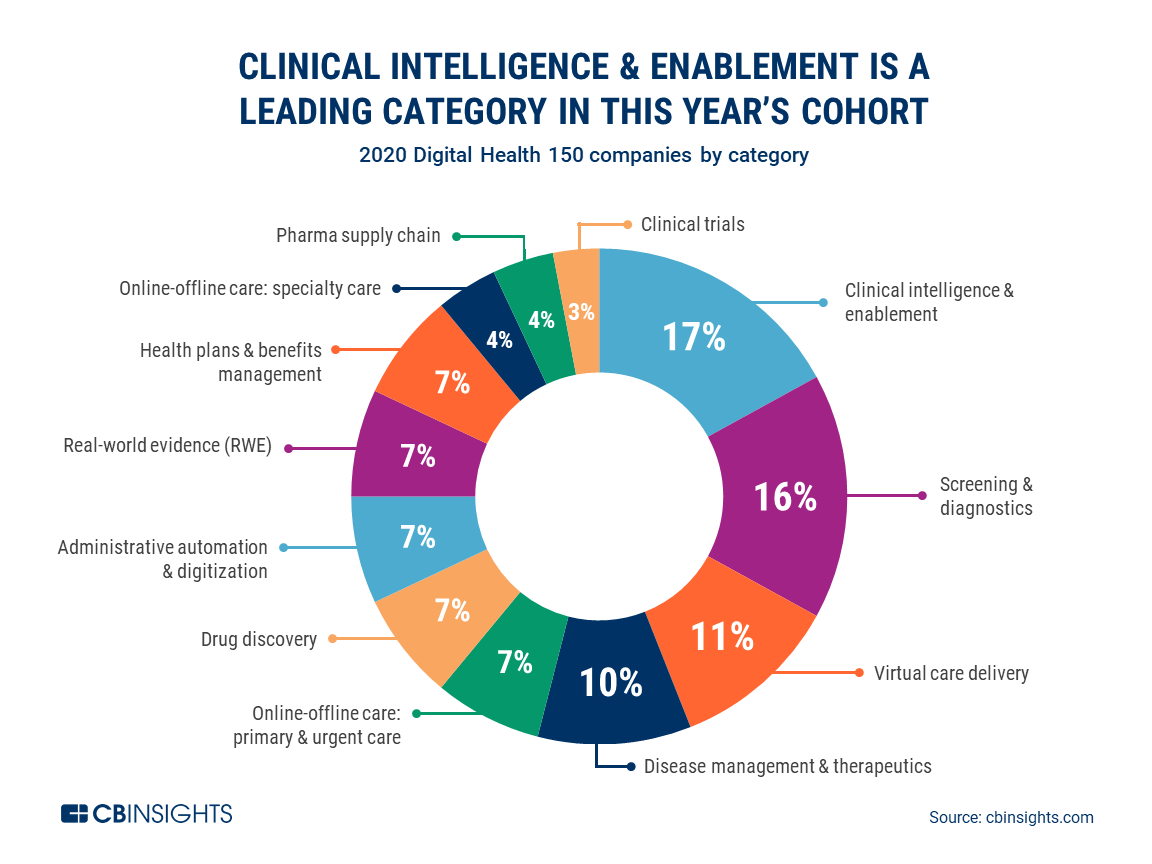 Clinical intelligence & enablement is a leading category in the 2020 cohort, with 26 companies. These tools

help providers and payers make clinical decisions to deliver care more effectively and efficiently.

Patient engagement platforms — including Twistle and Wellth — aim to connect providers and patients to improve health outcomes.
Care coordination tools such as Quartet Health (mental health) and Unite Us (social determinants of health) also make up this category.

Screening & diagnostics is another leading category on this year's list, with 24 companies developing a wide array of solutions from consumer testing to medical imaging to digital pathology.

At-home testing companies such as Israel-based Healthy.io and Ireland-based LetsGetChecked offer accessible options for capturing personalized health insights.
10 of the selected startups develop AI-enabled medical imaging solutions. Among them is India-based Qure.ai, which received FDA clearance for its head CT scan product in June 2020.

Virtual care delivery services emphasize online interactions with healthcare professionals. This category comprises 16 of the startups in this year's cohort.
Disease management & therapeutics products help consumers or patients prevent, manage, and/or treat their health condition(s). This category accounts for 15 of the startups in this year's list.

Digital therapeutics startups such as Pear Therapeutics, Akili Interactive Labs, and Kaia Health deliver remote interventions. In June 2020, Akili received FDA clearance for its prescription video game intervention for children with ADHD.
Wearable devices are playing a larger role in the prevention and management of health conditions. In January 2020, Mojo Vision received an FDA breakthrough device designation for its smart contact lens that could assist individuals with low or impaired vision.
Healthcare thematics & trends
The 2020 Digital Health 150 list is representative of many of the key thematics and trends we've observed across healthcare in the past year. Below, we highlight some of these along with examples from this year's cohort.
Demand for telehealth services has skyrocketed amid the global Covid-19 pandemic. As a result, many brick-and-mortar platforms have recently added telehealth offerings. On this year's list, a total of 62 startups — 41% of the selected companies — offer remote healthcare services. The most prevalent subcategories in this group include: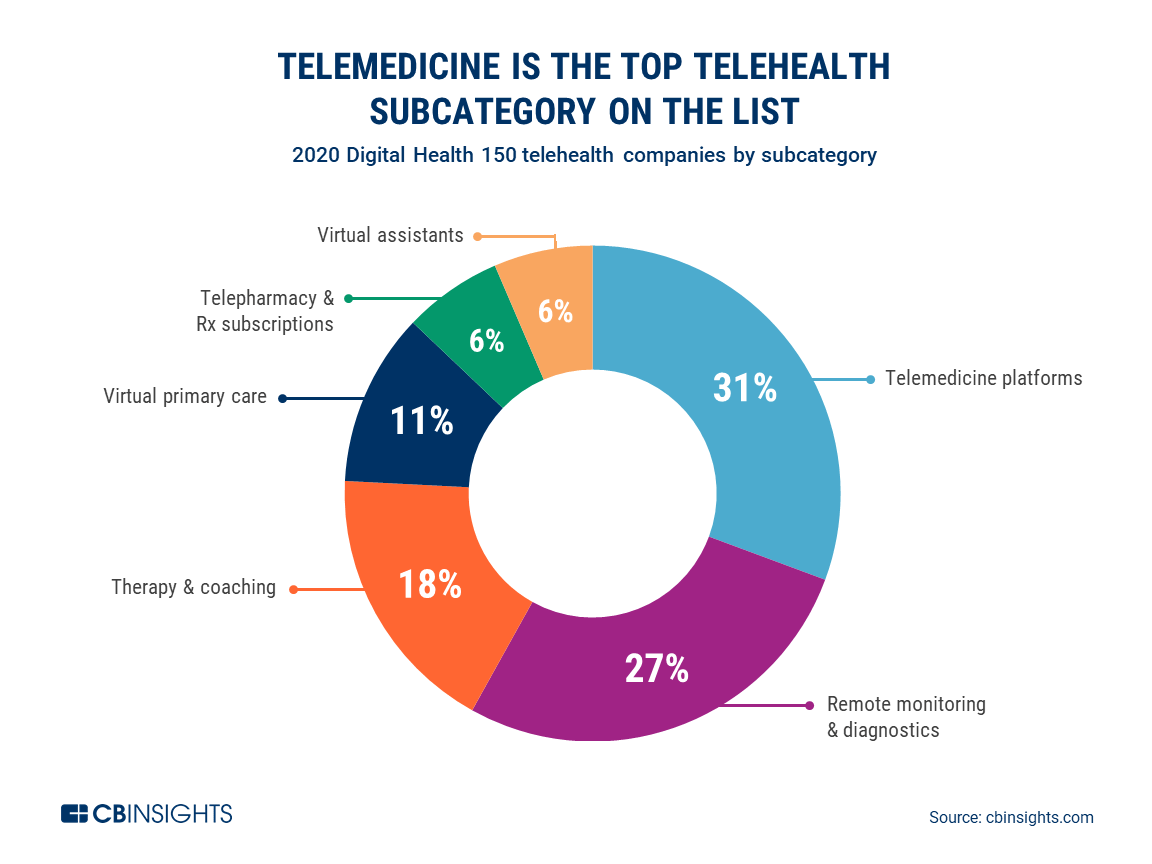 Drug R&D has been severely impacted by pandemic-related shutdowns, as many clinical trials have been interrupted. For this year's list, we selected 26 companies that contribute to drug R&D:
Optimization of healthcare costs is a growing priority for all stakeholders — from patients and providers to plan sponsors and health plans. As a result, administrative workflow solutions along with private health insurers are on the rise. A total of 20 companies on the list offer core services that target the operational and/or financial inefficiencies of navigating healthcare:
Mental & behavioral health has become a bigger priority in the healthcare industry in recent years, especially amid the current climate. In Q1'20, mental health startups raised a record $575M+ in equity funding. In this year's cohort, 10 companies are creating solutions to deliver more accessible, personalized mental health services. Key examples include:
Women's health is growing from a nascent market into an increasingly comprehensive one as more products and services are developed for women of all life stages and experiences. A total of 10 companies from this year's list are developing solutions to improve women's health:
Geographical distribution of healthcare startups
The companies in the 2020 Digital Health 150 cohort represent 18 countries. US-based startups make up 77% of the 150 companies, dominating the list.
The cohort also reflects a number of emerging digital health hubs:
If you want to learn more about digital health startups in Canada, check out our Canadian digital health market map.
Methodology: CB Insights datasets
The Digital Health 150 selections are the result of a rigorous, data-informed process, combining CB Insights datasets with the research team's industry expertise.
The datasets and insights from CB Insights' tech market intelligence platform that were leveraged to pick finalists include:
Digital Health Startups 2019: Previous year's winners

Highlights from the 2019 Digital Health 150:
Unicorns: 17 of the 2019 Digital Health 150 (11%) have remained or since become unicorns with a $1B+ valuation.
Exits: 2 companies have gone public and 2 have been acquired.
Deals, funding, and mega-rounds: Since the announcement of the list in October 2019, the 2019 Digital Health 150 cohort has raised over $4B across 70+ deals, including 14 mega-rounds ($100M+ investments), as of 8/10/2020.
To learn more about the 2019 Digital Health 150, read our article on the top digital health startups of 2019.

Licensing and reuse of content: Contact our official partner, Wright's Media, about available usages, license fees, and award seal artwork at cbinsights@wrightsmedia.com. Please note that Wright's Media is the only authorized company that we've partnered with for CB Insights materials.
If you aren't already a client, sign up for a free trial to learn more about our platform.