The most promising 150 private digital health startups working to transform the healthcare industry with new models of primary care to emerging tech solutions for providers.
CB Insights' first ever annual cohort of Digital Health 150 startups is a list of 150 of the most promising private companies creating innovative products and services in the $5T+ healthcare industry, according to CB Insights' Industry Analyst Consensus.
Our research team selected the 150 startups from a pool of 5K+ companies based on several factors, including patent activity, investor profile, news sentiment analysis, proprietary Mosaic scores, market potential, partnerships, competitive landscape, team strength, and tech novelty.
For the purposes of this report, digital health is defined as companies in the healthcare space that use technology/software as a key differentiator from their competition. This includes everything from disease diagnostics to tech-driven health insurance platforms to AI tools for drug discovery, and more.
Startups are categorized by their main focus areas. Categories in the market map below are not mutually exclusive.
Please click to enlarge.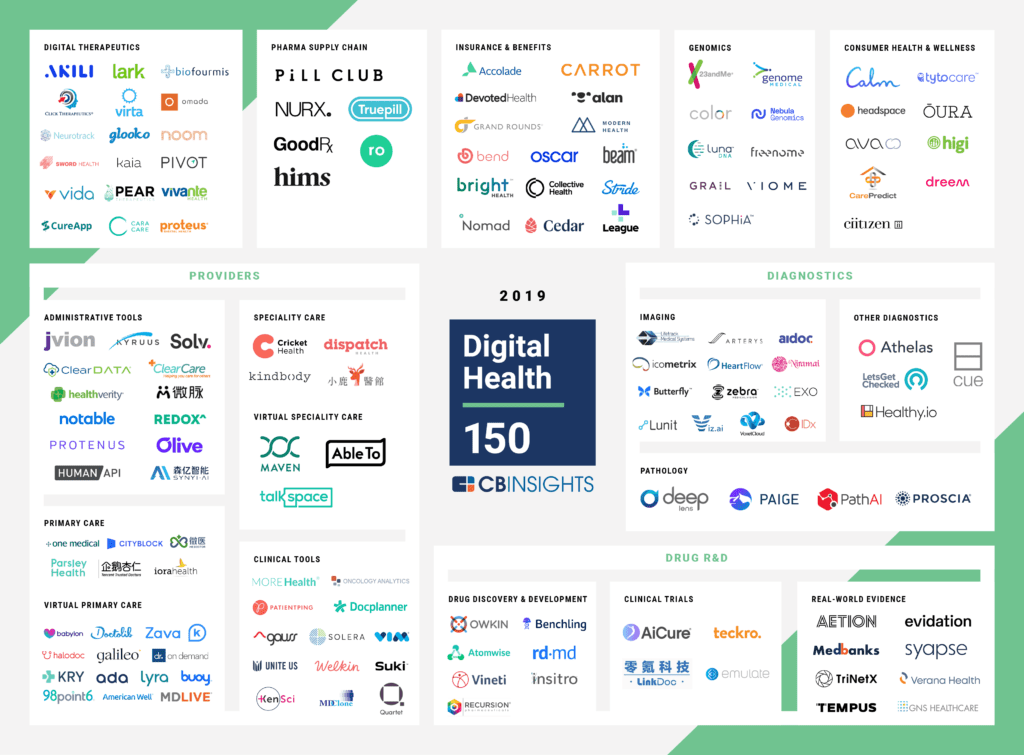 Table of contents
150 startups in different stages of R&D
The Digital Health 150 companies span a wide spectrum of categories that involve all three key stakeholder groups for the healthcare industry — providers, payers, and patients.
These companies range from emerging startups to established unicorns (companies with $1B+ valuations). The selected companies represent a mix of startups at different stages of funding and product commercialization.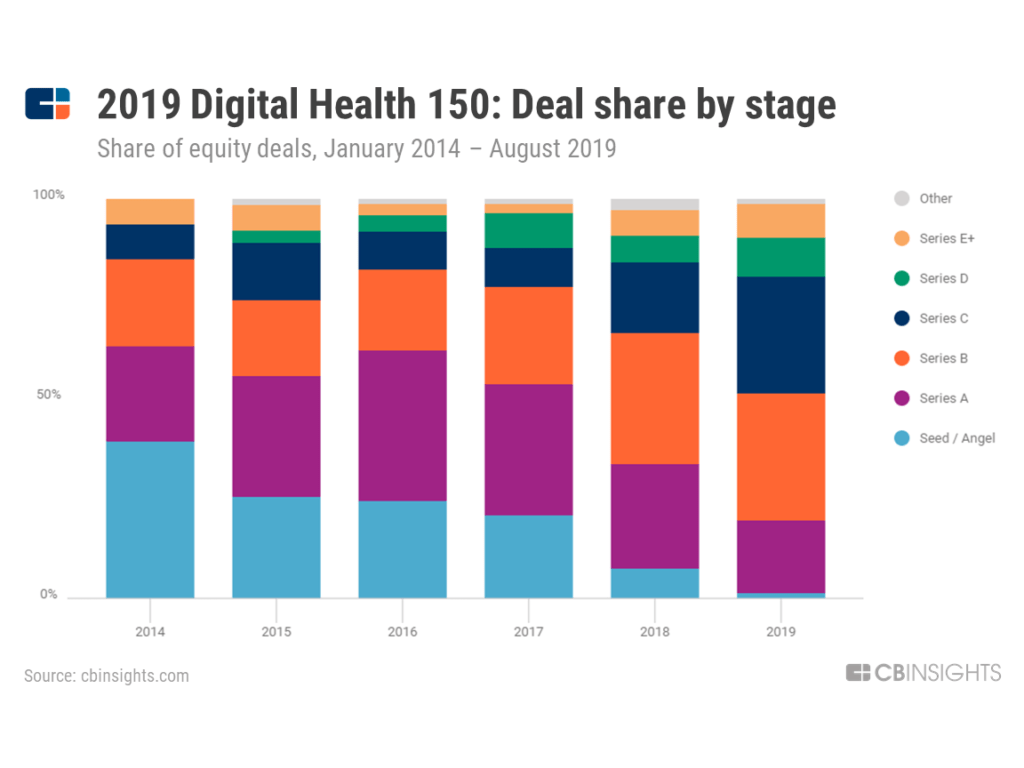 For example, China-based We Doctor has a valuation of $5.5B and provides primary care services that leverage its tech platforms and provider network.
In contrast, RDMD is an early-stage company specializing in drug discovery efforts for rare diseases. The company plans to aggregate data to help develop treatments for a range of conditions.
A total of 17 companies on the list are unicorns (private companies valued at $1B+). Of these, 12 companies are US-based, 3 are based in China, 1 is based in France, and 1 is based in the UK.
2019 Digital Health 150 Unicorn Startups

| Company | Category | Country | Max Valuation ($M) |
| --- | --- | --- | --- |
| We Doctor | Providers: Primary Care | China | 5500 |
| GRAIL | Genomics | United States | 3200 |
| Oscar Health | Insurance & Benefits | United States | 3200 |
| Tempus | Drug R&D: Real-World Evidence | United States | 3100 |
| GoodRx | Pharma Supply Chain | United States | 2800 |
| 23andMe | Genomics | United States | 2500 |
| Babylon Health | Providers: Primary Care (Virtual-Only) | United Kingdom | 2000 |
| Devoted Health | Insurance & Benefits | United States | 1800 |
| HeartFlow | Diagnostics: Imaging | United States | 1500 |
| Proteus Digital Health | Digital Therapeutics | United States | 1326 |
| Butterfly Network | Diagnostics: Imaging | United States | 1250 |
| Doctolib | Providers: Primary Care (Virtual-Only) | France | 1140 |
| Hims | Pharma Supply Chain | United States | 1100 |
| Calm | Consumer Health & Wellness | United States | 1000 |
| LinkDoc Technology | Drug R&D: Clinical Trials | China | 1000 |
| One Medical Group | Providers: Primary Care | United States | 1000 |
| Tencent Trusted Doctors | Providers: Primary Care | China | 1000 |
Most well-funded companies
The most well-funded companies on the Digital Health 150 list span a broad range of categories. The top-funded company is genomics startup GRAIL, followed by insurance tech player Oscar Health and then China-based We Doctor.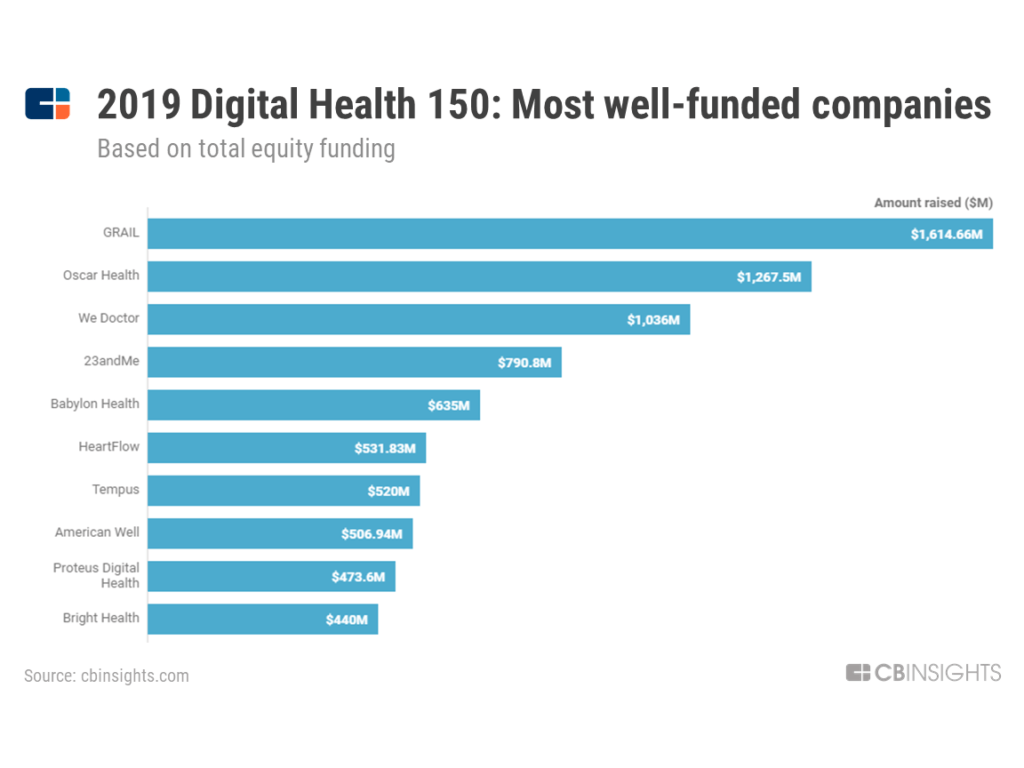 Startups outside the United States
Of the 150 selected digital health startups, 116 are headquartered in the US. Those based outside the US include 17 from Asia, 16 from Europe, and 1 from Canada.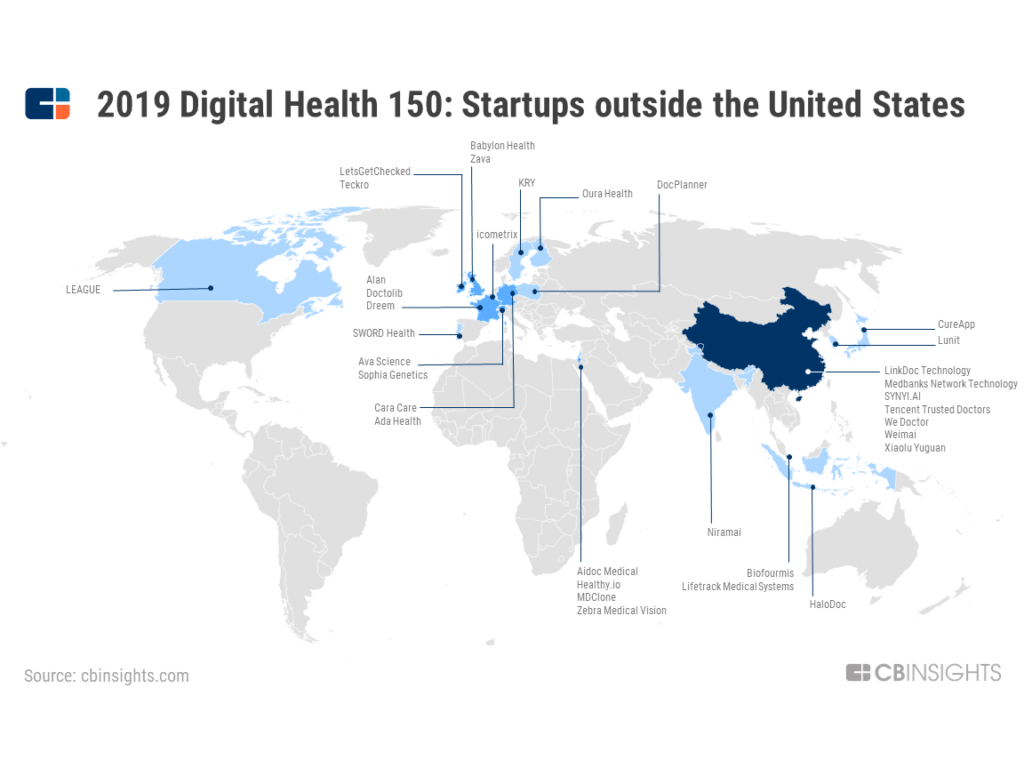 After the US, China is the second most-represented country on this list, with 7 of the selected companies, and Israel is third with 4 companies.
Most active investors
Over 850 unique investors have funded this year's Digital Health 150 cohort, including corporations, CVCs, VC firms, and angel investors.
Below, we highlight the top 10 most active investors among the companies selected.
| Investor | Number of deals | Digital Health 150 companies recently backed |
| --- | --- | --- |
| F-Prime Capital | 31 | Protenus, Buoy Health, Quartet Health, Luna PBC, OWKIN, Medbanks Network Technology |
| New Enterprise Associates | 30 | Collective Health, Tempus, Aetion, Bright Health |
| Google Ventures | 29 | Freenome, Collective Health, Quartet Health, OWKIN, Pill Club |
| Venrock | 28 | Lyra Health, Devoted Health, Kyruus |
| Founders Fund | 27 | Emulate, Collective Health, Teckro |
| Khosla Ventures | 27 | Neurotrack Technologies, SWORD Health, |
| GE Ventures | 22 | Genome Medical, Evidation Health, Verana Health, Iora Health |
| Social Capital | 20 | Syapse, Modern Health, Suki, Neurotrack Technologies |
| .406 Ventures | 19 | Redox, Nomad Health, Bend Financial, AbleTo |
| Andreessen Horowitz | 18 | Freenome, Omada Health, Ciitizen, Devoted Health |
Track all the Digital Health 150 Startups in this brief and many more on our platform
The 150 private digital health startups working to recreate how healthcare is delivered. Look for The Digital Health 150 in the Collections tab.
Track The Digital Health 150 Startups
Collections is the first collaborative work management solution purpose-built for corporate growth teams responsible for managing build, buy, or partner decisions.
---
Themes & trends
Across our 150 selected companies, we identified key themes and trends that highlight their efforts to transform the healthcare industry.
Below, we discuss a selection of these trends across different categories.
Artificial intelligence
Many companies on our list are leveraging AI and machine learning to help develop their respective software platforms.
From consumer health companies to imaging & diagnostics startups, AI is at the forefront of their products and services.
One example here is pathology — an area that AI has begun to transform. For instance, startups such as PathAI and PAIGE.AI are using AI to help speed up patient diagnosis.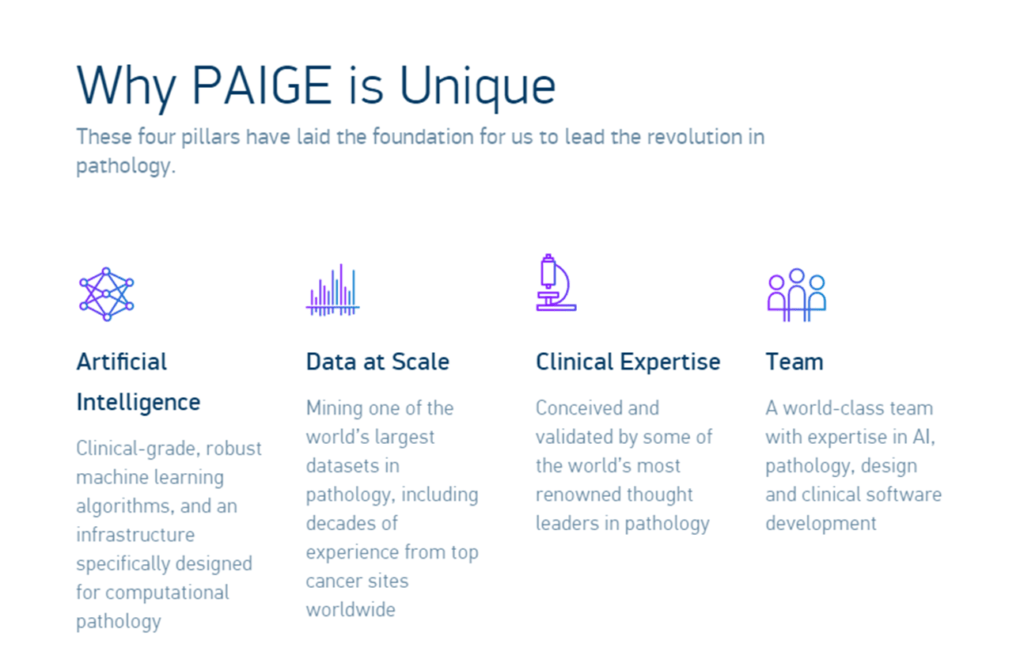 Source: PAIGE.AI
AI is also being leveraged through drug discovery & development — accelerating the identification of new targets and therapeutic candidates.
An example here is OWKIN, a startup that develops algorithms to help interpret disease-related data and predict treatment outcomes.
Women's health
As investments to women's health startups have increased, we've seen startups targeting everything from egg freezing services to emerging tech for managing menopause.
In particular, fertility has gained traction as one of the main area of interest for women.
Startups such as Ava Science (fertility tracking device) and Carrot Fertility (fertility supplemental insurance) are providing novel services that aim to boost accessibility and convenience.
Virtual care clinics such as Maven Clinic are also helping women gain better access to providers that cater specifically to women's health needs and concerns.

Source: Maven Clinic
Maven raised a $27M Series B round in September 2018 with participating investors including Sequoia Capital and Oak HC/FT Partners, among others.
Senior care
The growing size of the aging population is creating an increased demand for tech that aims to improve their health management.
This includes services targeted at both home care solutions and care coordination between providers.
One example here is ClearCare — a home care platform that aims to facilitate everything from administrative tasks to tracking patient hospitalizations.

Source: ClearCare
Social determinants of health
Population health has been generating a lot of buzz in healthcare. In particular, there's a growing emphasis on leveraging social determinants of health (SDoH) to generate better health outcomes.
An example here is Unite Us, a New York-based startup working to build care networks that integrate SDoH into how healthcare is delivered.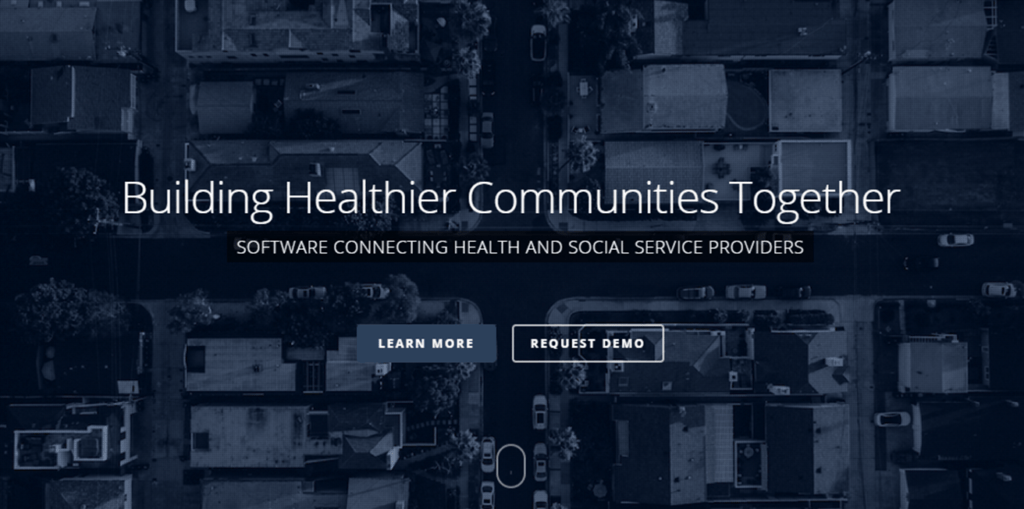 Source: Unite Us
Its approach is to provide care coordination software that can handle external referrals and track patient outcomes, helping to connect healthcare solutions with social services.
Value-based care
As more healthcare stakeholders look to collaboration to spur innovation in the industry, value-based care has come to the forefront.
In particular, payers and providers have established new care coordination networks to help reduce overall healthcare costs — with the goal of delivering care that provides better value to patients.
An example here is Vim, which provides patients with access to both payers and providers to make it easier to find appropriate care options.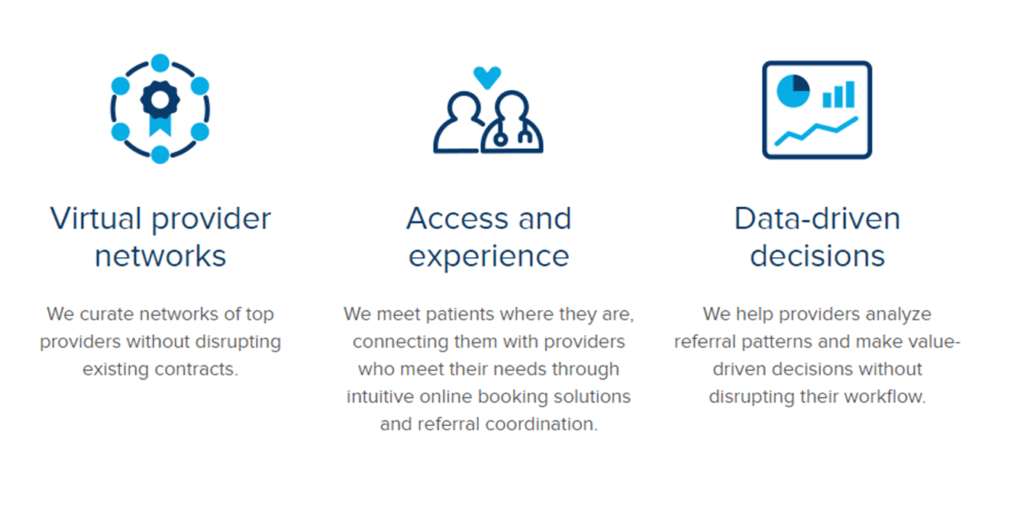 Source: Vim
Vim raised a $24M Series B round in September, with participating investors including Optum Ventures, Premera Blue Cross, and Sequoia Capital, among others.
Concierge medicine
Concierge medicine startups, such as One Medical or Parsley Health, use a membership model to help offer patients an elevated healthcare services experience.
The approach aims to offer faster health visits with providers and more predictable associated costs.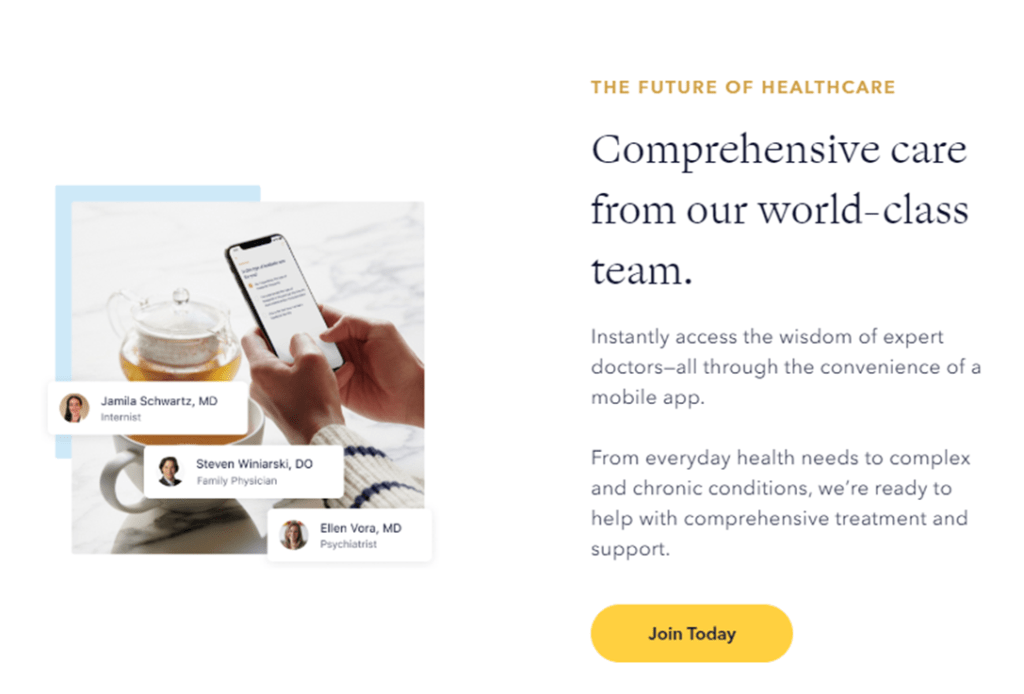 Source: Galileo Health
Recently, Galileo Health — started by the founder of One Medical — launched an app-based concierge medicine platform geared towards providing a comprehensive level of care, including for chronic disease management.
It raised funding from Oak HC/FT Partners in May.
Telehealth
Telehealth services have expanded in recent years to become more differentiated.
Primary care platforms such as Ada Health and 98point6 are helping patients access more tailored care from their smartphones.
For instance, 98point6 offers a subscription on-demand telemedicine platform — touting 24/7 access to board-certified physicians — that's delivered via a mobile app.

Source: 98point6
The startup raised a $50M Series C in October 2018 from Goldman Sachs and Frazier Healthcare Partners.
Another example is Talkspace, which offers psychotherapy services delivered virtually. It has raised $109M in total disclosed funding from investors including Compound, Norwest Venture Partners, Spark Capital, and SoftBank, among others.
Other companies in this category use remote monitoring technology to supplement virtual care services.
Table of the Digital Health 150 companies

Licensing and Reuse of Content: Contact our official partner, Wright's Media, about available usages, license fees, and award seal artwork at cbinsights@wrightsmedia.com. Please note that Wright's Media is the only authorized company that we've partnered with for CB Insights materials.
If you aren't already a client, sign up for a free trial to learn more about our platform.