After a dip in H2'16, digital health financing is on the rebound, with deals and funding on track to hit new highs in 2017.
Funding to digital health startups has increased every year since 2012, hitting a record of $6.9B in 2016. And investors remain bullish on the sector, with 2017 on track to hit $10B in disclosed equity funding, which would set yet another annual record.
This year has already seen multiple mega-deals to startups targeting everything from cancer diagnostics to health insurance. GRAIL saw the largest deal to date, a $914M Series B with investors including Amazon, Tencent Holdings, and Johnson & Johnson Innovation.
Other mega-deals include Guardant Health, which raised a $360M Series E to develop next-gen liquid biopsy technology, Bright Health, which raised $160M to continue offering Affordable Care Act and Medicare Advantage plans, and health insurance unicorn Clover Health, which raised a $130M Series D to support the growth of its patient-focused health insurance platform.
Using CB Insights data, we analyzed deal and dollar trends in the digital health sector. We define digital health as companies in the healthcare space that use software as a central piece of the company's product offering, including but not limited to mobile health, telemedicine, genomics, and electronic medical records. Products like pharmaceuticals, mechanical devices, and hospital systems are excluded.
ANNUAL DEALS AND DOLLARS
Global equity funding to digital health companies has reached $5.8B over 593 deals in 2017 YTD. At the current run rate, 2017 is on track to reach nearly $10.4B in funding across 1,000 deals, a potential 5-year high for the sector.
The largest deals of the year so far include GRAIL's $914M Series B (mentioned above), Outcome Health's $500M growth equity round from investors such as capitalG and Goldman Sachs, and Guardant Health's $360M Series E (also mentioned above), with investors including Khosla Ventures, Lightspeed Venture Partners, and OrbiMed Advisors.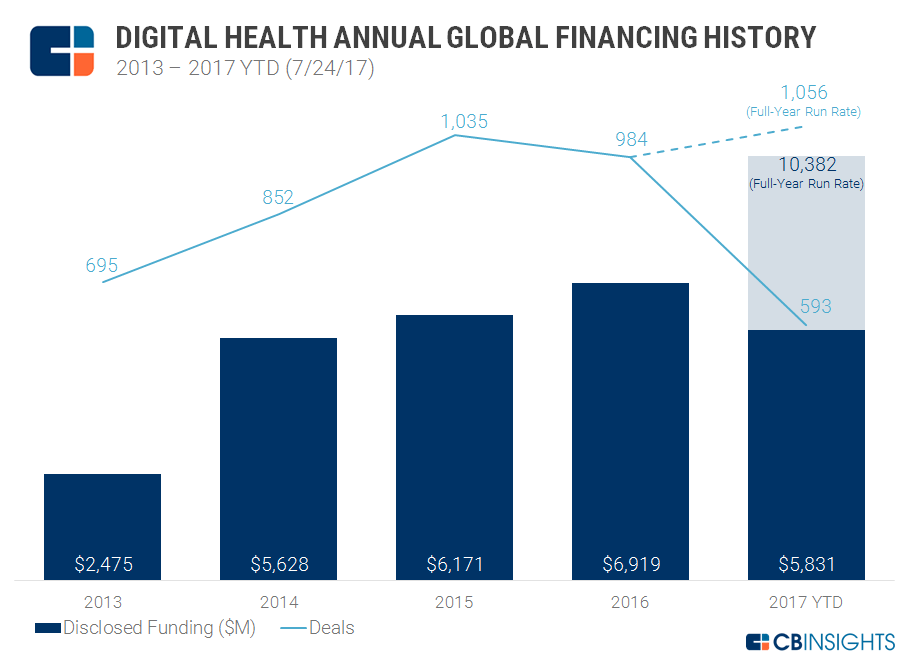 Track all the digital health startups in this brief and many more on our platform
Startups working on digital health have the potential to change how medical care is practiced and delivered. Look for Digital Health in the Collections tab.
Track digital health startups
QUARTERLY FINANCING TRENDS
In general, deals and equity funding to digital health startups trended up through Q1'16, before taking a steep dip through Q3'16, in large part due to a drop in seed VC and Series A deals. However, global deals and funding appear to have rebounded, and have been trending up ever since.
Funding saw about a 35% increase from $2.4B in Q1'17 to $3.2B in Q2'17, a new quarterly record. Deal flow, initially off to a slow start in the first quarter of the year, grew 8% in Q2'17 to reach 290 deals, matching the record from Q1'16.
In addition to Outcome Health and Guardant Health, the largest deals of Q2'17 include the $325M Series E of personal fitness company Peloton Interactive, the $231 equity raise of EMR provider Modernizing Medicine, and the $160M Series B of health insurance startup Bright Health.
Peloton was backed by Kleiner Perkins Caufield & Byers, True Ventures, and NBC Universal, among others. Bright Health was backed by investors including Bessemer Venture Partners, Redpoint Ventures, NEA, and Greycroft Partners, while Modernizing Medicine's round was backed solely by Warburg Pincus.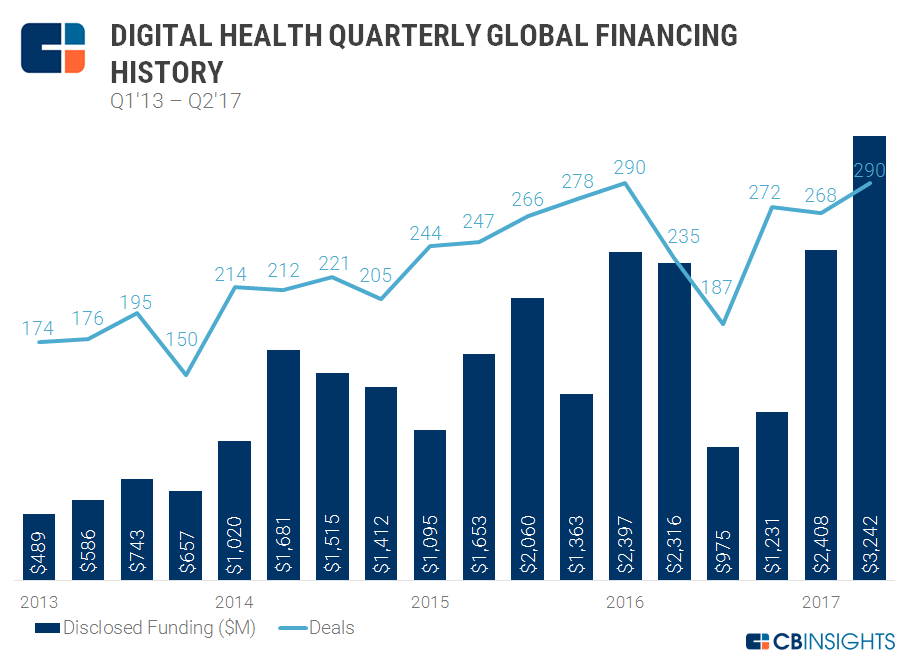 DEAL SHARE BY STAGE
Deals to early-stage (seed / angel and Series A) digital health startups have remained relatively steady over the past four years, never dipping below 54% of total deal share. In 2017 YTD, early-stage deals have taken 54%, with seed / angel deals representing 39% of deal share (down slightly from 42% in 2016).
Mid-stage deals (Series B & C) have hovered between 11% – 13% since 2013, and this year to date have taken 13% of global deal share.
Late-stage rounds (Series D & E+) continue to make up the smallest proportion of deals, and in 2017 YTD only 5% of all deals to digital health startups have been late-stage rounds. Last quarter, the sector saw late-stage rounds to fitness class-focused unicorn Peloton Interactive ($325M Series E), digital behavioral medicine company Omada Health ($50M Series D), and appointment-making platform DocPlanner ($16.7M Series D), among others.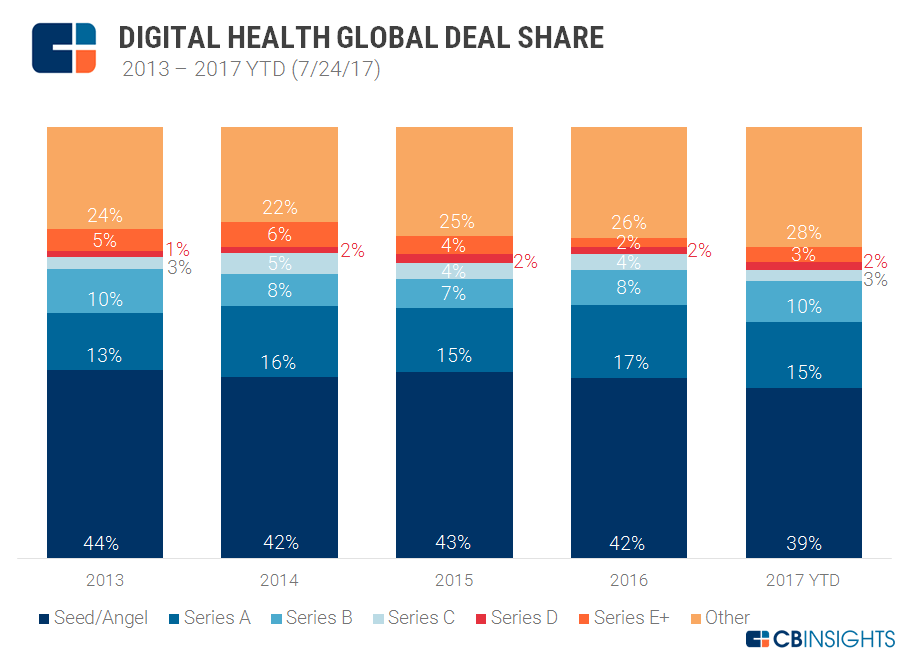 If you aren't already a client, sign up for a free trial to learn more about our platform.