In Q2'20, digital health funding set a record and deals climbed 6%. We answer some of our readers' most pressing questions about the direction of the sector.
The Covid-19 crisis has launched healthcare — and the digital health sector in particular — into the spotlight. In Q2'20, telehealth deals skyrocketed, and the medical device sector reached new funding heights.
Our recent webinar, The State of Healthcare Q2 2020: Digital Health Funding Bounces Back, highlighted healthcare funding, investments, exits, and more in the second quarter of 2020.
Below, we answer some of our readers' most pressing questions from the webinar.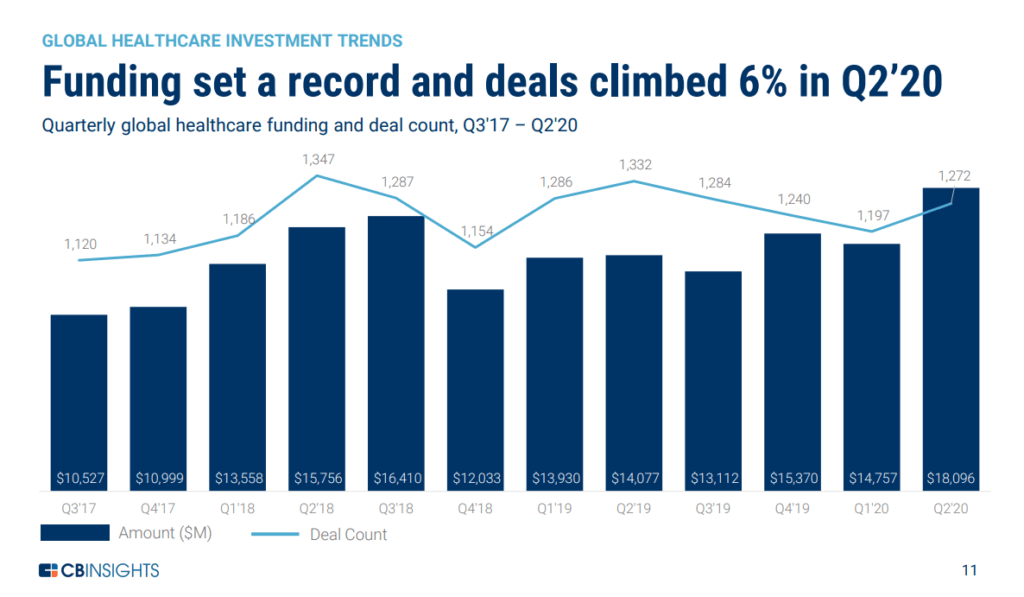 What are the trends in consolidation and M&A activity? 
In Q2'20, we saw a record high of M&A activity in telehealth startups, driving both vertical and horizontal consolidation in the market. We're seeing bigger players such as Omada Health acquiring smaller companies in the chronic care space such as Physera (early-stage physical therapy platform).
We're also beginning to see more consolidation in the digital therapeutics space, where companies are eyeing a bigger share of the market by acquiring companies with products in other therapeutic areas/medical indications.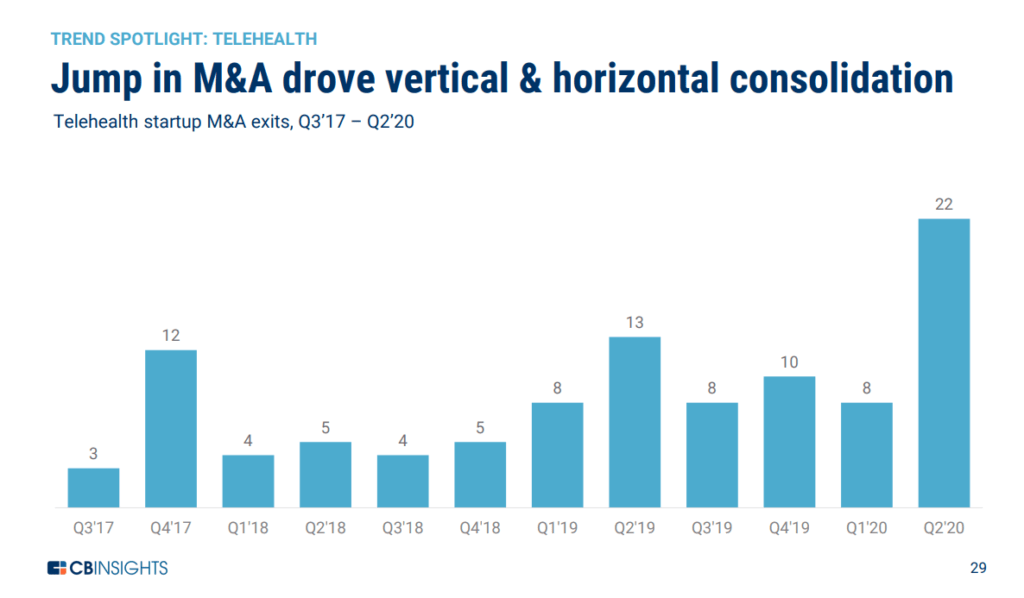 Do you see any trends in the telehealth space for the uninsured/underinsured segment? For example, it seems that most of the successful telehealth vendors like Teladoc Health, K Health, and 98point6 are all driven by insurance/employers.
The Covid-19 pandemic has brought on not only an accelerated use of telehealth solutions but also a bigger discussion around how those telehealth solutions can serve different segments of the population, including the uninsured/underinsured. As millions of people across the country lose their employer-based insurance plans, it has become crucial to emphasize accessible virtual care options here. 
One of the interesting solutions we've seen lately is GoodRx's telehealth marketplace solution, where consumers can comparison shop for telehealth services and select them based on their desired price point. Alongside that, companies such as Ro bypass the traditional relationships with health plans entirely and offer out-of-pocket options for its on-demand telehealth services. 
And lastly, some telehealth startups are providing different pricing options for the uninsured. For instance, the primary care startup Heal offers $159 per house visit and $79 per telemedicine visit for uninsured patients. Throughout the market, price transparency will play a critical role in creating new options for the uninsured/underinsured.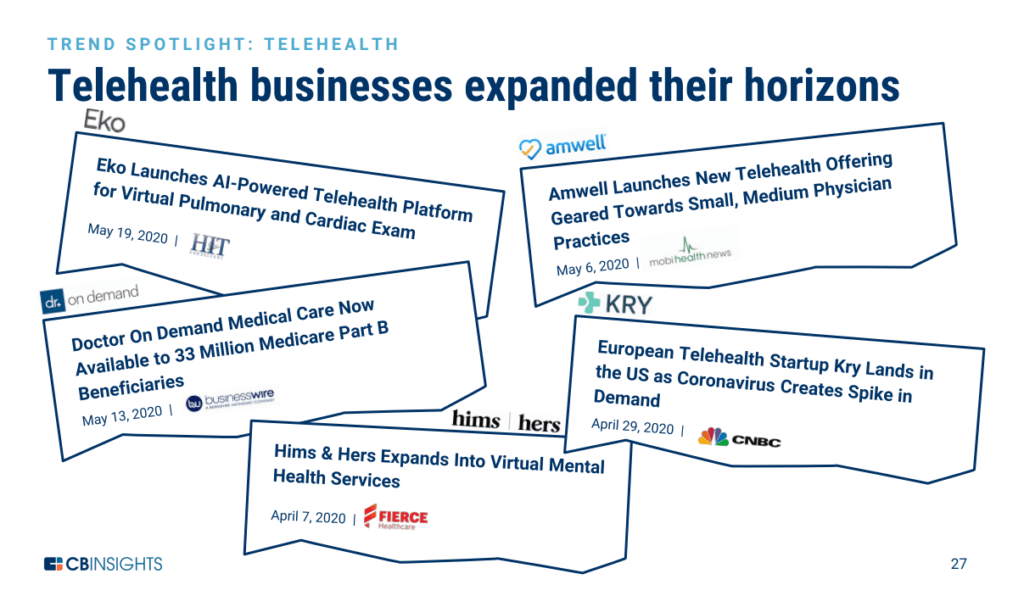 While there is a focus on virtual care and telehealth, what were the big funding deals or news stories regarding in-person care?
While this didn't occur in Q2'20, VillageMD raised its $275M Series C round in early July, led by Walgreens. VillageMD provides primary care services at physical clinic locations along with at-home and virtual visits. Along with its financing, VillageMD and Walgreens have also announced a partnership over the next 5 years to open up to 700 primary clinics. 
Carbon Health is another startup that operates online-offline care and raised a $26M Series B round in May. Lastly, DispatchHealth, which offers in-person, on-demand acute care, raised a $135.8M Series C round in June.
How is data privacy and protection affecting growth in digital health? Is regulation keeping up with innovation where cybersecurity is vital?
Data privacy and protection remain key challenges in digital health. We've seen data breaches throughout the last couple of years, often due to malicious attacks, but also due to software errors. As digital health technologies become ubiquitous through consumer-facing devices and mobile apps, this is going to be an important area to watch out for. 
This is especially the case amid the Covid-19 pandemic, as remote tools to manage and treat chronic conditions have entered the spotlight. At present, there haven't been sweeping regulatory or legislative policies across this area, but there are starting to be more industry guidelines and frameworks established across health tech companies.
If you aren't already a client, sign up for a free trial to learn more about our platform.