In August 2020, CB Insights announced the second annual Digital Health 150 — a list of the 150 most promising digital health companies across the globe. We take a look at where these companies are now.
In 2020, 150 private digital health companies from 18 countries made it to the CB Insights Digital Health 150. They were selected from a pool of nearly 8,000 companies based on a variety of factors, including patent activity, business relations, investor profile, news sentiment analysis, proprietary Mosaic scores, market potential, competitive landscape, team strength, and tech novelty. 
FREE DOWNLOAD: THE COMPLETE DIGITAL HEALTH 150 LIST
Get an Excel file with the entire Digital Health 150, CB Insights' annual ranking of the 150 most promising digital health startups in the world.
Since announcing the list in August 2020, the Digital Health 150 winners have gone on to do big things:
9 of the winners have gone public or announced plans to go public

6 have been acquired, while 2 have merged

26 are unicorns (private companies valued at $1B+), with an aggregate valuation of $70.2B

79 have raised additional equity funding, totaling $13.4B across 99 deals

15 winners have acquired a total of 24 companies between them

The winners have announced over 200 partnerships
Dig into all of the details below.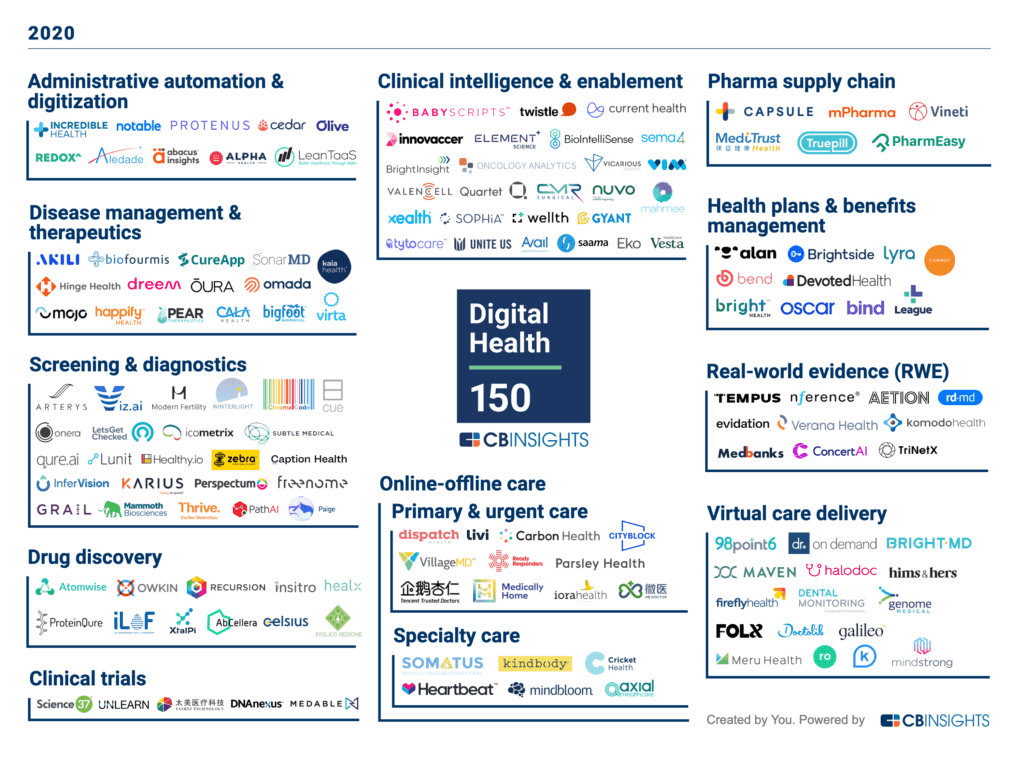 Exits: 9 public exits, 6 acquisitions, 2 mergers
Since the release of the 2020 Digital Health 150, 4 companies have gone public via an IPO and 5 have completed or announced a SPAC transaction.
In June 2021, for instance, health benefits plan provider Bright HealthCare raised $924M in its IPO, which valued the company at $13.4B. Meanwhile, health insurer Oscar made its debut in March 2021, raising $1.4B at a $7.9B valuation.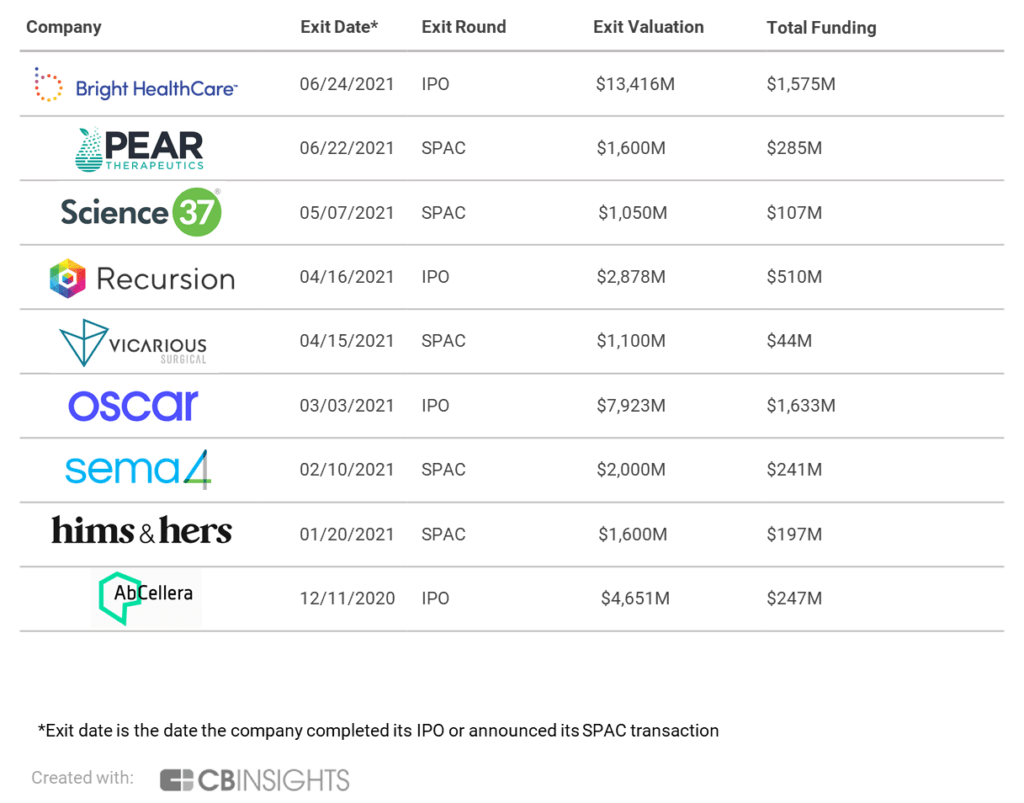 Since publishing the list, 6 winning companies have been acquired, and another 2 have merged.
Notable deals include Illumina's (pending) $8B acquisition of cancer detection company GRAIL, and One Medical's $2.1B purchase of primary care provider Iora Health in June 2021.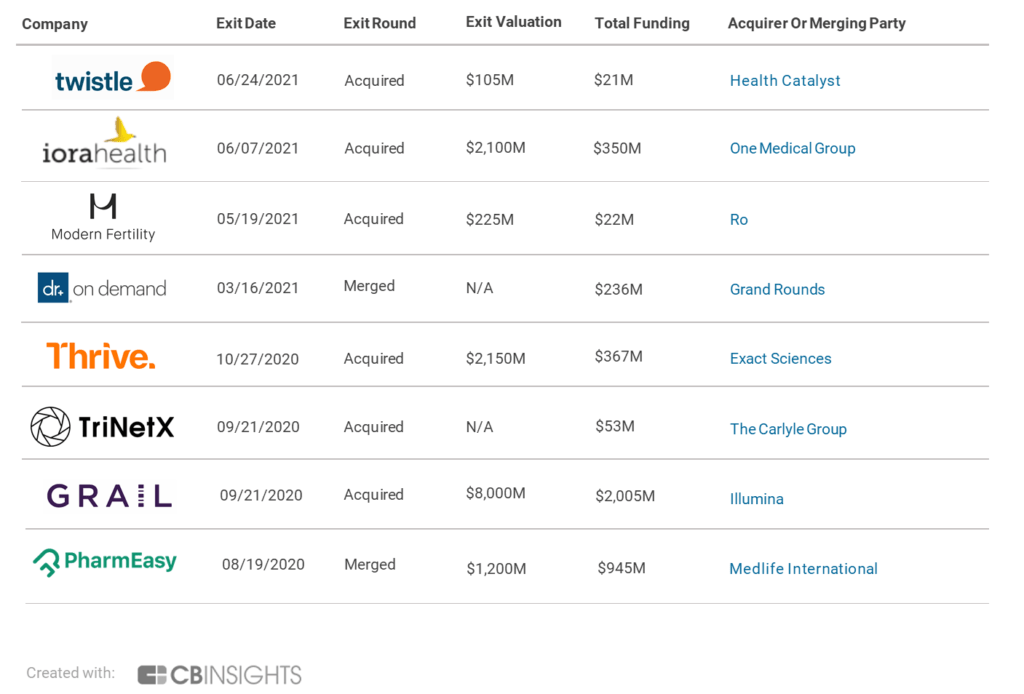 Funding: Winners raise AN ADDITIONAL $13.4B
Since August 2020, more than half of the Digital Health 150 (79 companies) have raised additional equity funding, totaling $13.4B in aggregate. $8.5B of this has been raised in 2021, which is on pace to surpass 2020's record-breaking $10.5B in cross-cohort funding. 
Additionally, 47 of the winners have raised a combined 55 mega-rounds (deals worth $100M+) since we published the list in August 2020. These mega-rounds span the digital health ecosystem, taking place in areas such as mental health and wellness, digital therapeutics, drug discovery, robotic process automation (RPA), and more.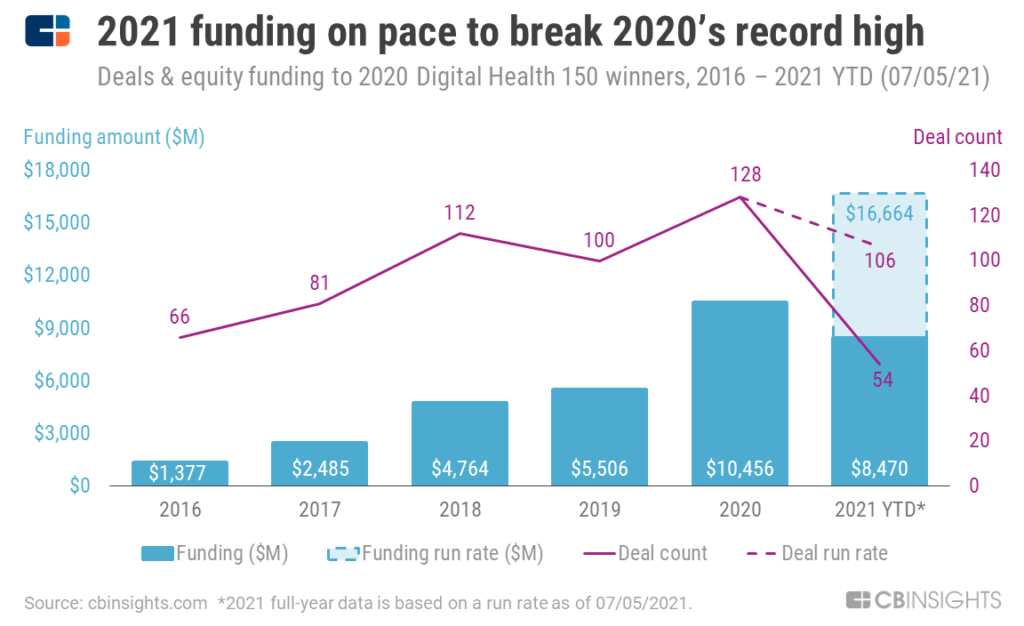 Acquisitions: Winners acquire more than 20 companies since publication
Since August 2020, the Digital Health 150 winners have acquired 24 companies to expand their capabilities and reach. Among the winners, Bright HealthCare and telehealth services firm Ro have been the most acquisitive, acquiring 3 startups each. 
Bright HealthCare has primarily targeted health insurance providers, including True Health New Mexico and Southern California-based Central Health Plan. Meanwhile, Ro, which originally focused on men's health, has been expanding its product offering through M&A. For example, in May 2021, it acquired fellow Digital Health 150 winner Modern Fertility, a women's reproductive health service provider, for $225M. In June, Ro bought at-home testing startup Kit.
Notable partnerships: 200+ new partnerships since publication
Since August 2020, Digital Health 150 winners have struck or expanded over 200 partnerships to scale operations and expand services. Many partnerships were forged to address critical needs relating to the Covid-19 pandemic. 
We highlight several notable partnerships below:
If you aren't already a client, sign up for a free trial to learn more about our platform.