Here's how fintechs and incumbents are driving greater inclusion in underserved populations, including seniors and the underbanked.
High fees, poor customer experiences, and archaic technology have historically blocked many from accessing financial services. 
In the past few years, the burgeoning popularity of digital banks has only underscored the severity of these problems, with upstarts like Chime and SoFi offering cheaper, faster, and more convenient banking experiences. 
The dominance of physical banking has waned over the past 2 decades. Between 2008 and 2018, the number of commercial bank branches in the US has declined by more than 6%. In contrast, online banking in the US has surged with 73% of consumers using it regularly, up from 46% in 2010.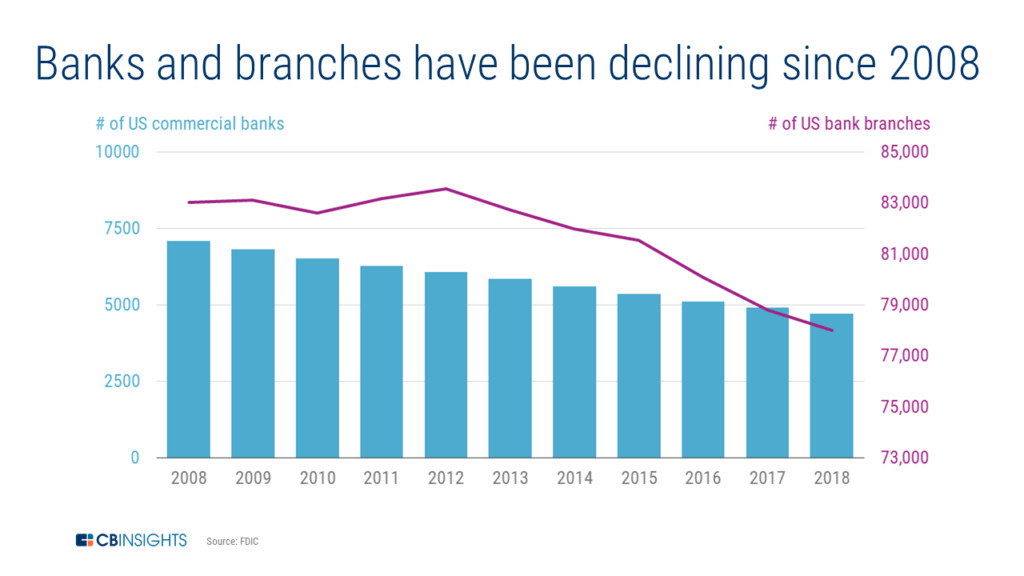 But the uptake of digital financial services has largely been driven by tech-savvy, younger populations, while seniors and the underbanked have been disproportionately excluded.
Below, we dive into how the Covid-19 pandemic has accelerated the shift to digital banking among these populations.
Seniors
While tech adoption has broadly climbed in older populations, a stark digital divide remains. Seniors in the US remain largely disconnected, with a third of those aged 65+ saying they never go online, according to Pew Research. The digital divide spans countries as well. In China, a largely mobile-first society where nearly 1B people are online, those aged 60+ represent only about 10% of China's total internet user base. 
Essentially, seniors looking to bank digitally face a number of hurdles, ranging from poor eyesight to minimal understanding of digital features to fear of financial exploitation. 
Partly due to these challenges, older populations overwhelmingly prefer physical bank branches. Half of consumers over the age of 35 pick primary banks based on their local presence, but for consumers under 35, that number falls to just 30%, according to PwC's 2019 Consumer Digital Banking Survey. 

Source: PwC
But as Covid-19 shuttered brick-and-mortar branches, seniors have increasingly embraced digital products. 
In April, nearly a quarter of new users of Bank of America's digital products were seniors and boomers, according to Bank of America CEO Brian Moynihan. This older demographic also accounted for 20% of those who deposited mobile checks for the first time. 
In Singapore, Oversea-Chinese Banking Corp named senior customers as its "fastest-growing segment for digital adoption," with the uptake of digital services among 60- to 80-year-old customers increasing by 20%. 
Meanwhile, Canada's CIBC reported that the number of customers over 65 signing up for digital banking services had more than tripled in April 2020.
There are abundant opportunities for online services to appeal more to older demographics — who hold 83% of US household wealth. Digital banks striving for greater financial inclusion within this demographic need to remain aware of stressors common among seniors, whether that be fraud, difficult digital experiences, or lack of human support entirely.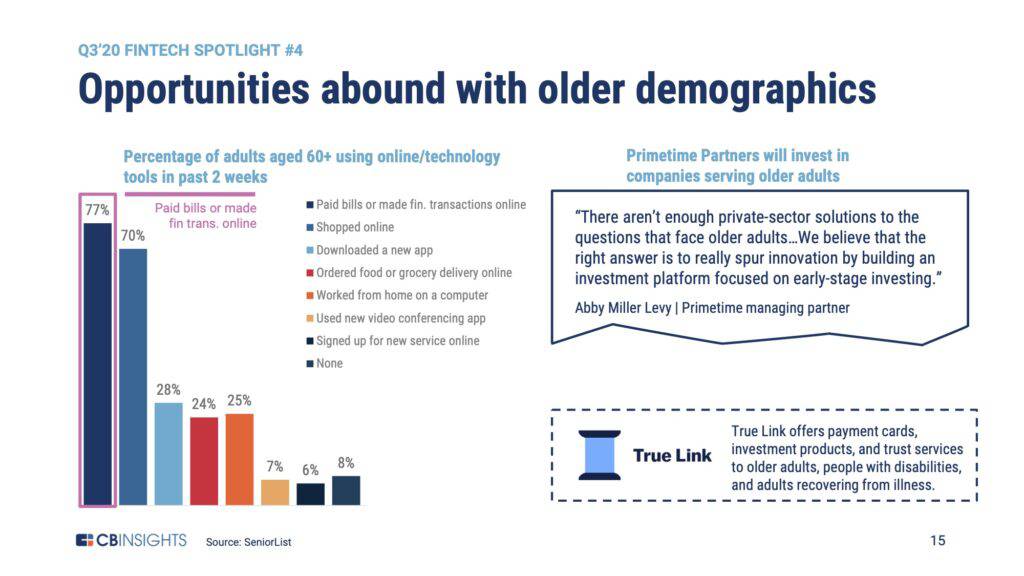 The unbanked/underbanked
Other critical areas of focus for digital banking companies are the underbanked or unbanked populations.
Globally, 1.7B people are unbanked, or lack bank accounts entirely, according to the World Bank. In the US, 16% of adults are underbanked — meaning that they have bank accounts but use alternative financial services like payday loans or check-cashing services — while 6% were unbanked, per the Federal Reserve. 
High banking fees, overdraft penalties, and a lack of requisite minimum deposits have pushed these households away from the formal banking system.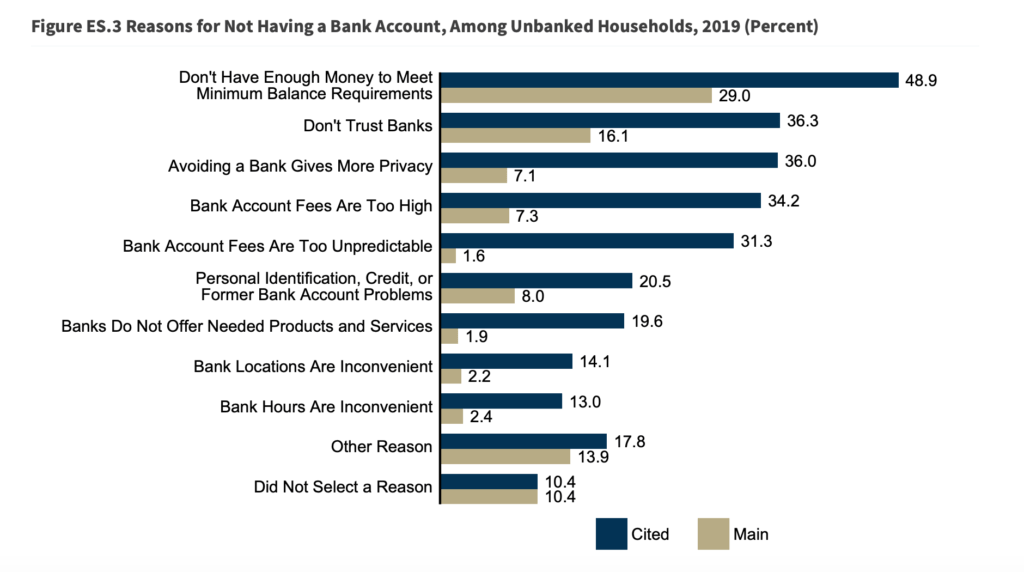 Source: FDIC
Alternative services can be costly. Those without a checking account pay an average of nearly $200 in annual fees in check-cashing and money order services alone, according to NerdWallet. One estimate puts the average cost of being unbanked at $3,000 in annual fees and interest costs per person.
In response, challenger banks like Chime, SoFi, and Current have attracted millions of customers in large part due to their no-fee bank offerings. 
These companies have seen dramatic growth amid the pandemic. For example, Brazil-based Neon saw its user base grow to 9M users in Q3'20 from 2M in Q4'19.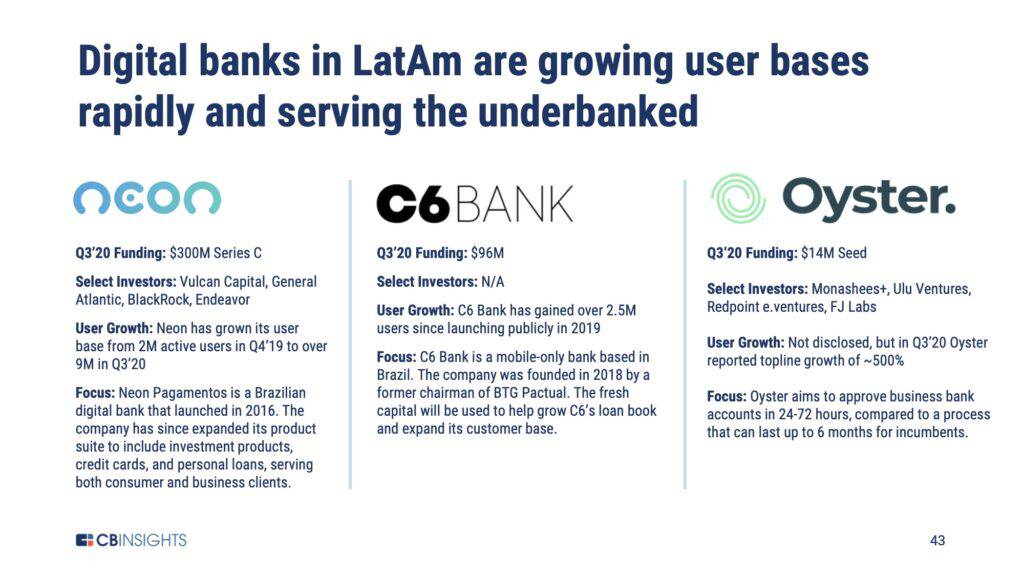 Some of these services have made moves aimed at better serving customers living paycheck-to-paycheck. For instance, digital-first services such as Chime and Current allowed underbanked people to receive stimulus checks in the US ahead of time via direct deposits.
Further, payment processors PayPal and Square became lenders for small businesses that were unable to secure loans from banks. These alternative lenders boast a loan approval rate of 56%, compared to 26% for incumbents, according to data by Biz2Credit. 
As the pandemic continues, sustained job losses may cause the unbanked rate to surge.
"Millions of Americans — and families of colour in particular — remain outside the mainstream banking system and are missing the economic opportunities that come from having a bank account," Rob Nichols, the CEO of the American Bankers Association, said in an interview.
Post-pandemic, digital challenger banks could have a critical role to play in serving these underbanked and unbanked customers and ensuring their financial inclusion.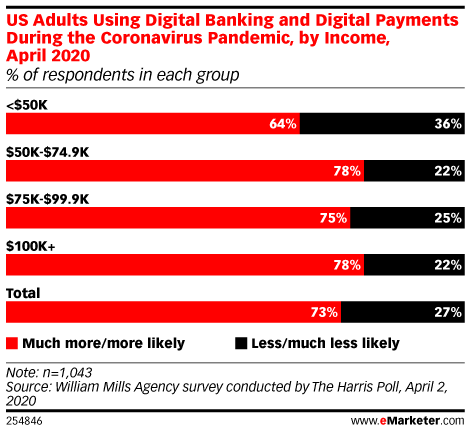 Source: eMarketer
The future for digital banking
Despite facing monetization challenges, challenger banks remain formidable competitors for incumbents.
Digital banks like Chime, Acorns, and Dave have accumulated millions of users in the past few years. One way they're positioning themselves against incumbents is by targeting historically underserved groups.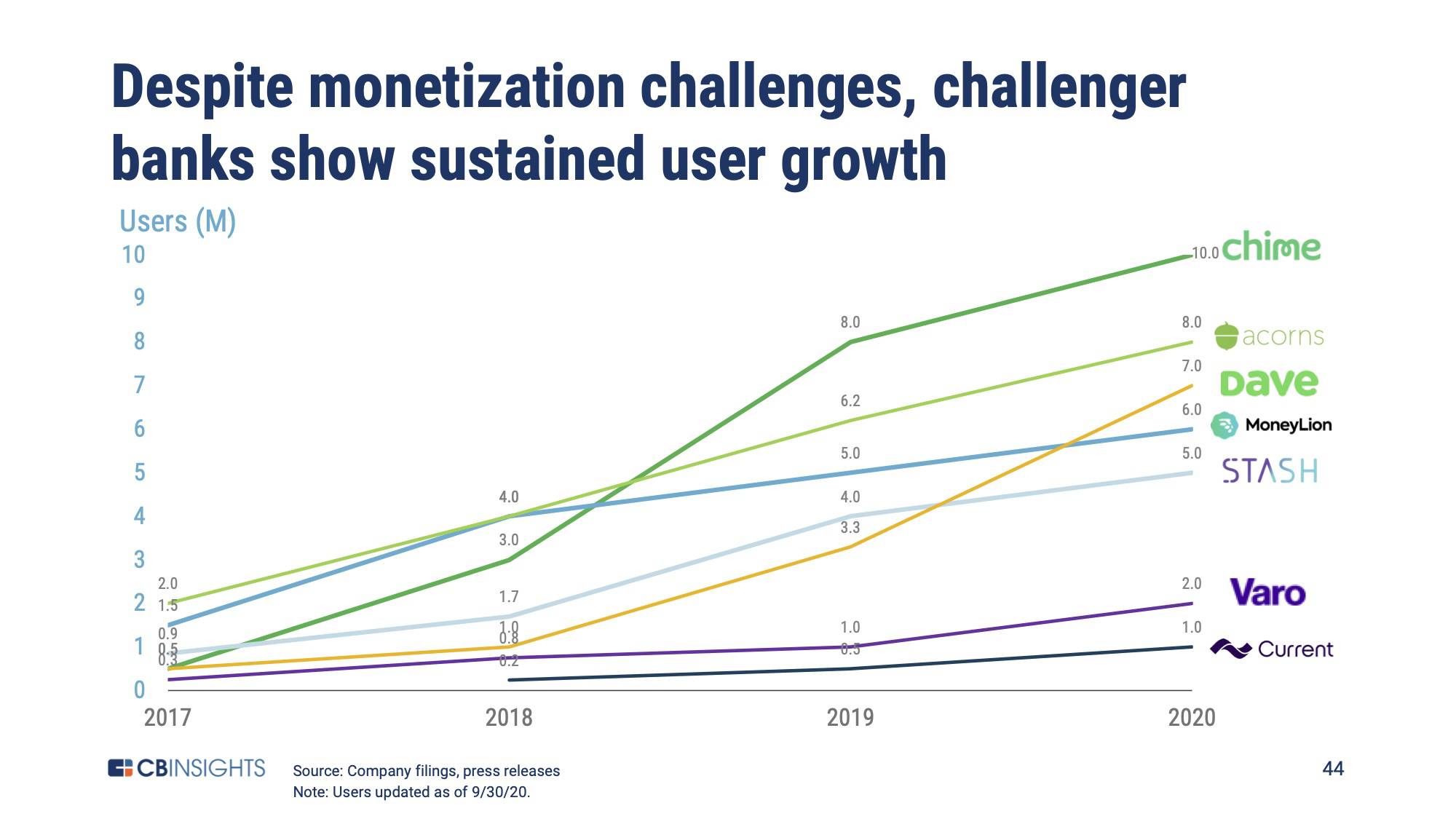 Opportunities abound for digital banks going forward, especially as the pandemic may have already altered customers' banking behavior over the long term — 42% of consumers in the US plan to limit their visits to bank branches even after lockdowns end, according to market research firm Simon-Kucher & Partners.
Like with so many aspects of the economy, Covid-19 may have accelerated shifts toward digital that were already taking place. Many may never bank in the same way again.

For more, take a look at our State Of Fintech Q3'20 report. Clients can read more about the state of digital banking here.
If you aren't already a client, sign up for a free trial to learn more about our platform.