Diamond Age plans to use the funding to enhance its robotics platform. Here are the top-line bullets you need to know.
Diamond Age, a Robotics-as-a-Service system provider, has raised $50M in a Series A. The round drew participation from Prime Movers Lab, Signia Venture Partners, and Timber Grove Ventures, among others.
HOW'S THE COMPANY PERFORMING?
California-based Diamond Age automates and accelerates the home building process.
The company's system combines 3D printing, mechatronics, and robotics to reduce manual labor in home construction by 55% and speed up the home build cycle to 30 days.
The construction tech firm recently entered into a partnership with national homebuilder Century Communities to construct 72 homes in Phoenix.
The startup is currently supported by a team of over 40 employees, up 2x from 2020.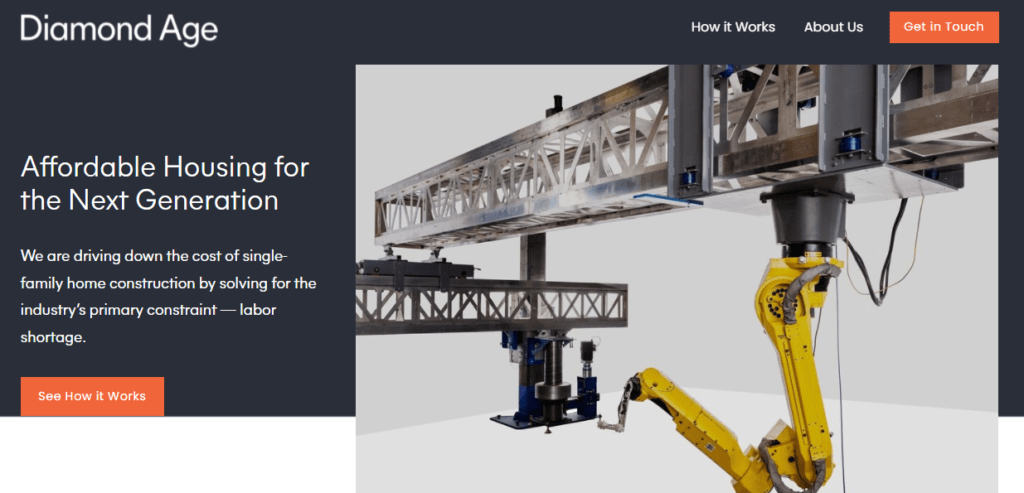 Source: Diamond Age
WHY DOES THE MARKET MATTER?
The global construction robotics market is expected to reach a value of $7.9B by 2027, growing at a CAGR of 23.3%, according to Allied Market Research.
Construction organizations are increasingly turning to construction robotics solutions in order to enhance productivity and reduce waste.
There is a shortage of almost 7M single-family homes in the US, representing a ~$2T unrealized economic opportunity, according to Diamond Age. Organizations will likely turn to automated solutions in order to take advantage of this opening.