Deeproute.ai plans to use the funding to double the size of its robotaxi fleet. Here are the top-line bullets you need to know.
Deeproute.ai, a self-driving technology company, has raised $300M in a Series B. The round drew participation from Alibaba Group, Jeneration Capital, and Yunqi Partners, among others.
How's the company performing?
Shenzhen-based Deeproute develops self-driving hardware and software systems for vehicles. It runs a fleet of autonomous taxis, aka "robotaxis", and it is currently developing technology for the logistics space.
The company's mobility services include medium-duty trucks (DeepRoute-LINK) and robotaxis (DeepRoute-INJOY).
Deeproute.ai currently operates 70 robotaxis, serving more than 100 pick-up and drop-off locations.
The company also collaborates with CaoCao, a ride-hailing firm, and Dongfeng Motors, an automaker.
Deeproute.ai has offices in China and California. It reports that its vehicles have driven more than 1.2M miles safely on public roads.
The company currently has a team of 400 employees.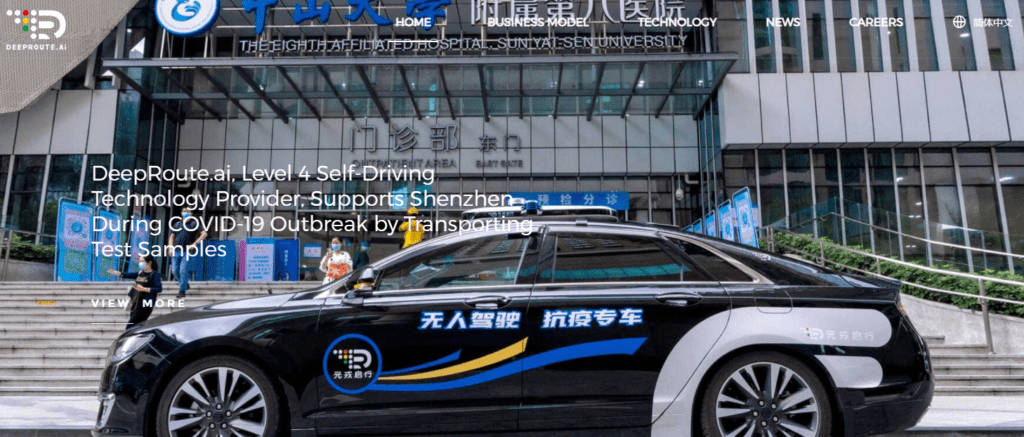 Source: Deeproute.ai
Why does the market matter?
The global advanced driver assistance system market is expected to grow at a CAGR of 18.8% and reach a value of $77.8B by 2027, according to Global Industry Analysts.
Autonomous vehicle tech is expected to go mainstream over the next 2 decades — and 40+ major corporates, including Google, Apple, and Mercedes Benz, have already launched self-driving vehicle initiatives.
The Covid-19 pandemic has given autonomous driving technology a boost, as it can serve as a contactless, safe option for personal mobility and delivery services.