The funding will help Dealshare establish its international footprint in Southeast Asia and the UAE. Here are the top-line bullets you need to know.
Dealshare, a social commerce platform, has raised $144M (INR 1,076 crore) in a Series D, valuing it at $455M. The round drew participation from Tiger Global Management, Alpha Wave Investors, WestBridge Capital, and Z3Partners, among others.
HOW'S THE COMPANY PERFORMING?
India-based Dealshare is a social commerce platform that offers locally sourced essentials like groceries, personal products, and home care products for middle and lower-income groups in Tier 2 and Tier 3 cities.
The company claims to have grown its annual recurring revenue (ARR) to $200M during FY 2020-21 and is expected to grow 5x by the end of 2021. The company currently employs 40 people.
Dealshare's presence spans 40 cities catering to 1000 micro-entrepreneurs operating through 20 warehouses. It also says it has 3M registered users with approximately 50,000 members in its WhatsApp and Telegram communities. Close to 700,000 active users use the application more than 40 times a month from across 5 states.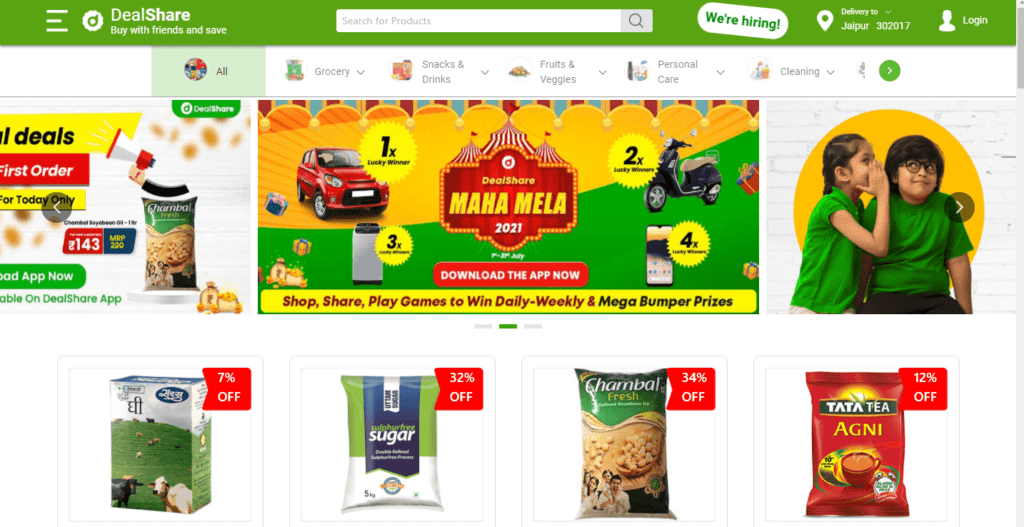 Source: Dealshare
WHY DOES THE MARKET MATTER?
The global social commerce market is projected to grow at a CAGR of 28.4% and reach a value of $3.369T by 2028, according to Grand View Research.
The increase in smartphone usage, internet accessibility, and social media networks such as Facebook, Instagram, and Twitter are expected to fuel this market.
Social media platforms have become a major medium of advertisements and brand promotions. Several sellers or vendors have opted to promote their products on social media to reach a larger customer base and are expected to continue doing so in the long run.