CEO Austin McChord on Vista Equity's acquisition of Datto and how he turned down previous acquisition offers because the potential buyers didn't understand their business or their decision to be based in New England.
When Austin McChord received its first acquisition offer for his Norwalk, CT-based data protection company Datto, he owned 100% of the company.
"I ended up turning down the offer because the company loved our technology, but didn't actually really love Connecticut or the team that we built," he said.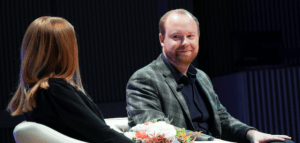 Rather than risk the team he'd built, McChord walked away.
The company went on to become a unicorn and raise $100M in two funding rounds from General Catalyst and TCV. Last week, McChord finalized the sale of Datto to software-focused private equity firm Vista Equity Partners that's been notably active acquiring private tech companies in recent years. Datto's acquisition will merge the company with Vista portfolio company Autotask.
At the CB Insights A-Ha! Conference December 12 in San Francisco, McChord spoke with Hannah Kuchler of the Financial Times and said Datto had planned on exploring an IPO, but quickly found that public market investors did not understand its business.
"They were asking us questions like won't Amazon do your business or how do you compete with Google," said McChord.
"Vista got our thesis that essentially every small business around the world will need a managed service provider to fill the role of CIO and that we are one of the largest companies … to take these relationships and leverage them into something."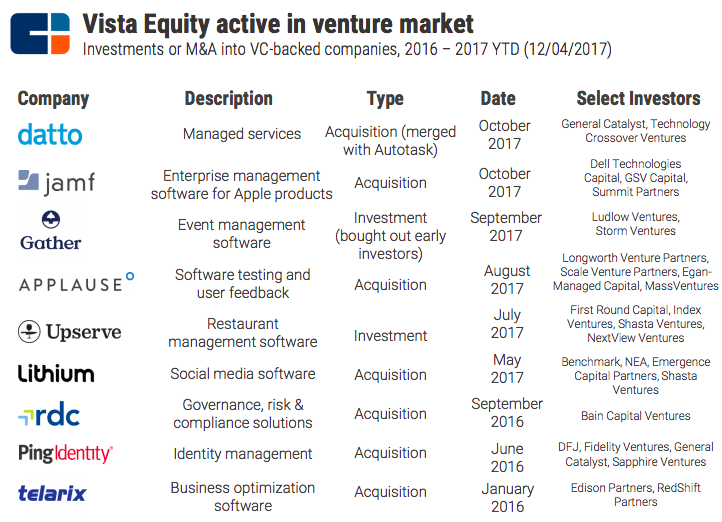 McChord said that Datto would not have been able to realize its outcome had it been built in Silicon Valley.
"We like being a big fish in a small pond. You really get a bigger sense of community and family and that people are invested and that this isn't a two year engagement to get some options and move onto the next best thing."
If you aren't already a client, sign up for a free trial to learn more about our platform.