As Datadog goes public at 10x its previous valuation, we dig into the startup's top stakeholders and how much their shares are worth.
Cloud-based data analytics platform Datadog went public last week at a valuation of $7.8B — more than 10x its prior valuation of $688M (as of January 2016). The company priced its IPO at $27 per share, above its prior expected pricing of $24 to $26 (which had already been increased from an initial range of $19 to $22).
Immediately after IPO, Datadog stock jumped to as high as $40+ (resulting temporarily in a $10B+ market cap). While stock price has trended down from there, in the week since its IPO Datadog has consistently maintained a price over $30 per share.
Datadog's enormous IPO marks a major milestone for the firm's 10+ investors — primarily VC firms, including Battery Ventures, Index Ventures, and Meritech Capital Partners, among others.
Breakdown of top stakeholders
Using Datadog's S-1 filing, we calculated how much its top stakeholders' shares were worth at the time of IPO, based on a $27 share price. Here's the breakdown.
Please click to enlarge.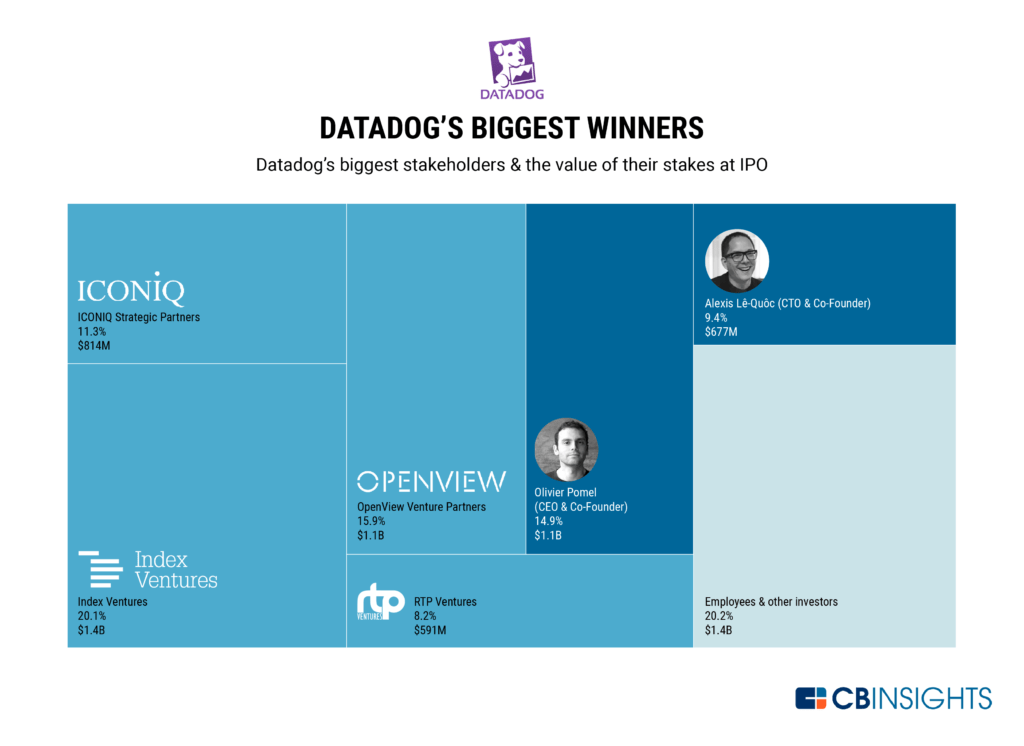 Smart money VC Index Ventures had the biggest stake in the company at the time of IPO, with a $20.1% stake worth $1.4B at a $27 share price. In second place is Boston-based VC fund OpenView Venture Partners, with a 15.9% stake ($1.1B). Global multi-family investment group Iconiq Capital clocks in at an 11.3% stake worth $814M at time of IPO.
Datadog's co-founders, CEO Olivier Pomel and CTO Alexis Le-Quoc, each hold large stakes on par with some of company's top institutional investors: Pomel had a 14.9% stake worth $1.1B at IPO, while Le-Quoc held a 9.4% stake worth $677M.
Cloud-focused VC firm RTP Ventures has the smallest stake of the investors shown above, with 8.2% ($591M).
top institutional investor timeline
Datadog's top institutional investors all participated in traditional equity funding rounds raised by the company over 2012 to 2016. None of them have participated in disclosed funding rounds more recent than January 2016 (nearly 4 years prior to Datadog's IPO date).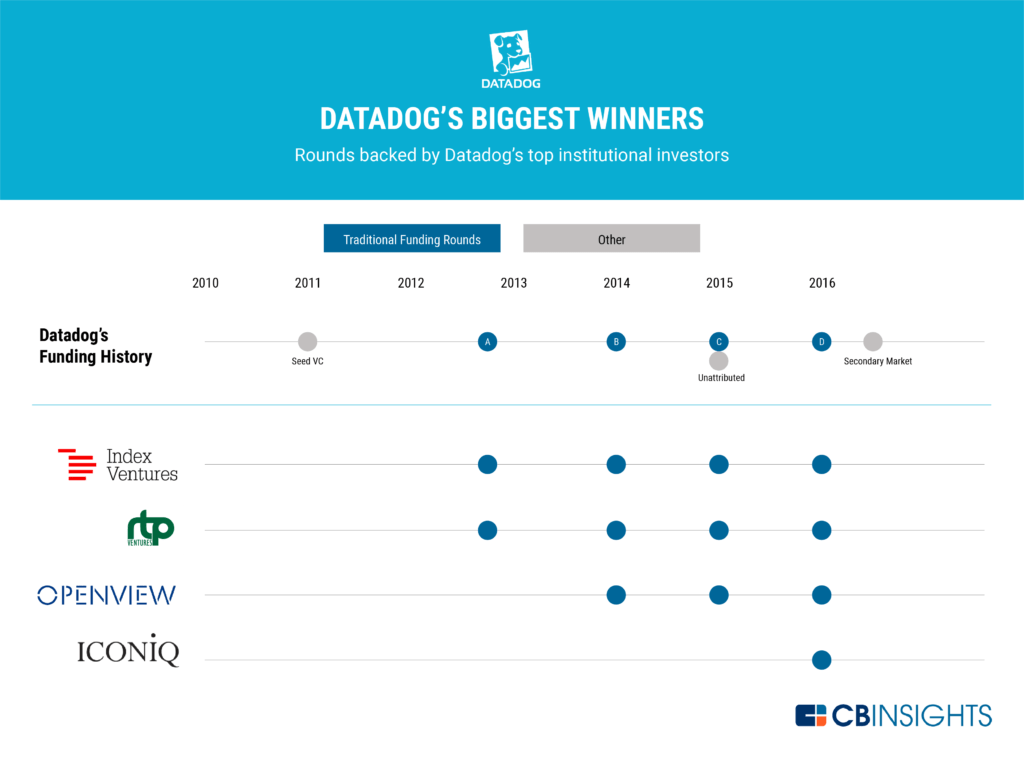 Index Ventures and RTP were the company's most frequent investors, participating in its Series A, B, C, and D rounds over a 4-year period. OpenView Venture Partners, an expansion stage VC fund, invested slightly later, backing in 3 rounds beginning with Datadog's Series B. Iconiq only invested in one round to secure its 11.3% stake.
Amplify Partners and Contour Venture Partners co-invested with all of the above investors in Datadog's $95M Series D. The round valued the company at $688M.
If you aren't already a client, sign up for a free trial to learn more about our platform.