In a world with more devices and more data, companies require data management and storage tools that emphasize reliability, speed, and scale. Here are the top-line bullets you need to know on where the database management software space is headed.
Already in 2021, four cloud database management companies have raised mega-rounds (deals worth $100M+), while in 2020, Snowflake entered the public markets at a $33B valuation and has since seen its market cap rise to over $68B. 
Most recently, in early April, Redis Labs doubled its valuation to $2B when it raised a $110M Series G that included investors Tiger Global Management, Softbank Group, and Technology Crossover Ventures. 
The streak of sizeable fundings and boosted valuations underscores a notable market trend: data storage and management is moving to the cloud.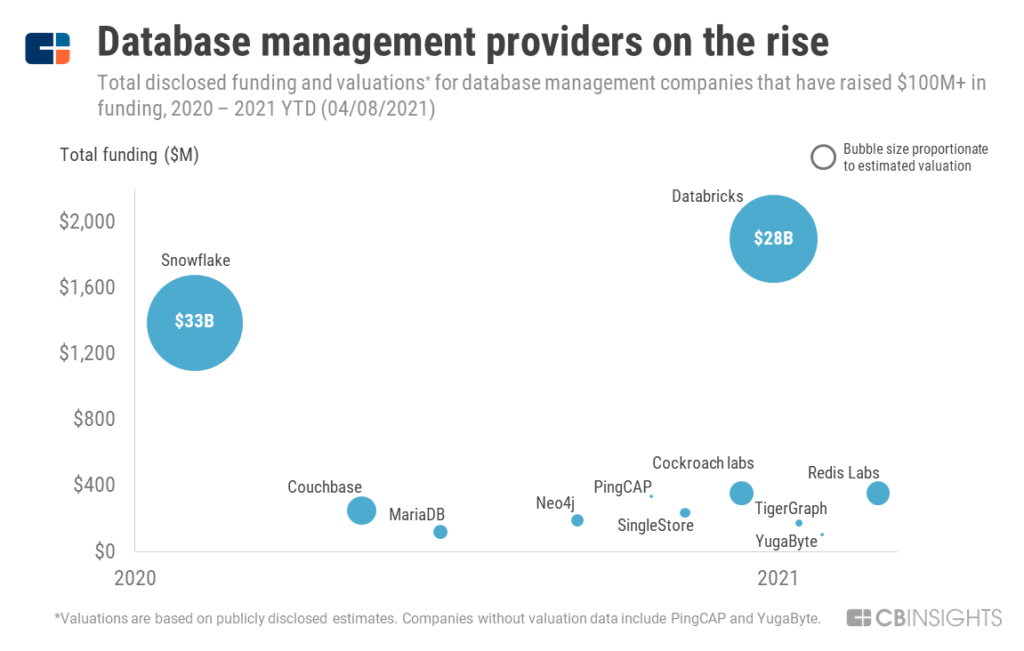 While fragmented and complex, the database management market is being driven by a nexus of forces. These include:
An active and commercially proven open-source software market;

Greater enterprise adoption of cloud services; and

The rise of real-time data-driven application architectures.
WHAT YOU NEED TO KNOW:
Open-source software plays a central role. Open-source software serves as the foundation to many of today's high-flying database providers (and the data ecosystem more generally). MongoDB, Redis Labs, and others have proved the commercial viability of open-source projects, while even closed-source providers, such as Snowflake, rely on open-source projects like

FoundationDB

to drive their business.

Data will live in the cloud. Convenience sells, and the ability to outsource and scale data security, management, resiliency, and storage in the cloud is convenient. However, transmitting, storing, and processing data in the cloud comes at a cost, which edge computing may help mitigate by processing data locally and only transmitting valuable information to the cloud. 
Real-time applications drive adoption.

The world is moving faster, with consumers expecting more services to operate on demand (e.g., ride-hailing, food & grocery delivery). To keep up, companies require databases that can quickly intake and process events (i.e., data).

Public cloud providers exert influence. Database management software is a natural extension of Microsoft, Google, and Amazon's cloud storage and services platforms. All 3 providers offer database products in the cloud that challenge upstarts in the space.
WHAT'S NEXT?
Rapid innovation will persist.

Data sources and tools are changing rapidly, and new database types (e.g., document, graph, wide-column) will continue to rise to meet this changing data landscape.

Heading for the exits. Several private database management companies have reached annual recurring revenue (ARR) figures of $100M or more — an unofficial milestone for considering an IPO. Meanwhile, less mature innovators in the space may find themselves the acquisition target of established, capital-rich players like Amazon, Oracle, and Microsoft.
More services.

To win customers, vendors in this space will seek to add services to their platforms that satisfy enterprises' requirements, from effectively meeting data compliance regulations to integrating with more data sources to offering analytics capabilities.