The world's oldest automaker turns to startups and startup accelerators as it hopes to stay abreast of rapid auto tech and mobility developments.
Daimler's sharp ramp-up in tech startup investments and acquisitions continues unabated, with significant investments this week into ride-hailing company Via and car-sharing service Turo. The company has also continued efforts to move further upstream into early-stage startups with accelerator partnerships in 2017.
Using CB Insights data, we mapped out Daimler's startup and accelerator activity since 2014 to visualize the rapid pace of its moves as auto tech investment has rocketed upwards. Daimler sells both passenger cars and vans under the Mercedes brand and manufactures trucks and buses under a wide range of other marques. We also included the activity of moovel, the German auto giant's mobility unit that offers several car-sharing and ride-hailing services.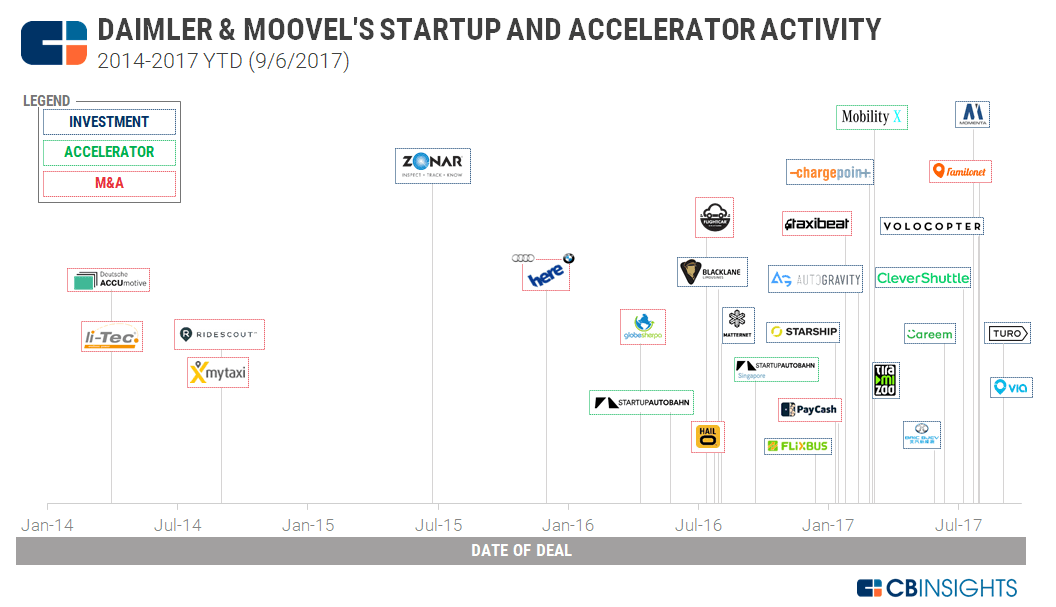 Digging into the data, we can see that Daimler bought a pair of German battery companies in 2014 as the automaker sought to beef up its electric vehicle competencies (Daimler was also an investor in Tesla back in 2008 and 2009). That same year, Daimler also acquired transit routing app RideScout and ride-hailing app myTaxi for its moovel subsidiary.
The absence of a formal corporate VC arm (along the lines of GM Ventures or BMW's i Ventures) has not prevented Daimler from making a rapid series of moves in the startup world. Mobility and ride-hailing services have been a key focus, as Daimler warily eyes the encroachment of transportation network companies like Uber and its competitor and hedges against a potential decline in direct consumer auto sales.
Its mobility strategy has proven quite diverse, with Blacklane (Series C), Hailo (corporate majority), FlightCar (asset sale), and Taxibeat (acquisition) all augmenting moovel's car-sharing and ride-sharing services. moovel's RideScout also merged with transit ticketing and payments app GlobeSherpa in April 2016 to form moovel North America.
More recently, Daimler has continued investing in various mobility models, showing a willingness to participate in larger financings to companies like Careem ($150M), Via ($250M total), and Turo ($92M). The Via investment includes a $50M joint venture with the startup, and will go towards financing Via's expansion into Europe (where other Daimler owned or backed companies already have a strong footprint, like the merged myTaxi-Hailo).
The German OEM's other recent investment in the China-based Momenta represents its first stake in a startup working on roadgoing autonomous vehicles. Beyond car-based mobility, Daimler has taken a particular interest in autonomous delivery robots, investing in both aerial drone startup Matternet and ground-based robot maker Starship Technologies in the closing months of 2016. The automaker has shown off electric delivery van "mothership" concepts for both startups' drones.
On the accelerator front, the company has also been active, establishing Startup Autobahn in Stuttgart (its headquarters city) together with Plug and Play in May 2016. Later in September, Daimler also opened a Startup Autobahn branch dedicated to Singapore and Southeast Asia. In March 2017, moovel's North America arm also helped launch the Austin, TX-based MobilityX accelerator with Capital Factory.
---
Looking for more data on automaker startup activity? Sign up for CB Insights tech market intelligence platform free below.
If you aren't already a client, sign up for a free trial to learn more about our platform.