From overproducing expensive bikes to spending millions on acquiring customers for a product only purchased once a decade, D2C brands have experienced countless growing pains in recent years. We identify the lessons to be learned from major D2C brands that dug themselves into a hole.
Direct-to-consumer (D2C) brands have pulled off some amazing feats.
Imagine getting shoppers excited about buying a plain white t-shirt — or convincing customers to cheerfully post videos of themselves unboxing a mattress.
These "digitally native" brands, typically made by and for millennials, promised to invigorate tired industries and disrupt giants by cutting out the middlemen: retailers. To achieve this, they relied on lavish VC funding, robust digital channels, and potent branding that included minimalist aesthetics, a friendly customer-facing voice, and an obsession with details like packaging to elevate the customer experience.
The D2C narrative has captivated investors and consumers over the past decade, resulting in billion-dollar valuations and record-setting exits. For example, at just 5 years old, stylish yet affordable eyewear brand Warby Parker reached a $1.2B valuation to earn its unicorn horn. The company went on to more than double that valuation prior to its IPO in 2021. In 2017, urban menswear brand Bonobos successfully exited upon being acquired by retail giant Walmart for $310M. And in November 2021, amid Covid-19-fueled uncertainty, sustainable sneaker brand Allbirds went public via IPO and raised more than $300M in the process.
But success is maintained, not achieved, and despite their early wins, many D2C brands have grappled with losing valuation, failing to turn a profit, or shutting down altogether.
This isn't limited to smaller players either: even D2C powerhouses have winced under the strain of weak business models and difficult macro forces. Although Warby Parker went public in 2021, it failed to turn a profit in the 3 years leading up to its public debut — and as of the start of this year, this remains the case. Two years after being acquired, Bonobos was losing money and was forced to institute widespread layoffs. While Walmart decided to hang on to the company, the other digital-first brands it acquired around the same time — ModCloth, Bare Necessities, and Shoes.com — weren't so lucky and were sold off. Finally, at the time of its IPO, Allbirds had yet to see a profit, and it recorded a 75% year-over-year increase in net loss at 2021 year-end. 
Below, we look at some of the underlying factors making D2C life more difficult. We also analyze the struggles of 5 major D2C brands to learn what can go wrong — and better understand how to avoid the same pitfalls.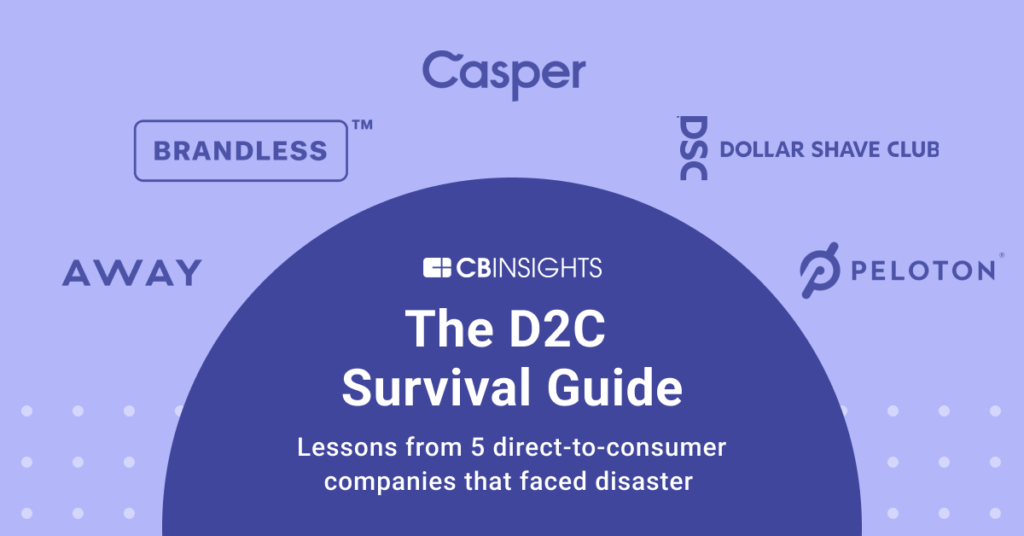 Table of contents
Why D2C brands are turning to retailers as middlemen 

Lesson #1: Figure out how you'll turn a profit before spending lavishly on customer acquisition (Casper)

Lesson #2: Hedge your bets when consumer demand is in flux (Peloton)

Lesson #3: Don't abandon your value proposition when expanding (Dollar Shave Club)

Lesson #4: Novelty is no substitute for a strong business model (Brandless)

Lesson #5: Don't assume that company culture won't affect sales (Away)
Why D2C brands are turning to retailers as middlemen
D2C pioneers touted the fact that — as the name suggests — they went straight to the consumer via digital channels, without going through wholesalers and retail stores. They argued that by cutting out those middlemen, they could give consumers more affordable products and better experiences.
A near-decade of D2C business growth has shown that brick-and-mortar retail and e-commerce approaches are not so black and white.
D2C brands face tough competition, not only from other digital-first businesses. Traditional CPG brands like Nike — as well as retailers like Walmart and Target — that have created private labels have become more digitally savvy and copied some of the marketing strategies that helped make D2C pioneers successful.
These industry giants have a crucial advantage over their D2C counterparts: scale. While D2C channels tend to have higher gross margins than wholesale, D2C-only businesses have much lower merchandise margins (a measure of profitability after taking production costs into account) than those who derive more than 50% of their income from wholesale, according to a September 2021 study conducted by BMO Capital Markets. The study analyzed 9 companies that have publicized their D2C and wholesale margins. It noted that Michael Kors and Nike, which have invested heavily in D2C channels, have actually seen gross margins drop compared to brands that have been slower to implement D2C.
BMO theorized that scale, as well as high margins from factory outlets and international stores, contributed to the profitability of wholesale channels. 
And while e-commerce eliminates brick-and-mortar rent and retailers' fees, it comes with its own costs: heavy online marketing, technology needs, fulfillment operation setup, and return management. Digital advertising has even been called "the new rent," and it's a huge reason why acquiring customers has become much more expensive for D2C brands.
Online ads within the walled ecosystems of Google, Amazon, and Facebook have become more expensive, especially in the wake of privacy changes by Apple that have made it difficult to run cookie-dependent campaigns. 
Presence in retail stores — both online and brick-and-mortar — also expands the consumer awareness and fulfillment options of traditional brands. Lacking this exposure, D2C brands may have to spend more on marketing to gain a foothold with consumers — and some have even moved away from their digital-only operations to open their own physical stores. 
Established, profitable, cash-rich retail brands can and do bear the lower margins of D2C channels because the model has unique benefits. By skipping the middlemen, brands can craft and control the entire customer experience — something Nike has been trying out with unique concept stores around the world. (For more, read our report on Unbundling Nike: How Direct-To-Consumer Retail Is Being Disrupted.)
Retail giant-owned digital channels also yield a significant amount of first-party data on shopping habits and consumer preferences. Such information is useful for optimizing sales and marketing campaigns as well as testing out new products and novel ideas before spending big bucks to roll them out at retail stores.
With the demise of third-party cookies on iOS and web browsers, along with the increase in online advertising costs, retailers and brands will likely rely even more on first-party data to run effective targeted ad campaigns. Nestle, for instance, aims to double its first-party consumer data records by 2025, citing such data as "critical" given the phaseout of third-party cookies.
In order to obtain the amount of data required to stay competitive, D2C brands may find themselves in greater need of partnerships with retailers that have a robust and widespread digital presence.
These factors — heightened competition, low margins, and the rising cost of customer acquisition — are compelling more D2C brands to adopt a hybrid model that actually embraces middlemen. Even brands that have managed to avoid retailers to date have found it necessary to dramatically adjust their digital-only strategy in order to stay afloat.
The rise of D2C-wholesale hybrids
Some of the largest D2C companies have turned to traditional retailers to improve their margins and reach more customers. Amid the Covid-driven supply chain and logistics crunch, D2C brands found critical partners in big-box stores that had strong fulfillment processes in place and drew customers looking for essential goods.
"Stores drive customer awareness and customer acquisition organically," said Santiago Merea, co-founder of organic baby food brand Raised Real, in a story on Co, the editorial website of the US Chamber of Commerce. He explained that the retailer also takes on customer acquisition costs instead of making them the sole burden of the brand. 
The same report quotes Matt Kaness, a D2C investor and the former CEO of online clothing brand ModCloth, as saying that in-store conversion rates for apparel tend to be 30% compared to 3% for online, meaning that in-store shoppers are more likely to actually buy something than their digital counterparts.
Walmart has welcomed D2C brands Quip (toothbrushes), Lola (feminine care), Billie (razors), and Bubble (skincare), to name just a few. Target carries Jinx (dog wellness), Casper (mattresses), Stojo (sustainable homeware), and Reel (toilet paper), among many others.​
"There's still a few notable holdouts, ranging from newly-public companies like Warby Parker and Figs, as well as Away, Everlane and Article. But the number of startups that are able to build $100 million-plus businesses while remaining direct-to-consumer is getting smaller." — Modern Retail, March 2022
Soylent, the meal replacement drink company, grew its retail footprint from 400 Walmart stores to 1,850 in just 5 months in 2018. As of 2019, its products were available in more than 20,000 locations across the US.
While D2C still makes up a significant portion of Soylent's revenue, revenue at "key retail partners" grew 60% from mid-2020 to mid-2021. The company says it became profitable in 2020.
Your Super, a seller of superfood-based powder blends, achieved $60M in revenue in 2021 through D2C channels. However, facing investor pressure to turn a profit, the company says that it will start selling its products in CVS, Sprouts, Target, and The Vitamin Shoppe stores around the US. The startup hopes to become profitable by the end of the year.
In exchange for opening up their shelves, retailers are better placed to attract the D2C brands' customers, which tend to include those from younger demographics who may otherwise not frequent big-box stores. Retailers also benefit from the cuts that brands pay them.
Additionally, retailers can also obtain data about the preferences and spending habits of the D2C market. They can use such data to learn how to reach a new market segment by launching concept stores or their own rival labels.
Target's private labels Everspring and Brightroom — launched in 2019 and 2022 — show that it has adopted some tactics from the D2C playbook. Both labels use bright backgrounds and Instagram-friendly visuals, though they eschew the sans serif logo common to many early D2C brands. They proclaim the values that D2C businesses often build into their brands, using phrases like "down-to-earth" and "cruelty-free."
Exceptions remain
Some D2C brands have opted to retain complete control of their customer relationships and have resisted a hybrid model that incorporates retailers. Everlane (clothing) and Athletic Greens (supplement powder blends) remain largely D2C–only operations, and Warby Parker has also continued to circumvent retailers.
However, while these brands have demonstrated that they are still capable of cutting out the middleman, some have had to adapt their approach in other ways in order to fuel customer acquisition. For example, both Everlane, which has not publicized its profits, and Warby Parker, which was unprofitable as of Q1'22, have moved away from their original digital-only model to embrace an omnichannel approach that includes brick-and-mortar locations.
Warby Parker moved into physical retail in 2013, and by the end of 2021, its sales were split about evenly between its digital and physical channels. As of May 2022, it had 169 physical locations. In addition to its eyewear, it also offers eye exams for consumers at a number of its stores.
In a prospectus filed as part of a registration statement, the company stated, "Our U.S. retail footprint has a long runway for expansion. Based on analysis we conducted with a third-party research firm, our retail footprint has room to expand in the U.S. to 900+ retail stores…We believe our retail stores embody the brand, are efficient customer acquisition vehicles, and will generate significant free cash flow over time."
Everlane walked a similar path. Despite CEO Michael Preysman stating to the New York Times that he would "shut the company down before we go to physical retail," the company opened its first brick-and-mortar store in 2017. It now operates 9 locations across the US.
In addressing the shift, Preysman stated, "It wasn't an easy decision. Being online-only has significant advantages. It's flexible, it's lean, and it's easy to scale. But it has two serious flaws. Customers don't get to touch or try the product before they buy it. And we don't get to have in-person — real-life — conversations with our community."
For such brands who want to keep using direct channels for most, if not all, of their sales, some companies — like Figs — have demonstrated that it's possible to do so while also being profitable.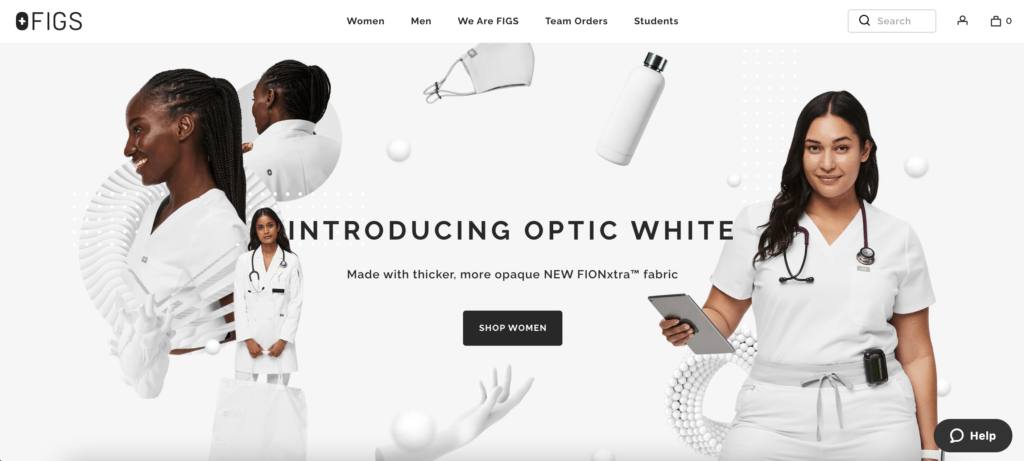 Image source: Figs
Healthcare apparel brand Figs was founded in 2013 and went public in what was likely the first IPO led by two female cofounders in 2021. It posted an operating income of $58M the year prior to its public debut, and in addition to demonstrating its profitability, it reported that its revenue had grown 138% to reach $263M. Remarkably, the company had only raised $75M up to that point. For comparison, in 2021, Statista reported that the median amount of equity raised prior to an IPO was $174M, indicating that Figs' growth was largely driven by the revenue it secured from selling its scrubs and related apparel. Notably, the company continues to lack a brick-and-mortar presence and largely only sells its products via its own website, with the exception being a small assortment that it has made available through Amazon. 
5 lessons learned from unpacking D2C stumbles

Many of the brands we discuss below were once high-flyers — but faced big challenges that brought them down to earth.

Some recurring challenges run through these stories:
Copycats sprang up and made it more expensive to acquire customers

.

Online advertising costs rose while investors simultaneously piled on the pressure to grow.

Covid-19 either boosted or dampened sales, but as more people got vaccinated and ventured outside their homes, demand swung the other way while the supply side failed to catch up.

Brick-and-mortar sales were embraced — either through their own shops or on retailers' shelves — but it was done too late.
The confluence of these and other factors led to costly mistakes, and the D2C brands now face an uphill climb. Here are 5 lessons that D2C and traditional consumer brands alike can take away from these scenarios.
Lesson #1: Figure out how you'll turn a profit before spending lavishly on customer acquisition

Many D2C brands stake their value proposition on making a single product very well. They compete to make the best razors, sneakers, smart luggage, or olive oil, all while aiming to eat into the market share of incumbents that have been in the business for decades.
This core D2C strategy helps brands build cult-like followings and get famous fast, but it can also cause them to spiral just as quickly.
It's common for a company to spend millions developing and marketing a core product. If this single product category is enough to make a tidy profit — say from frequent recurring sales or from plump margins — then the business is on firm ground, but if it becomes a loss leader, then the D2C brand will likely try to hawk complementary high-margin items.
A case in point is Casper, a startup that made $1M in revenue in its first 28 days and has been losing money ever since.
Casper Sleep launched in 2014. By compressing a mattress into a 3.5-foot-tall box and delivering it to the buyer's doorstep, it made the process of buying a mattress convenient and exciting. New Yorkers even had the added novelty of having their mattresses delivered by bike. Suddenly, mattresses were cool.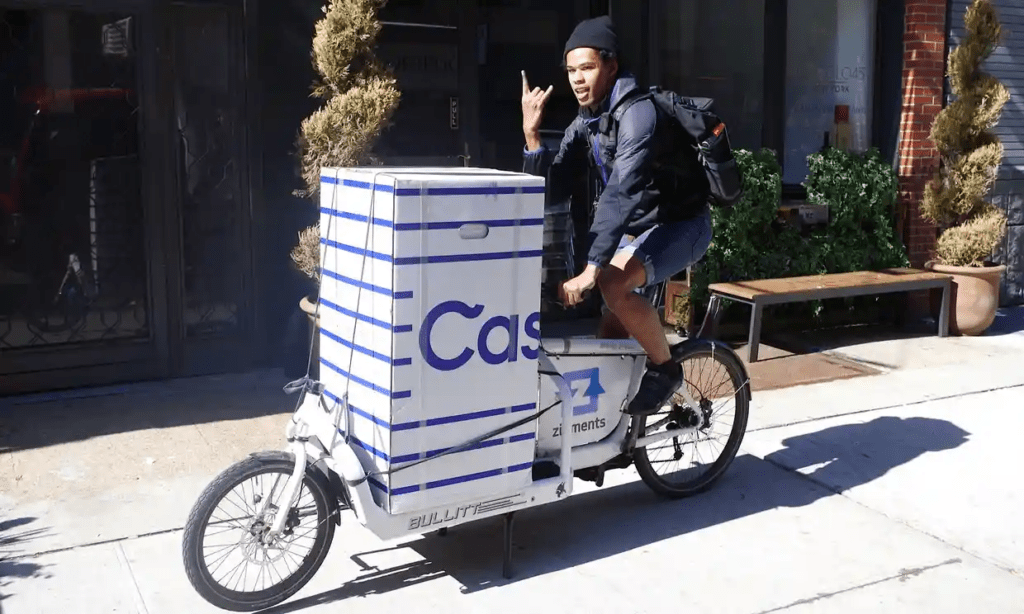 Image source: The Guardian
​In March 2019, the company attained a valuation of $1.1B after securing $100M in Series D funding from Target, Crate & Barrel co-founder Gordon Segal, and other investors. But when Casper went public via IPO in February 2020, it priced its shares at a valuation of just $476M, a fall of more than 50%.​
Co-founder and CEO Philip Krim appeared unfazed: "Valuations are just moments in time," he told CNBC.​
But in this case, it indicated that Casper had failed to inspire much confidence from public investors.
Why Casper couldn't convince public investors

Casper's IPO documents showed that the self-described "pioneer of the sleep economy" was unprofitable. Not only that, but it also didn't expect to make money anytime soon, as it had to spend on business expansion, including brick-and-mortar retail.
Sure, the sleep economy was huge — it was worth almost $80B in the US and $432B globally, according to Casper's filing. But people don't buy mattresses often, and Casper had failed to build much demand for its other products.
In its IPO filing, Casper quoted the Better Sleep Council as saying that the mattress replacement cycle in the US had accelerated by 14% from 2007 to 2016. What it didn't mention was that, in real terms, consumers had gone from buying a mattress once in just over a decade to once in just under a decade.
​With this long replacement cycle, Casper couldn't count on many repeat sales to boost its bottom line. It was spending money to acquire customers who would likely just make a single purchase with the company (even repeat customers would likely cap out after equipping their guest rooms). 
​To cushion the risk of relying on a single product, many D2C brands try to create an ecosystem of adjacent goods and services, which is something that Casper attempted to accomplish. "We never viewed ourselves as a mattress company. We always talked about it in the broader context of sleep," said Krim, quoted in a November 2015 article in the New York Times.
​Casper spent $28M on product development from 2017 to 2019 for mattresses and other items. The company expanded into "pillows, sheets and duvets, bedroom furniture and accessories, sleep technology, and related services," according to its IPO filing. Those ancillary goods likely contributed to the company's overall gross margin improvement from 2016 to 2019.
​The brand also launched a "Sleep Channel" in 2019. Its videos featured sleep-inducing sounds, bedtime stories, and advice on how to get better sleep. They were emblematic of the proposition Casper had been trying so hard to get its customers to recognize: it wasn't just a mattress company, it was a sleep company. It didn't just sell something to sleep on but also things that enhanced your sleep, like a nap pillow and a glow light.
​But few consumers seemed to take notice. From Casper's inception up to September 2019, only 16% of customers who had made a purchase from Casper returned to purchase an additional product. Among those repeat purchasers, most did so within a year of first buying a Casper product, indicating that the return on investment from its sky-high customer acquisition costs would be strained over the long term. 
Tougher business conditions Narrowed Casper's options
The conflation of high customer acquisition costs, steep R&D costs to make better mattresses, and low customer lifetime value — in addition to factors beyond its business model — made Casper bleed cash.
"Casper is not a great business. That said, it's mostly because it's a good company in a bad business: selling a durable product tied to housing makes you vulnerable to the economic cycle, and the long replacement cycle of mattresses makes it hard to build brand loyalty." — Byrne Hobart, The Diff
​These challenges were compounded by the rise of competition from rival mattress-in-a-box startups, traditional mattress brands, and even large retailers like Walmart and Amazon. Casper spent millions to make mattresses a hot commodity, but this also made it easier for competitors to cash in.
Casper's business model also created lots of opportunities for cash leaks. For example, to convince people to buy such a personal, high-value item online without even knowing what it felt like to lie on it, Casper offered a full-refund policy within the first 100 days of receiving the item.
This helped build confidence in buyers, but it also created risk. Some tried to game the system by hopping around different online mattress sellers — many of which copied Casper's generous money-back policy — and making a return just within the refund period. Others were genuinely dissatisfied with its one-mattress-fits-most approach to product design. The result was that for every dollar Casper made in sales in the first 9 months of 2019, it lost roughly 20 cents to refunds, returns, and discounts.
In April 2020, the company shut down its European operations, let go of 21% of its global staff, and announced the impending departure of its CFO and COO.
Casper today: will it Spring back to its former glory?
Casper may yet turn its fortunes around.
It was taken private in November 2021 when Durational Capital Management, an investment firm that also owns a poultry farm, a restaurant, and a casino operator, bought it for $6.90 a share. The startup also gained a new CEO. 
But there hasn't been much news on the company since. Its website continues to promote steep discounts and freebies on mattress sales and deliveries.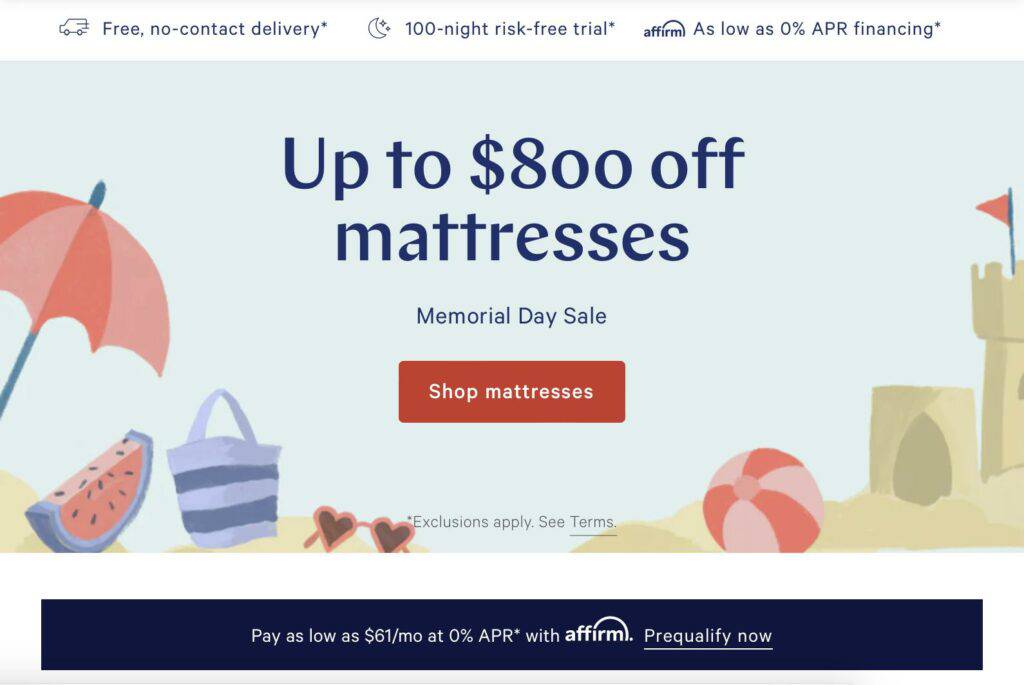 Image source: Casper
​While there's no customer-facing talk of its "sleep ecosystem," Casper is continuing to sell a broad range of sleep-related products, like weighted blankets, sleepwear, and even dog beds. It has also expanded its range of mattresses to include more premium and tailored options — some of which sell for more than twice as much as its original — as it tries to squeeze out more cash from the customers coming for its most famous offering.

Lesson #2: Hedge your bets when consumer demand is in flux

Entrepreneurs know that it takes a fair bit of luck — on top of all their hard work, talent, and external support — to succeed. Several D2C startups have experienced such good fortune for themselves and seen consumer demand soar overnight (sometimes literally, as in the case of Dollar Shave Club).
However, the scramble to fulfill a sudden surge in orders can make it easy to neglect the bigger picture. In these situations, leaders need to assess the cause and effect of their sudden fame, determine whether the rising demand is a blip or a longer-term trend, and figure out how to ride the wave without overextending themselves.
​Peloton, which was founded in 2012 and IPO'd in 2019, found itself in an unexpected situation when the Covid-19 pandemic forced people to stay at home in 2020. Consumers were looking for ways to stay fit at home without having to work out in complete isolation, and Peloton met that need. Its home-friendly fitness equipment comes with built-in screens connected to an app that offers both live-streamed and recorded fitness classes, which offers a sense of community as well as exercise.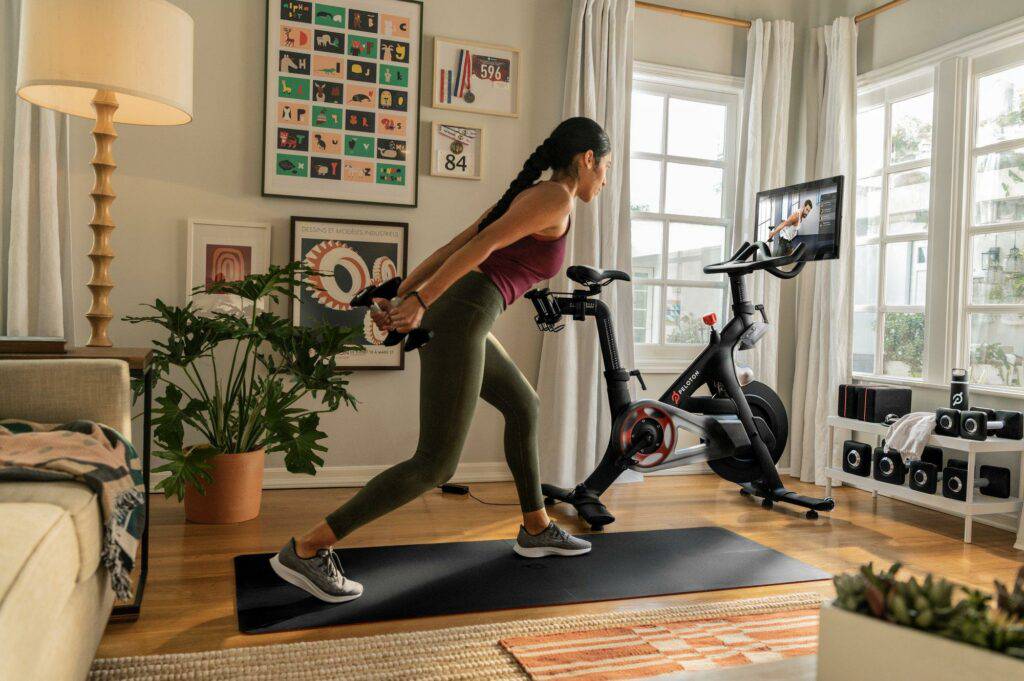 ​Image source: Peloton
Peloton revenue and user count soared, roughly doubling year-over-year in FY'20 (ending June 30) and then doubling again in FY'21.
But even as successful vaccines were announced and restrictions began to ease, Peloton bet that exercising at home would become part of a new normal for many consumers. 
Meanwhile, fitness studios restructured their classes, introduced stricter hygiene practices, and prepared to invite people to return. By November 2021, foot traffic to gyms had almost bounced back to pre-pandemic levels.
In the face of that shift, Peloton cut its annual revenue forecast for FY'22 by a billion dollars, sending its stock price plunging. By the start of calendar year 2022, it had lost $40B from its market capitalization year-over-year. 
​Peloton temporarily halted production of its higher-end bike in December 2021 and other connected fitness products in February 2022, according to an internal presentation, a copy of which was obtained by CNBC. The startup also hired management consulting firm McKinsey to evaluate its cost structure and eventually replaced its CEO and laid off 2,800 staff. 
Peloton seriously miscalculated supply and demand
During the Covid-19 pandemic, Peloton couldn't produce enough machines to satisfy demand. This wasn't exactly its fault — very few could have predicted the pandemic let alone the sudden lifestyle changes and supply chain disruptions it caused.
​However, seasoned companies experienced the same surge in sales and reacted with discipline. Clorox brought on contract manufacturers, 3M added production shifts, and Procter & Gamble refrained from permanently expanding its toilet paper factories, according to The Wall Street Journal.
​Peloton responded with what a shareholder would later describe as "unbridled optimism." It added a new factory in Taiwan in December 2020 to help double its production capacity. It also acquired Precor, a troubled manufacturer of fitness equipment with factories in the US, for $420M.
​But ports were congested and e-commerce businesses were competing for space on freight ships, so even with more production, Peloton struggled to fulfill orders. By June, Peloton still had $230M worth of backlogged orders.
​"For those of you who bought a Peloton Bike or Tread since last March, you likely experienced longer wait times than usual, and/or have had your delivery date rescheduled, which is obviously very frustrating. For that, I sincerely apologize," Peloton co-founder and CEO John Foley wrote to customers on the company's blog in February 2021. Foley also announced a $100M investment to expedite deliveries globally and that they would send equipment by air from Taiwan. 
​In May 2021, Peloton said it would build a $400M factory in Ohio and began building it in the summer. The US vaccination program was well underway by then — 56% of US adults had received at least one dose by April.
​If Peloton's response to the Covid-induced demand seemed overblown, that's because its leaders didn't see the pandemic-driven demand as an outlier. To them, it was just accelerating the new norm.
​In an earnings call in September 2020, analysts asked how Peloton would manage the risk of overbuilding ahead of a period when demand would normalize. Foley replied: "Overbuilding supply-chain capacity — that's a term that has never come up in the Peloton senior leadership rooms or boardrooms… We feel like there's such a massive opportunity that we need to invest heavily in the supply chain for years and years to maintain it. When you say 'normalize coming out of Covid', we don't see that."
​But as cities opened up and people started resuming their old routines, Peloton found itself facing another supply-and-demand mismatch. This time, it had a surplus of machines.
​Demand for at-home workouts waned as more and more people began returning to gyms and public sports facilities. Peloton failed to anticipate this post-pandemic lifestyle shift and was left scrambling to find new customers among those that weren't even convinced by long lockdowns to take the plunge.
"The primary question surrounding Peloton was did the pandemic pull forward demand, or did it expand the audience side? Based on all the data we had been seeing throughout the pandemic, it seemed like this was a pull forward. And the company, on the other hand, viewed this as an expansion and built accordingly," — Simeon Siegel, BMO Capital Markets analyst, in a Vox interview.
​In February 2022, Peloton admitted it no longer needed its Ohio factory. It halted construction and made plans to sell the plant. Shareholders clamored to have Foley replaced and even have the company sold. "Mr. Foley has made a series of poor decisions relating to product, pricing, demand, safety, and capital allocation," wrote Blackwells Capital, an investor in the startup.
​Barry McCarthy, the former CFO of Netflix and Spotify, stepped in as CEO. He later criticized Peloton's overproduction, saying the drop in demand post-pandemic was foreseeable.
​"I don't care particularly why they thought that Covid was the new normal, except insofar as to inform me who should be on the bus," he said in an interview cited by The Wall Street Journal.
Safety issues and economic conditions exacerbate the decrease in demand
At the same time that Americans began resuming their pre-pandemic routines, safety issues surrounding Peloton equipment surfaced and further dampened demand.

​The US Consumer Product Safety Commission announced recalls of Peloton's Tread+ and Tread treadmills in May 2021 following reports of multiple injuries and a child's death. On a related note, The Financial Times found that Peloton had tried to conceal rust in its bikes in 2021.
​The company also became the victim of its own ubiquity. In December that year, an episode of And Just Like That (the reboot of Sex and the City) portrayed a character dying of a heart attack after exercising on a Peloton bike. Peloton's stock plunged by 11% overnight after the episode aired.
​On top of that, Peloton suffered a string of data catastrophes, including a leak of users' private account data and the exposure of their real-world locations.
​Price sensitivity and increased competition also weakened demand for Peloton's connected equipment worldwide, according to an internal company presentation in January 2022. Rising inflation and supply chain costs led Peloton to hike prices for its bike and treadmill by a few hundred dollars. It started charging a delivery and setup fee of up to $350 that month, whereas this cost had previously been built into the total price of the equipment. 
Peloton today: will a digital app drum up profits?
Before McCarthy joined the startup, Peloton had an inconsistent pricing strategy. It slashed prices once in late 2020 when it introduced a new bike model and again in August 2021 in response to poor sales — only to raise them again less than a year later.
​When McCarthy came in, he vowed to increase revenue by focusing on digital app subscriptions for non-Peloton owners, selling at retail stores, and expanding internationally. This meant more price changes were in store.

​To mitigate the resistance brought on by its price hike and attract new customers, Peloton rolled out a new rental program in March 2022. It announced that customers could pay one monthly fee of $60 to $100 to rent a bike and access the Peloton app's workout catalog and live classes. Customers were also given the option to buy out their rental bike for a price dependent on how long they had been renting the equipment.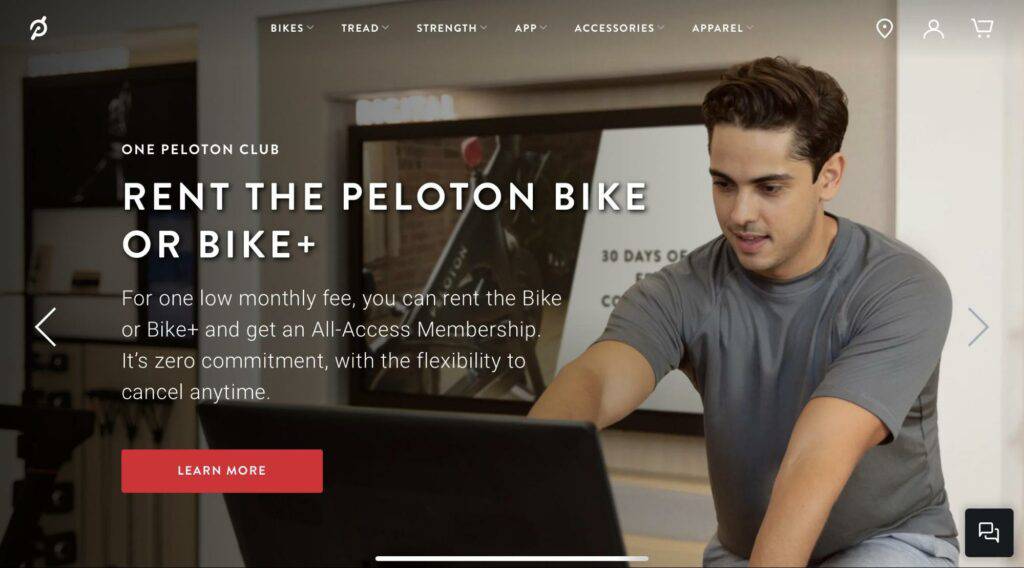 Image source: Peloton
Before the rental program was launched, customers would pay $1,495 for a Peloton Bike and $39 for a monthly app subscription.
​But as The Motley Fool points out, this strategy reduces friction not just for new signups but for cancellations as well. Peloton has promised to take back the equipment if a buyer cancels their subscription within a certain time period.
​There's also the question of whether or not Peloton can — once again — cope with a sudden increase in demand. The company will also have to figure out the logistics of repossessing equipment, as well as what to do with the used bikes.
​Adding to the confusion, Peloton again adjusted prices in April 2022. It lowered the prices of its bikes and treadmills in all markets. It also announced a June 2022 price hike for its membership fee — it jumped from $39 to $44 in the US and from $49 to $55 in Canada.
​"We want more people to be able to afford our hardware. This is a strategic decision to play for scale and increase market share," the company announced in a press release. 
​The company is still losing money and valuation, but McCarthy is rallying. In a letter to shareholders in May 2022, he reported that the equipment price reduction implemented in April had resulted in a 69% increase in daily unit sales of hardware. However, it also reduced gross margins. Subscription gross margin, however, increased by 3.5 percentage points YoY. 
Lesson #3: Don't abandon your value proposition when expanding

D2C founding stories typically start with a discontented customer tired of big brands dictating the market rather than listening to what people actually want and need. They find that many consumers share their sentiments and take it upon themselves to design a solution.
​Sometimes the solutions cater to specific tastes or demographics that were underserved. Large companies may have ignored those demands either because they had a lack of rivals pushing them to innovate or they didn't think the concept would scale. But as D2C startups begin to scale, they eventually end up facing many of the same challenges as the big incumbents they disrupted — the question becomes, how do you become big and still differentiate yourself?
D2C brand Harry's was disciplined in its expansion and retained its core appeal to its initial customers who were tired of "overdesigned" yet poor-quality razors. It began supplying razors to barbershops and even opened some of its own. It built and acquired complementary brands in adjacent grooming industries. It embraced retailers. It got profitable. And today, almost 10 years since its founding, it still sells only two kinds of razors.
​Another D2C razor brand that launched around the same time as Harry's has had a wildly different trajectory.
​Dollar Shave Club gained fame in 2012 with a humorous video that mocked the complexity of razor choices for men. "And do you think your razor needs a vibrating handle, a flashlight, a backscratcher, and 10 blades? Your handsome-ass grandfather had one blade," co-founder and CEO Michael Dubin proclaimed.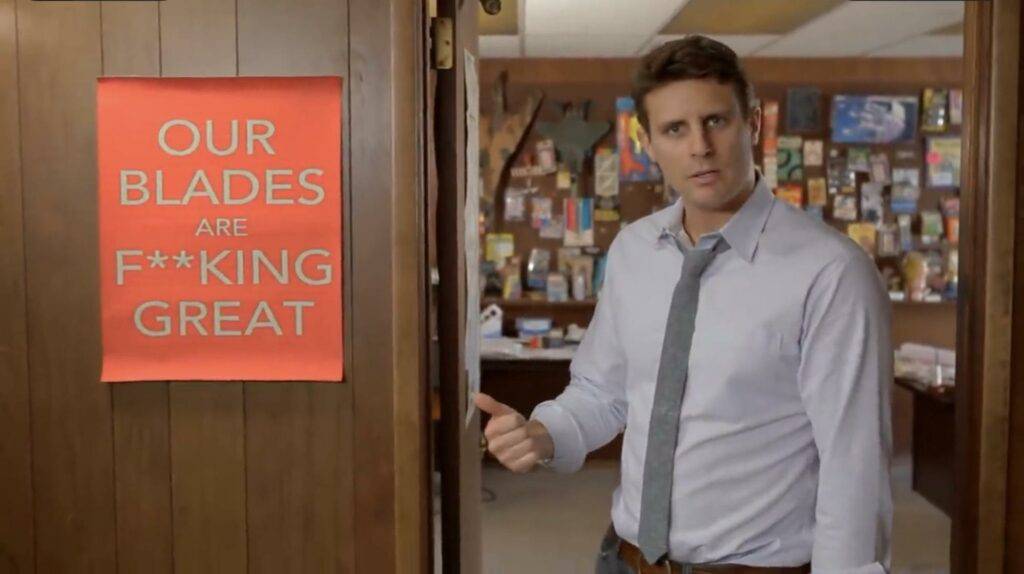 ​Image source: YouTube
​Dubin told viewers to stop paying for shave tech they didn't need. Then he promised to simplify and demystify shave choices by offering a single-blade razor for $1 a month (in addition to $2 for shipping).
The video went viral, and within about an hour, Dollar Shave Club's website got so much traffic that its server crashed. In the first 48 hours after posting the video, the one-year-old startup received 12,000 orders.
​Over the next few years, Dollar Shave Club went on to capture around 10% of the US razor blade market — at the time, market leader Gillette held 60%. In 2015, the startup saw $152M in revenue and had raised more than $160M in funding to date. 
​Finally, in August 2016, it achieved an exit many D2C founders have only dreamed of — an acquisition by a global CPG giant, in this case, Unilever, for $1B. By that time, Dollar Shave Club had become a "full male grooming business," noted Unilever in a press release. It sold hair styling products, beard oil, and toilet wipes, among other things.
​The acquisition was a win for investors. Venrock Partners, an early investor, got a "10x" return, according to the New York Times. 
​Six years later, the deal was labeled a failure. Under Unilever's umbrella, Dollar Shave Club had not turned a profit. Dubin left Dollar Shave Club in January 2021. 
A budget brand launches premium products
Dollar Shave Club's unique selling point attracted thrifty buyers. As a result, it contended with low customer basket sizes — so low that the startup balanced customer acquisition costs with how much each customer would spend over 5 years. For comparison, D2C brands typically look at one-year spend.
​After its acquisition, Dollar Shave Club abandoned its original value proposition and made a complete U-turn. By 2018, its range had expanded to include over 3 dozen products across 6 categories, including fine fragrance and oral care. It now sells 4- and 6-blade razors like the incumbents it used to mock, at a not-exactly-a-bargain monthly subscription price of up to $10. The brand also offers a $9 starter set that includes a razor, scrub, cream, and moisturizer, as well as a $10 subscription for two razors with different handle grip colors and some refills.
​Dollar Shave Club had launched the ancillary products to boost revenue, but it either had the wrong ideas about its own market or had decided to target a higher tier of customers. If its existing buyers didn't want to pay more than a dollar a month for a commodity like razors, they likely wouldn't have wanted to spend much on luxuries like dry shampoo and moist wipes.
​The product expansion doesn't seem to have made a significant impact on revenue. Dollar Shave Club's average quarterly sales per customer barely grew from 2019 to 2021. It stood at $25 in Q3'21 and was the lowest among 5 popular men's grooming subscription companies, according to Bloomberg Second Measure.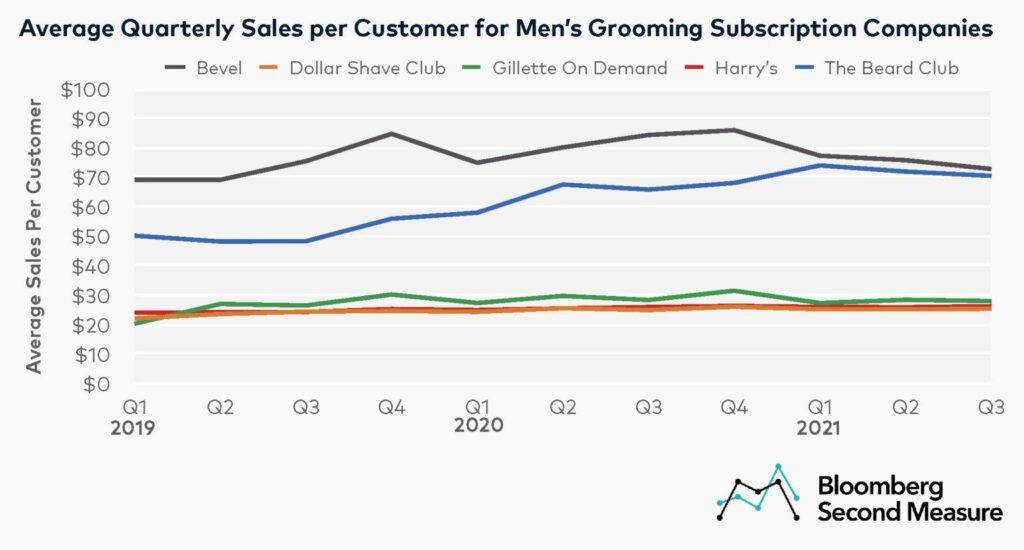 Source: Bloomberg Second Measure
​The same dataset showed that while Dollar Shave Club had the lowest percentage of new customers from Q2'19 to Q2'21, it had the highest mean retention rate over a similar period (Q1'20 to Q3'21). While the numbers indicate customer loyalty, they also reflect near-stagnation.
Differing visions and increased competition further diluted the brand
Unilever and Dollar Shave Club also disagreed about how to distribute their razors. Before the acquisition, the brand had wanted to open stores that were partly barbershops, like those of Harry's. But Harry's move made sense because it promised premium-quality razors and targeted men who were more willing and able to spend on grooming.
​Unilever instead opened razor vending machines in malls and transportation hubs in LA, Minneapolis, New York, and San Francisco. Instead of an option to buy a one-dollar razor, the machines offered product bundles that cost $12. Dollar Shave Club also entered Walmart and Target and slowly moved away from its subscription model.
​Meanwhile, more competition was brewing. In 2017, Gillette launched its own razor subscription service, offering three tiers ranging from $11 to $21. By Q2'19, Gillette was still struggling with competition and losing market value, but its subscription service had surpassed Dollar Shave Club in both percentage of new customers and average quarterly sales per customer. 
Dollar Shave Club today: Can it find product-market fit again?
Unilever's plans for Dollar Shave Club are unclear. As part of Unilever's sponsorship of the National Collegiate Athletic Association, Dollar Shave Club announced an NIL deal with a basketball star in March 2022. But the CPG giant made no mention of Dollar Shave Club or razors in its Q1'22 trading statement.
​Business Insider reported in February 2022 that analysts believed that the acquisition was a failure. In response to an inquiry from the publication, Unilever's press office wrote, "We have been clear that Dollar Shave Club has not delivered the results we were expecting. The economics of the direct-to-consumer channel changed, and we found it harder to unlock non-razor sales than planned. Dollar Shave Club remains a great brand with an excellent product offering, and we are fully committed to stepping up its growth."
Lesson #4: Novelty is no substitute for a strong business model
D2C brands have disrupted enough industries for incumbents to take them seriously. Large, well-established brands now often respond by directly acquiring D2C startups or by launching copycat rivals.
​One way D2C brands challenge industry giants is by taking a fresh, contrarian approach to a product. Allbirds defied the flashy sneakers trend and offered a minimalist alternative that focused on comfort and sustainability. Bonobos made men's stylish trousers in a broad range of sizes. Warby Parker made chic yet affordable eyewear.
​Brandless tried to do the same, but it sacrificed profits at the altar of its novel idea.
​In 2017, Brandless launched with the promise to sell sustainable staples, premium pantry items, and clean beauty products for only $3 — and just $3. Whether it was something as mundane as toilet paper or as niche as an Italian herb gluten-free pizza crust mix, the price would remain the same.
​The startup claimed it could sell items so cheaply because it would do away with "brand tax" — the hidden costs like marketing and design that can make products at least 40% more expensive than the price Brandless sold them for. It positioned its goods as alternatives to those made by large CPG brands and the home-grown brands of Walmart and Amazon.
​To do that, Brandless products came with the bare minimum of packaging.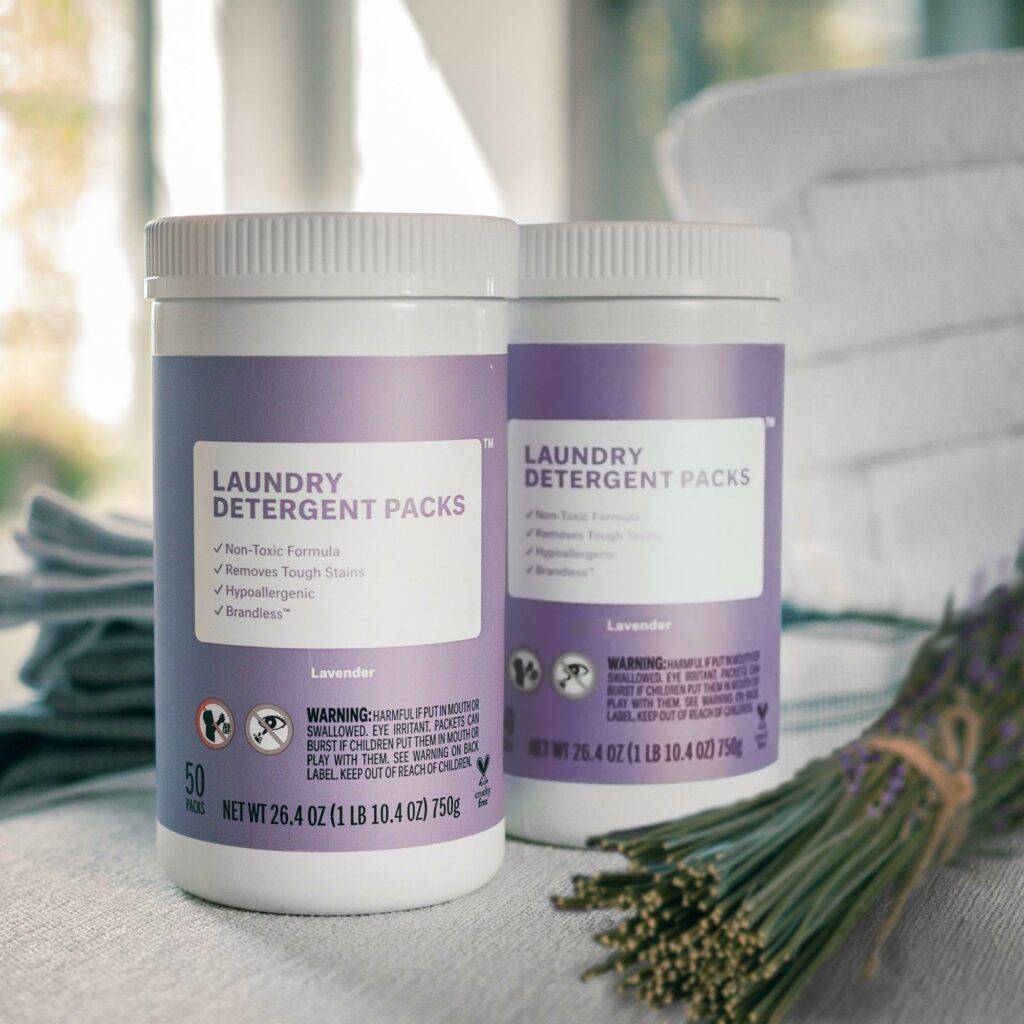 ​Image source: Brandless
​When SoftBank Group CEO Masayoshi Son learned of Brandless' business model, he was reportedly flabbergasted. But it wasn't entirely unfamiliar: Muji, a Japanese brand, sells household staples with a very minimalist brand aesthetic, though not at low prices.
​The SoftBank Vision Fund led a $240M funding round for Brandless in 2018, raising the startup's profile. But less than 2 years later, in February 2020, Brandless shut down.
​Clarke Capital Partners and marketing firm Ikonifi bought the startup — reportedly at a steep discount — and relaunched it in June that year. It's not yet clear whether or not Brandless 2.0 will succeed. 
Brandless staked its business on a non-viable model
Brandless' strategy was problematic from the start. Ultimately, it was an impractical idea that was difficult to execute in a saturated market.
​"The direct-to-consumer market is fiercely competitive and ultimately proved unsustainable for [Brandless'] business model," said the startup's board in a joint statement announcing the shutdown.
​Brandless' commitment to a $3 price tag resulted in having to overprice some products and underprice others.
​Its pricing strategy also limited its margins, inflicting cash constraints that severely hampered its ability to compete with industry Goliaths. Seeing the company burn through cash too quickly, SoftBank held back some of its investment until Brandless could meet certain financial goals. It gave cash in installments and had only provided a total of $100M in funding by the time the startup closed.
​While some customers were attracted by the cheap price, shipping fees were expensive, as is typical with grocery products. At one point, Brandless offered free shipping for orders worth at least $72 — or $48 for those who paid a membership fee of $36 a year.
​Buyers also complained of low-quality goods despite Brandless' claim to offer quality items. As one reviewer put it, "most items that are $3 honestly looked like they were worth $3," such as a can opener that came with scratches on the surface and items that broke during shipping.
​The startup relented on its initial premise in January 2019, when it began selling pet and baby products for more than $3. But it was still failing to eke out a good return, heightening tensions with its largest investor. Brandless CEO and co-founder Tina Sharkey ultimately resigned in March 2019. 
​Her replacement, John Rittenhouse, the former COO of Walmart.com, abandoned the $3 pricing strategy and vowed to place the brand's goods in the brick-and-mortar stores of major retailers across the US. Adding to the company's already broad product range, Rittenhouse aimed to make Brandless a market leader in selling cannabidiol (CBD) products. He lasted until December.
Brandless today: will a narrower scope save the business?
After shutting down, being acquired, and relaunching in 2020, Brandless is now back with a focus on selling items on its online store. It gained a new CEO, Ikonifi founder Ryan Treft, who told Business Insider that it might also sell goods on Amazon and at brick-and-mortar retail shops.
​But there are still signs of turmoil and confusion.
​In December 2021, Brandless got yet another CEO — Cydni Tetro, who previously served as CEO of 2 tech companies and led the technology commercialization group of Disney Research Imagineering. 
​In September 2021, Tetro told Utah Valley Magazine, "Brandless doubles in revenue every six weeks." She added that the company now owns a manufacturer and has narrowed its offering down to 4 product categories: wellness and nutrition, clean beauty, personal care, and green clean. The company raised $118M in August that year to transform itself into a platform that would acquire "mission-driven digitally-native brands" and help influencers build brands of their own.
Lesson #5: Don't assume that company culture won't affect sales

Companies that overtly align themselves with "millennial values" need to have a clean house, otherwise, history has shown that customers are more than willing to walk away. Even a combination of a good product, strong marketing, and profits isn't enough to keep a company healthy if your audience finds out you haven't been walking your talk.
​Glossier, an influencer-driven makeup brand, lost thousands of social media followers after employees reported a toxic work culture. Outdoor Voices, an Instagram-friendly brand selling brightly colored athletic clothing, replaced its CEO, Ty Haney, following reports of mismanagement and a work environment that employees called emotionally traumatic.
​The reports reflect a similar theme — young employees joined these companies because they believed in their mission, related to the brand, and admired the CEO. But the internal reality severely contradicted brand image, which tended to be strongly values-driven.
​For Away, a smart luggage brand, employee discontent proved more perilous than the travel drought wrought by the Covid-19 pandemic.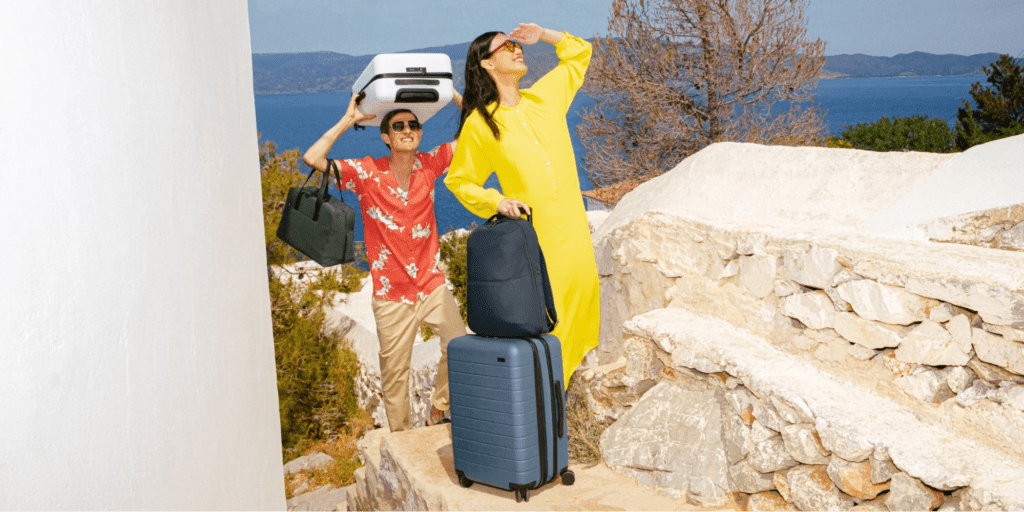 ​Image source: Away
​For a while, it seemed like Away had won the D2C smart luggage race. It turned profitable in 2017, around 2 years after its founding. By May 2019, it had sold more than a million suitcases and was on track to achieve $300M in revenue for that year. Its Series D investors valued it at $1.4B. 
​But then, employees accused the startup's leaders of failing to provide safe working conditions, mismanaging its retail branches, and creating a toxic work environment. The ensuing scandal led to a leadership shakeup that continued well into 2021. 
Allegations of toxic culture surface
The complaints first became public in December 2019 through a report by The Verge. Former staff described being bullied over Slack by top executives — including CEO Stephanie Korey — who "brutally criticized" projects, mocked staff in private channels, and demanded immediate replies even late at night and on weekends.
​The employees also said that Away's intense focus on customer experience — enshrined in its core values as "customer-obsessed" — led to a cutthroat culture that prioritized growth at all costs and squeezed out profits at the expense of employee well-being, health, and safety.
​Following the first story by The Verge, Korey stepped down as CEO in December 2019. However, the following month, she returned and announced that she would share the CEO role with Stuart Haselden, the former Lululemon CEO who had been hired to replace her. Before that, Away had already recruited him as president and planned to eventually make him the CEO to steer the startup through an IPO.
​"I honestly thought that people didn't care that much about the inner workings of Away. Who is CEO and who is executive chairman — that wasn't something that, at a private company that's less than four years old that sells travel products, I just didn't think would be news and people would care," Korey told The New York Times.
​In July 2020, Away announced that Korey would be leaving the company once again by year-end. In January 2021, the company reported that Haselden would step down as CEO the following month.
​Finally, in April 2021, Away announced that co-founder Jen Rubio — who had served as president, Chief Brand Officer, and interim CEO following Haselden's departure — would be the new CEO.
the pandemic Piled additional pressure on the company

Around the same time that Away's scandal unfolded, the Covid-19 pandemic began to spread, which exacerbated existing challenges for the company and created new ones. By April 2020, sales had dropped by 90%. As a result, Away took a number of actions to try to stay afloat, including closing 10 retail stores, freezing hiring, furloughing half of its team, and laying off another 10%.
​Discount events in September 2020 and March 2021 helped bring in cash and reduce inventory. All in all, sales dropped by 55% YoY in 2020, after rising 60% YoY the previous year, according to Bloomberg Second Measure data.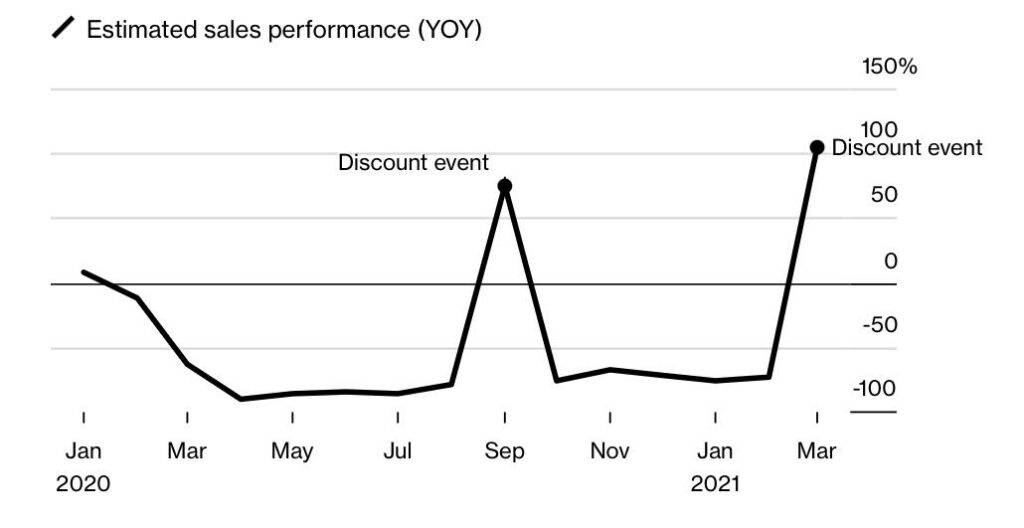 ​
Image source: Bloomberg
Away today: Will righting the ship help it bounce back?
With pandemic-weary consumers eager to travel and a new set of leaders at the company, Away is hoping that it has put the worst of its troubles behind it.
Rubio has hired former executives from top retail and D2C brands to fill C-suite roles and help move the company forward. 
​In a press release, the company announced, "Since as early as the second half of 2020, Away's key business metrics have significantly outperformed initial pandemic recovery estimates, with online and in-store conversion rates eclipsing that of pre-pandemic levels and continuing to accelerate quarter over quarter." It cited "high buyer intent and pent-up travel demand" as fuel for the startup's growth.
If you aren't already a client, sign up for a free trial to learn more about our platform.