Deals and dollars to cybersecurity startups are on track to break records in 2017, with six cybersecurity startups raising $100M+ mega-rounds last quarter.
Given the rising quantity and severity of cyber attacks, cybersecurity continues to be one of the hottest tech sectors in recent history. As companies and governments look to better secure their networks, data, and devices, investors have been making more deals to private cybersecurity companies than ever before.
Cybersecurity deals hit an all-time quarterly high of 146 deals in Q1'17, up 26% from the previous quarterly high. The trend held through Q2'17, which saw just one fewer deal (145 total) compared to Q1'17.
The amount of disclosed equity funding to cybersecurity companies has also recently broken records, reaching an all-time quarterly high of $1.6B in Q2'17.
Notably, six cybersecurity companies obtained mega funding rounds of $100M+ last quarter. No other quarter on record has seen over four mega-rounds in cybersecurity.
Alongside the near-peak number of deals and unprecedented mega-deal activity in Q2'17, the industry also saw notable startup acquisitions by large corporations both within and outside of the cybersecurity industry. For example, in June cybersecurity giant Symantec acquired the data security startup Watchful Software, while Airbnb acquired the digital identity proofing startup Trooly.
Using CB Insights data, we took a closer look into deal, funding, and M&A trends for cybersecurity startups. We define cybersecurity as tech-enabled companies that offer products and services for which the primary use case is the protection of digital and physical assets from unauthorized access and malicious use by cyber criminals.
ANNUAL FINANCING Trends
Deal activity has increased steadily since 2012, with last year seeing a high of 428 deals, despite a small 6% drop in funding (down from a record $3.8B in 2015). At the current run rate, both deals and dollars for 2017 are on track to rise to an all-time high.
Note that the current and projected funding totals for 2017 include only non-exited companies and therefore exclude deals such as the recent $2.29B Private Equity round raised by McAfee from the firm Thoma Bravo in April. (McAfee was acquired by Intel in 2010 and Intel retains 49% ownership of the company.)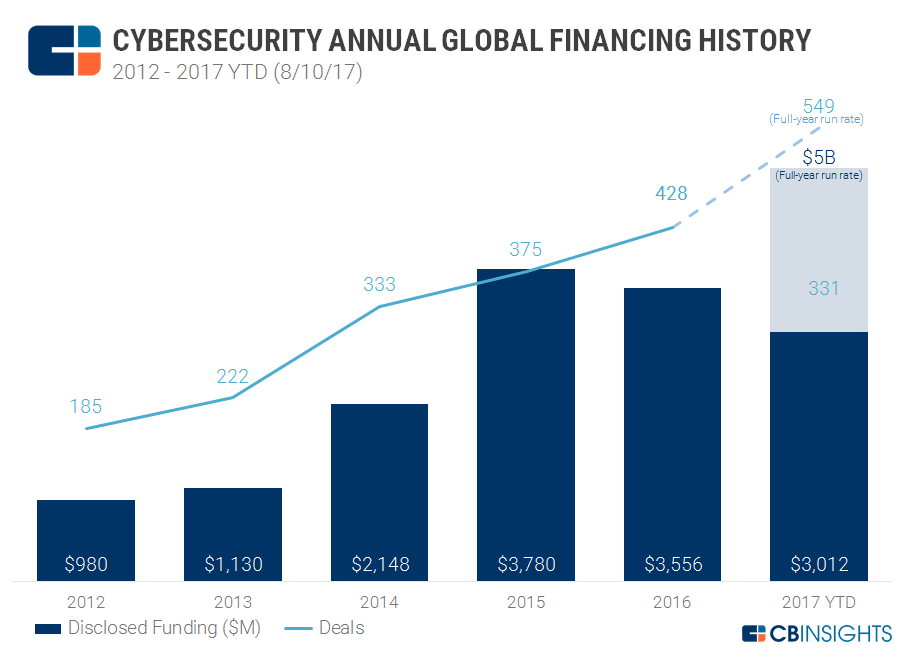 TRACK ALL THE CYBERSECURITY COMPANIES IN THIS BRIEF AND MANY MORE ON OUR PLATFORM
Companies working on cybersecurity are gaining much more visibility as cyber threats increase. Look for Cybersecurity in the Collections tab.
Track cybersecurity companies
QUARTERLY FINANCING trends
On a quarterly basis, deals to cybersecurity startups nearly tied the record last quarter, with 145 companies securing disclosed equity funding rounds in Q2'17. Deals have exceeded 100+ each quarter since Q4'15, with the exception of Q4'16, when deals fell to 92.
Dollars invested in these companies in Q2'17 were the highest of any quarter over the time period tracked. Clocking in at $1.6B, Q2'17 is the fifth quarter in which funding to private cybersecurity companies crossed the $1B mark.
The largest funding round last quarter went to the cybersecurity company Illumio, which offers adaptive segmentation technology to help organizations control the lateral movement of unauthorized communications across networks. The company raised $125M in a Series D round from investors including Accel Partners, Adreessen Horowitz, and Data Collective, among others. Illumio is one of eight cybersecurity unicorn companies currently valued at $1B+ (see the rest on our real-time global unicorn tracker).
The six cybersecurity companies that obtained $100M+ mega-rounds in Q2'17 include the aforementioned Illumio, secure data center company Data4 Group, automated threat hunting company Cybereason,  cloud access security broker Netskope, and the endpoint security companies CrowdStrike and Tanium.
The top deal so far in this quarter goes to the artificial intelligence and behavioral analytics cybersecurity company Darktrace, which raised a $75M Series D from Summit Partners and Ten Eleven Ventures, among others.

QUARTERLY M&A trends
While IPO activity in the sector has been relatively low in recent history, Q1'17 saw over 40 private cybersecurity companies get acquired — a record-high. In Q2'17, the number of acquisitions dropped off by nearly half, at just over 20. Notable acquisition targets by large corporates last quarter included NextNine (acq. by Honeywell in June), Hexadite (acq. by Microsoft in May), and Conjur (acq. by Cyberark Software in May), among others.
This quarter to date has already seen its share of interesting acquisitions, especially by companies outside of the traditional cybersecurity space, including: Sybenetix (acq. by NASDAQ in July), Strong.codes (acq. by Snap Inc. in July), and Brighterion (acq. by MasterCard Worldwide in July), among others.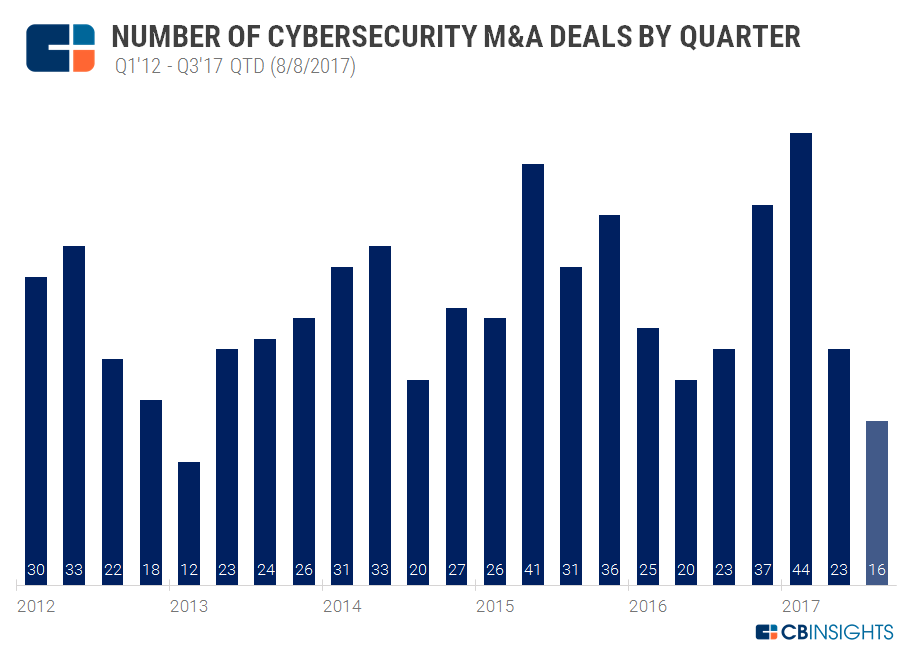 If you aren't already a client, sign up for a free trial to learn more about our platform.