Our timeline visualizes cybersecurity company exits valued at $1B+ at acquisition or IPO, from CrowdStrike's $6.7B public offering to Cisco's massive purchase of Duo Security last year.
As data breaches and hacks become more common and companies look to shore up their data privacy, cybersecurity startups are becoming increasingly attractive targets for investors.
Cybersecurity startups have raised a record $8.8B in disclosed equity funding this year (as of 10/8/19), already surpassing the $8.6B high for full year totals in 2017. Deal count this year is also expected to surpass 2018 highs, with more than 580 rounds so far.
Beyond investment levels, cybersecurity startups are also seeing elevated exit activity in recent years — 2019 exits have already beat 2018's record.
Since 2010, 23 cybersecurity companies have exited via an IPO or M&A deal valued at $1B+, 10 of which have happened since the beginning of 2018. Using CB Insights data, we visualized these exits together in one timeline.
Our analysis considers first exits since 2010 only. For more on billion-dollar exits, see Visualizing Tech Giants' Billion-Dollar Acquisitions.
Please click to enlarge.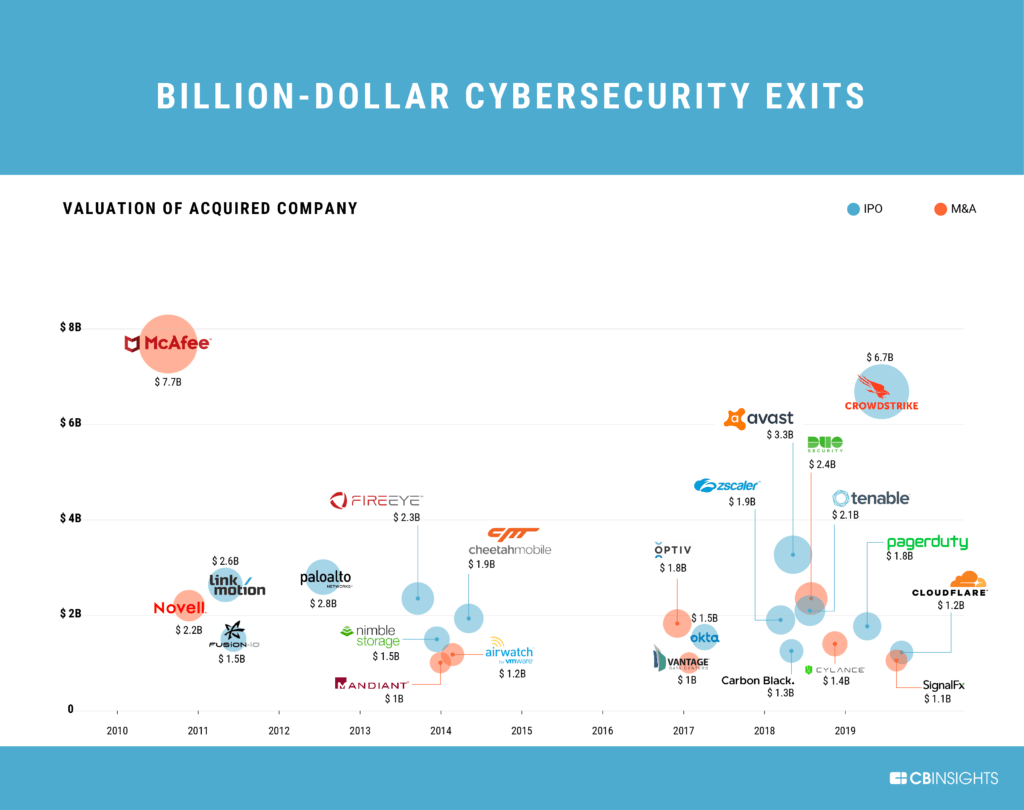 Key takeaways
The highest-valued exit on the list goes to McAfee, a security and antivirus corporation, which was acquired by Intel for $7.7B in 2010. The company was later acquired by private equity group TPG Capital in a downround valuing the company at as much as $6.1B.
The largest cybersecurity IPO went to CrowdStrike, an AI-powered endpoint security platform that protects corporate networks at vulnerable areas of connection, like laptops and phones. The company went public in June 2019 at a $6.7B valuation.
The most recent billion-dollar cybersecurity exit went to monitoring startup CloudFlare, which went public in September 2019 at a $1.2B valuation, though lower than its previous $1.8B valuation from a 2015 Series D round.
8 companies reached unicorn valuations prior to exiting, including Duo Security ($1.2B valuation before exit), FireEye ($1.1B), and CrowdStrike ($1B).
Billion-Dollar Cybersecurity Exits
Company
Valuation at Exit ($M)
Exit Type
McAfee
                              7,680
Acquisition (Intel)
CrowdStrike
                              6,687
IPO
Avast Software
                              3,266
IPO
Palo Alto Networks
                              2,797
IPO
Link Motion
                              2,635
IPO
Duo Security
                              2,350
Acquisition (Cisco)
FireEye
                              2,349
IPO
Novell
                              2,200
Acquisition (The Attachmate Group)
Tenable Network Security
                              2,095
IPO
Cheetah Mobile
                              1,932
IPO
Zscaler
                              1,900
IPO
Optiv Security
                              1,800
Acquisition (KKR)
PagerDuty
                              1,767
IPO
Okta
                              1,540
IPO
Fusion-io
                              1,478
IPO
Nimble Storage
                              1,476
IPO
Cylance
                              1,400
Acquisition (BlackBerry)
Carbon Black
                              1,251
IPO
CloudFlare
                              1,220
IPO
AirWatch
                              1,175
Acquisition (VMware)
SignalFX
                              1,050
Acquisition (Splunk)
MANDIANT
                              1,005
Acquisition (FireEye)
Vantage Data Centers
                              1,000
Acquisition (Digital Bridge, Nuveen,
and Public Sector Pension Investment Board)
If you aren't already a client, sign up for a free trial to learn more about our platform.