Insurers will now have to decide between attaining the biggest possible discounts and supplying competitors with their valuable data.
With the CVS acquisition all but certain (pending final clearance in New York State) and Cigna's takeover of Express Scripts gaining approval, the era of the independent Pharmacy Benefit Manager (PBM) is over.
Assuming the deals close, the largest remaining PBM by 2017 market share that does not have ties to a major insurer is Medimpact Healthcare Systems (7%).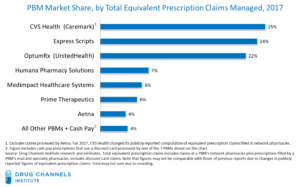 CVS' acquisition of Aetna gives it a presence in all levels of the supply chain, excluding wholesale. Similarly, Cigna's acquisition of Express Scripts — which has been approved by shareholders and is expected to close by year-end — provides it with a PBM and a specialty pharmacy to complement its existing pharmacy business. UnitedHealthcare's supply chain subsidiaries include Optum (a PBM) and BriovaRx (a specialty pharmacy).
The chart below showcases the consolidation in the drug supply chain.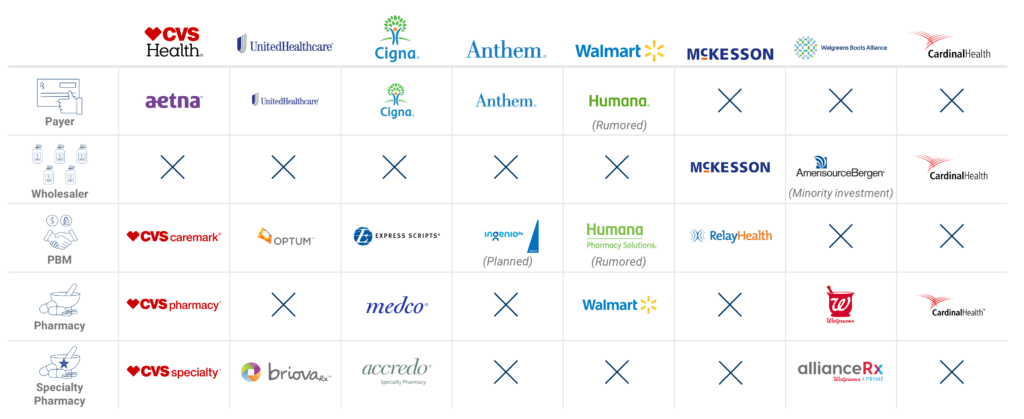 This puts insurers that do not have an in-house PBM in a tricky situation. Because PBMs work by leveraging the number of patients of the insurers they represent to negotiate lower drug prices, there is an incentive for insurers to work with the largest PBMs.
However, insurers may be hesitant to supply their competitors (who now own the largest PBMs) with valuable prescription data for their patients.
Anthem's solution to this problem is to build out its own in-house PBM called IngenioRx. This process will take years. In the meantime, the company has agreed to partner with CVS after its falling out with Express Scripts. It will be interesting to see how other large insurers will react.
For more the pharmaceutical supply chain, how it works, and the companies that are working to change it, see here.
If you aren't already a client, sign up for a free trial to learn more about our platform.