This news comes on the heels of its Series B funding round. The company plans to use the funds to explore acquisition opportunities. Here are the top-line bullets you need to know.
CredAvenue, a corporate debt marketplace, has raised $137M in a Series B. The round drew participation from B Capital Group, Dragoneer Growth Opportunities, and Insight Partners.
HOW'S THE COMPANY PERFORMING?
India-based CredAvenue builds infrastructure for debt markets. It operates as a debt platform for enterprises, lenders, and investors, offering a wide variety of debt products.
The company operates in India and lends to enterprises with annual revenues in excess of $1.3M.
The startup reportedly generated $1.5B in transaction volume and $6M in revenue in FY'21. It expects those figures to rise to $7B+ and $22M, respectively, in FY'22.
CredAvenue powers over 100K transactions daily and has a cumulative Gross Turnover Volume of over $12B.
Since its inception in 2017, the fintech company has disbursed more than $10.5B.
Over 2.3K corporates, 450 enterprises, and 750 lenders are currently active on its platform. Major lenders include the Union Bank of India, ICICI Bank, and State Bank of India.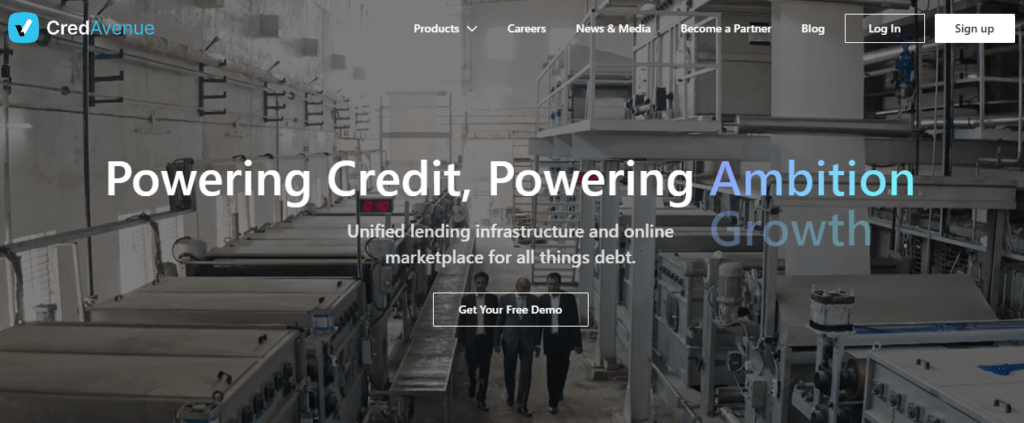 Source: CredAvenue
WHY DOES THE MARKET MATTER?
The global digital lending platform market is expected to reach a value of $27.1B by 2028, growing at a CAGR of 18.13%, according to Verified Market Research.
Widespread digitization has contributed to the increased adoption of digital banking, particularly among younger populations. In fact, 97% of millennials use mobile banking, according to Insider Intelligence. This has increased the demand for digital lending services, driving growth in this market.
Covid-19 has also accelerated the adoption of digital lending services across sectors.
Lending tech startups in India raised $1.38B in 2021 — more than double the amount raised in 2020, according to Inc42.