Stores are moving into CPG brands' turf, pushing CPG leaders to pursue new distribution strategies.
Private labels: retailers have used them for decades to attract shoppers and better control pricing and inventory.
But in 2018, their growth is likely to accelerate. Why? Retailers are struggling, and they're hoping to use their private-label brands to better compete.
Kroger views private-label growth as a pillar of its 2018 turnaround plan (even launching a clothing brand this fall). Albertson's plans to add 500+ more products to its $1B O Organics brand this year. CVS is scaling up its efforts. Target just announced its first private fragrance, and the list goes on.
This poses a challenge to CPG brands.
As stores — which brands formerly viewed as their main clients — become competitors, CPG brands will have to respond.
Further complicating the picture, new online marketplaces are already rolling out CPG labels, from Boxed (Prince & Spring) to Jet.com (Uniquely J). And of course, Amazon is building up its private-label offerings as well.
As stores push private labels more aggressively, CPG brands will increasingly seek to control their own points of sale — opening their own stores, setting up their own e-commerce platforms, or using other strategies.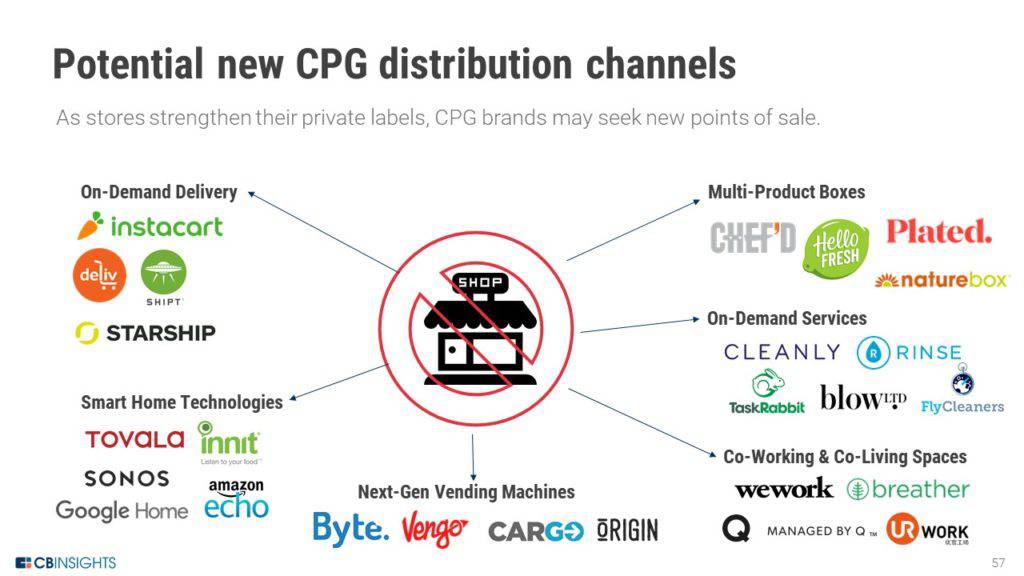 Many CPG startups have adopted strategies to reduce their reliance on retailers. We see new CPG entrants taking advantage of methods ranging from direct-to-consumer distribution (Brandless), to opening beauty salons (Madison Reed), to launching cafes (Chobani).
Traditional industry leaders are also beginning to seek more control over their own distribution channels. We've seen a number of brands make moves recently that could help them gain greater independence from grocers and department stores. These include:
Nestle – in 2017, Nestle invested in direct-to-consumer startup Freshly, spent $500M to acquire Blue Bottle (giving it access to dozens of retail outposts in high-income areas), and opened new design concept shops for its Nespresso brand.
Kellogg's opened a cereal cafe in Manhattan in Dec'17 (or really, an Instagram cafe with a cereal theme) and recently made its first distribution investment through Eighteen94 Capital.
If you aren't already a client, sign up for a free trial to learn more about our platform.