From reducing single-use plastics to smart tracking, innovation is coming for the once-staid CPG packaging industry.
The world of CPG packaging has been slow to adapt to tech trends. But lately, as consumers and brands demand more sustainable, convenient, and data-centric options, the industry is beginning to embrace change.
Reducing product volume, enhancing brand engagement, and collecting data for consumer insights are among the most talked about innovations changing how goods are packaged. The goal is to lower shipping costs,  communicate value, increase operational transparency, and drive product decisions.
free report: state of food tech
Funding to food tech companies dipped in Q2'21 after a record-breaking Q1'21, while deals were up. Download the free report to get all the funding and deal trends.
Using CB Insights data, we identified the key ways that packaging innovation is transforming consumer packaged goods. Below we highlight these trends and some key examples. In-depth analysis on each key trend is available to CB Insights clients.
Track all the startups mentioned in this brief and more!
Track the 400+ companies providing both traditional and tech-enabled packaging and labeling solutions for food, apparel, pharma, and other industries.
Clone Collection
3 ways packaging innovation is transforming CPG
1. Move Away from SINGle-use plastic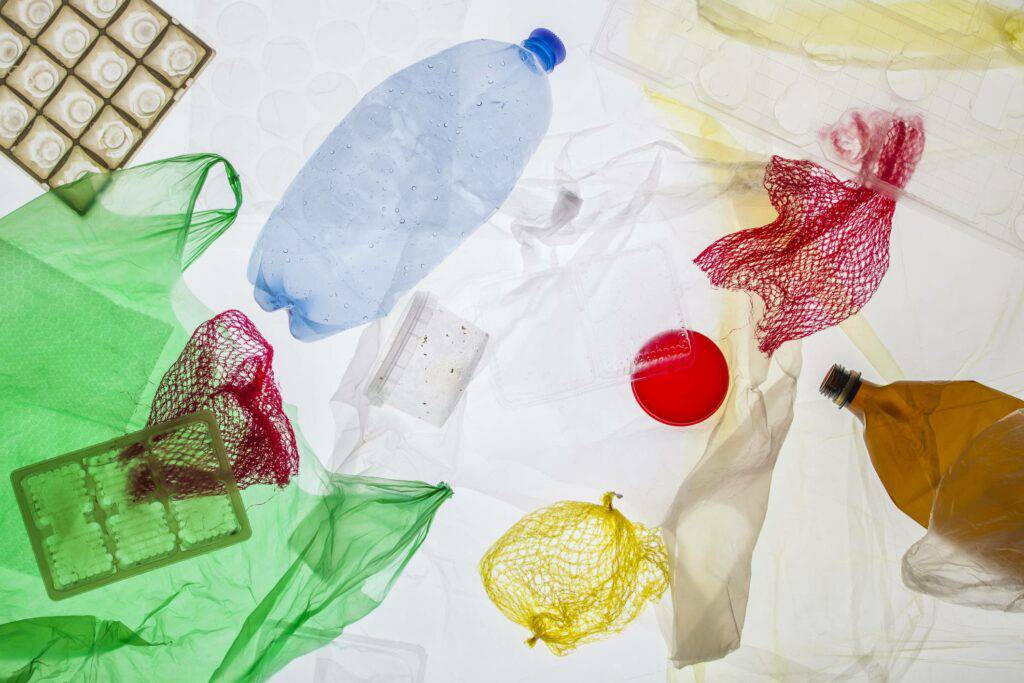 Source: Getty Images
Consumers are leading a shift away from single-use plastic. This shift will accelerate as governments hand down regulations that push companies toward sustainable alternatives. Regulations passed in the last two years, including initiatives under the EU Commission Plastic Strategy and bans on single-use plastics by state governments in the US, highlight how quickly brands may need to adapt.
Major grocery chains, CPG giants, and startups are already testing alternatives to single-use plastics like alternative packaging material like crustacean shell packaging and packaging made from milk protein. Companies are also exploring ways to promote reusable packaging or refillable dispensers for various CPG products.
Our client-only brief highlights initiatives by startups and CPG giants to respond to the move away from single-use plastic. Clients can read about it here.
---
2. optimizing packaging for e-commerce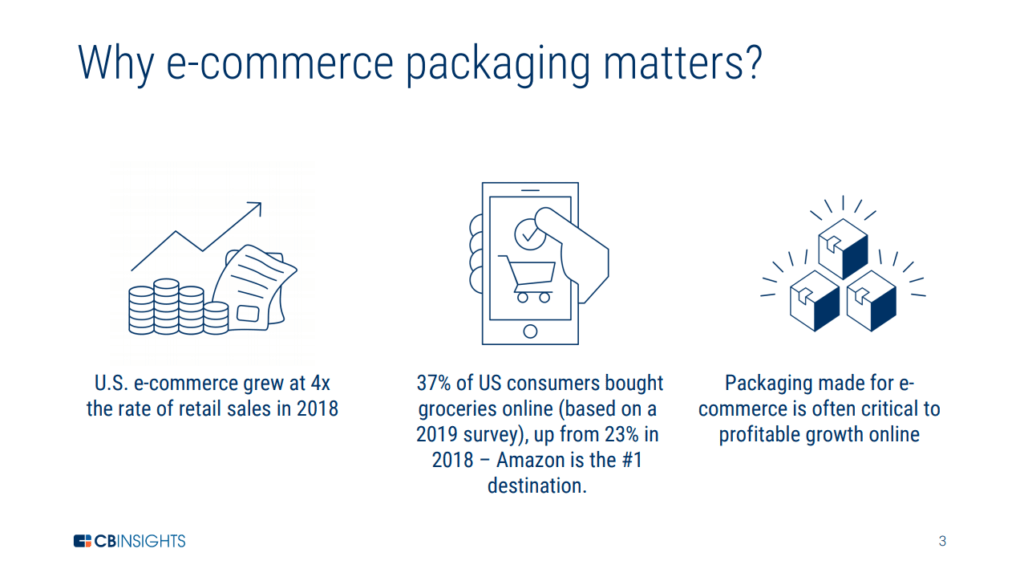 With e-commerce growing rapidly as a share of total retail sales, CPG brands and retailers alike are optimizing packaging to focus on areas like e-commerce customer experience and reducing friction & costs of shipping. This can be seen in products by startups like Blueland, which reduces package weight and volume by dehydrating cleaning products into eco-friendly tablets.
Our client-only trend in practice report highlights key efforts to optimize product packaging for online retail. CB Insights clients can download the report here.
---
3. CONNECTED PACKAGING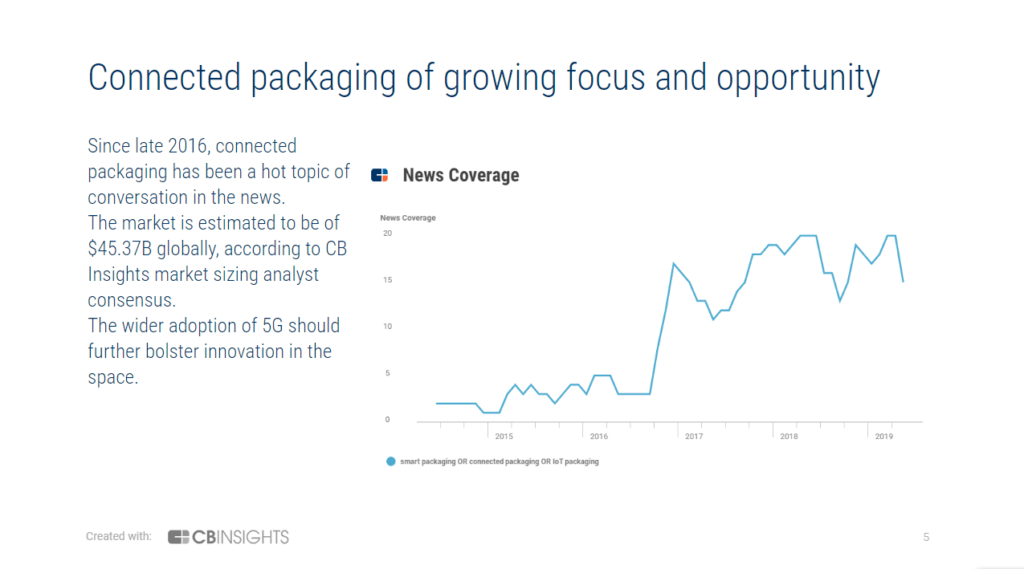 CPG and packaging companies are leveraging developments in internet-of-things/smart devices space to explore connected (or smart) packaging. An example is Walmart's patent for a smart tag which can monitor when products are consumed and help with predictive replenishment.
Connected packaging innovation provides opportunities in areas like brand engagement, data collection beyond the point of sale, and as a way to track & reduce product waste.
Our client-only trend in practice report on connected packaging highlights initiatives and key developments by startups and CPG giants in the space. CB Insights clients can access and download the in-platform report here.
If you aren't already a client, sign up for a free trial to learn more about our platform.