As the global waste crisis worsens, CPG companies are experimenting with plastic alternatives, refill services, and more as they prioritize sustainability and resilience.
Waste (both food and plastic) has become a serious issue across the globe.
Roughly a third of global food production — or 1.6B tons of food, worth an estimated $1.2T — is wasted every year, and over 8M tons of plastic wind up in oceans annually, according to the UN.
Given this backdrop, both food waste and plastic waste have become top-of-mind in recent months.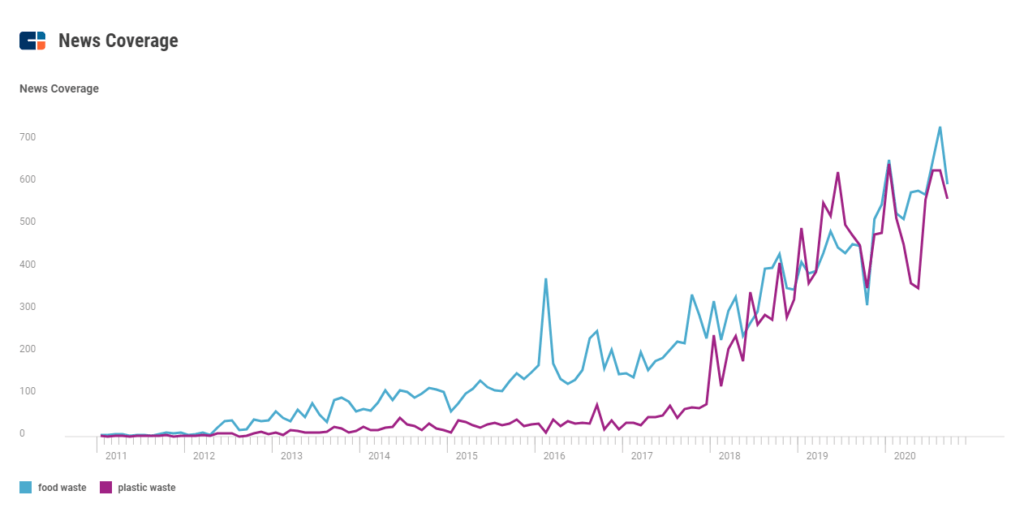 Sustainable packaging is emerging as a popular solution. CPG giants such as Nestle, P&G, and Unilever are investing billions of dollars in it, and as a result, the space is expected to be worth $440B by 2025.
What sustainable packaging solutions are gaining traction today?
Using the CB Insights platform, we identified 3 emerging sustainable packaging solutions that brands and retailers can implement to minimize food and plastic waste.
1. Plastic alternatives
Currently, 95% of the value of plastic is lost after its first use, which has led to a worsening landfill crisis and unprecedented ocean pollution.
A number of startups such as Footprint and Notpla have developed new materials to use for food and beverage packaging to help CPG companies move away from single-use plastic. (We profile 8 of these startups in this client-only brief).
Corporates are also getting involved on the packaging innovation front. In July, beverage giant Diageo unveiled a "100% plastic-free paper-based spirits bottle" for its whisky brand, Johnnie Walker. 
2. Food coatings & filters 
Startups are also focused on minimizing food waste as well as developing coatings and filtering solutions that postpone spoilage and extend an item's shelf life.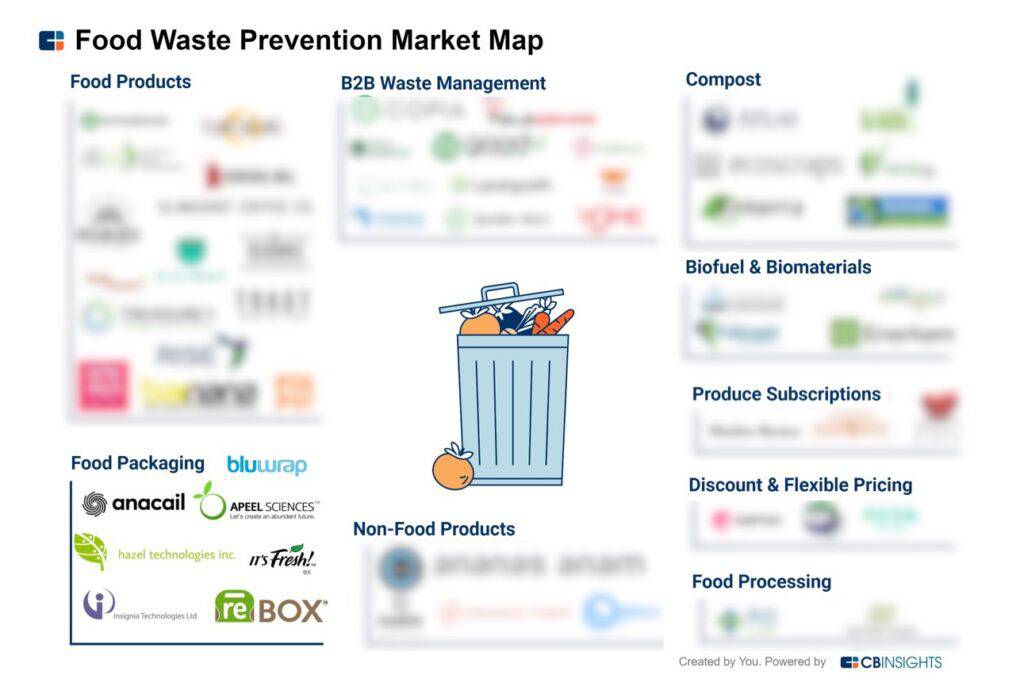 For example, Apeel Sciences created a thin, plant-derived film that covers fruits and vegetables to postpone spoilage by retaining water and keeping air out.
Other companies such as Hazel Technologies are developing pouches and filters that can be placed in fruit cartons to reduce the respiration rate and ethylene sensitivity of fruit, extending shelf life and reducing food waste. 
(CB Insights clients can check out other startups working on food packaging solutions in our client-only food waste market map.)
3. Reuse & recycle services
Other approaches to sustainability in the CPG supply chain include new business models that help consumers and businesses reuse packaging. 
Unilever and Nestle have both adopted refill services to minimize the need for single-use packaging. Unilever partnered with Algramo — a mobile refill service for CPG products — to bring its Omo laundry products and Quix dishwashing liquid to consumers' doorsteps, and Nestle is currently piloting refillable coffee and pet food dispensers at 3 Nestle shops in Switzerland.
Source: Closed Loop Partners
Corporates are also working with Terracycle's Loop initiative, which launched in the US in 2019. Loop uses specially made durable packaging from well-known brands and offers an online platform, which features an auto-replenishment ordering system that allows customers to return empty containers after use.
Why should CPG companies be paying attention?
In addition to the widely recognized incentives of meeting consumer demand for sustainability, there are 3 reasons why CPGs should be focused on sustainable packaging solutions:
New revenue opportunities: Over 70% of sustainability-oriented consumers would pay a premium of 35% for sustainable brands, according to an IBM survey, which could allow CPG companies to drive revenue growth by increasing prices. Further, new revenue opportunities exist in the realm of upcycling food waste, which involves creating new food products from leftovers and food scraps. 
Cost reduction: Utilizing sustainable packaging solutions and a circular economy approach can help CPG companies cut costs by acquiring cheaper materials, disposing of less waste, and using less energy. 
Increased investment attractiveness: CPG businesses that are considered leaders in adopting environmental, social, and governance (ESG) practices have an 11% valuation premium over their competitors, according to BCG.
Looking ahead, solutions that target consumer behavior will be crucial to improving the current waste situation in the CPG space. Corporates and startups are already experimenting with approaches that assist and incentivize consumers with recycling. Alibaba, for example, is currently testing an augmented reality app to help consumers sort garbage and recycling to avoid fines. 
Ultimately, given the severity of food and plastic waste, solutions will need to be implemented across the CPG value chain to effectively combat global waste issues.
If you aren't already a client, sign up for a free trial to learn more about our platform.