Platforms offering parenting-related content and advice have taken off in China, attracting billions in funding and millions of users. These platforms could offer an entry point for CPG and food brands.
Chinese child-focused language learning startup VIPKid, valued at $3B, just announced it's expanding its suite of products to include parenting-related content, such as a site to help parents teach their infants to learn English.
Parenting- and maternity-related advice platforms in China have become popular, attracting millions of users and billions in funding.
While the immediate impact is on the parenting and baby tech space, CPG and food brands looking to enter China have an opportunity here as well.
After the baby formula crisis of 2008, which left 6 infants dead from tainted formula, Chinese consumers are still wary of food quality and safety in their country. Approximately 40% of Chinese consumers still feel that food safety is a "very big problem," according to a 2016 study by the Pew Research Center.
This is where parenting-related companies have a role to play.
VIPKid, which has raised over $800M in funding, claims a user base of 500K. Alibaba-backed online parenting platform Babytree claims 200M monthly active users. Babytree has raised $731M at a valuation of $2.2B, and recently filed to IPO on the Hong Kong Stock Exchange. Maternity platform Lamabang, which has raised over $100M in funding, also boasts over 60M users.
Foreign CPG and food companies can leverage the large user bases of these parenting platforms to reach Chinese consumers and offer alternative products that Chinese consumers may find more trustworthy than local brands.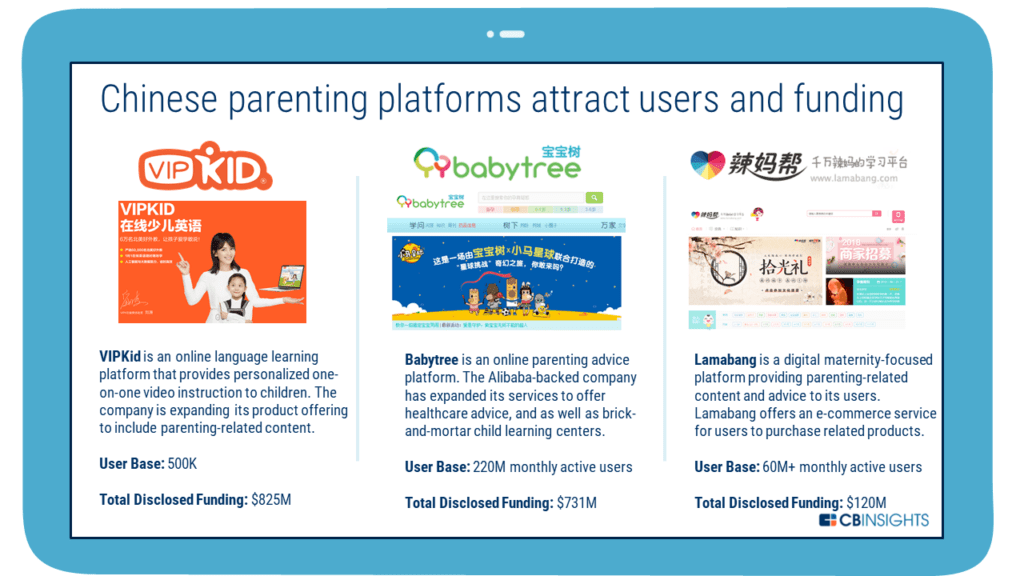 Perhaps more importantly, parenting platforms can provide access to consumers in an environment that is considered safe and reputable by the consumers themselves. If a CPG product is recommended by a popular parenting advice blog, it may be able to build brand loyalty and trust more quickly, as many already look to these platforms for advice.
Nestle has already explored this strategy outside China.
In 2016, Nestle's baby food brand Gerber worked with marketing firm Linqia to partner with 324 online lifestyle advice influencers. Gerber leveraged the influencers' audiences to promote one of its new bean-based snack products for babies through blog and social media posts. According to Linqia, the campaign helped contribute to 5% national sales lift for the product.
CPG brands could leverage the same strategy with Chinese parenting startups.
For example, brands could partner with VIPKid to market their products as preferred study snacks while children are studying new languages.
This year, Lamabang partnered with the Chinese government to create safety guidelines for children's food in light of the 2008 baby formula scandal. The startup also enlisted 10 of the most popular influencer moms on its content sharing platform to officially offer advice to its 60M+ users. Brands could directly partner with Lamabang to be featured by one of their influencer moms to build greater trust and legitimacy.
If you aren't already a client, sign up for a free trial to learn more about our platform.