We analyzed startups that have raised funding since 2016 to identify trending ingredients such as pea protein, spirulina, mushroom protein, and more.
As new food-focused startups are changing the lineup on grocery store shelves, plant-based ingredients are all the rage.
Using CB Insights data, we analyzed food and beverage startups that have raised investment since 2016 to surface 13 trending ingredients, which show up on many of their recipes list:
Probiotics
Pea Protein
Seaweed
Ginger
Turmeric
Matcha and yerba mate
Oats and barley
Chia
Mushroom protein
Chickpeas
Niche Trends: Moringa, Maca, and Monkfruit
Scroll down to view more detailed descriptions of these ingredients, with infographics highlighting the recently funded startups using each one.
Probiotics
Probiotics are live microorganisms that help support digestive health. Traditionally found in yogurt, kimchi, and other fermented foods, startups have been integrating probiotics into beverages, protein powders, and more.
Food incumbents are leveraging the probiotics trend by forming relationships with startups. General Mills' venture fund 301 INC has made several probiotic plays, backing probiotic drink and snack startup Farmhouse Culture and probiotic granola startup Purely Elizabeth. Probiotic beverage startup Revive Kombucha, which recently launched a kombucha/coffee crossover product, attracted $7.5M from Peet's Coffee in August.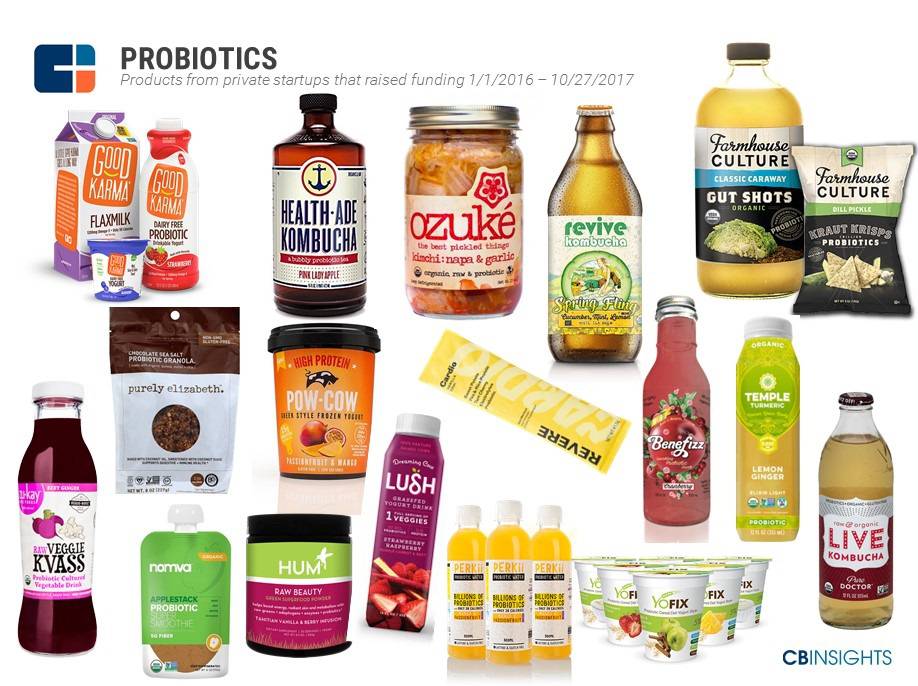 Pea protein
Pea protein may not be as well known yet as whey protein or soy protein, but it has gained traction among startups such as Ripple Foods. Pea protein has no dairy, which makes it easier to digest than whey protein for many people. It is also gluten-free.
We see pea protein showing up in protein supplement startups, such as Skoop and Revere; low calorie ice cream, such as Wink; and even in Beyond Meat, which sells its plant-based meat substitutes in dozens of top grocery chains throughout the US. Traditional meat leader Tyson backed Beyond Meat in late 2016 (through Tyson New Ventures), and the startup recently added Leonardo DiCaprio to its list of investors.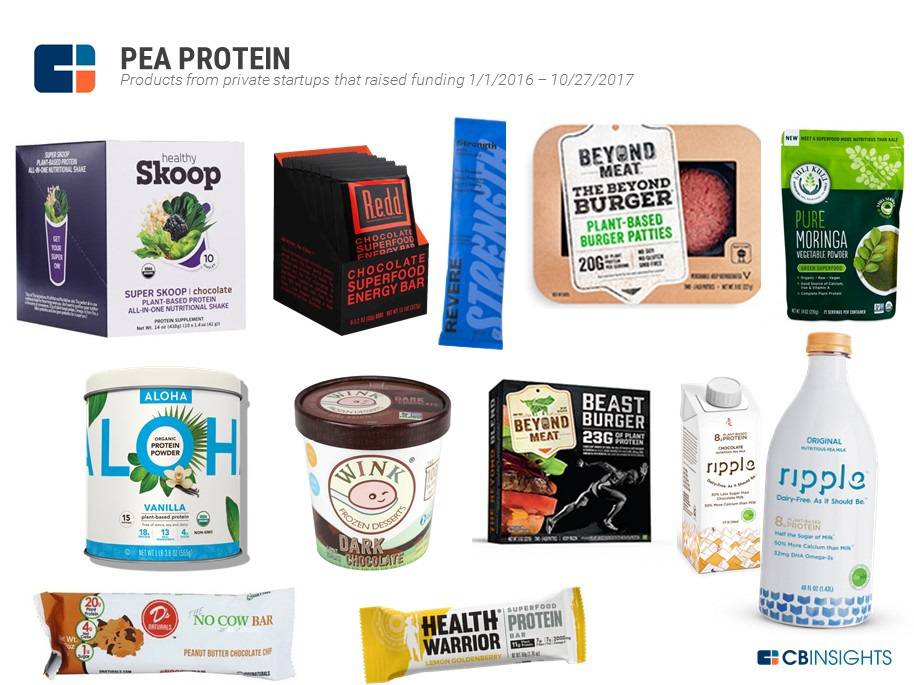 Seaweed
Seaweed is good for more than sushi. Startups are using seaweed, algae, and spirulina (a type of algae high in protein, amino acids, vitamin B, and iron) in a variety of plant-based products. UK startup Oppo even uses spirulina in its high-protein, low-calorie ice cream. Other startups, such as Hum Nutrition and Moon Juice, more directly emphasize seaweed's nutritive value by offering it in powder form.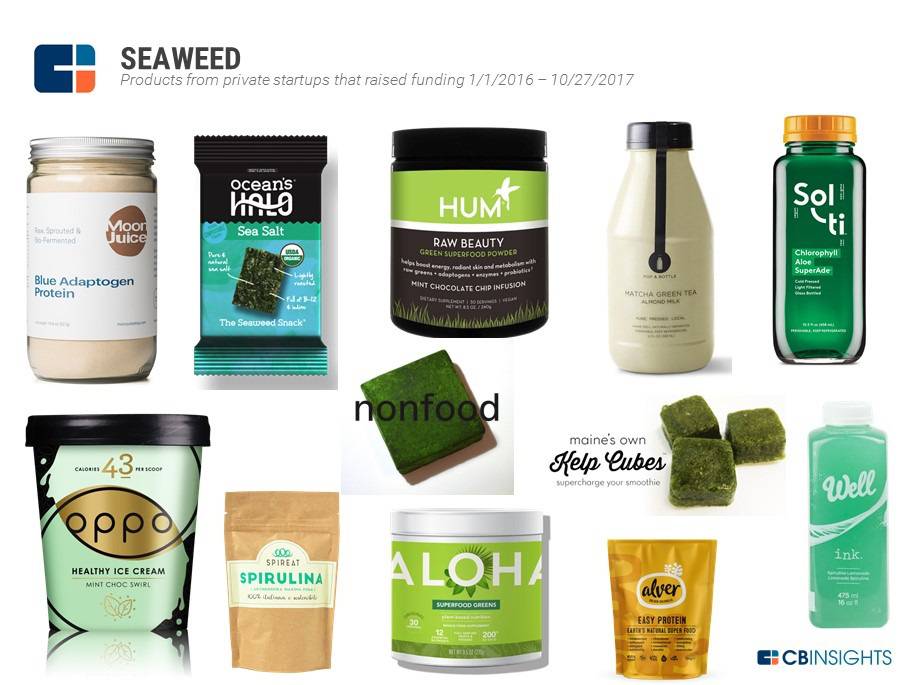 Food & Beverage Startups
Startups working on new foods and beverages have the potential to change how and what we eat. Look for Food & Beverage Startups in the Collections tab.
Track food & beverage startups
Ginger
Many recently funded startups use ginger to add spice and increase health benefits. Ginger reportedly has anti-inflammatory properties, and can support digestive health. Many probiotics startups — including Humm Kombucha and Farmhouse Culture — use ginger in flavoring. We also see ginger adding spice to energy drinks, such as Kill Cliff and CORE.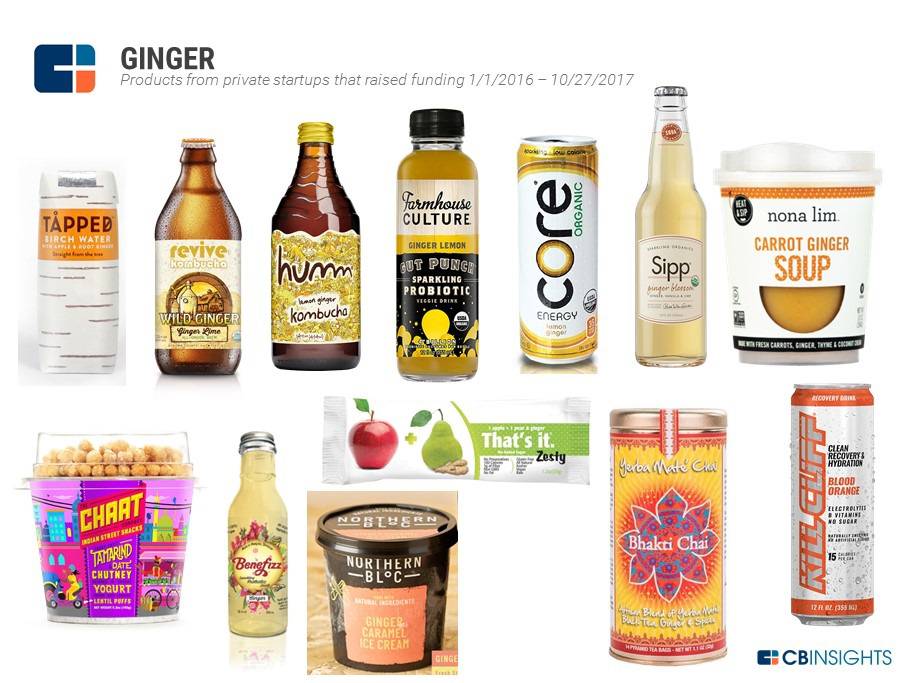 Turmeric
Like ginger, turmeric combines bold flavor with health. A number of startups have added turmeric to bone broth, coffee blends, and more. Turmeric is traditionally common in Indian foods, and startups such as Bandar Foods (condiments) and The Chaat Company (yogurt) take Indian flavors as inspiration. Other startups, such as REBBL, emphasize turmeric's health benefits in their products. good culture, which aims to promote single-serve cottage cheese as a snack food, uses turmeric in several of its flavors to add spice.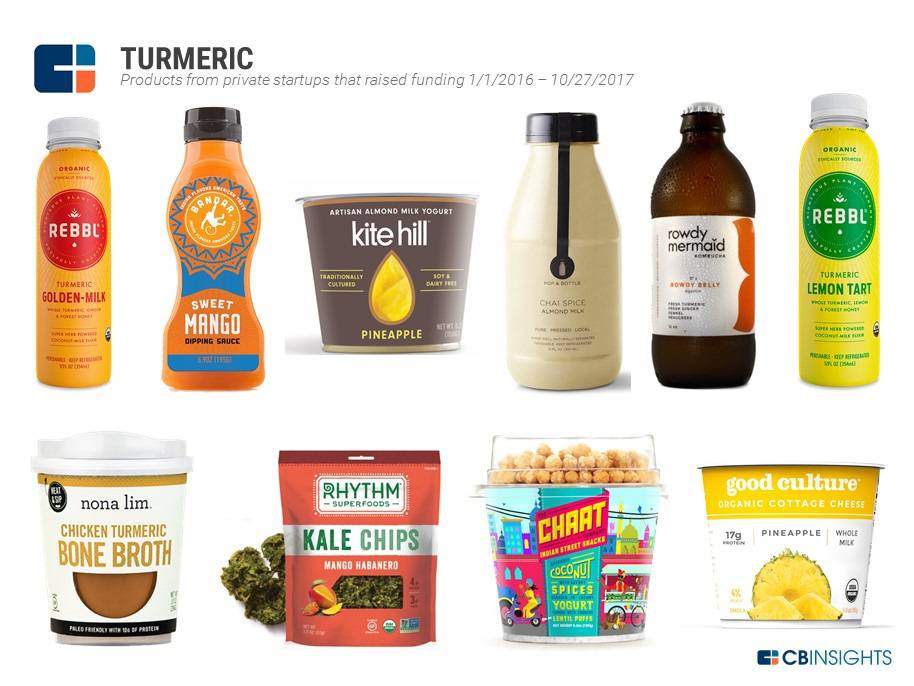 Matcha and yerba mate
Matcha and yerba mate are meeting consumer desire for healthy energy. Matcha, a powdered form of green tea, combines antioxidants and caffeine with an Instagram-friendly bright green color that's pushed it onto coffee shop menus over the past few years.
Many beverage startups now offer ready-to-drink matcha lattes, including REBBL. MatchaBar, which recently added singer Drake to its investor list, operates matcha cafes and sells bottled drinks. Other startups, such as detox beverage brand Dirty Lemon, focus on matcha's metabolism benefits.
Yerba mate, which hails from South America, is a tree leaf high in caffeine. Startup Guayaki aims to introduce American shoppers to yerba mate through flavored energy drinks, while startups like Revive Kombucha combine the ingredient with probiotics.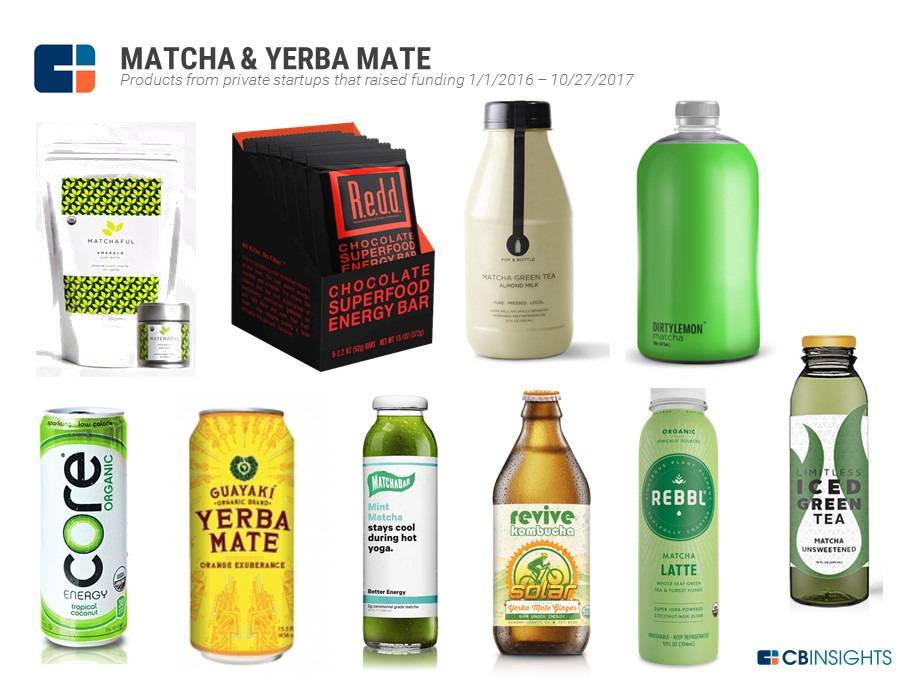 Oats and barley
Startups are aiming to reinvent oatmeal and use oats in unexpected ways. Powerful Yogurt, for example, sells packaged oatmeal with added protein marketed to athletes, while Grainful makes oat-based, gluten-free frozen meals. Unlike oats, barley does contain gluten. Startups such as Canvas are promoting barley as a healthy, sustainable source of protein and fiber.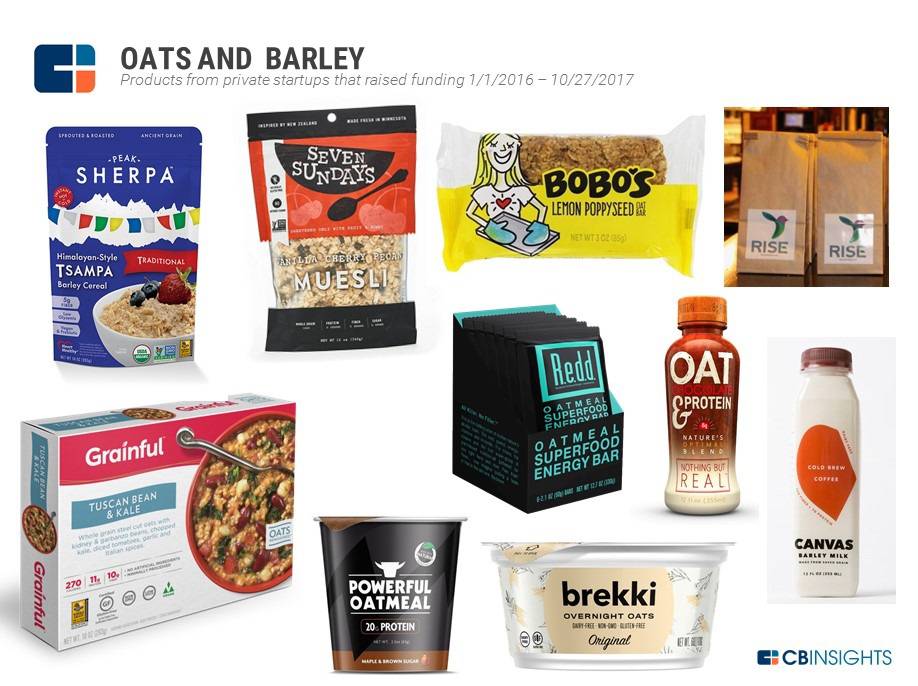 Chia
Chia seeds contain protein, antioxidants, and calcium. Startups are using chia seeds to add texture to yogurts and sauces, as well as to add protein to bars. KNOW Foods, which sells gluten-free breads and raised $12M in September, combines chia seeds with flax seeds and coconut flour in many of its products.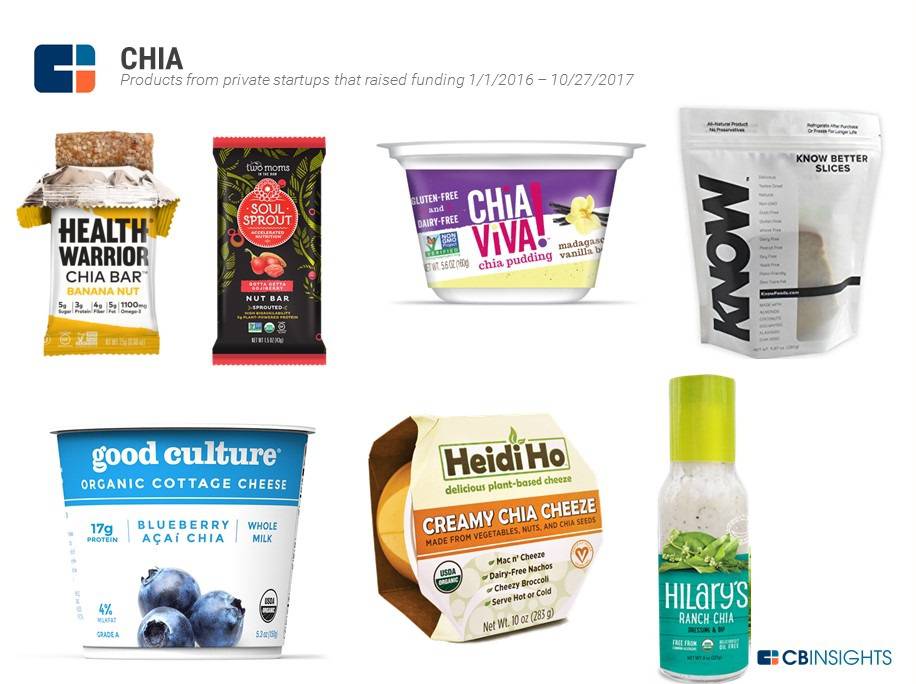 Mushroom protein
Mushrooms aren't typically associated with sweet foods. However, startups are integrating reishi and other mushrooms into coffees, vanilla protein powders, and drinkable meals. Startup MycoTechnology — recently backed by Kellogg's fund Eighteen94 Capital — uses mushroom molecules to create a vegan protein source.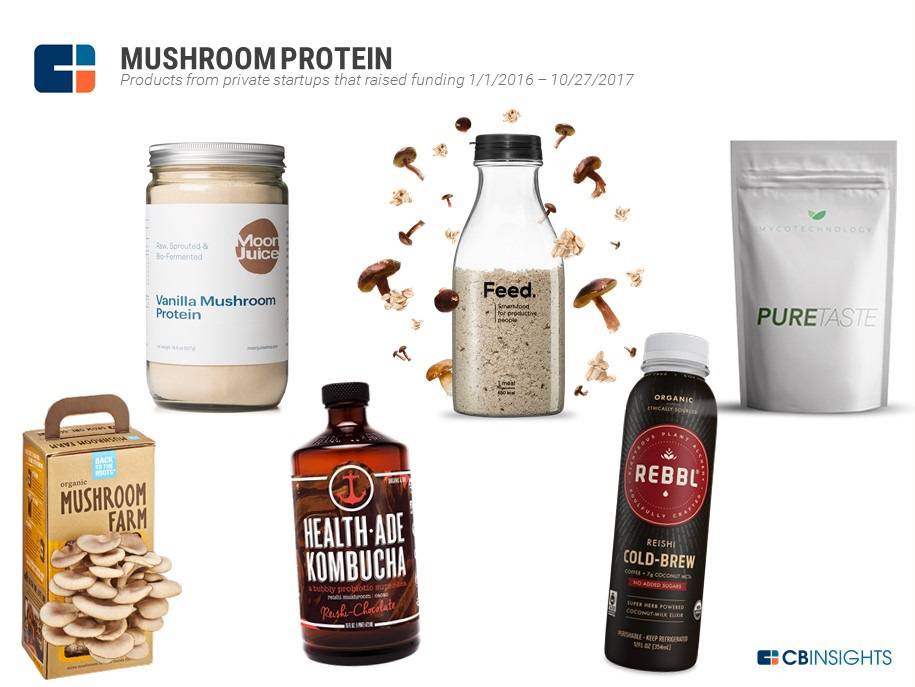 Chickpeas
Pulses (a category that includes beans, peas, chickpeas, and lentils) have become a valued source of plant protein for the food industry. Pulses are high in protein — meaning they can be a good substitute for meat — and are gluten-free, soy-free, and dairy-free.
Among pulses, chickpeas have gained particular traction due to their flavor and creamy texture. Startups like HungryRoot use chickpeas' creaminess to create cookie dough substitutes, while startups like Banza use chickpeas for a high-protein pasta substitute.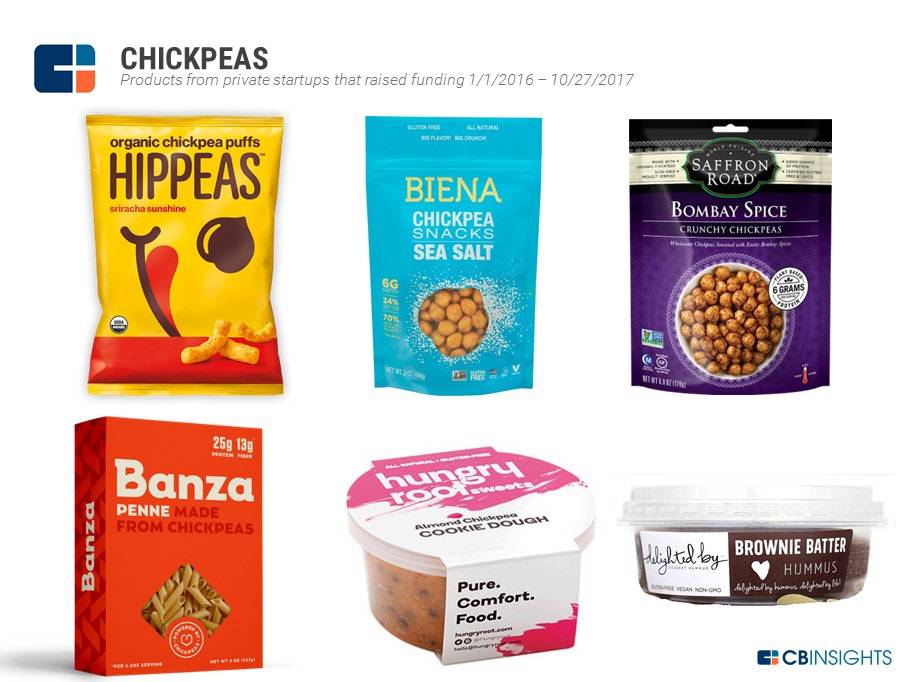 Niche trends: moringa, maca, and monkfruit
Among food startups that recently raised funding, we see experimentation with flavors from South America and Southeast Asia.
Moringa — a plant native to India — contains protein, vitamins, and antioxidants, and startups such as Kuli Kuli have begun to push moringa as a "superfood" in the US. Monkfruit, also native to South Asia, serves as a no-calorie sweetener for startups like Aloha. Maca root, a traditional food and supplement in Peru, has been said to give energy and aid the immune system, and is beginning to be used by early-stage beverage and protein bar startups.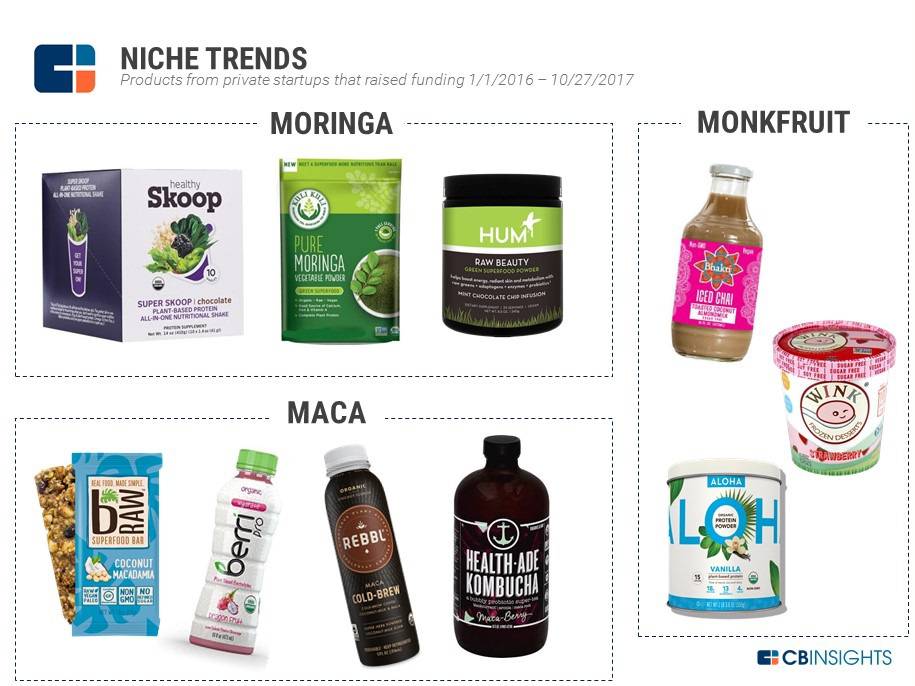 Business social graph
We used the CB Insights Business Social Graph tool to create a visualization of investment into the most well-funded startups highlighted in this post.