As CPG leaders struggle to sell directly to consumers, they should consider working with Uber, Airbnb, and other sharing economy giants.
Investors have poured billions of dollars into the so-called sharing economy since 2010.
Over this same period of post-recession transformation, brick-and-mortar retail has struggled.
US mall vacancies are at 7-year highs, regional grocery chains have faltered, and e-commerce makes people less likely to go out of their way to visit centralized shopping locations.
CPG brands need to go to shoppers, rather than waiting around for shoppers to come to them.
The sharing economy represents an untapped opportunity for them to reach out.
We see room for CPG brands to grow through:
Home-sharing — Airbnb boasts roughly 5M home listings across 18K cities. Many of these listings are relatively professional, offering elaborate amenities, working with cleaning services, and farming out the management to third-party companies like Airagents or Pass the Keys.
But, the CPG world hasn't yet taken much advantage.
CPG brands could sell products to Airbnb hosts at bulk rates or offer them free samples of new products to distribute. They could even incentivize hosts to put out product info for guests to see.
Luxury brands are increasingly using hotels to showcase their products, including Versace, Shinola, and Yves St. Laurent. The more personal nature of Airbnb could make it a better bet for CPG brands.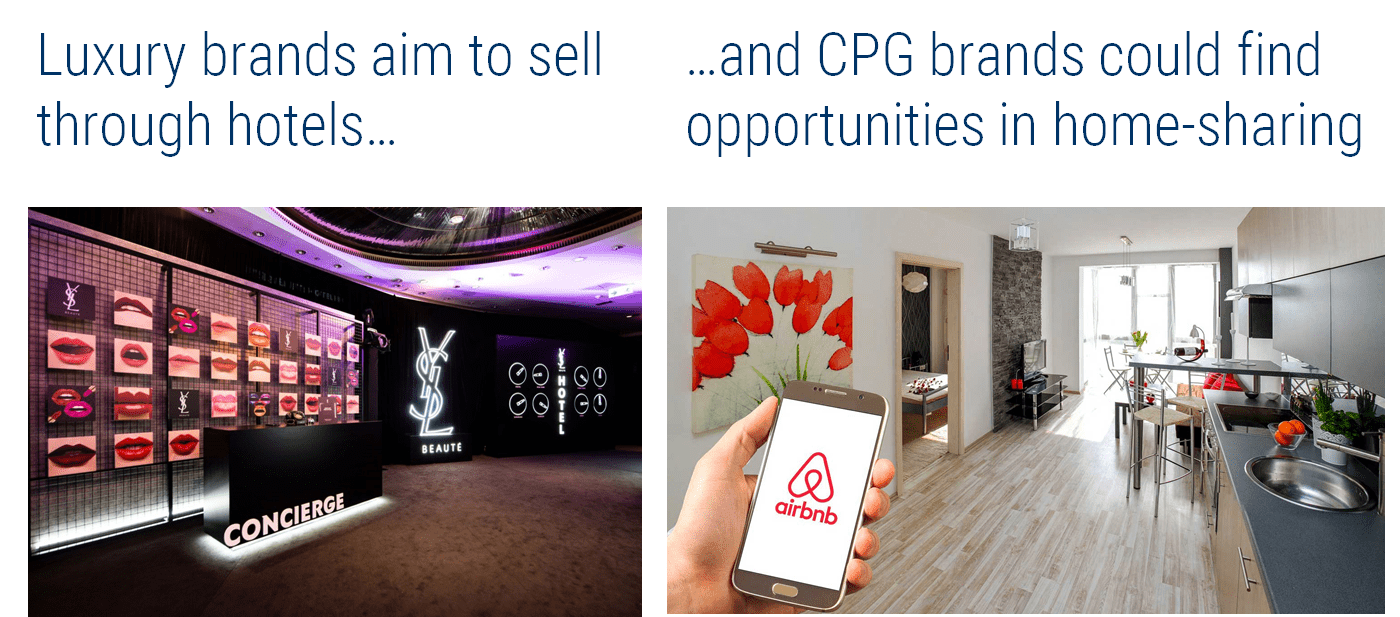 Ride-hailing — Uber, for better and certainly for worse, has become a poster child for the sharing economy. Now, billions of dollars in funding later, CPG has begun to try to leverage the ride-hailing sector.
Most basically, they're doing so through marketing. Last week, startup Firefly raised $21.5M and launched a digital advertising platform for ride-hailing drivers; Firefly will install digital screens in cars, and let drivers make money from brands by displaying ads.
Ride-hailing cars can also become points of sale. NY-based Cargo, one of the early players here, lets drivers put mobile-operated kiosks in their cars selling snacks, drinks, and other products. Cargo works with Kellogg's, Mondelez, Advil, and other CPG leaders, and has officially partnered with Uber in the US and Grab in Singapore.
Both Cargo and Firefly emphasize the data they can provide to brands about shoppers' locations and habits.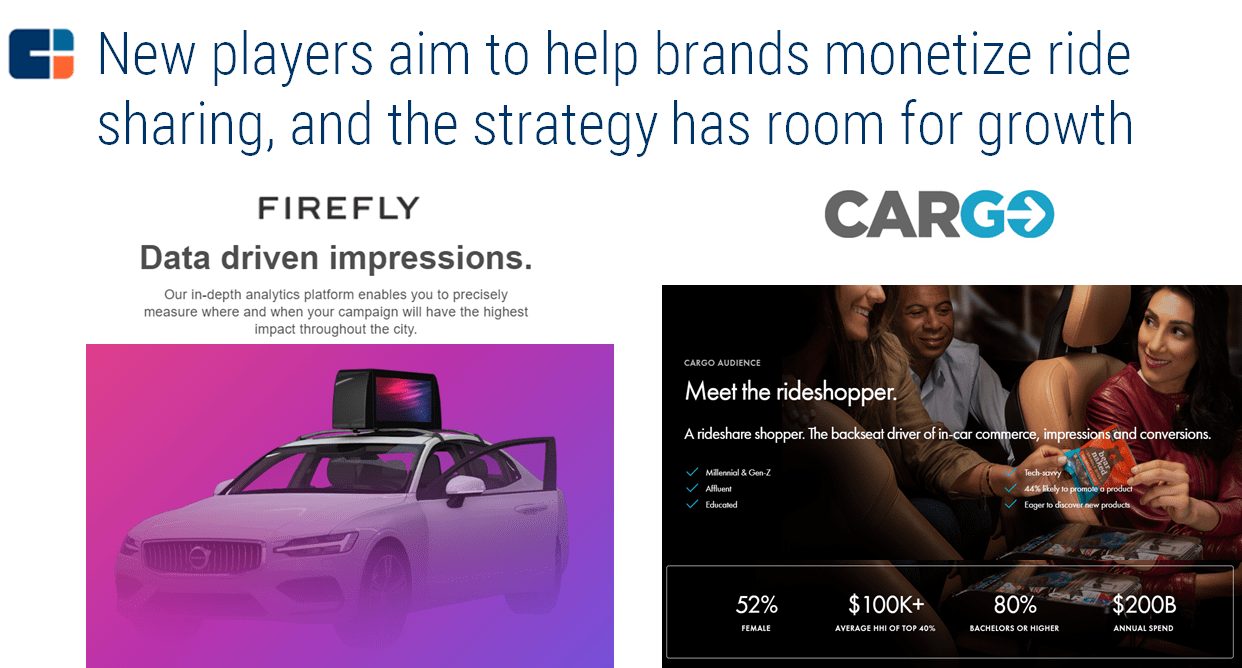 Pet care — The dog food wars are heating up among big companies. General Mills acquired Blue Buffalo in February for $8B, Nestle's doubling down on Purina, and Mars launched a $100M pet care fund.
In the startup world, investment giant SoftBank poured $300M into Wag, a P2P dog-walking marketplace, in January. The deal brought Wag's total funding to $361M, while rival Rover has raised $311M.
Brands face more competition, while startups feel pressure from investors to monetize. The two sides could help each other. Of course, companies could incentivize dog walkers to promote certain products.
Further, dog-walking apps collect user data about dog sizes and breeds. They could feed this data to brands, which could pitch personalized dog foods directly to the consumers.
Household tasks — Ikea acquired TaskRabbit last year, a sharing economy leader which, not coincidentally, many used to hire workers to assemble their Ikea furniture.
Meanwhile, Amazon has been building up its own home services business.
As legacy CPG brands struggle to sell directly to consumers, they could use service providers as in-home sales reps, free sample providers, and more. The model could also help brands gather data about people's at-home habits (privacy concerns notwithstanding).
Office-sharing — People are spending more time at the office and less at centralized shopping locations.
Brands need to be there too.
A new crop of startups is delivering emerging CPG products to offices, helping these new brands a) get their foot in the door, and b) test out new products and flavors in a controlled environment.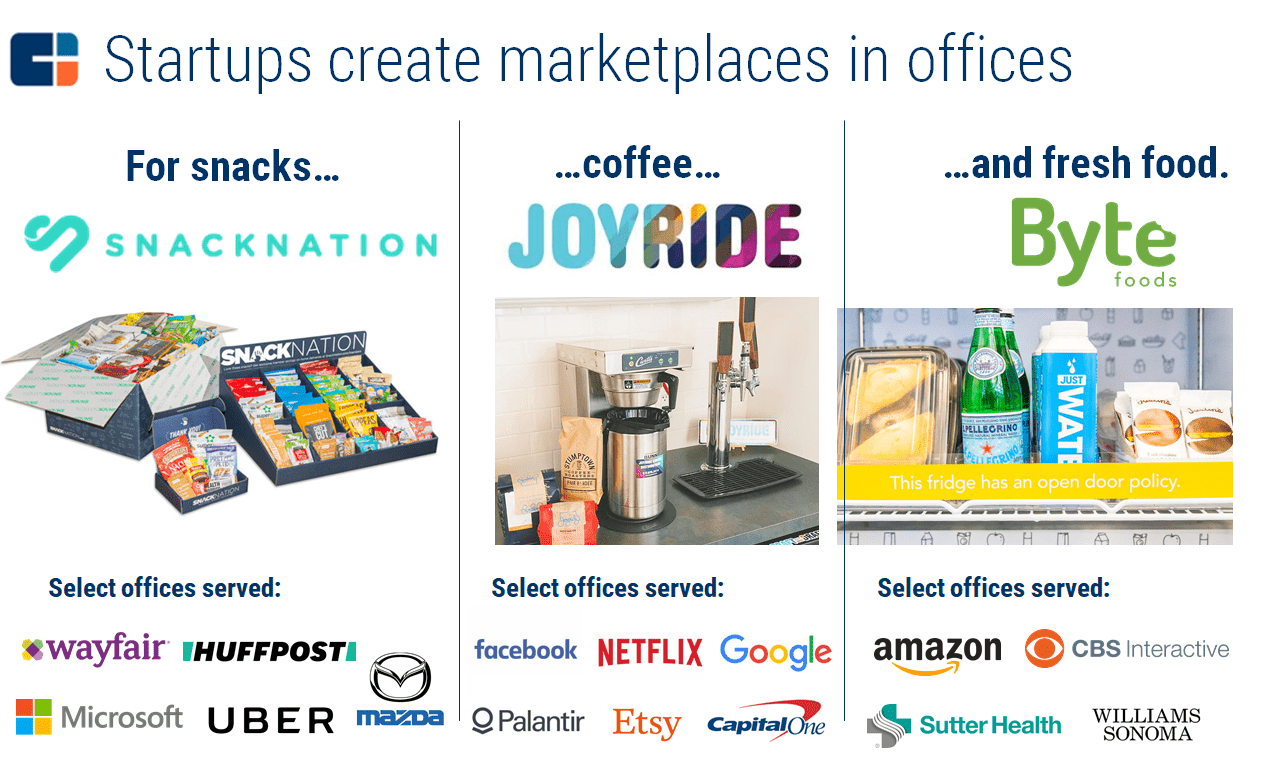 WeWork — under serious pressure to find new revenue streams to justify its sky-high valuation — has also moved deeper into CPG/retail. This year, it launched WeMRKT, a new storefront inside its offices, and WeWork Labs, which incubates new startups in CPG and other sectors.
(Last week, WeWork even posted a now-deleted job listing for a director for a new Food Labs business).
For brands, WeWork and other co-working providers could become valuable partners to promote products, sell products, and gather data on workers' eating and drinking habits.
This content first appeared in our CPG Insights newsletter. Sign up here to get a weekly rundown on the top news & perspectives in CPG.
If you aren't already a client, sign up for a free trial to learn more about our platform.