No one's using Amazon Alexa for shopping, and voice commerce hasn't yet gone mainstream. CPG brands are considering other IoT solutions to support at-home shopping.
Alexa's feeling lonely.
Last week, a report from The Information found that only 2% (roughly 1M people) of Amazon Alexa users have shopped for products in 2018 using the voice interface.
Of those, only 10% (10,000 people) had positive enough experiences that they shopped on Alexa more than once.
Clearly, Alexa isn't yet the game-changer that CPG brands have feared.
The smart speakers still offer Amazon valuable footholds into shoppers' homes. Alexa may not yet be a meaningful, direct revenue driver, but it's still gathering data on people's offline activities and keeping the Amazon brand top of mind for people relaxing at home. And the newly announced Whole Foods integration could give its shopping features a boost.
Is voice just a stepping stone?
Voice ordering still requires shoppers to do just that — speak up.
Ultimately, Amazon can use the decades of data it will have collected to bypass the need for shoppers to actively order products; instead, it can begin to automate subscriptions based on shoppers' personal usage schedules, or to proactively notify shoppers about products they might like or need.
Major consumer companies including Target, Walmart, and Procter & Gamble have all looked into reducing the need for people to actively shop by predicting their needs using emerging technologies. Using the CB Insights patent engine, we surfaced a few strategies under consideration.
1. The smart appliance
Amazon, GE, Samsung, and others have been discussing smart appliances for years — smart refrigerators that can automatically re-order food, smart dishwashers that can automatically re-order detergent, and even smart printers that automatically re-order ink.
Recently, we picked up an Amazon patent application for a sniffing fridge — a smart refrigerator that could "smell" spoiling food and, potentially, automatically order replacements.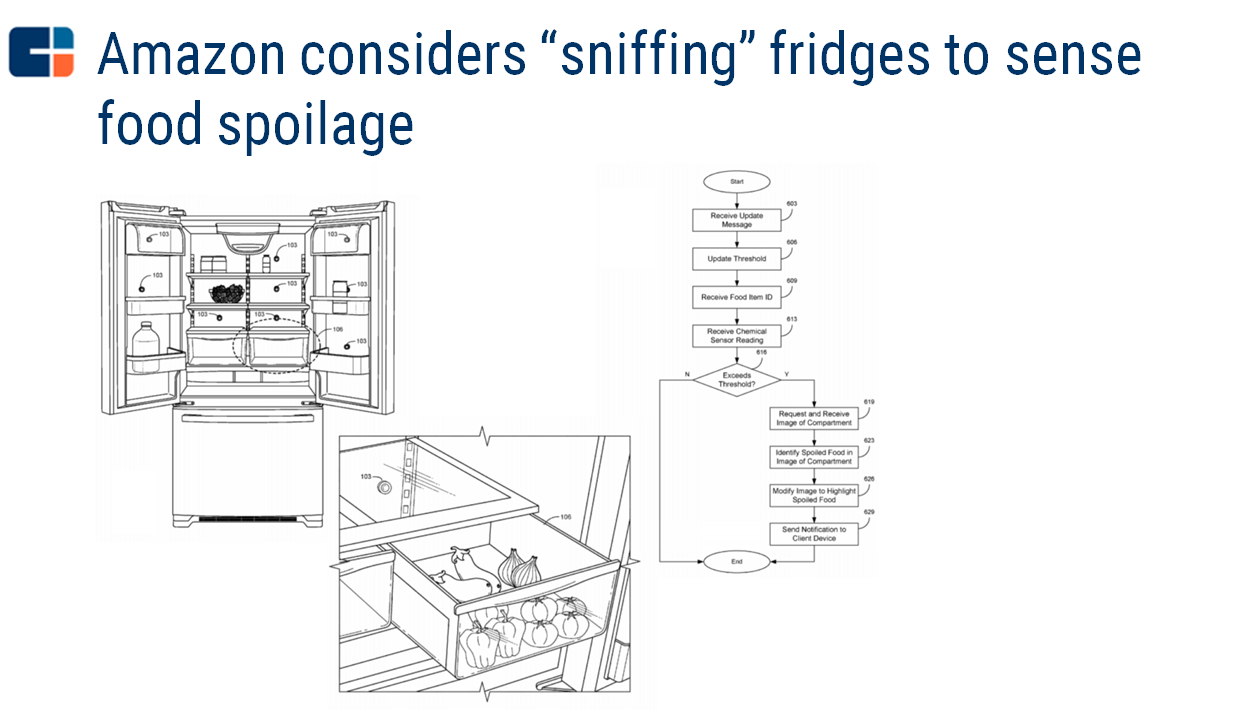 2. The connected tag
Procter & Gamble filed a patent application for IoT tags that detect when a product is nearly used up and can automatically order refills.
This option would be easier for consumers as it wouldn't require them to buy a whole new appliance.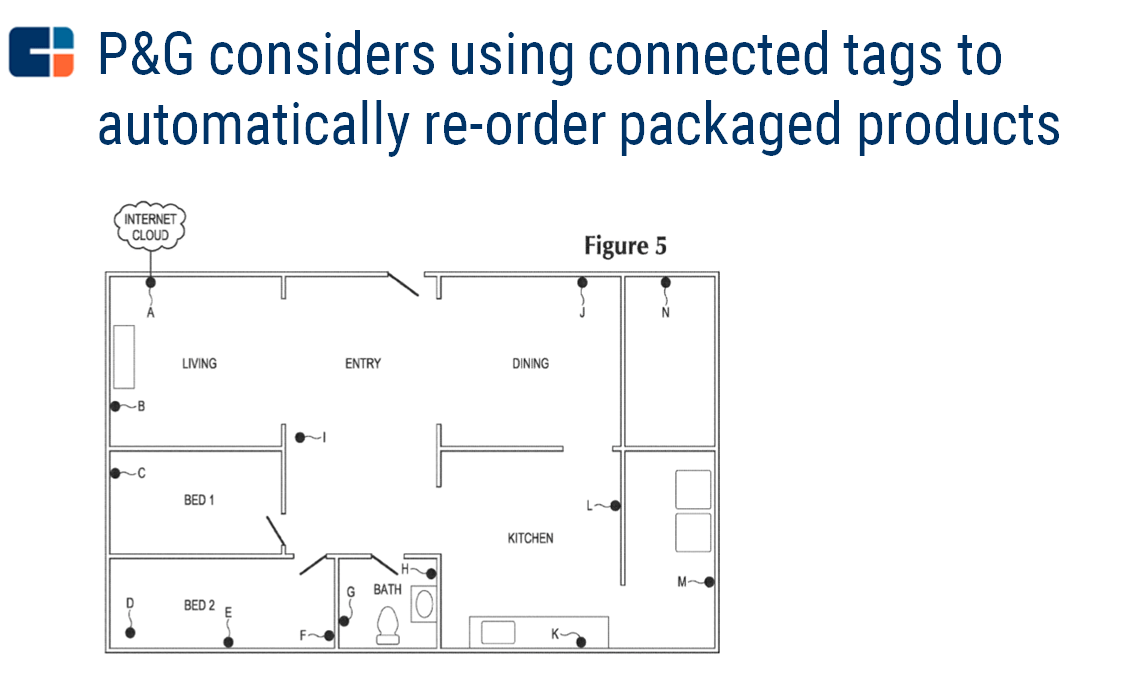 P&G's method would be similar to that of Water.io, which we discussed in more detail here.
3. The drone-powered minibar 
This model is, perhaps, the most futuristic. In a patent application filed last year, Walmart envisions an "unattended retail storefront," stocked with unsold goods, installed in people's homes and connected to a portal that would allow drones to restock the storefront from the outside.
The drones would use data to predict what shoppers might want and proactively fill the storefronts. Then, just like a hotel minibar, users would only be charged by Walmart once they picked up the products.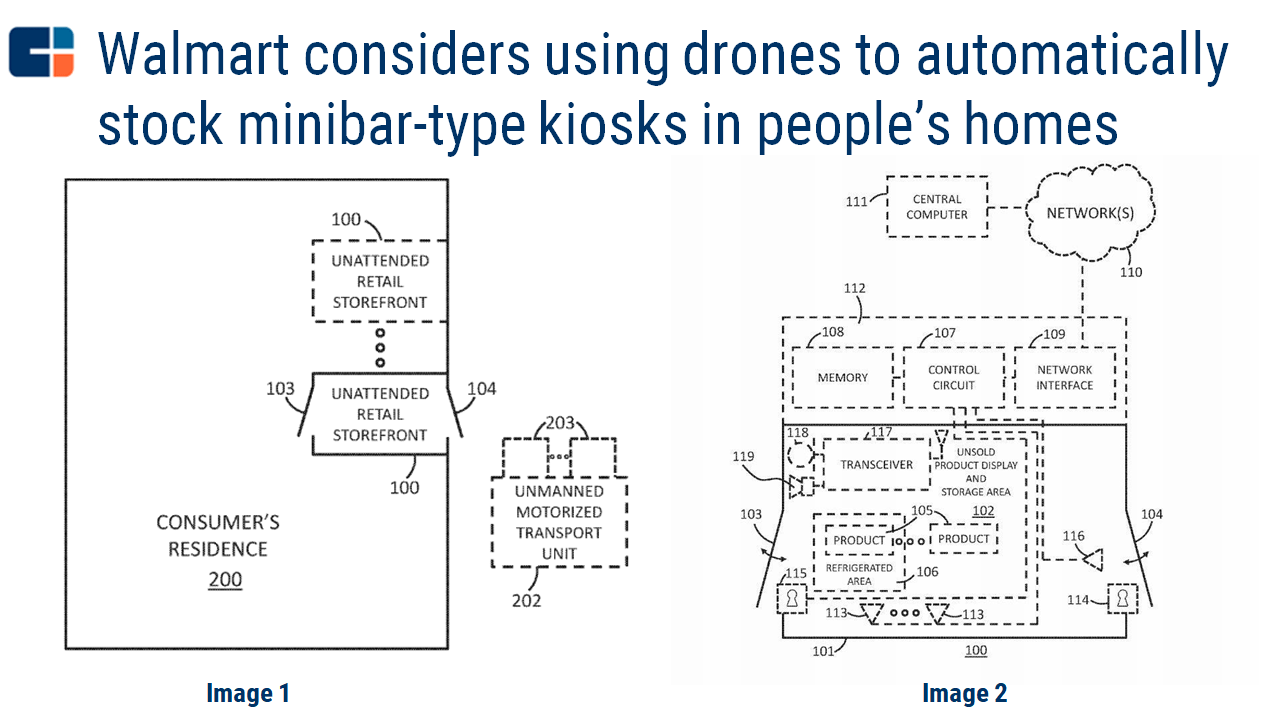 This content first appeared in our CPG Insights newsletter. Sign up here to get a weekly rundown on the top news & perspectives in CPG.
If you aren't already a client, sign up for a free trial to learn more about our platform.