The pandemic has driven governments, industry players, and tech incumbents to adapt and innovate healthcare initiatives in the face of surging demand.
As Covid-19 continues to roil the globe, healthcare stakeholders and tech giants alike have adapted to the crisis by increasing product offerings, adjusting regulatory policy, and forging collaborative partnerships.
We take a look at how the coronavirus pandemic has shaped the state of healthcare, and which initiatives are here to stay.
1. Insurers waived out-of-pocket expenses for Covid-19
Major health insurers, including Cigna and Humana, waived co-pay expenses for coronavirus treatment at the advent of the pandemic. In the immediate short-term, insurers will need to adapt customer acquisition and support strategies given a consumer base with a high unemployment rate. They may also need to offer supply-side relief to maintain a provider network that is suffering financial distress.
Employers, which insure nearly half of all Americans, will likely need to follow suit with expanded healthcare benefits for testing and treatment when the country begins its recovery.
2. Life science stakeholders forged partnerships with each other 
Life science players, such as Johnson & Johnson and Pfizer, formed partnerships to help develop testing, vaccines, and medical equipment by leveraging each other's respective expertise. Should these alliances accelerate success in R&D and clinical trials, these collaborations may continue post-pandemic. Pfizer and BioNTech, for example, have already launched clinical trials for a Covid-19 vaccine in the US and Europe.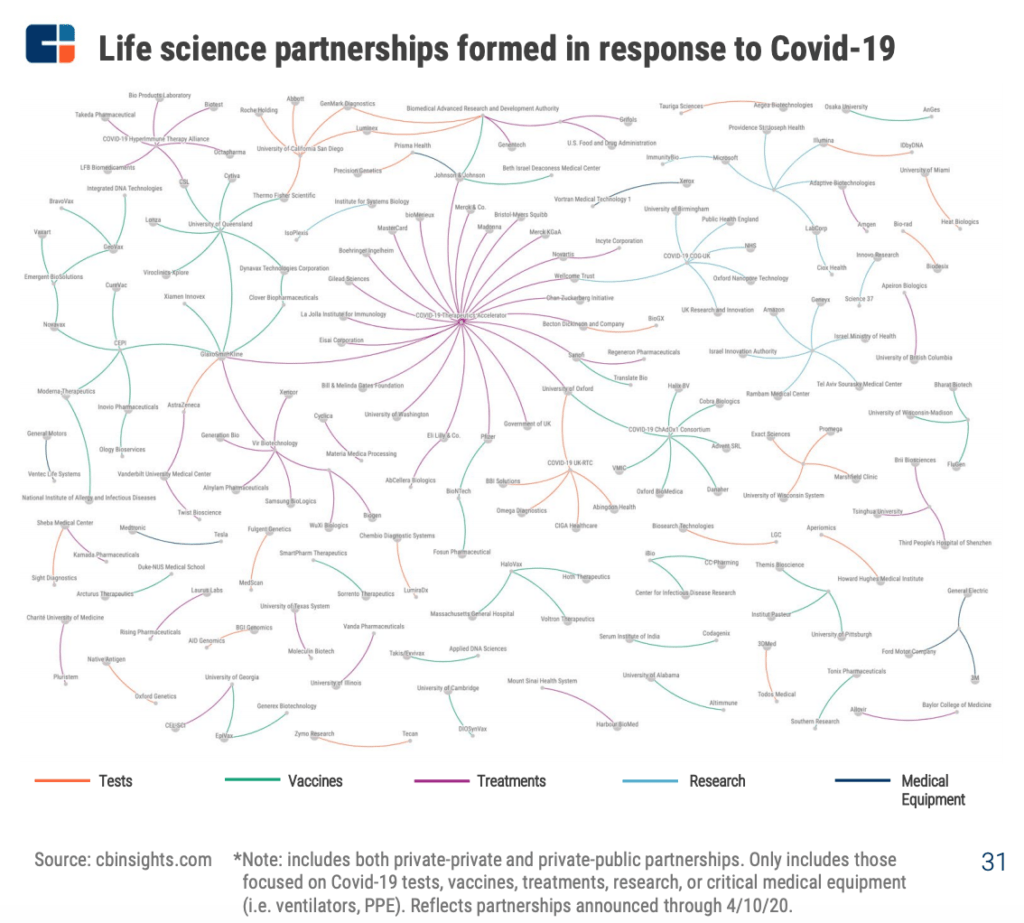 3. Automakers allied with medtech to boost production
Unlikely partnerships between automakers and medtech companies were formed amid the pandemic as well. For example, General Motors delivered its first batch of ventilators produced in conjunction with manufacturer Ventec Life Systems in mid-April as part of a contract inked with the US government to produce 30,000 ventilators.
These types of alliances are only possible due to a drastic drop in demand for motor vehicles as people remain self-quarantined, leading to excess capacity in auto factories. Thus, these partnerships are likely to dissolve moving forward as auto demand resumes.
4. Tech giants joined forces on surveillance & supercomputing
Tech giants joined forces with each other — as well as with governments and researchers — to track the spread of Covid-19. The data and computing capabilities of these major tech companies enable solutions that can be easily scaled. For one, Apple and Google partnered to develop a contact tracing platform that aims to notify users if they've come in contact with someone diagnosed with the coronavirus.
Concerns about accountability and privacy in these partnerships will need to be addressed going forward. How these tech giants handle the Covid-19 crisis — and the data collected from their tech-enabled solutions — will impact the role of tech incumbents in future local, state, and federal public health responses.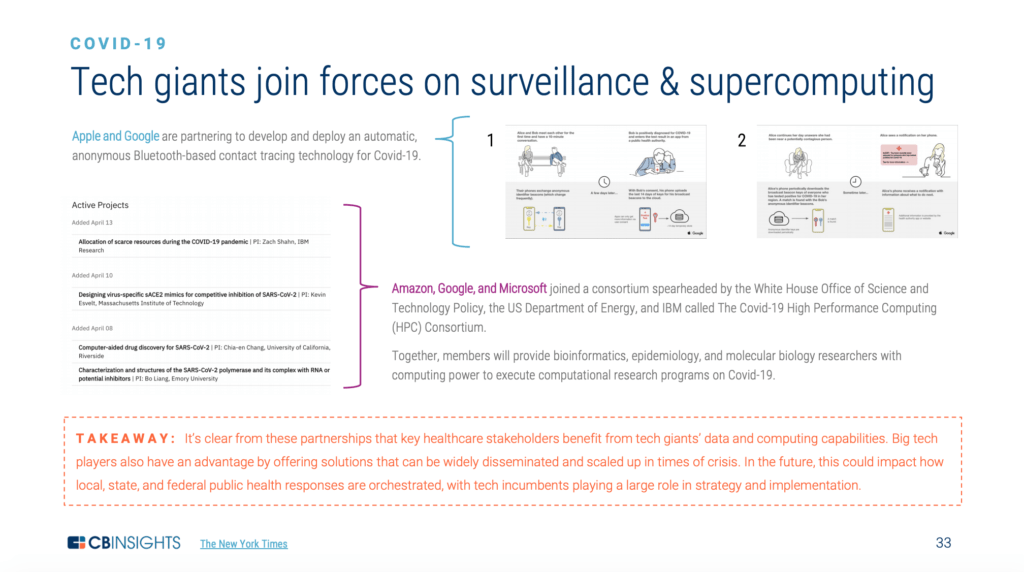 5. The pandemic has prompted telehealth expansion initiatives
Finally, telehealth usage — on the part of both patients and providers — skyrocketed amid Covid-19. Though this acceleration in usage will likely decline post-pandemic, the increase in telehealth initiatives from Covid-19 forced providers to expand their offerings and patients to embrace the technology. However, the question of post-pandemic reimbursement policy remains and could influence what types of services users shift toward. Those without coverage could see more value in telehealth services because of greater convenience or affordability (e.g., in using asynchronous, text-only platforms).
Take a look at all the underlying data and more insights in our State Of Healthcare Q1'20 Report: Investment & Sector Trends To Watch.
If you aren't already a client, sign up for a free trial to learn more about our platform.