From selling directly to consumers to providing low pricing options, these companies have built durable business moats based on cost-related advantages.
For more than 50 years, IBM's dominance in computing created a business environment where switching to an IBM competitor was almost unheard of.
The company set out to invent an interoperable mainframe that would make it cost-effective for companies to stick with over long periods of time. Customers could upgrade to it without having to rewrite all their software and they could add more processing power without having to buy a whole new machine — making IBM a favorable (and economical) choice among its competitors.
However, the advent of cloud computing, which has made operating systems, software, applications, and services into a commodity, has led to the erosion of IBM's stronghold.
Now, companies are increasingly turning to cloud providers like Amazon Web Services for the services IBM provided. Amazon, in turn, has scaled its cloud platform and services such that its low-cost, high-capability services have made it an attractive offering compared to competitors.
Below, we look at how some companies have used cost to build a strong competitive advantage (or business moat) to fuel growth and dominance across their respective industries.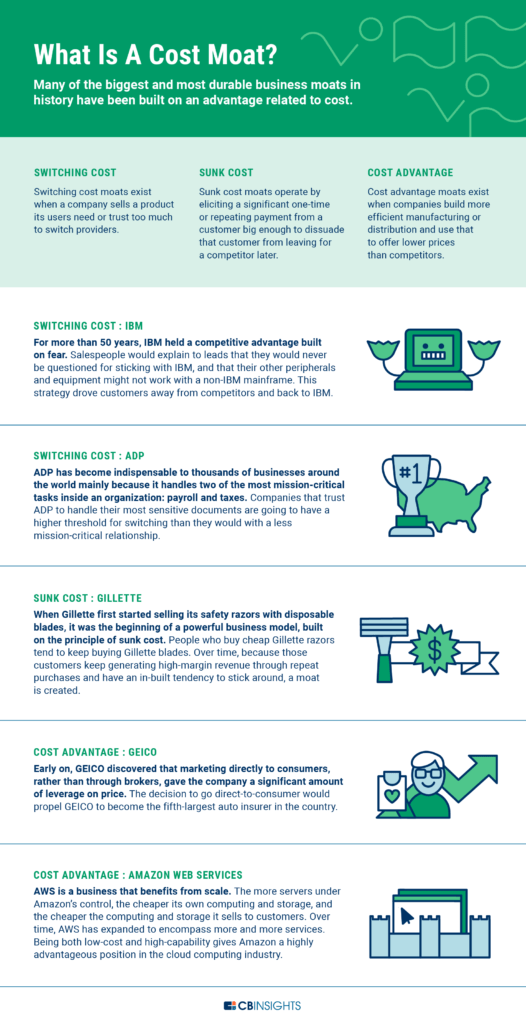 For more on business moats, check out CB Insights' report: 19 Business Moats That Helped Shape The World's Most Massive Companies.
If you aren't already a client, sign up for a free trial to learn more about our platform.