The venture capital arms of big corporates like Citi, Salesforce, Tencent, and NVIDIA have each made several investments in the AI space.
In every year since 2012, corporate VCs have engaged in escalating levels of investment activity to artificial intelligence startups. The trend is poised to reach an all-time high in 2017: in the first half of this year, the venture capital arms of corporations participated in $1.8B worth of disclosed equity funding across 88 deals to private AI companies, already exceeding last year's funding total.
If the pace of CVC financing continues, AI startups will see 166 deals in 2017, for a nearly 30% increase from last year's total of 128 deals.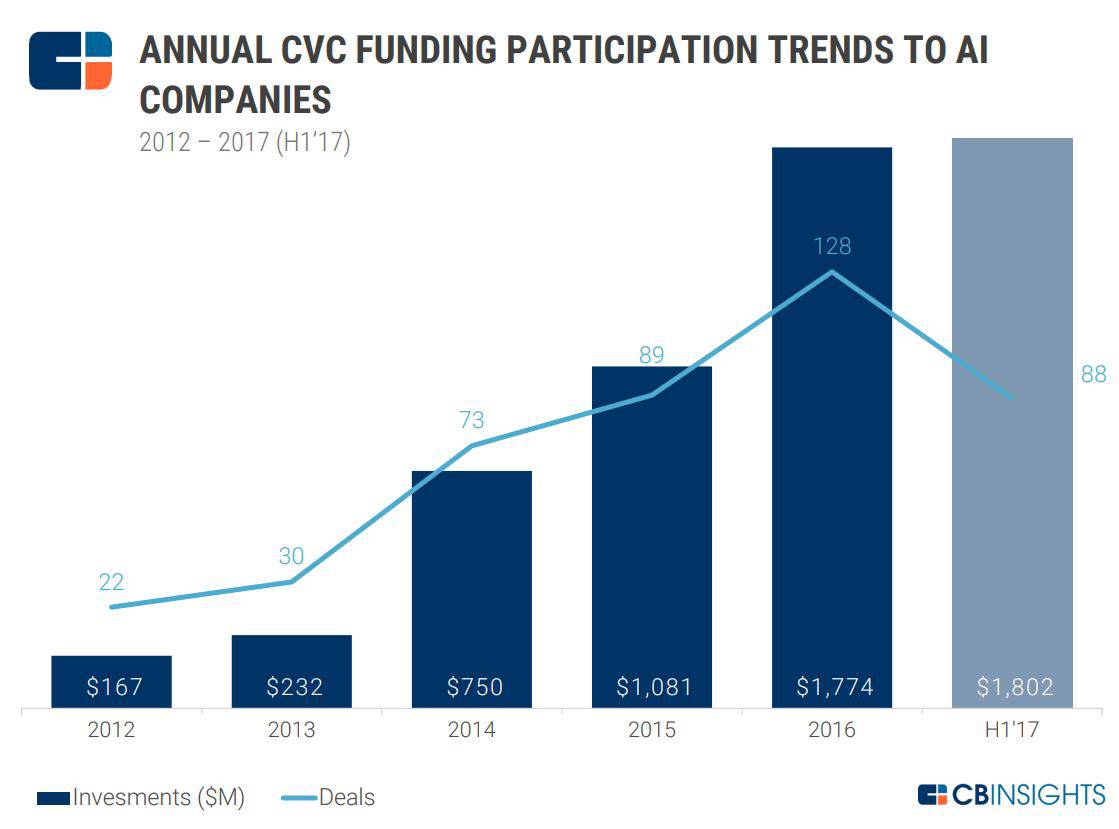 With all the attention AI startups are receiving from corporate investors, we used CB Insights data to take a closer look at what AI sub-sectors are earning CVC investments:
AI for cybersecurity: In our H1'17 Global CVC report, we found that a full 13% of corporate venture AI deals had gone to cybersecurity-focused AI companies since Q1'12, making it the AI subsector with the highest level of CVC investment activity (exclusive of AI companies working horizontally across multiple verticals).
AI for healthcare: 10% of deals went to healthcare, ranking it the second most active subsector. AI for IoT and business intelligence/analytics tied for third, each netting 9% of the total CVC-AI deal share since Q1'12.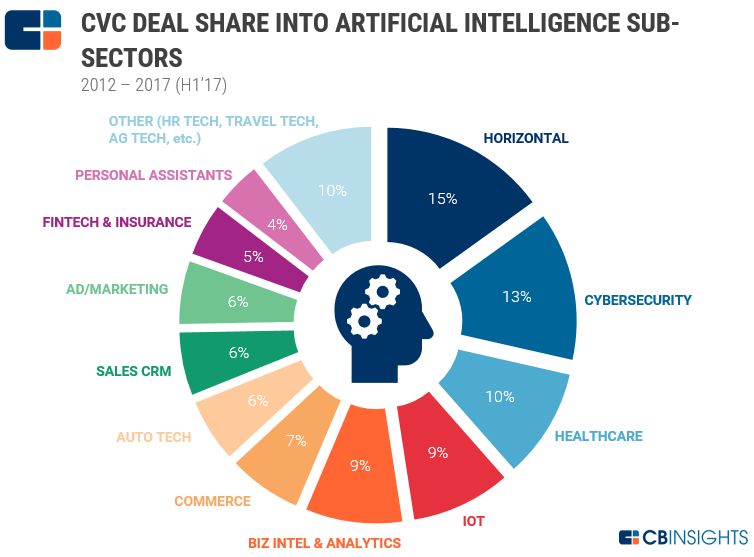 Across each of the categories above, typical deal sizes, stages, and geographies varied as widely as industries did.
To provide greater context around what CVCs have considered notably "investment-worthy" areas across each AI subsector over the last 5+ years (as well as to highlight what VCs and private equity firms they have invested alongside), we've spotlighted the largest deals with corporate or CVC participation since Q1'12 (by size of round) in each category labeled above.
A few key trends emerged from our analysis: for one, many of the largest deals in each AI subsector happened at the Series C or D stage, and/or represented the first time the startup saw CVC or corporate participation — suggesting that corporates and CVCs are jumping in at the mid- to late-stage point in the startup lifecycle.
Citi Ventures, Salesforce, Tencent Holdings, and NVIDIA GPU Ventures were frequently spotted in the deals we investigated, while VC firm Kleiner Perkins Caufield & Byers and private equity firm Warburg Pincus were common co-investors.
The list below explores each of the top deals sector-by-sector in order of deal size, beginning with the largest CVC-participated AI financing round in our entire database.
---
Auto Tech AI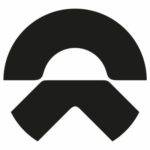 Company: NIO
Largest Deal with CVC Participation: $600M, Series D, Q1'17
Corporate Investors in the Round: Baidu Capital, Lenovo Ventures Group, Tencent Holdings
Shanghai-based NIO (蔚来汽车, formerly NextEV), a manufacturer of smart, electronic, and autonomous vehicles, is aiming for Tesla-style success in the Chinese market. With its EVE concept car, NIO intends to have its passengers interact with an "artificial intelligence engine," called NOMI, to control the vehicle.
The $600M Series D round closed in March 2017 — which landed the startup a double unicorn valuation of $2.9B — accounts for half of the company's $1.2B in total funding.
The corporate and CVC investors that participated in the round don't come from the auto industry; rather, all three — Baidu Capital, Lenovo Ventures Group, and Tencent Holdings — are investment arms of well-known Chinese technology giants.
Baidu Capital, which focuses on investing in artificial intelligence, virtual reality, and augmented reality projects, led the round, which saw participation from over a dozen investors — including GIC (a sovereign wealth fund of Singapore) and Warburg Pincus. Tencent and Lenovo were follow-on investors, with Tencent having participated in the NIO's earlier Series A and B rounds and Lenovo in its Series C.
---
healthcare AI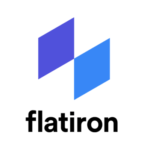 Company: Flatiron Health
Largest Deal with CVC Participation: $175M Series C, Q1'16
Corporate Investors in the Round: Roche Venture Fund
New York-based Flatiron Health was founded to use technology to transform the way cancer is understood and treated. By harnessing the power of real-world data, the company aims to accelerate cancer research and improve treatment options.
The company offers a suite of oncology-focused technology solutions (spanning EHR, billing, and analytics) designed specifically for community clinics. It also partners with life sciences companies, academics, and hospitals to provide a better data infrastrucure across the healthcare ecosystem.
The unicorn startup (valued at $1.2B) welcomed Roche Venture Fund — the CVC arm of the healthcare company Roche — into its ownership in its $175M Series C, which is the company's largest raise to date. Other corporate/CVC investors include Google Ventures and LabCorp (which both participated in Flatiron's Series A and Series B deals alongside VC firm First Round Capital). Additional investors include SV Angel, Social Capital, and Allen & Company.
---
Advertising/Marketing AI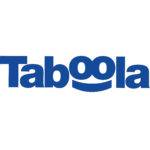 Company: Taboola
Largest Deal with CVC Participation: $117M Series E, Q1'15
Corporate Investors in the Round: Advance Publications, Comcast Ventures, Fidelity Investments
New York-based ad tech startup Taboola offers a personalized discovery and monetization platform for online content. The startup, which aims to use artificial intelligence to provide targeted, customized content suggestions to online audiences, is known as an Outbrain competitor: both companies surface recommended articles to readers through digital-placement partnerships with publishers. (The two startups reportedly engaged in merger talks in Q2'17.)
In Q1'15, Taboola welcomed its first CVC investors into the fold with a $117M Series E. All three corporates/CVCs in the round have clear connections to Taboola's focus on online content. Advance Publications (which owns Conde Nast Publications, Parade Publications, and other publishers) and Comcast Ventures participated in the deal, which was led by Fidelity Investments.
Taboola, which said its Series E would support global expansion, followed up the raise with a second Series E two months later. That round, financed by Baidu for an undisclosed sum, was strategically focused on the Chinese market.
---
Business AI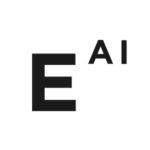 Company: Element AI
Largest Deal with CVC Participation: $102M Series A, Q2'17
Corporate Investors in the Round:  Intel Capital, Microsoft Ventures, Tencent Holdings
Montreal-based Element AI has a team of 100+ researchers creating research-driven, enterprise-grade AI solutions for businesses. The company says it is the largest privately-owned Canadian artificial intelligence R&D lab. Because it takes a cooperative approach to talent acquisition by partnering with AI researchers and academics through fellowships (and paying them as if they were in private industry), one investor has said the startup's AI talent footprint is equitable to those of some of the largest tech companies in the world.
Element AI's first major financing round, a $102M Series A in Q2'17, included at least ten individual investors and to date is the largest-ever Series A for an AI startup. Data Collective led the round, in which four computing- or internet-focused CVCs/corporates participated: Intel Capital, Tencent Holdings, NVIDIA GPU Ventures, and Microsoft Ventures (which followed on from an earlier seed-stage investment in the company).
Fidelity Investments and BDC Venture Capital were also among the investors in the round.
---
Sales/CRM AI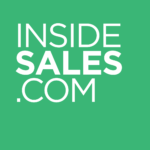 Company: InsideSales.com
Largest Deal with CVC participation: $100M Series C, Q2'14
Corporate Investors in the Round: Salesforce Ventures
Utah-based lnsideSales.com is a sales acceleration platform that leverages data science to help business development teams close deals. At the heart of the platform is "Neuralytics" — the company's big data, predictive analytics, and artificial intelligence engine — which leverages sales interaction data from across the company's global network to make predictive and prescriptive recommendations (with the aim of shortening sales cycles and improving internal sales processes).
InsideSales.com's $100M Series C in Q2'14— which landed the company on the unicorn list with a $1B valuation — saw Salesforce.com add the startup to its portfolio (providing a possible clue to a potential future acquisition). Microsoft, another potential buyer, would later participate in the company's $60M Series D in Q1'15 and $50M Series E in Q1'17. (Salesforce did not follow on in either round.)
Epic Ventures, Hummer Winblad Venture Partners, and Kleiner Perkins Caufield & Byers were among the VCs that invested in all three of the startup's CVC-participated rounds. InsideSales.com is currently valued at $1.7B.
---
CYBERSECURITY AI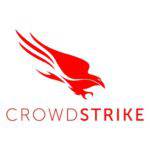 Company: CrowdStrike
Largest Deal with CVC Participation: $100M Series C (Q3'15) & Series D (Q2'17)
Corporate Investors in the Round(s): capitalG, Telstra, Rackspace Hosting
California-based CrowdStrike offers a suite of AI-powered cybersecurity products through its SaaS platform, including anti-virus protection, endpoint detection/response, managed threat hunting, and IT hygiene. Corporates and/or CVCs have participated in both of the newly minted unicorn's $100M financing rounds, and the company is currently valued at $1.6B.
The corporates and CVCs that added CrowdStrike to their portfolios in those deals operate in the cyberthreat-laden markets of computing and telecommunications. In the startup's $100M Series C in Q3'15, IT firm Rackspace Hosting participated alongside CVC capitalG (formerly Google Capital) and follow-on investors Accel Partners and Warburg Pincus.
Accel led the company's later $100M Series D in Q2'17, in which Telstra, a publicly traded telecommunications company, participated for the first time. (Rackspace did not follow on in the Series D; capitalG and Warburg Pincus did).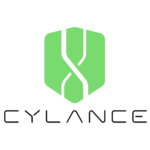 Company: Cylance
Largest Deal with CVC Participation: $100M Series D, Q2'16
Corporate Investors in the Round: Capital One Growth Ventures, Citi Ventures, Dell Technologies
California-based Cylance tied for largest round in the cybersecurity AI category. The startup applies artificial intelligence algorithms to predictively identify and stop malware and advanced threats, and says that its AI enables enterprise customers to take a more proactive security posture with higher efficacy than traditional antivirus solutions.
Cylance, which is on the cusp of unicorn status with a $980M+ valuation, offers specialized products for clients across different industries — spanning education, energy, finance, healthcare, retail, and government. Its CVC investors likewise serve clients across multiple industry verticals: Capital One Growth Ventures, Dell Technologies Capital, and In-Q-Tel all participated as follow-on investors in its $100M Series D, led by Blackstone Tactical Opportunities and Insight Venture Partners. Citi Ventures also participated in the deal.
Track all the AI startups in this brief and many more on our platform
From auto tech to healthcare, startups are transforming industries with artificial intelligence. Look for Artificial Intelligence in the Collections tab.
Track AI Startups
News, media, & entertainment AI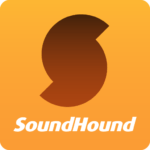 Company: SoundHound
Largest Deal with CVC Participation: $75M Series D, Q1'17
Corporate Investors in the Round: NVIDIA GPU Ventures, Samsung Catalyst Fund, Sampo Holdings
California-based SoundHound is a provider of voice-enabled AI and "conversational intelligence" technologies. Through the startup's Houndify platform, businesses can integrate voice chat and conversational intelligence into their existing products complete with speech recognition, natural language understanding, developer tools, and so on. The company also offers consumer-facing apps for voice-powered search and song identification/discovery.
Prior to welcoming CVCs into its investor ranks with a $75M Series D in Q1'17, SoundHound had engaged in a series of small VC- or angel-led rounds over its ten-year history. Reflective of SoundHound's myriad AI use cases — and of the many different industries that could use a hedge against Amazon's Alexa — the corporates/CVCs that invested in the Q1'17 Series D cover many different tech-driven sectors.
Investors included NAVER Corporation (operator of the Korean search portal NAVER.com), NVIDIA GPU Ventures, Samsung Ventures, Sampo Holdings, and Sharespost (an online marketplace for investing in private companies). Global Catalyst Partners and Kleiner Perkins Caufield & Byers also went in on the deal.
---
Commerce AI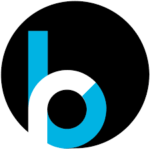 Company: BloomReach
Largest Deal with CVC Participation: $56M Series D, Q1'16
Corporate Investors in the Round: Salesforce Ventures
California-based BloomReach provides businesses with an open, intelligent "Digital Experience Platform" (or DXP) capable of accelerating the path to conversion, increasing revenue, and driving customer loyalty. Like other marketing automation platforms, BloomReach's tools drive customers to targeted products, but it also uses AI to take personalized marketing and discovery a step further, saying its technology enables clients to make their content and communications seem uniquely tailored for each user, even without a login.
As with other companies listed, BloomReach had no CVCs or corporates in its investor group prior to its $56M Series D in A1'16, which remains its most recent round to date. Salesforce — which counts its Salesforce Pardot marketing automation product among BloomReach's technology alliance — participated in the round, alongside Battery Ventures and follow-on VCs Bain Capital Ventures, Lightspeed Venture Partners, and New Enterprise Associates. Salesforce is the only corporate investor in the company.
---
Horizontal AI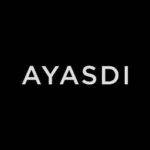 Company: Ayasdi
Largest Deal with CVC Participation: $55M Series C, Q1'15
Corporate Investors in the Round: Citi Ventures
In the "horizontal" category, we looked at deals to AI companies whose use of artificial intelligence extends across a multitude of verticals. California-based Ayasdi is one such company: the startup offers enterprise customers a suite of intelligent applications to facilitate the deployment of intelligent, AI-based applications across its organizations. The company formerly worked in the pharmaceutical space, but has more recently engaged in partnerships with HSBC and Deloitte around use of AI in healthcare and financial services.
Neither HSBC nor Deloitte has invested in Ayasdi, but the company does count financial-services CVC Citi Ventures among the investors in its $55M Series C in Q1'15, alongside Kleiner Perkins, Centerview Capital, and others. (The round is Ayasdi's most recent to date.) GE Ventures, which counts healthcare among its investment focuses, participated in its earlier $30M Series B, while VCs Institutional Venture Partners and Khosla Ventures participated in both rounds.
---
Fintech/Insurance AI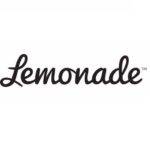 Company: Lemonade
Largest Deal with CVC Participation: $34M Series B, Q4'16
Corporate Investors in the Round: Google Ventures
NYC-based Lemonade is a licensed insurance carrier offering homeowners and renters insurance powered by artificial intelligence and behavioral economics. As a peer-to-peer insurer, Lemonade takes a unique approach to insurance with instant, AI-powered quotes and transparent flat-free pricing. The startup says it has insured over 14,000 homes to date and that its AI tool has automatically handled and processed 27% of its claims from start to finish.
Insurance-focused corporates/CVCs have indicated interest in Lemonade over several of its five investment rounds to date. XL Innovate — the investment arm of XL Catlin, a property and casualty insurance company — first financed the company as the sole investor in a $13M Series A in Q3'16 and followed on in Lemonade's $34M Series B in Q4'16. Google Ventures also participated in the Series B, alongside VCs such as Aleph, General Catalyst, Sequoia Capital Israel, and others. Allianz Ventures, the CVC arm of Allianz (the world's largest insurance company), funded a second tranche of Series B funding in Q2'17.
---
Internet-of-things (Iot) AI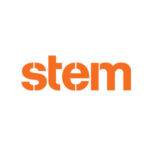 Company: Stem
Largest Deal with CVC Participation: $27M Series C, Q1'15
Corporate Investors in the Round: GE Ventures, Iberdrola, Total Energy Ventures International
California-based Stem (formerly Powergetics) operates an intelligent IoT energy storage network. The company's energy optimization services apply AI, big data, and predictive analytics to energy storage. Stem serves both individual businesses and electrical-industry clients, creating a network to support more efficient, automated energy use and smarter dispatching of resources.
Energy storage is a keen area of interest for many CVCs, with corporates including GE Ventures, Shell Technology Ventures, and Siemens Venture Capital all investing in grid energy storage companies in 2016. GE was one of several investors in the company's $27M Series C; others included Total Energy Ventures, Constellation Technology Ventures (the VC arm of Exelon), and Iberdrola (a clean tech corporation), among others.
---
personal assistant AI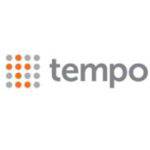 Company: Tempo AI
Largest Deal with CVC Participation: $10M Series A, Q2'13
Corporate Investors in the Round: Qualcomm Ventures, SingTel Innov8
California-based Tempo AI, developer of the AI-powered Tempo Smart Calendar and app, is the only acquired startup on our list of top CVC-AI deal targets. The company's $10M Series A in Q2'13 included telecom-focused corporates Qualcomm Ventures and SingTel Innov8.
That Series A in Q2'13 proved to be the company's final round. By 2015, Siri and Alexa had saturated the AI personal-assistant ecosystem, and Tempo reached an exit thanks to a familiar name on our list: Salesforce acquired the startup for an undisclosed sum in Q2'15.
If you aren't already a client, sign up for a free trial to learn more about our platform.