Travel incumbents facing disruption are stepping up their game by backing a record number of travel tech startups, alongside other corporate investors.
Corporate investors and their venture arms — including Amadeus Ventures, Google Ventures, Recruit Strategic Partners, and HR Ventures — have significantly increased their participation in funding to travel tech startups in recent years.
In line with overall deal activity in the space, the number of corporate-backed deals directed towards travel tech startups soared, growing from just 18 deals totaling $154M in 2013 to over 65 deals worth $1.7B in 2017 YTD.
Meanwhile, most active investors include key market players, such as booking platform Expedia, travel B2B solutions provider Amadeus, and hotel chains Hyatt Hotels and AccorHotels.
These trends have materialized as the hospitality sector has been transformed by the emergence of the sharing economy, particularly the rise of home-sharing unicorn Airbnb.
Using CB Insights data, we analyzed corporate funding trends and identified the most active corporate players in the travel tech space.
We define travel tech startups as tech-enabled companies offering products and services focused on travel and tourism, including booking services, search and planning platforms, on-demand travel, car rentals, and recommendation sites. We exclude ride-hailing startups from this analysis.
Annual financing history
Corporate and CVC investors have been increasingly active in travel tech over the past 5 years, and since 2013 have participated in a total of 244 deals worth $6.1B.
While corporates participated in fewer than 20 deals in 2013, this number has risen to top 60 deals over the past couple of years, with a record-breaking 67 deals in 2017 YTD.
In a similar vein, travel tech funding rounds with corporate participation have totaled $1.7B in 2017 YTD, already up 16% from full-year numbers in 2016.
In 2013 the largest corporate-backed travel tech deal was a $57M Series D raised by Chinese online travel agency Qunar, which saw participation from Baidu. In 2017 YTD, that distinction goes to Indonesian unicorn Traveloka, which raised a $350M tranche of Series B funding from Expedia — a deal worth more than 6X as much as the 2013 Qunar deal.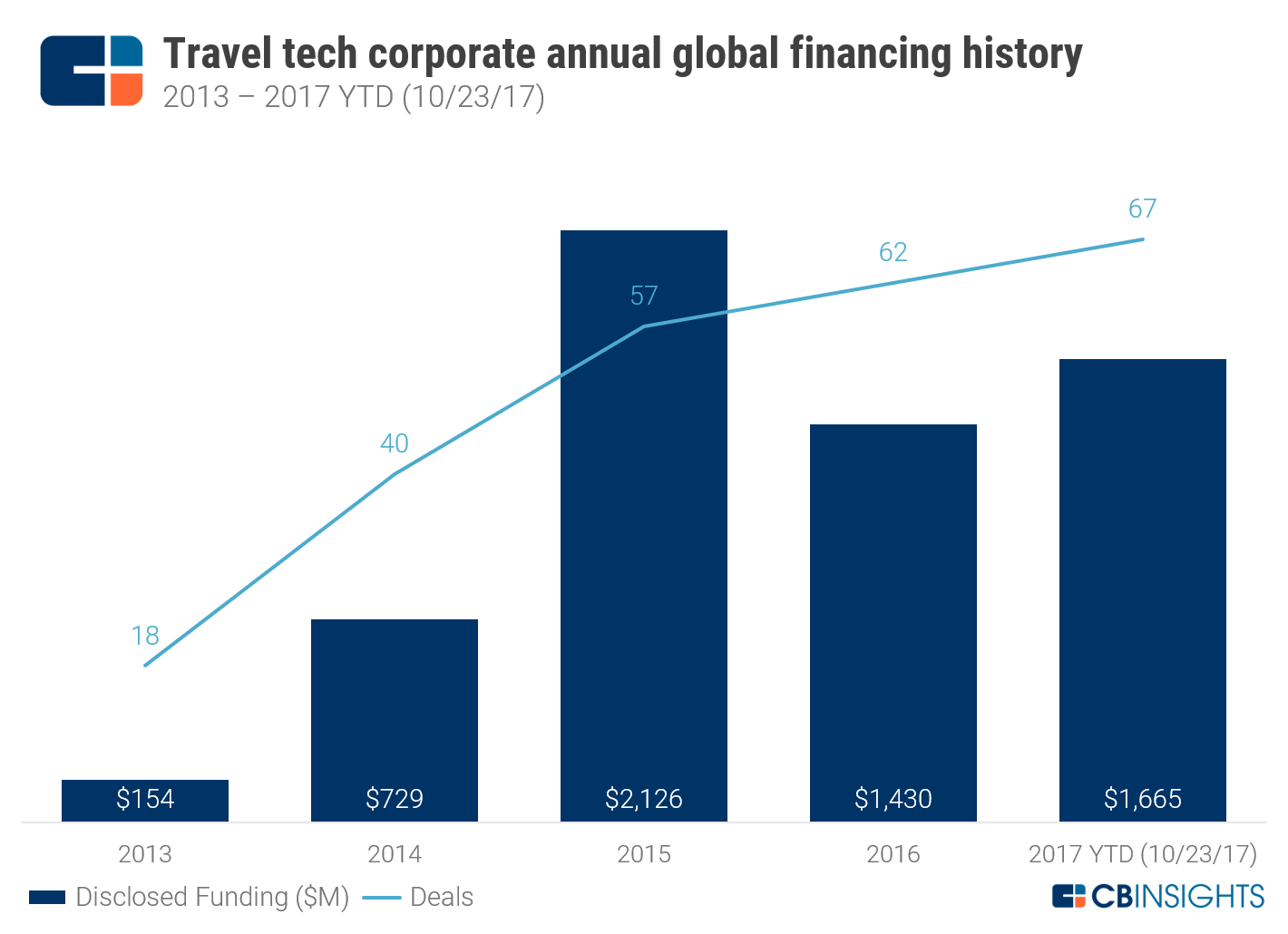 Track all the Travel Tech startups in this brief and many more on our platform
Startups disrupting where we go and how we get there. Look for Travel Tech Startups in the Collections tab.
Track Travel Tech Startups
Financing trends by stage
While later stage deals (Series D, E+) shrank from taking 17% of corporate-backed deal share in 2013 to a mere 5% in 2017 YTD, early-stage investments (seed / angel and Series A) grew from 39% to 53% over the same period —  suggesting that corporates and CVC investors are becoming more comfortable betting on earlier-stage companies.
Meanwhile, "Other" investments have fluctuated between 15% – 29%, and mainly consist of corporate minority deals, such as Starwood Capital Group's $250M investment in tech-enabled hotel chain Yotel in Q3'17.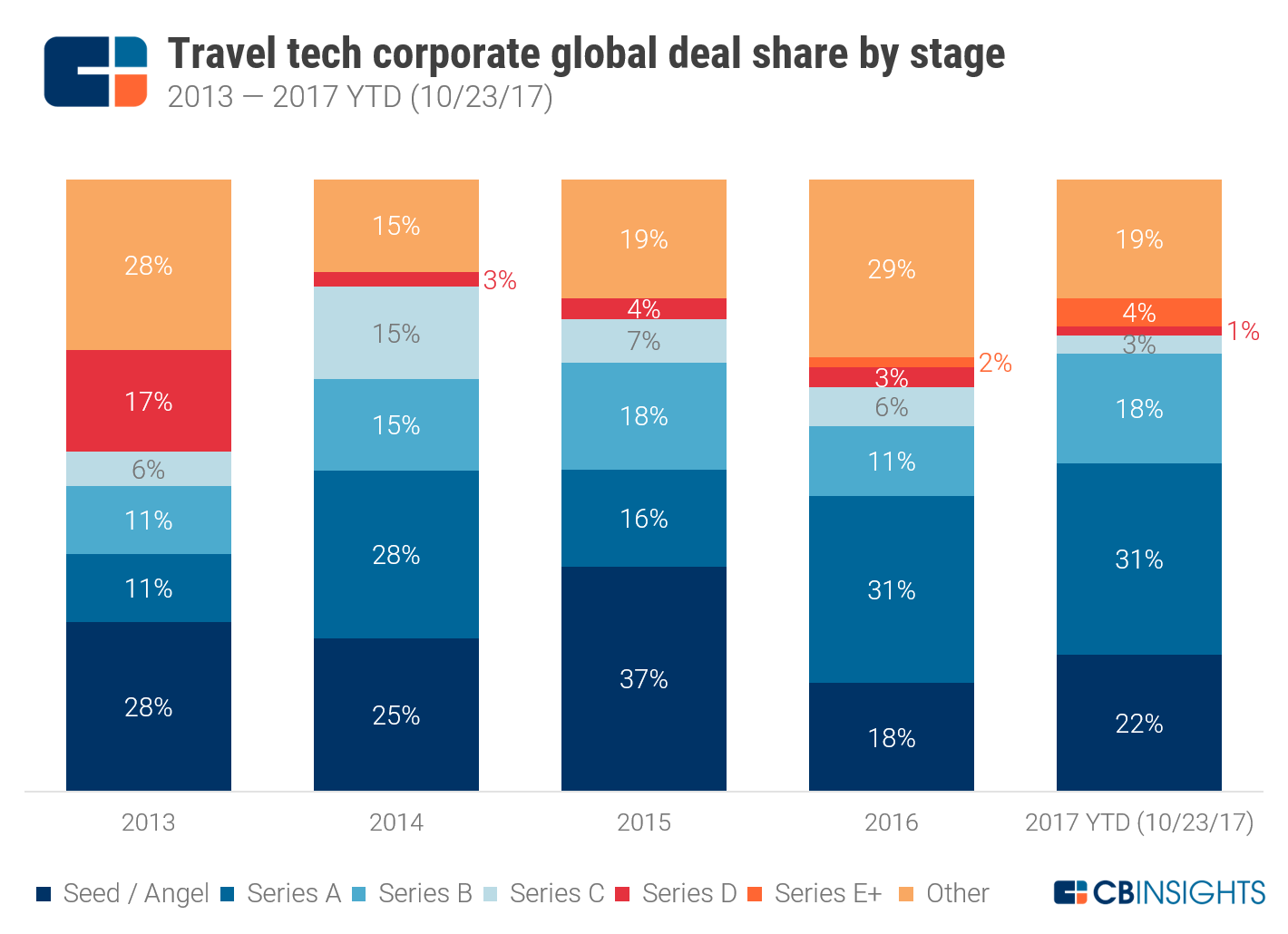 Most active corporate and CVC investors
With 7 investments since 2013, Tencent Holdings is the most active corporate investor in the travel tech space. The Chinese holding company's bets range from booking platform LY.com to near-space travel startup World View.
Unsurprisingly, established companies operating in different parts of the travel value chain — such as GDS giant Amadeus (5 deals), online travel agent Expedia (4 deals), and business travel company Concur (3 deals) — have also been active over the past years.
Although airlines do not appear to be actively investing in travel tech, other traditional travel companies, like hotel chains, do appear on the most active list. Hyatt Hotels and AccorHotels have both reacted to the rise of home-sharing giant Airbnb by unveiling revamped digital strategies and investing in the travel tech space.
AccorHotels has been particularly active since announcing its $230M+ digital strategy in 2014, investing in luxury rental startups Oasis Luxury Rentals (also backed by Hyatt) and Squarebreak, as well as travel-focused chatbot platform Destygo.
The Paris-based hotel chain also acquired a number of companies in the travel tech space, including Onefinestay (Q2'16), a luxury home sharing platform backed by Hyatt Hotels, and tech-enabled private concierge John Paul (Q3'16).
MOST ACTIVE CORPORATE AND CVC INVESTORS IN TRAVEL TECH

| Rank | Investor | Number of unique investments |
| --- | --- | --- |
| 1 | Tencent Holdings | 7 |
| 2 | Amadeus Ventures | 5 |
| 3 | Nokia Growth Partners | 4 |
| 3 | Recruit Strategic Partners | 4 |
| 3 | Expedia | 4 |
| 3 | Intel Capital | 4 |
| 7 | HR Ventures | 3 |
| 7 | MakeMyTrip | 3 |
| 7 | Legend Capital | 3 |
| 7 | Concur | 3 |
| 7 | HomeAway | 3 |
| 7 | Ctrip | 3 |
| 7 | Hyatt Hotels | 3 |
| 7 | CyberAgent Ventures | 3 |
| 7 | MAIF Avenir | 3 |
| 7 | AccorHotels | 3 |
| 7 | Google Ventures | 3 |
| 7 | Alibaba Group | 3 |
If you aren't already a client, sign up for a free trial to learn more about our platform.