We use CB Insights data to analyze how the Covid-19 pandemic has affected startups' ability to raise their first round of outside capital in Silicon Valley, New York, and Boston in Q1'20.
Recently, we've analyzed how the Covid-19 pandemic has affected overall startup funding, seed-stage investments, and corporate venture capital investments.
In this post, we take a look at how the outbreak is impacting first fundings to startups in three major tech hubs: Silicon Valley, New York, and Boston. We define first fundings as the first round of external financing a company receives. There may be more than one investor in that round. 
While the startup ecosystems in each of these metro areas vary in terms of industry focus and investor make-up, first fundings are down across all 3 on a year-over-year basis.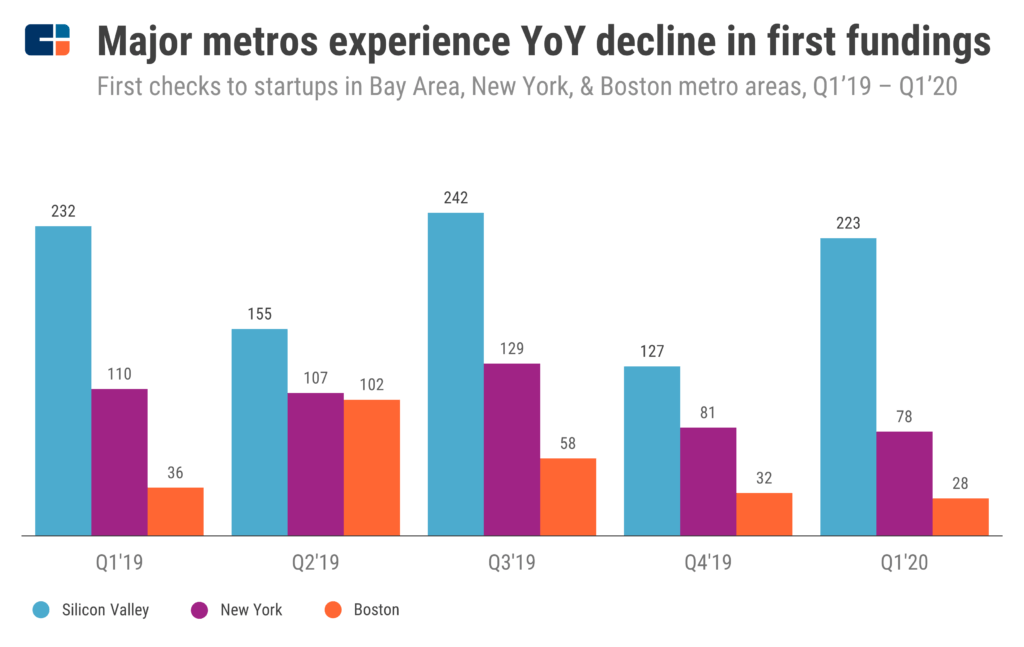 Fundings declined the most in Q1'20 in New York and Boston, while Silicon Valley was more resilient. Comparing Q1'20 to Q1'19, first fundings have dropped by: 
29% in New York

22% in Boston

4% in Silicon Valley
Note: While the first funding theoretically can occur at a variety of stages in a company's lifecycle, for this analysis, we focused only on angel, seed, convertible note, incubator/accelerator, and Series A rounds. 
Silicon Valley
In Silicon Valley, which includes San Francisco and its surrounding Bay Area, first fundings in Q1'20 fell 4% year-over-year. The drop occurred despite activity from Y Combinator, which backs startups in Q1 and Q3 each year, driving peaks in deal activity in these quarters.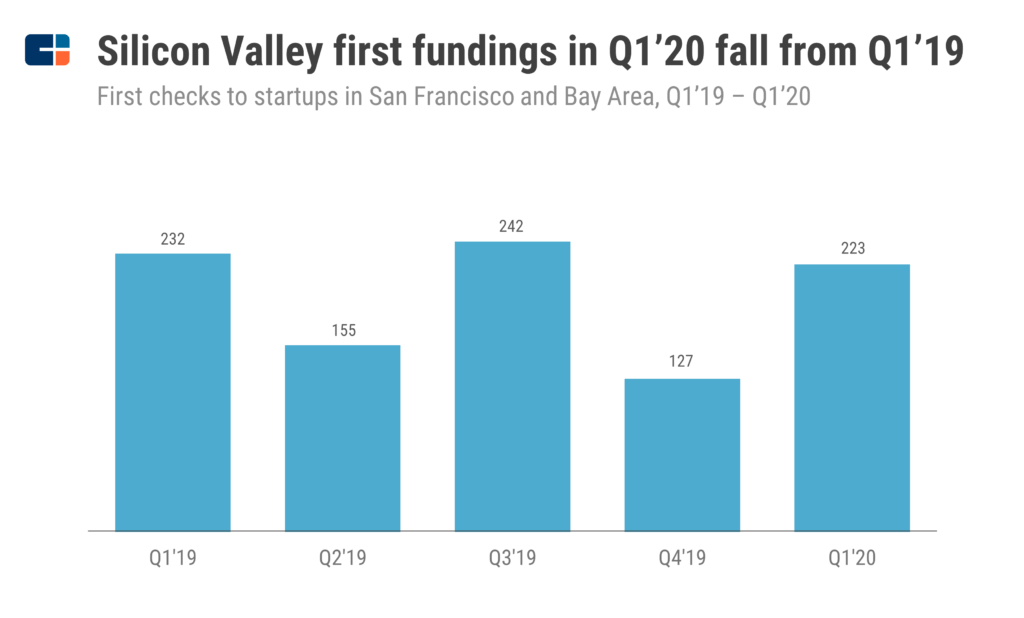 Y Combinator and Plug and Play issued the most first checks to startups in Silicon Valley in Q1'20, with 72 and 28 investments respectively.
Some typically prolific investors made no disclosed first fundings to Silicon Valley startups in Q1'20, including Greylock Partners, Menlo Ventures, Venrock, and Benchmark — all of which wrote first funding checks in Q4'19. 
Among traditional venture capital firms, Unusual Ventures backed the most first fundings in Silicon Valley in Q1'20. The Menlo Park-based venture firm participated in seed rounds for code security startup BluBracket, data analytics platform Kloud.io, software testing startup Launchable, and sales automation platform Orum, among other deals.
New York
First fundings in the New York metro area, where Y Combinator investments are not as much of a factor, saw a quarter-over-quarter drop of 4% in Q1'20. However, first investments to startups declined 29% year-over-year.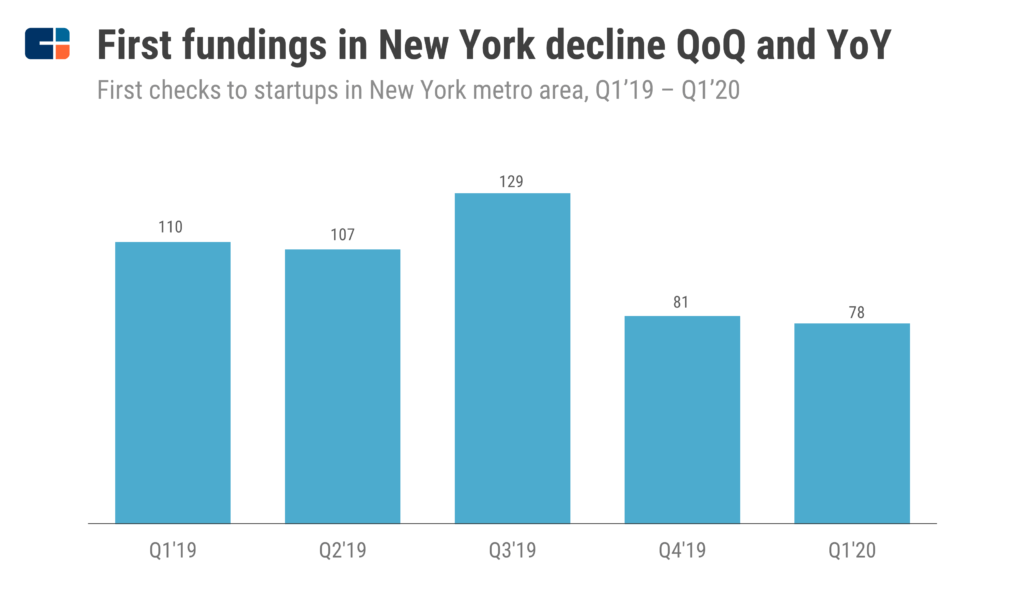 Y Combinator wrote the most first checks to New York-based startups in Q1'20, providing initial seed funding to 10 companies. The accelerator backed 6 New York-based companies in Q1'19. 
Plug and Play Accelerator has similarly increased its investments in New York, as the city's tech ecosystem has matured. The accelerator participated in the first fundings of 9 New York-based companies in Q1'20, after backing only 2 in Q1'19. 
Among VC firms, GGV Capital was the most active in first investments. GGV participated in social media app Fishbowl's Series A and business intelligence startup BackboneAI's seed round.
Boston
Q1'20 first fundings in Boston also contracted, falling 13% quarter-over-quarter and 22% year-over-year.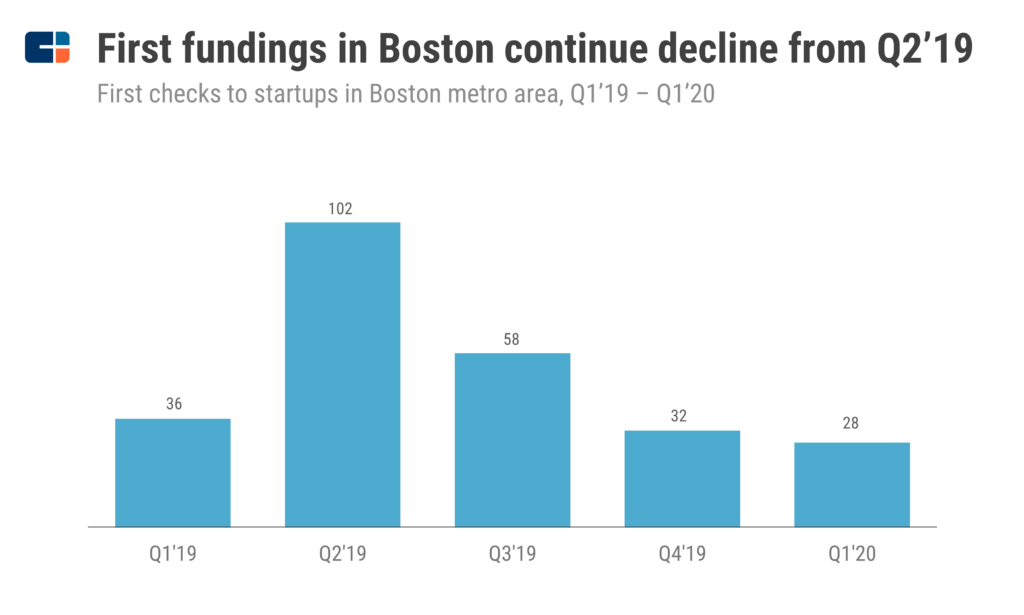 First rounds spiked in Q2'19 due to funding from university-affiliated incubator programs, including Harvard Innovation Lab and Innovate@BU. The seasonality of these programs — in addition to the Covid-19 outbreak — contributed to a decline in first fundings in subsequent quarters. 
Of the 28 companies that received first fundings in Q1'20, 32% are focused on biotechnology and life sciences, reflecting the resilience of the healthcare sector in Boston. 
The largest initial capital raise in Boston occurred in January, when biotech company EQRx raised a $200M Series A from Google Ventures, ARCH Venture Partners, Arboretum Ventures, Andreessen Horowitz, Nextech Invest, Casdin Capital, and Section 32.
Several noteworthy investors were deterred from the region in Q1'20: after participating in first fundings in Boston in Q4'19, CRV, Index Ventures, and Accel abstained from signing first checks.
If you aren't already a client, sign up for a free trial to learn more about our platform.