Fintech deals dropped in Q2'20, reflecting broader market uncertainty and potentially continued tough times ahead. We take a look at what happened in the quarter and where startups in the space go from here.
Fintech has been on a tear over the past couple of years, with record funding levels and rising valuations. With so many companies competing for market share, fintechs have prioritized growth and customer acquisition over profitability.
The coronavirus outbreak has ended this growth-at-all-costs environment. Funding conditions have undergone a rapid shift, and the future of fintech has changed dramatically. 
In Q2'20, overall venture capital deals increased, but the fintech industry did not see a similar bump.
We take a look at how the pandemic and resulting economic uncertainty impacted fintech deals and dollars in Q2'20, and what's next for the industry.
Fintech's financing crunch
Total deals to fintech companies fell about 30% in Q2'20 compared to Q1'20 as investor appetite for fintech financings slowed.
Despite the fact that May and June saw a slight rebound from April's dip, monthly deals are still tracking well below the same months in prior years.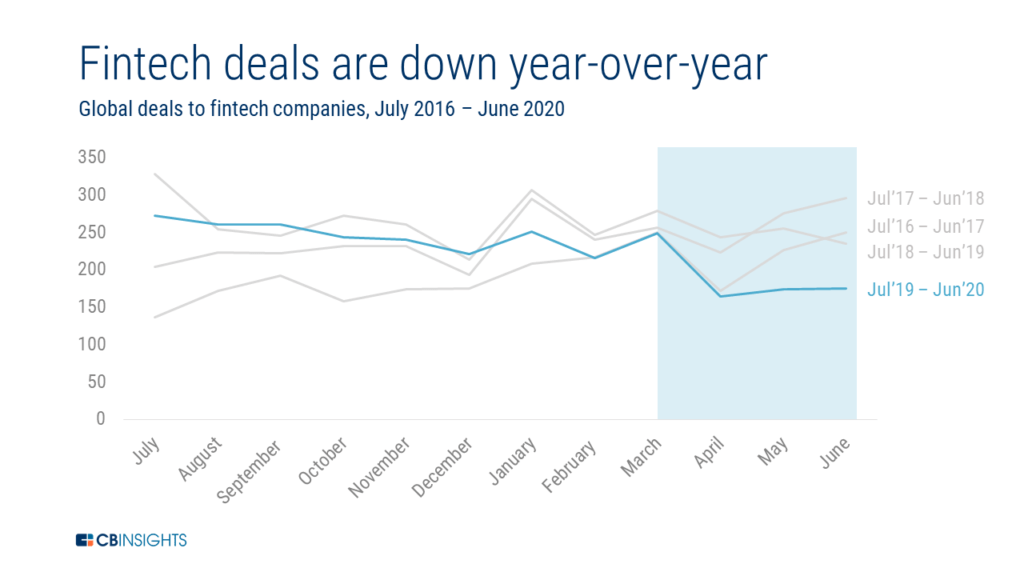 Deals are also falling across all geographies, indicating that Covid-19's impact on fintech is global. 
Indeed, Q2'20 saw the lowest quarterly deal count for both Europe and Asia-based fintech startups since Q4'16, while North America-based fintech companies saw their lowest deal levels since at least 2015, with only 200 rounds in the quarter.
However, funding is not seeing similar drops — funding to fintech companies for Q2'20 hit $10.2B, up 11% from Q1'20 and 1% compared to the year prior. 
What does this mean for the fintech space?
The Covid-19 pandemic has upended every industry, and raising funding in the current market has proven difficult. 
Early-stage fintech companies may see fewer rounds as investors opt to double down on larger, more mature winners. Q2'20 has already seen an early-stage deal crunch, with mid-stage rounds increasing deal share by 8 percentage points in the quarter as the space matures.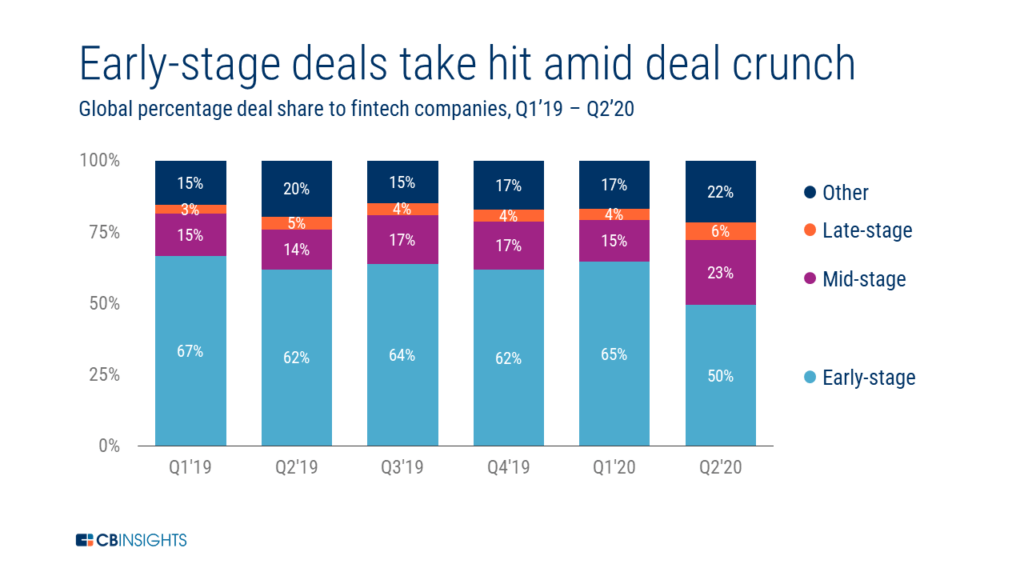 More proven, later-stage startups are continuing to raise capital — in June, investing app Robinhood announced $320M in a follow-on Series F round valuing the startup at $8.6B, and Stripe raised a $600M Series G in May that valued the payments company at $36B. Other large fintech companies are eyeing public markets to raise money: payments API startup Marqeta and cryptocurrency trading platform Coinbase have both recently announced intent to IPO.
A sustained economic slowdown would reduce consumer and business spending more than what has already occurred. In turn, this would result in lower transaction-based revenues for many fintech companies.
Ultimately, in a frozen economy, fintech companies will have serious financial challenges ahead if they are unable to reduce costs or rely on their balance sheets to get them through this difficult period.
If you aren't already a client, sign up for a free trial to learn more about our platform.