FAMGA hasn't escaped the market turmoil brought on by Covid-19 and the oil-price war.
Though tech's big 5 — Facebook, Apple, Microsoft, Google, and Amazon — have driven a huge portion of market gains in recent years, they haven't escaped the Covid-19-induced market turmoil that's been exacerbated by the oil-price war.
Collectively, FAMGA has seen nearly $460B wiped off its market cap (as of 3/10/19) since January 30, when the WHO declared a public health emergency. Of the mix, Amazon is the only company to remain relatively unscathed. 
But the size of the impact varies from firm to firm. We dive into how the outbreak is affecting each tech giant below.
---
Facebook
Facebook's stock has plunged 15% since the WHO's announcement, the most out of its Big Tech peers. This may partly be due to declining demand in travel, retail, CPG, and entertainment, which has resulted in slashed ad budgets in these "at-risk categories," according to a Needham analyst.
Production for its Oculus Quest virtual reality headsets has also been hit by the slowdown in Chinese manufacturing. Beyond ads and hardware, the social media platform is also battling a slew of misinformation, including conspiracy theories about the virus' origin and fake cures.
The company also canceled the in-person component of its F8 developer conference in favor of a virtual event.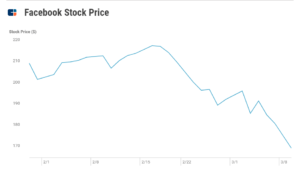 ---
Apple
Apple's stock has plummeted by 11.9% since the announcement. The iPhone maker warned investors in February that it would fall short of revenue guidance for Q2'20, obliterating the strong start to the year it had.
As the coronavirus cripples both demand — China accounts for 15% of sales — and hardware production, the tech company felt the impact of its reliance: it shipped fewer than 500,000 smartphones in February, a 60% year-over-year decline.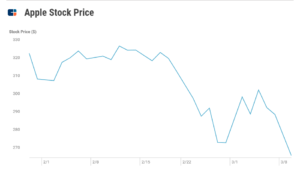 ---
Microsoft
Microsoft stock has dropped by 6.9% since the WHO announcement. The company followed Apple in slashing its Q3'20 sales forecast in February due to the manufacturing downturn's impact on its Windows OEM (licensing software to PC manufacturers) and Surface (hardware) businesses. Microsoft is reportedly considering shifting production from China to Southeast Asia amid the outbreak.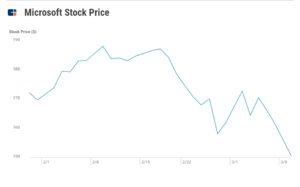 ---
Google
Google's parent company Alphabet has seen shares sink by 12.4% since January 30. Diminishing spending on travel-related ads — the fourth-largest category of search ads — could result in lower earnings for the search giant. Meanwhile, the company also canceled Google I/O, its annual developers conference slated to take place in May.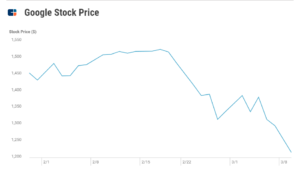 ---
Amazon
Amazon is the only one to post gains since January 30, up 1.1% as of Tuesday's close, amid a mass sell-off. Though relatively unaffected across the time frame, the e-commerce giant likely feels some of the virus-induced supply chain crunch, as more than 40% of its sellers are based in China.
In February, the company encouraged some suppliers to stock up on products from China "in anticipation of potential supply chain slowdowns," according to Business Insider. The open marketplace has lately fallen victim to massive price gouging, with some products selling for 16x their retail price, and fraudulent coronavirus cures.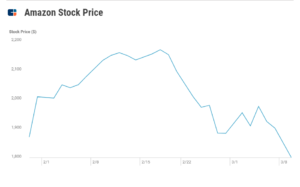 If you aren't already a client, sign up for a free trial to learn more about our platform.