Advances in clinical language understanding are creating new opportunities for conversational AI in the healthcare space. We look at the top use cases to monitor.
Conversational AI — which allows users to interact with software using their voice or text via chatbots and natural language processing (NLP) — is streamlining processes across the healthcare value chain. 
Top public cloud vendors are developing the technology to enhance the patient and provider experiences, from diagnostics to appointment management to transcribing doctors' notes.
For example, in December 2019, Amazon Web Services launched Transcribe Medical, a speech-to-text service enhanced with a medical vocabulary. This complements AWS Comprehend Medical, a fact extraction engine built to identify and code key clinical elements in text. 
Similarly, Google's Healthcare Natural Language API uses AI to identify and code clinical facts in written medical text. Meanwhile, with its $19.7B acquisition of Nuance, Microsoft now offers a full suite of voice-based patient engagement and provider documentation solutions.
These services are igniting a wave of innovation among startups, which are developing on top of the cloud-based offerings. Below, we examine key conversational AI use cases to watch across the health IT tech stack.
For more on healthcare IT, check out our research on EHR investment trends, our healthcare IT market map, and our in-depth analysis of emerging health IT marketplaces.
Key takeaways
Public cloud vendors are spurring conversational AI innovation with new services trained to transcribe and extract key facts from clinical language.

Startups are leveraging advances in conversational AI to build high-touch patient engagement platforms and streamline provider workflows.

Conversational AI is increasing patient acquisition and reducing operational costs for health systems.

In the coming years, conversational AI could bring a range of new digital diagnostic capabilities to health systems, significantly transforming care delivery.
Why healthcare?
When patients first begin to feel sick, they have to make clinical decisions about the seriousness of their symptoms with no guidance from a care team. This can result in unnecessary and expensive trips to the ER or, conversely, ignoring a serious illness. Reaching patients to inform these early decisions is a top priority for companies leading healthcare's digital transformation. 
In the clinic, doctors spend more time on administrative tasks than on direct patient care. Data silos and workflow inefficiencies erode productivity and cost health systems millions. Improving provider productivity is another key objective in healthcare's digital transformation.
Today, conversational AI is being used to tackle these issues, collectively driving revenue growth and reducing costs for health systems, while helping patients make decisions.
Self-triage chatbots
Healthcare organizations are using chatbots to act as on-demand clinical aids to patients by evaluating symptoms and making recommendations on where to seek additional care.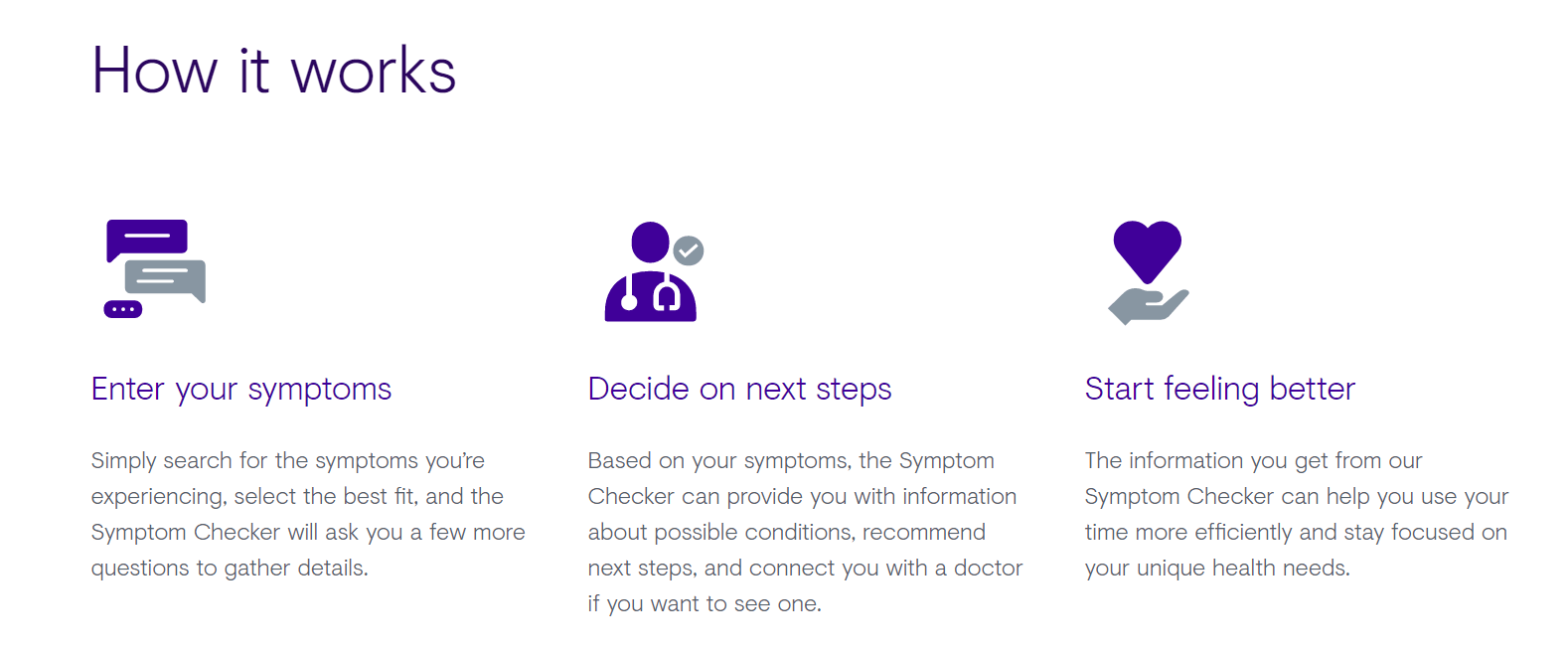 Source: Babylon Health
In August 2019, Babylon Health raised a $550M Series C funding round to accelerate growth of just such a solution. Working within the UK's NHS, Babylon Health trained its chatbot to act as an on-demand symptom checker to evaluate patient symptoms. In a validation study of the technology, the bot safely triaged 94% of the test patients it was presented, and matched expert decisions in 85% of the cases.
Self-triage chatbots saw rapid adoption among health systems during the Covid-19 pandemic. In this role, chatbots were trained to evaluate Covid-19 symptoms and connect high-risk users with telehealth providers or local testing centers. Buoy Health, GYANT, and Conversa Health all launched Covid-19 symptom screeners to support health systems during the pandemic.