The funding helps ContentSquare reach a valuation of $2.8B. Here are the top-line bullets you need to know.
ContentSquare, a digital consumer behavior analytics platform provider, has raised $500M in a Series E. The round drew participation from SoftBank Group, Canaan Partners, BlackRock, KKR, and Eurazeo, among others.
How's the company performing?
Paris-based ContentSquare is a customer experience analytics platform that tracks and monitors behaviors through web, mobile, and app interactions. It also provides organizations with recommendations for engagement.
ContentSquare caters to over 750 corporates in 26 countries, including 30% of the Global Fortune 100 organizations like BMW, Gucci, Ikea, Microsoft, Rakuten, Sephora, The North Face, and Verizon.
It claims to analyze over 10,000B customer interactions per day, across sites processing transactions worth $1.5B daily.
Half of Content Square's revenue is generated in the US.
The company has expanded its team from 300 to 800 employees and expects to grow its team to more than 1,500 employees in the next 3 years.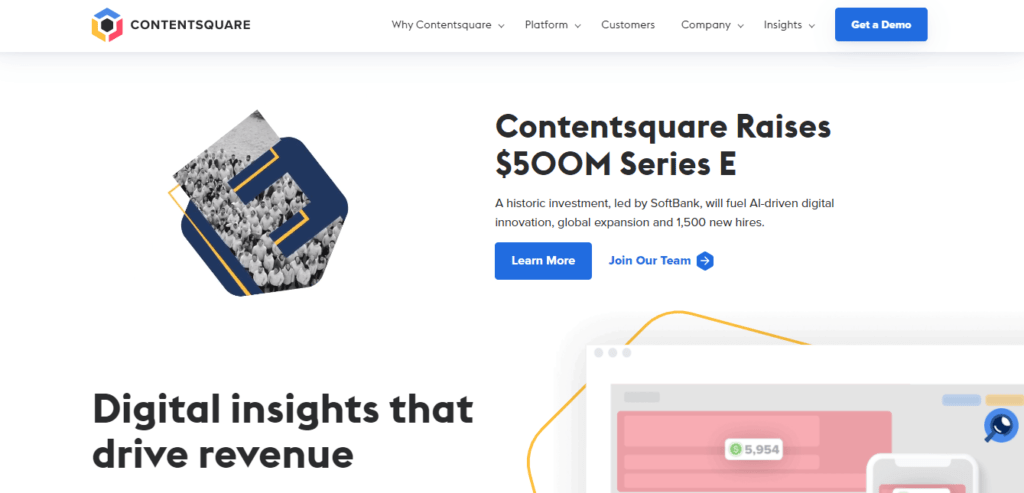 Source: ContentSquare
Why does the market matter?
The global app analytics market is expected to grow at a CAGR of 21.3% and reach a value of $4.81B by 2026, according to Verified Market Research.
The market is being driven by the increased application of digital transformation strategies and advanced analytics for mobile and web applications to analyze client behavior in the e-commerce industry.
The market's growth is expected to be boosted by the increased investment in analytics technologies.