Touch-free biometrics tech could help companies prepare for a post-Covid world with contactless fever detection, facial recognition systems that can accommodate masks, and more.
As the world begins to emerge from the Covid-19 crisis, new biometric technologies for card payments, tap ID security, and voting systems could see increased adoption. 
25 Industries & Technologies That Will Shape The Post-Virus World
Get the free download to learn how industries are using tech to reimagine nearly every facet of their operations.
While biometric technology has existed since well before the pandemic, these solutions are more important than ever as they could help enforce social distancing, monitor body temperatures, and reduce the spread of germs with touch-free applications.
For example, contactless fingerprint scans may be used to verify employees as they clock in at work while iris scans are being explored in airport check in. Temperature-detecting cameras can identify people with fevers in crowded or enclosed spaces.
The contactless biometrics market is expected to reach $70B by 2030, according to CB Insights' Market Sizing Tool. Media mentions of the technology have also surged as a result of Covid-19.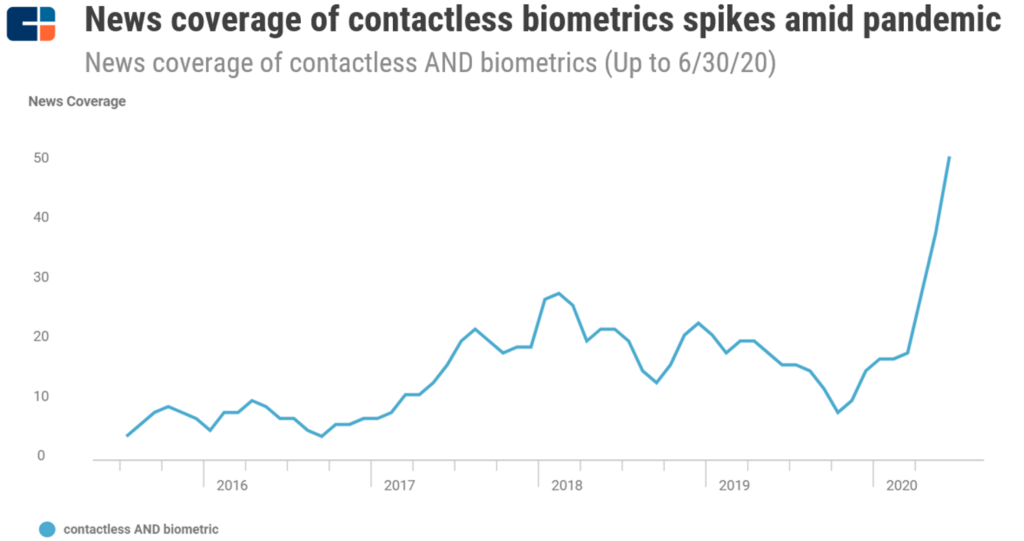 Below we highlight 6 key emerging contactless biometrics solutions, from voice detection to touchless fingerprinting, as well as the industries in which they are making an impact.
---
1. Masked face recognition  
Mask usage poses a challenge for traditional facial recognition systems, which generally operate in a four-step process:
First, computer vision software determines if an image captured by cameras contains a face.

If a face is detected, the software uses biometric indicators — such as distance between the eyes, shape of cheekbones, and length of the jaw — to map out a person's facial template.

The computer vision system compares newly captured templates to facial images stored in a database.

Finally, the system either verifies a person's identity by matching the newly captured facial template to an image in the database within a certain margin of error, or determines that the newly captured image does not match any templates on file. 
Startups are now developing new facial recognition systems that can identify partially covered faces. 
For example, Sensory, which develops biometrics at the edge, announced in June 2020 that its software can now recognize individuals using a combination of facial features not blocked by masks and voice biometrics. 
Similarly, Beijing-based unicorn SenseTime's facial recognition technology can reportedly identify faces in its database in 0.3 seconds with 99% accuracy, even when features are obscured by masks or makeup. The company recently partnered with LG CNS to replace its ID card-based entry systems with SenseTime's facial recognition tech.