Consumer products like at-home fitness, gaming, and food & beverage garnered investor attention in Q1'20.
Investment activity increased in the consumer products space as investors expressed confidence in later-stage startups focused on alternative proteins, gaming, and fitness during the Covid-19 pandemic.
ALTERNATIVE PROTEINS, FITNESS TECH, AND GAMING SURGED IN Q3'20
Consumer product startup investment activity spiked in Q3'20 as funding reached an all-time high. Download our free report now.
In Q1'20, funding in the consumer products space jumped 36% quarter-over-quarter, while deals fell 3%. In March alone, funding to consumer products increased 34% compared to February.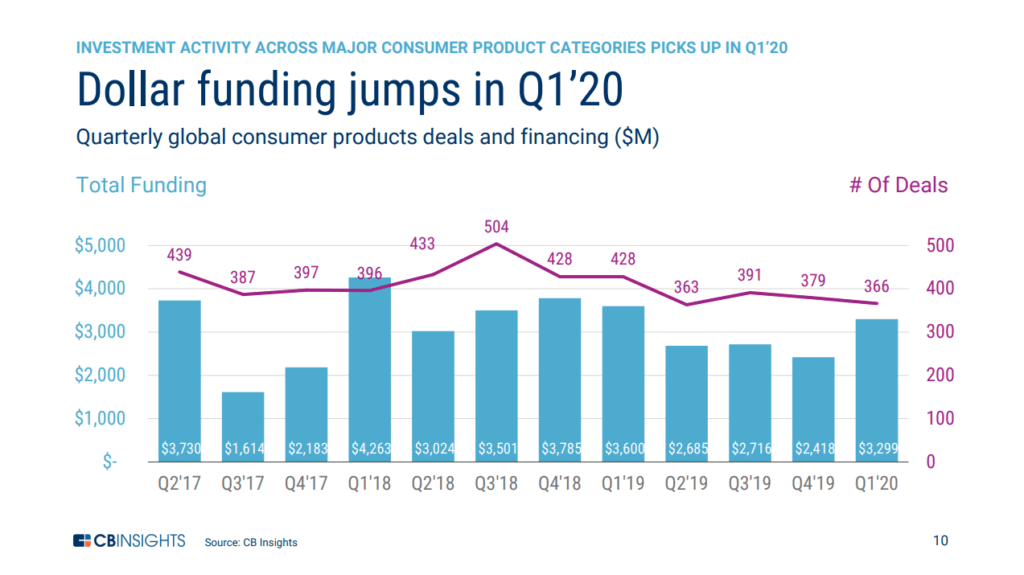 Mega-rounds ($100M+) drove investment activity to consumer startups in the quarter. Some of the largest deals in March included:
a $500M Series F to Impossible Foods, a food tech company that offers plant-based protein alternatives
a $200M Series D to mobile gaming studio Scopely
a $110M Series E to CureFit, an India-based holistic health platform
For more insights and data, check out CB Insights' State Of Consumer Products Q1'20 Report: Investment & Sector Trends To Watch.
If you aren't already a client, sign up for a free trial to learn more about our platform.