As Covid-19 escalated, investors doubled down on alternative proteins, gaming, and fitness.
Consumer products startups saw funding jump in Q1'20, as investors doubled down on later-stage companies amid the coronavirus pandemic. 
ALTERNATIVE PROTEINS, FITNESS TECH, AND GAMING SURGED IN Q3'20
Consumer product startup investment activity spiked in Q3'20 as funding reached an all-time high. Download our free report now.
While industries like fintech saw one of their worst quarters in years, consumer products funding was up 36% quarter-over-quarter, garnering $3.3B across 366 deals. Q1's surge was largely driven by mega-rounds in the alternative proteins, gaming, and fitness spaces. 
We take a look at the consumer products areas that have seen the most growth below. 
1. Food and beverage
Food and beverage startups saw funding soar in Q1'20, raking in $1.3B — more than double the dollars compared to the prior quarter — across 106 deals. 
Sustainability and health remained top of mind for investors, with Impossible Foods' $500M Series F coming in as one of the largest deals of the quarter.
Alternative protein companies are looking to scale as they see tailwinds from meat shortages and challenges at production factories: Impossible Foods has previously highlighted ambitions to expand to Asia, while cultured meat company Memphis Meats raised $186M in its Series B this year to build its first production facility.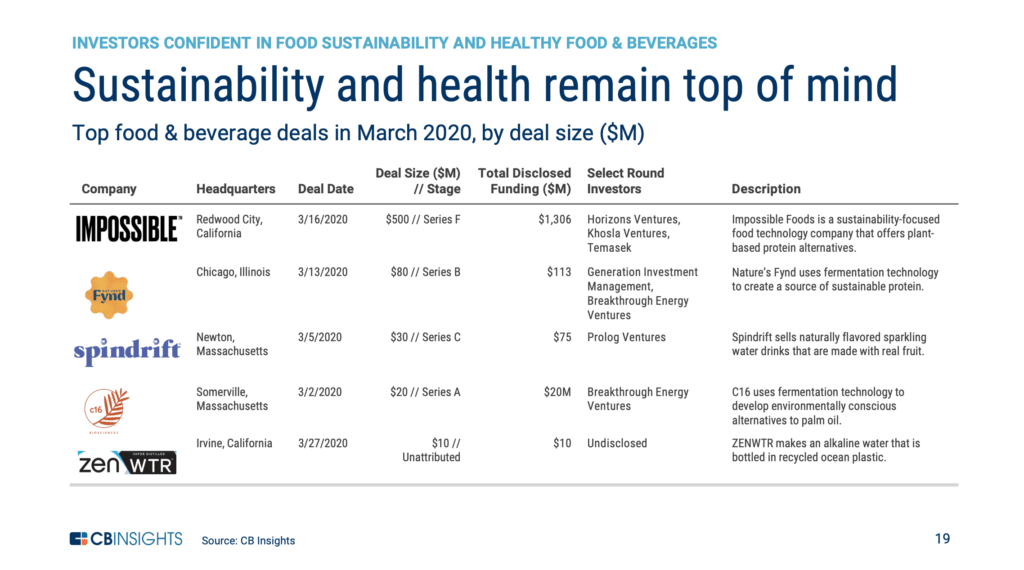 Protein fermentation technology and baby nutrition were specific topics that came into focus as well. Sustainable protein company Nature's Fynd closed an $80M Series B in March, while direct-to-consumer baby food brand Little Spoon raised $10M in February. 
Microbiome health- and energy-boosting solutions also captured investor interest in Q1 and beyond, with companies like prebiotic soda manufacturer Olipop ($10M) and coffee creamer maker Laird Superfood ($10M) inking deals in January and April, respectively. 
2. At-home fitness
The at-home fitness sector benefited from Covid-19 tailwinds in Q1'20, as funding more than quadrupled from the previous quarter. Deals shifted toward later-stage startups, with health coaching and wearables garnering increased attention.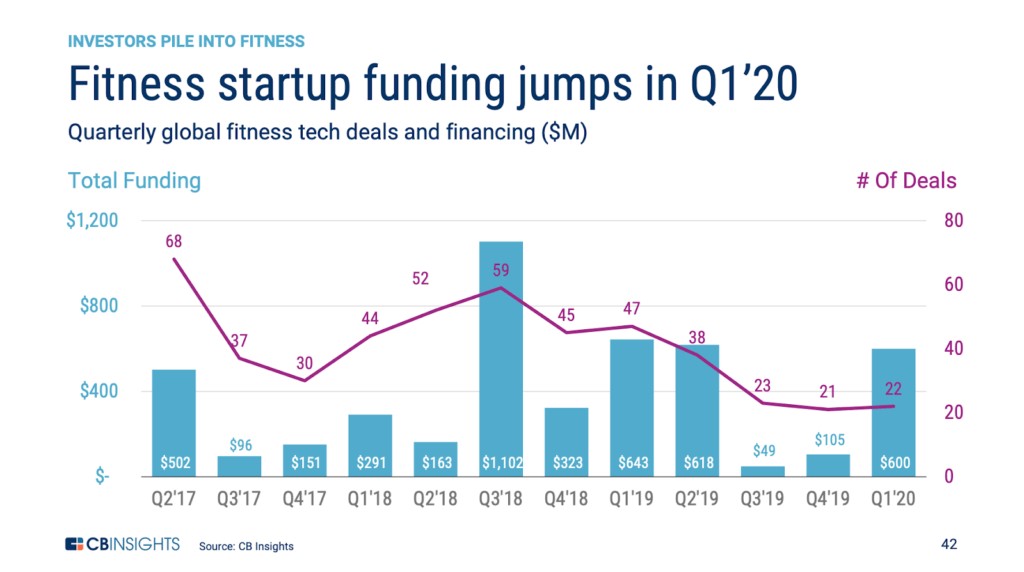 India-based holistic health platform Cure.fit raised $110M in another one of the quarter's mega-rounds, underscoring the trend of digital health coaching. Personalized coaching platforms emerged, with virtual care company Vida Health closing a $25M Series C-II in April.
As people remained self-quarantined due to Covid-19, fitness wearables startups offering connected at-home health and wellness solutions saw increased interest. Hinge Health, which sells a wearable to help with chronic back and joint pain, raised a Series C in February. 
3. Gaming
Though dollar funding for the gaming and e-sports sector was down slightly in Q1, investment rebounded in February and March. 
Social gaming — i.e. games that facilitate social engagement — was a bright spot. Roblox, which allows people to design virtual worlds and play in other user-created environments, raised $150M in its Series G at a $4B valuation, while mobile game development studio Scopely closed one of the largest deals of the quarter with its $200M Series D-II in March.
Some of Scopely's most popular games orient around head-to-head play, underscoring the traction around games with social components.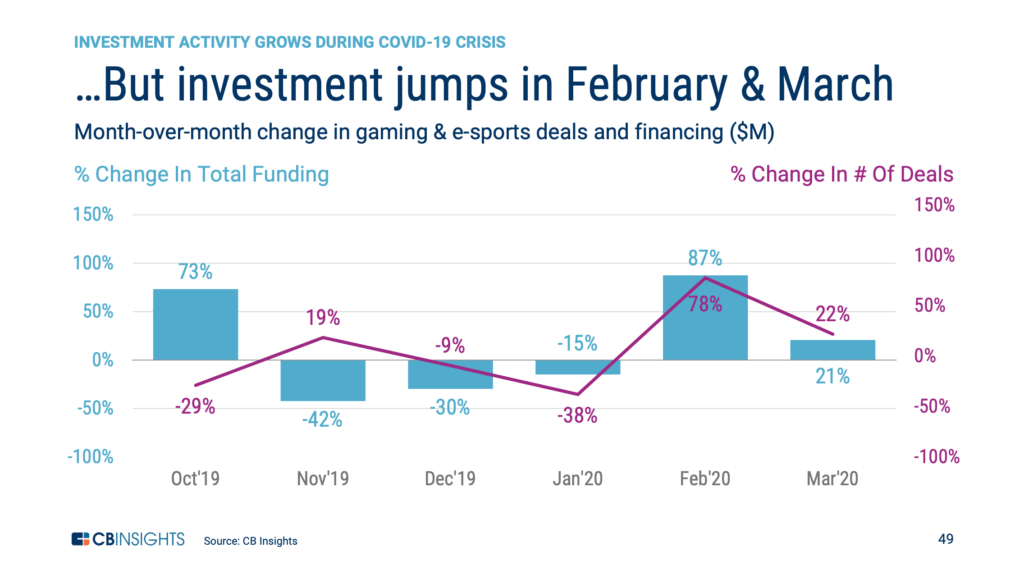 Livestreaming continued to pick up steam, reflected in deals to Genvid Technologies, which builds development tools for interactive livestreams, and Boom.tv, which is a 3D livestreaming platform. 
As e-sports continues to build out a larger audience, startups that seek to expand e-sports engagement will likely attract investor attention as well. 
4. Home goods
Home goods funding increased in Q1'20, especially to D2C startups, as people remained hunkered down at home. D2C home linens startup Brooklinen amassed $50M in a growth equity round in March, while D2C home products startup Resident raised $13M in a Series A in January.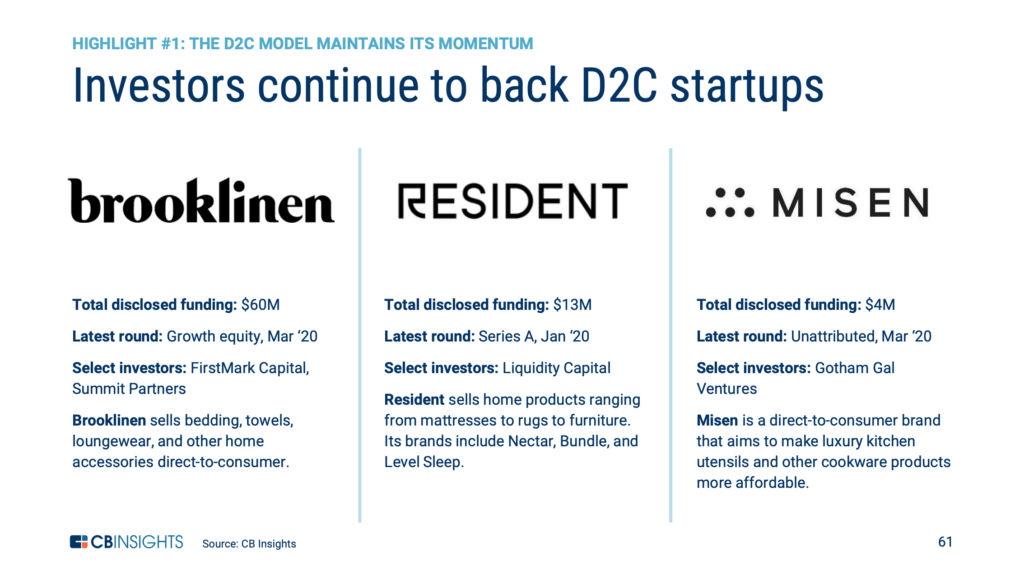 Other highlights to take note of include smart mattress and robotic furniture startups, which saw deals in Q4'19.
On the flip side, sectors like beauty, household essentials, and apparel saw activity slow as Covid-19 intensified. As categories like beauty and apparel experienced sales slumps due to shelter-in-place orders, investors shifted their focus away from startups in this space.
In the household essentials sector, consumers are prioritizing big name brands that have proven value and performance. Overall, consumer shifts in spending are underscoring the risky outlook for these categories. 
For all of the underlying data and insights, download our State Of Consumer Products Q1'20 Report: Investment & Sector Trends To Watch report here.
If you aren't already a client, sign up for a free trial to learn more about our platform.